Why Ocean Club Resort Turks and Caicos Is Tops on Our Family Vacation List
5/7/22
- By
Danielle Smith
With pillowy white sand, clear turquoise waters, and laid-back vibes, it's no wonder that Grace Bay Beach in Providenciales, Turks and Caicos, is consistently voted not only one of the best beaches in the Caribbean, but one of the best beaches in the world. My family recently stayed at Ocean Club Resort Turks and Caicos, one of several resort options lining Grace Bay, and had an unforgettable time that left us wanting more.
Grace Bay resorts range from high-end luxury to budget-conscious, and Ocean Club Resort Turks and Caicos falls roughly in the middle price-wise. We found that it had everything we needed from activities to accommodations to keep our family of five happy throughout our vacation. Read on for our review of Ocean Club Resort Turks and Caicos.

Ocean Club Resort's two-bedroom suites are perfect for families.
Ocean Club Resort Rooms and Accommodations
Our family stayed in a deluxe two-bedroom beachfront suite, complete with a full kitchen, a washer and dryer, and a wraparound terrace looking out at Grace Bay, which was steps from our door. I will admit that the hotel lobby made me slightly nervous at check-in with its pared-down aesthetic, but anything that the resort may have lacked in wow factor at the entrance, it more than made up for it with the room. A spacious master with an en-suite bathroom and a separate bedroom with two twin beds down the hall (yes, it was big enough to have a legit hallway!) provided a nice privacy barrier between parents and kids. The living space had a six-person dining table and a media console filled with books and games.
It's hard to put into words how close our room was to the beach, but the first morning I woke up to what I thought was my husband snoring, before realizing it was the sound of the waves gently crashing on the shore. It felt amazing to get up before everyone else, make some coffee, and enjoy it on the terrace while the sun rose over Grace Bay. Can we say peak relaxation? I think so.
Related: 30 Best Warm and Sunny Family Vacation Ideas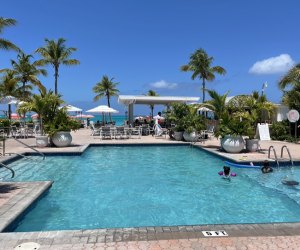 Ocean Club East and Ocean Club West have a combined three swimming pools.
Ocean Club Resort East vs. Ocean Club Resort West
Ocean Club Resort Turks and Caicos has two locations about a mile apart, with very similar layouts and amenities. My family stayed at Ocean Club East, which is known to have calmer waters and more picturesque sunsets, while Ocean Club West has more room categories and is closer to downtown Providenciales, where families will find cute restaurants and shops.
One key difference is the pools—Ocean Club East has two smaller freshwater pools while Ocean Club West has one larger pool. Both resorts are great options, and the free shuttle makes daily trips every 15 minutes or so (keep in mind that this is island time, though we never waited longer than that) between the two.
One thing you won't find at either property is a water park or a kids' club, amenities that are less common in Providenciales, which doesn't have a ton of big resorts. We've done our fair share of both, including some in the Caribbean, so I was fully expecting my girls to ask for directions to the nearest tube slide or game room. Surprisingly, the topic never came up. The pools and the beach were enough for us here, and we made use of the inflatable tube perched outside our room every chance we could.
Related: 20 All-Inclusive Resorts We Can't Wait to Visit Again

The giant rocks along the Grace Bay shore make for perfect photo ops.
Grace Bay Beach in Providenciales, Turks and Caicos
For all of the things to see and do in Providenciales, nothing compares to just setting up shop for the day on Grace Bay Beach. Ocean Club Resort's collection of salmon-colored umbrellas and white loungers never seemed to get too crowded; we always found a spot no matter the time of day. The water is breathtakingly beautiful and super calm, making it ideal for toddlers and children that aren't strong swimmers. My normally adventurous, thrill-seeking crew were more than happy to go from sea to sand for hours on end, punctuated by the occasional walk along the shore.
Exploring the Grace Bay shore on foot is worth the trip. Families will find docks for jumping, giant rocks for photo ops and seeking out crabs, and plenty of other sea treasures along the way.
Related: Baha Bay at Baha Mar: A Luxury Water Park Opens in the Bahamas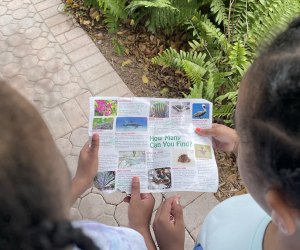 Go on a fun scavenger hunt through Ocean Club Resort.
Activities at Ocean Club Resort Turks and Caicos
Stays at Ocean Club come with a host of complimentary activities, including kayaking, bike rentals, SUP boards, and tennis. My family had a mixed bag of weather during our trip, and some rain and rough waters shut down activities for the majority of our time. Luckily my kids weren't phased one bit, and we still enjoyed the beach and pools every day.
When the water activities staff is on duty, you can reserve a time and pick from the selection of water sports equipment kept at the edge of the Club's property. Biking is best for older kids, as there are only adult-sized bikes. About 50 yards from the edge of Ocean Club's dock, there's an inflatable that families can swim to for some bouncy fun. Other excursions like snorkeling and banana boats are available for purchase. Car rentals are cheap at about $60 a day for a mid-sized vehicle, and many families enjoy setting aside a day to explore this small island on their own.
One activity that my younger girls particularly enjoyed was the resort's Seafari Scavenger Hunt. We received a map at check-in that listed some of the plants, animals, and sea life we might see during our stay. Once you've checked off everything you found, you can bring the map back to the lobby for a prize, which ended up being a resort pin and a sea-themed plushie. We did this just before checking out, and the toys made a nice travel companion for my younger daughters on the plane ride home.
Related: Best Things To Do in Aruba with Kids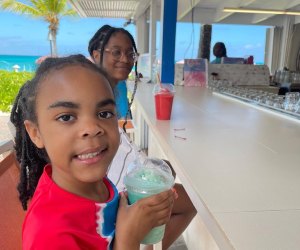 There's nothing like enjoying some oceanside refreshments.
Dining at Ocean Club Resort Turks and Caicos
Ocean Club Resort Turks and Caicos doesn't offer all-inclusive plans, and while the food is delicious, it's also expensive. We ate most of our meals at the beachside Cabana Bar and Grill, where kids' menu items are reasonable, but an adult burger is going to run you 20 bucks. A trip to the local grocery store was worth it for us to buy some breakfast foods and save the time we'd spend waiting for table service. We didn't go crazy with groceries, but you could certainly cook all of your meals in the room's fully equipped kitchen, and many families take advantage of the poolside grills, which are available to every guest. There's also a small convenience store on site where families can purchase basic grocery items.
Aside from the beachside restaurants, each resort has its own fine-dining restaurant as well. There are plenty more dining options in the downtown Providenciales area accessible by the resort shuttle. You'll want to browse the vibrant, brightly colored shopping and souvenir districts while you're there and take lots of photos.
Related: Grand Isle Resort and Spa in Great Exuma, Bahamas Offers Laid-Back Luxury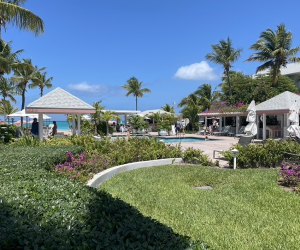 Check for deals before booking your stay!
Cost of Ocean Club Resort Turks and Caicos
Prices vary by season and availability. At the time of this writing, rates started around $350 per night at both properties for rooms that sleep up to four. These rates were offered as part of a promotion, but the resort runs these deals throughout the year, so be sure to take advantage. Visit the resort website to see current pricing.
Related: Visiting CocoCay, Royal Caribbean's Private Bahamas Isle, with Kids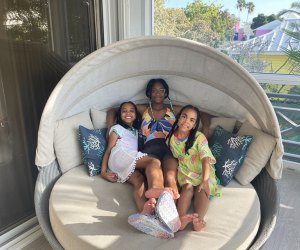 There are plenty of places to relax throughout the resort.
Pros and Cons of Ocean Club Resort Turks and Caicos
Families looking for an all-inclusive option with amenities like water parks and kids' clubs may want to look elsewhere. However, tourists don't visit Providenciales for mega resorts with mega facilities. The island is purposely low-key, and the families that come here wouldn't have it any other way. Ocean Club Resort Turks and Caicos offers good value compared to some of its higher-end luxury neighbors. Don't buy the argument that one stretch of Grace Bay is nicer than another, as every inch of this beach is pristine.
The complimentary activities and water sports are nice to take advantage of, as are the room kitchens and poolside grills, which can help offset some of the costs incurred by having to pay for food. Rooms are spacious and nicely equipped, and no room is more than a few minutes' walk from the beach. My family would be happy to return to Ocean Club Resort, and we recommend it to other families too.
Related: 50 Fun Things To Do in Miami with Kids

Don't forget to explore Downtown Providenciales.
Editor's Note: This publication accepts hosted travel for the purpose of review. All opinions are based on the honest experience of the author.
All photos by the author