Grand Isle Resort and Spa in Great Exuma, Bahamas Offers Laid-Back Luxury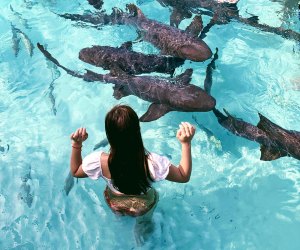 2/22/20
- By
Anna Fader
Spared by the recent hurricane, the Exumas in the Bahamas have become an increasingly popular destination, including among families who are discovering these laid-back island paradises in the Caribbean.
The Exumas are a string of islands and cays in the Bahamas with white sand beaches and turquoise-blue waters. This area of the Bahamas is much less developed than Nassau and Paradise Island, which are popular for attractions like Atlantis. Here you'll find fewer crowds and more natural shorelines.
While celebrities and millionaires build homes on the remote and beautiful string of cays, most families head to Great Exuma or Little Exuma for their vacations. And, as any local will tell you, Grand Isle Resort and Spa is the best resort in Exuma for families.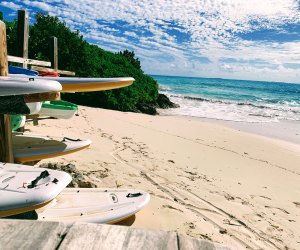 Paddleboards, kayaks, boogie boards, and snorkel kits are free to use at Grand Isle Resort.
The all-villa resort offers large accommodations that are perfect for multigenerational travel or groups. The property is upscale but unpretentious. The vibe is friendly and casual while offering top-notch amenities.
Grand Isle Resort is not all-inclusive, but the private beach's water activities are included. Guests can eat at one of three restaurants or prepare their own meals. The one- to three-bedroom villas, and the four-bedroom penthouse, all have full kitchens and guests can pre-order groceries to cook meals in their villas.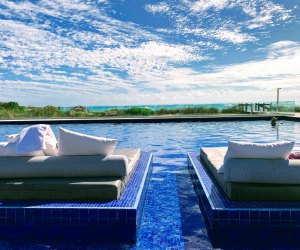 The 23° North Beach Club adult pool is the perfect place to relax.
Things to Do At Grand Isle Resort, Bahamas
Grand Isle Resort offers a stunningly beautiful beach will soft white sand in a protective cove, creating gentle waves. Water sports like paddle boarding, boogie boarding, snorkeling, and kayaking are available at no extra charge.
There are two pools on site. The family pool is adjacent to the Palapa restaurant and bar and is the hub of the resort for kids. The adult pool area offers luxurious cabanas and an infinity pool to enjoy views of the beach.
Grand Isle Resort does not have a kids club, but kids from ages 5 to 12 can be dropped off at the poolside Hummingbird Hut between 10am and 3pm for supervised activities. During peak times, organized activities like pool Olympics and a snorkeling scavenger hunt are led by resort staff. Off-peak, the exceedingly playful and friendly staff will supervise children at the pool or beach.
Grown-ups might also enjoy the 18-hole golf course adjacent to the resort. It was home to the PGA tour in recent years and offers stunning ocean views. Guests enjoy special greens fees. Of course, parents shouldn't miss out on some downtime at the spa of Grand Isle Resort and Spa, offering all sorts of massages, facials, and more beauty treatments. There's even a children's spa menu for kids 12 and under, including a pedicure that comes with ice cream, hair breading, and even a mini facial or massage.
RELATED: 23 Top All-Inclusive Resorts in the U.S. and Caribbean for Families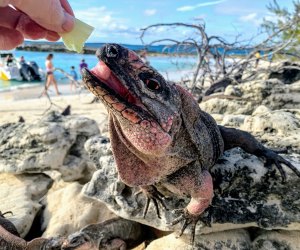 The all-day speedboat tour exploring Exuma stops to feed rock iguanas.
Things to Do in Exuma, Bahamas
Boat trips exploring the islands and cays are perhaps the most popular activity around the Exumas. You can book various excursions through the hotel. The most popular excursion is the "swimming with the pigs" trip where guests travel by speed boat to an island inhabited by feral Exuma pigs. The affable pigs swim out to greet boats and beg for crackers. Feeding the pigs is a lot of fun, but these Exuma pigs are big and have been known to bite, so please supervise small children.
The full-day excursion might also include stopping at several other Bahamas islands where you can swim with nurse sharks, snorkel in a grotto, feed iguanas, and have a homemade lunch at a small local restaurant. I'd recommend the full-day excursion only for those with tweens or older kids as it takes a significant amount of time on the boat to travel from island to island. A half-day excursion will be more manageable for most children.
Other Great Exuma excursions include fishing trips, snorkeling or scuba diving adventures, and on-land ATV trips.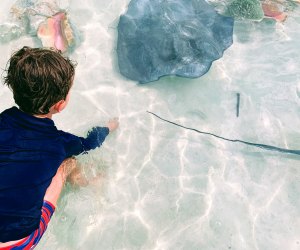 Stingrays circle and eat conch scraps from your hand on Stocking Island.
Restaurants in Exuma
The main restaurant at Grand Isle Resort is Palapa, which offers casual outdoor dining for breakfast, lunch, and dinner. Dishes on the menu might include grilled fish, fresh salads, pasta dishes, and burgers. Local conch chowder or fritters are a favorite. Portions are generally large. A children's menu offers typical kid favorites like chicken tenders and pasta.
Sandy Toes is a beach stand offering jerk chicken, ribs and sandwiches for lunch. The spicy Bahaman style mac and cheese was a huge hit with our crowd.
The resort's upscale offering, 23° North, serves dinner in an elegant, modern space.
A popular day trip is to take a taxi to George Town and then a short water taxi ride to Stocking Island. Chat and Chill Beach Bar serves burgers, grilled fish, and a terrific conch salad that can be eaten at outdoor tables or in the funky, beachy bar. Every Sunday, the Chat and Chill Pig Roast draws families from all around. After eating, hang out in a beach hammock, take a swim, and feed the stingrays who will take conch scraps right from your hand.

The main pool at Grand Isle Resort is adjacent to the bar and offers ocean views.
Is Grand Isle Resort Good for Your Family?
Grand Isle Resort and Spa is best for large families, multigenerational travelers, or groups who will appreciate the large villas.
It's perfect for families who love beautiful Carribean beaches and are happy playing and relaxing on the beach or by the pool and don't need a lot of bells and whistles.
Families with children ages 5 and up will be able to enjoy the Hummingbird Hut activities. Younger children may be satisfied with playing in the pool and sand. Children ages 8 and up will be able to appreciate more of the activities like boogie boarding and boat trips.
A note about accessibility: If anyone in your party has limited mobility, Grand Isle Resort may not be the right for you. Except for the penthouse units, all villas have stairs up to the main living and dining areas.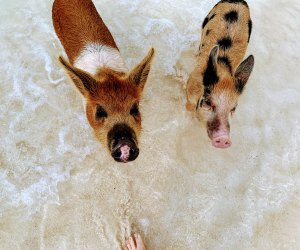 The Exuma pigs are famous! Go swimming with them on Major Cay.
Booking accommodations for Grand Isle Resort and Spa
When you book, you can choose between one- to four-bedroom units with ocean or garden views. All units have full kitchens, dishwashers, washers and dryers, showers and jacuzzi tubs, except for the three-bedroom units, which only have showers. Find out more about Grand Isle Resort and Spa and see available promotions on its website.
Find more top places to stay on vacation in our Hotels & Resorts Guide for Families.