Baha Bay at Baha Mar: A Luxury Water Park Opens in the Bahamas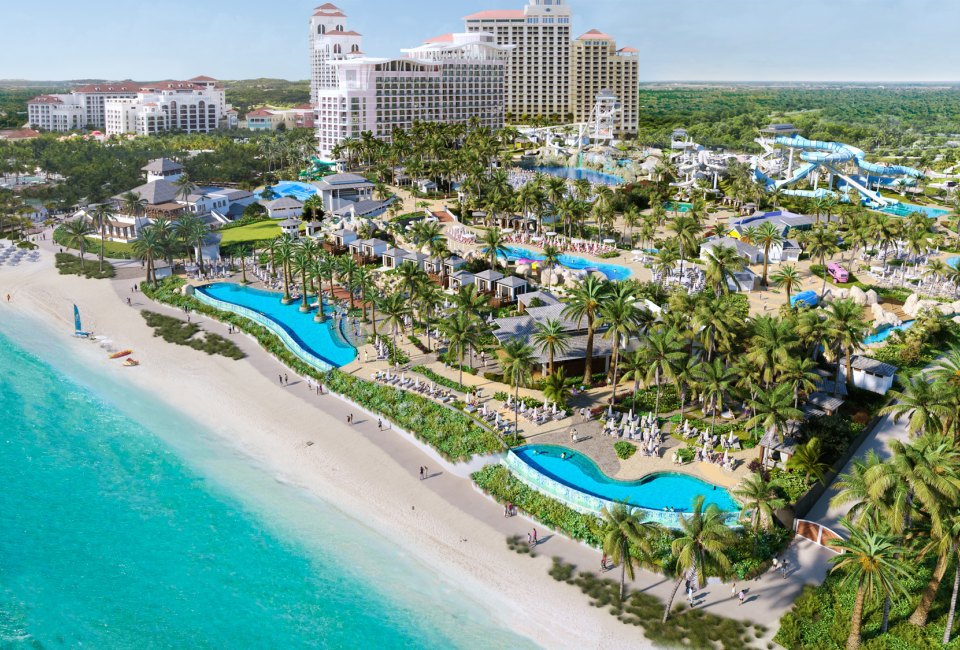 8/21/21
- By
Margaret Hargrove
My 8-year-old daughter and I have visited quite a few water parks over the years. We'd even go so far to say that we're somewhat experts in the field. But I can't think of one that's as beautiful as Baha Bay, the $200-million water park that recently opened at the fabulous Baha Mar Bahamas resort.
We recently traveled to Nassau and had the privilege of being one of the first visitors to the water park. Sitting on 15-acres, with 24 slides, a 500,000-gallon wave pool, and 1,400-foot "action" river, I'm excited to share this review of a truly amazing water park and family-friendly Bahamas resort. Find even more fabulous Caribbean getaways and resorts in our Caribbean Family Travel Guide.
Welcome to the Bahamas!
Baha Mar Resort
As a frequent visitor to Nassau over the years, I've seen Baha Mar progress from a construction site to the luxury beachfront resort that opened in April 2017. Baha Mar comprises three hotel brands: Grand Hyatt, SLS Hotels, and Rosewood Hotels & Resorts. Grand Hyatt is the largest, most family-friendly of the three, with 1,800 rooms split between two towers.
Our room was located in the West tower, with a gorgeous view of the front of the hotel. It proved to be a prime viewing spot for the hotel's nightly Vegas-like fountain light show. All guests are given a silicone wristband at check-in that also serves as your room key. My daughter took pride in being able to open the door on her own with a flick of the wrist.
Our large, light-filled King room (double Queen rooms are also available) was decorated in a modern coastal style. The bathroom had all the essential amenities, with citrus-Balmain bath products. A decadent rainfall shower stood behind a glass wall looking out into the bedroom (a slatted, wooden pocket door made it easy to close off the shower for more privacy). The room was complete with a comfy chair and ottoman, flat-screen TV, two large closets, a safe, minibar, and balcony. There was also a locked interior door, a sign that the Grand Hyatt's rooms could easily be connected for families or groups traveling together.
Guests have the option for daily housekeeping or service every other day.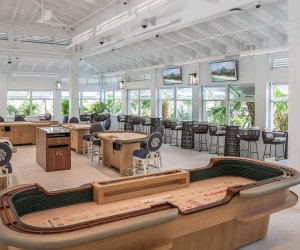 Grown-ups can enjoy a night at the hotel's Casino. Photo courtesy of Baha Mar Resort.
But the stunning hotels are just one part of Baha Mar. There's also a casino—listed as the largest in the Caribbean—restaurants, swimming pools, shopping, a golf course, tennis courts, and a spa. And now, they've added water park to that list.
Baha Bay Bahamas Water Park
Thanks to a delayed flight and later-than-expected arrival to the hotel, we didn't get to see the water park until bright and early on our second day. But I'm glad we waited, as we definitely needed a good night's sleep to prepare ourselves for the awesomeness of Baha Bay.

Swim, slide, and tube in the river at this stunning Bahamas water park. Photo courtesy of Baha Mar Resort.
The water park opens at 10am and we literally walked through the front gate at 10:01am. [Spoiler alert: we didn't leave until the park closed at 6pm!]
Even though we took a quick tour of the hotel grounds after dinner on our first night, the water park remained a mystery because it's located at a slight distance away from the Grand Hyatt. Unlike other hotel water parks that often form the centerpiece of a resort, Baha Bay is a short, 5-minute walk along the beachfront, directly adjacent to hotel complex. That way you can choose to engage with it when you want, but it's not in your face every moment during your stay.
At the time of our visit, access to Baha Bay was limited to hotel guests, but it is now offering a limited number of daily tickets ($130 for adults, $65 for kids). The guest-only exclusivity of the water park made it feel almost intimate and never crowded. Beach chairs were plentiful, and we never had a problem finding seating under an umbrella to get shade from the sun.

The Turtle Beach section of the water park is great for younger kids. Photo courtesy of Baha Mar Resort.
After walking around the entire park to take it all in, my kid made a beeline for Turtle Beach. I'd say that this children's play are will be home base for anyone visiting with kids under 10. In addition to a splash pad, the five, candy-colored slides here are perfectly-sized for littles, and wide enough for parents and siblings to slide down together. After hours (literally!) racing up and down the slides, we moved on to our second favorite part of the park: The River.

Spend an afternoon drifting down the Lazy River. Photo by the author.
A water park just isn't a water park without a lazy river, though this one isn't quite so lazy. I won't give away the surprise water features along the way, but I will say that there's a strong river current that pushes you along as you float along the river, surrounded by lush tropical foliage. After our fifth (or sixth?) loop, we finally hopped off our tubes to find some more action.

Kids can get soaked under Stingray Bucket Dump. Photo courtesy of Baha Mar Resort.
Who doesn't love a giant tipping bucket? Stingray Cove is a classic water park playground that caters to slightly older kids with twisty slides, waterfalls, and an adventure course. And that giant bucket that dumps hundreds of gallons on water onto the heads of everyone standing underneath it every 10 minutes or so.
After working up an appetite, it was time for lunch. The park offers several eateries, so you don't need to return to the hotel area to fuel up. And there's more than the standard water park fare of chicken nuggets and fries: think Southern California cuisine served alongside ocean views at 25 Degrees North, delicious burgers at Umami Burger, and several more restaurants and eateries coming soon, including a Sugar Factory outpost. We opted to grab a quick bite and some drinks at the Barracuda food truck, which was conveniently located near our home base at Turtle Beach.
Neither my 8-year-old or I are big thrill seekers, so we skipped the big slides of which are there are plenty for those who like them. The Dueling Riptide Coaster and Thunderball freefall slides were very popular. The Hammerhead and Cyclone Rush slides were still under construction while we were there, but will provide group water slide raft rides. The Pirate's Plunge drop slides are located next to The Surf, a fun, FlowCurl surf simulator.
We ended our day at the water park at the wave pool. Baha Bay Lagoon is by far the biggest wave pool we've ever seen and what I like most about it is that the waves go on and on (and on) for what seems like a full 15-minutes unlike some other parks where it feels like you get a measly five minutes or so of waves. You wade out into the water from a sandy area to replicate the look and feel of a real beach. After countless rounds of waves, we finally left the water park at closing time.
All About Baha Mar Pools
On day three of our stay, we split our time between the water park and the resort's pools. And this where I want to give a particular shout-out to the amazing and attentive lifeguard staff at the water park. Not only did they ensure the safe operation of the slides and other water attractions, but they were so kind and engaging and even remembered my daughter's name when we returned the next day.
RELATED: Atlantis with Kids Review: 10 Secret Tips for Visiting this Mega Bahams Resort

The resorts is loaded with pools around every corner! Photo courtesy of Baha Mar Resort.
The Grand Hyatt boasts six pools which are open to all guests. (The pools at SLS and Rosewood are reserved for their guests only). You have pools with fountains, pools with "raining" awnings, pools with waterfalls, pools with cabanas, a cave in a pool, a pool with a swim-up bar, a pool with a shark tank, and even a pool with a rock jumping cliff.

Swim through the waterfall to a secluded grotto with an aquarium window. Photo by Margaret Hargrove.
The latter, called Dean's Blue Hole, was by far Willow's favorite and also the most crowded during our stay. Inspired by the actual Bahamian wonder of the same name, the pool has 8- and 15-foot rock walks to jump from. By the end of the day, Willow had worked her way to jumping from the highest cliff. Swim through the waterfall at the end of the pool and you'll find a secluded grotto with a aquarium window to see fish, sea turtles, and sharks swim by.You could easily spend an entire day just at this pool—which we did on our last day—and never get bored.

It'll be hard to get your kids to leave the pool! Photo by Margaret Hargrove.
Honestly, we didn't spend much time the beach, which I know, shocker! But between the water park and the pools, it was hard to pull ourselves away. It goes without saying that the beach in the Bahamas is beautiful. We ventured down to the sand one night after dinner to search for shells. The sand is powdery soft and water lapping at our ankles as warm as a soothing bath. Baha Mar provides beach chairs and umbrellas are plentiful. There's no additional charge for water sports like kayaking or paddling boarding. Next time, I plan to designate a beach-only day, just so I can take advantage of the floating rafts and other water toys anchored in the ocean.
Resort Restaurants
I was admittedly a little nervous about food prior to our trip. My daughter is not an adventurous eater, but to my surprise, she told me several times during that the food was amazing! There are more than 30 restaurants and dining options on the Baha Mar complex. We tried to eat our way through as many places as possible and still regret not getting to them all. Almost every restaurant we dined in offered scannable QR codes, allowing diners to pull up menus on their phones, but paper menus were always available upon request.

Breakfast at Three Tides. Photo by Margaret Hargrove.
We had breakfast twice at 3 Tides, which was located in the lower lobby of the Grand Hyatt West tower where we stayed. You can order off the a la cart menu like we did (pancakes and bacon for my daughter, guava duff French toast for me) or take advantage of the buffet with a made-to-order egg station, fresh fruit, and breakfast pastries. Other days we grabbed a quick breakfast at Starbucks, but it can get crowded. I luckily discovered Café Madeleine, tucked into a quiet corner of the hotel near the retail shops, which serves amazing lattes, pastries, breakfast, and grab-n-go snack options.
We kept lunch casual, eating poolside at Drift Poolside Bar and Grill, which had excellent conch fritters, burgers, and fries, or slices at Pizza Lab. There are also several colorful beach shacks lining the boardwalk area of the resort, including a custom daiquiri bar and Scoops, an ice cream shop serving up hard and soft-serve ice cream as well as ice pops and ice cream bars.

The diverse food options were a hit with all ages. Photo by Margaret Hargrove.
Dinner we decided to go fancy. The first night we ate at Katsuya, which is one of the most popular restaurants at Baha Mar—and hardest to get a reservation for. This was my daughter's first attempt at using chopsticks and she loved that the server brought her her own set of kids learning chopsticks. She's still talking about their amazing vegetable fried rice and the fantastic molten lava chocolate cake that we were supposed to share yet I only ended up getting one bite.
Everywhere we dined at Baha Mar, I feel like the servers went out of their way to be accommodating and make her feel comfortable. Prior to our trip, I learned that Marcus Samuelsson recently opened a restaurant at Baha Mar, and the Marcus at Baha Mar Fish + Chop House did not disappoint. Along with some of his classic dishes, like his cornbread for the table and famous fried chicken, the menu also features many Bahamian influences like conch and grouper. The rock shrimp and grits I had was also outstanding.
On our last night we ventured over to the Rosewood Hotel to have dinner at Costa for Mexican. Greeted by a large Koi pond, the hostess handed Willow a cup of fish food so she could feed the fish while we waited for our table. It's those small touches that made our stay feel even more special.
More to Explore at this Bahamas Resort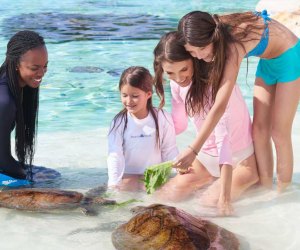 At the Wildlife Sanctuary, you can feed and touch the stingrays and turtles. Photo courtesy of Baha Mar Resort.
Though we didn't take advantage of it on this trip, Baha Mar offer a Kids Explorers Club where you can drop kids off for set hours of activities. Pint-sized guests can do arts and crafts projects, take cooking classes, and play games. I even noticed a group from the kid's club at the water park. Baha Mar is home to a beautiful flock of flamingos. At 9:30 and 3:30pm every day, the flamingos take a walk around the resort and all guests are welcome to join the parade. Or you can book a private flamingo encounter to get an up-close experience with the flock. At the Wildlife Sanctuary, you can feed and touch the stingrays and turtles for another hands-on experience. The hotel complex also boasts a mini golf course, basketball courts, tennis courts, and a fitness center.
Getting There (and Back)
A $40 travel health visa is required to travel to the Bahamas. At the time of our trip, I didn't have to submit a negative RT-PCR Covid-19 test since I'm fully vaccinated; my child was also exempt since she's under 12. But since then, the rules have changed. Now, all fully vaccinated travelers and children ages 2 to 11 years old must test negative for COVID-19 no more than five days prior to arrival. This same rule applies to unvaccinated individuals 12 years and older. A negative PCR test is also required to return to the United States, and Baha Mar provides free, on-site antigen testing. I received our test results via email within an hour to present at the airport prior to boarding. You can learn more about Baha Mar's COVID-19 policy here.
Click Here to Sign Up!
i