22 Free Kids' Music Playlists for Breakfast through Bedtime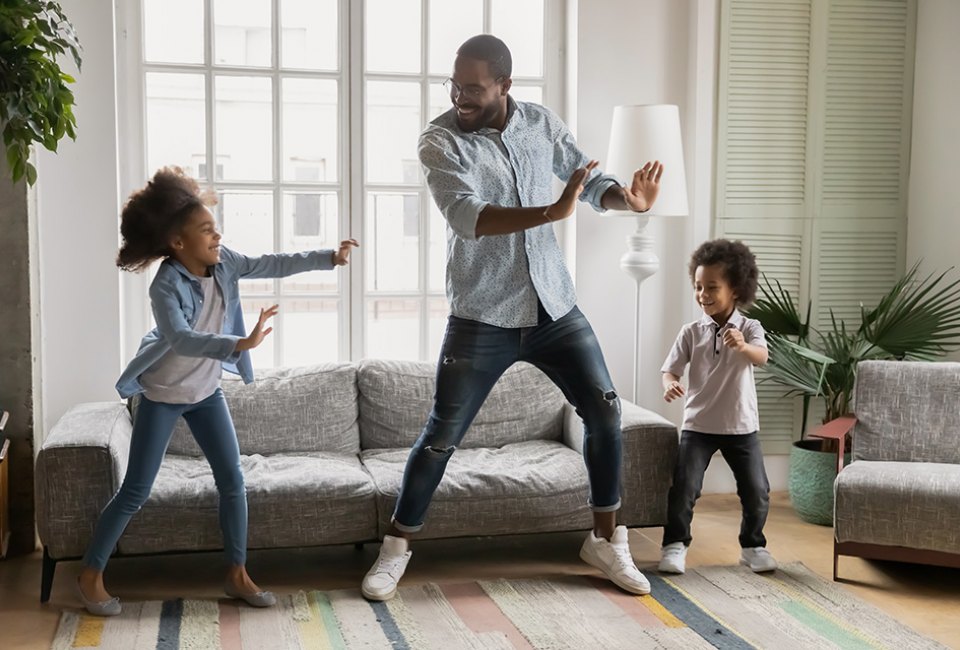 1/20/22
- By
Danielle Smith
If you've played every Kidz Bop album under the sun, or sometimes find yourself singing Baby Shark alone in the shower, it's time for some new kids' music. Here's a list of the best playlists of kids' music, with hits from every genre to fit every activity and mood—whether you're looking for relaxing music for kids that leads to sleep music for kids or fun music for kids that will get a family dance party started. Read on to discover kids' music that will encourage children to be themselves, calm themselves, even learn the state capitals.
For more family-friendly audio entertainment, check out our list of the best kid-friendly podcasts; for more ways to get a family dance party started, don't miss our picks of the best easy TikTok dances for kids.
To get more ideas for simple, easy family fun delivered straight to your inbox, subscribe to our newsletters.
We chose to share Spotify playlists because they are free of charge, with the occasional ad, and they're all easy to play or save with a single click when you have a free Spotify account or the app. This post is not sponsored.
Island vibes courtesy of Bob Marley and early hip-hop beats from A Tribe Called Quest dominate this playlist, which is my personal hands-down favorite list. I really love some of the educational ditties on this playlist too. If your kids have never rapped "Texas has Austin, Massachusetts has Boston," to help them learn state capitals, then I suggest you throw this one on right away.
Whether you're planning for your child's birthday or throwing an everyday fete just because, these songs put everyone in celebration mode.
3. An Exercise Playlist: Kids Workout
Get in shape together with push-up challenges and jump rope games, or pick from our list of 30 exercise games and indoor activities. Pump up these jams while everyone pumps up their heart rate.
4. A Playlist for Hipster Parents With Cool Kids: Kindie
Featuring popular kid-centric artists like Laurie Berkner and The Okee Dokee Brothers, Kindie has a whopping 6 hours of indie rock sounds for children of all ages, and parents who really wish Lisa Loeb would drop another album for adults.
5. A Playlist About Friendship: Best Friends
This playlist mixes every genre imaginable for a delightful two-hour run of songs about friendship. Classics like Bill Withers' Lean on Me follow Disney faves such as Friend Like Me, sung by Will Smith's Genie from Aladdin. One of the best things about being part of a family is that you get to live with your best friends anyway, right? So crank this playlist any time of day or night.
6. The Individuality Playlist: Be Yourself
You're always telling your kids that they're special, unique, and one-of-a-kind. And so are Lady Gaga, Pete the Cat, JoJo Siwa, and others on this collection of songs that encourage kids to maintain their individuality and independence.
While it may not be possible to take the kids to a Broadway show every day, you can bring the music of the Great White Way into your home whenever you choose with this playlist. Your living room is the perfect stage to belt out hits from Wicked, Hamilton, and even Spongebob Squarepants: The Broadway Musical.
8. Calm Music for Kids: Calm Kids
When it's time to mellow out, throw on Calm Kids for songs with chill vibes that instantly lower little heart rates. It's perfect napping music, which is truly music to my ears.
The soundtracks we all love from the movies we all adore.
10. Kids' Music That's a Little Bit Country: Country Kids
Grab your cowboy boots and hat, and kick back for some easy listening on the Country Kids playlist. There are 45 songs here, featuring a good mix of Kidz Bop Country alongside artists like Dan + Shay, viral hits like Old Town Road, and country music wunderkind Mason Ramsey.
11. The Ultimate Disney Playlist: Disney Hits
The greatest pop divas of all time have nothing on a Disney princess. Rock out with Anna, Elsa, and Moana, or favorite Disney characters like Woody and Simba.
When it's time to burn off some energy, get the family movin' and groovin' to these kid-friendly dance jams.
If you haven't already introduced the kids to James Taylor and Woody Guthrie, put on this playlist with uplifting lyrics and plenty of string guitar.
You've got the car games and podcasts ready, and the rest of your road-trip essentials are packed. All that's left to do now is throw on this playlist and enjoy the ride.
15. The Playlist That Makes You Hungry: Let's Eat
Songs about making food, songs about eating food, songs called Vegetables are Funky—find them all on the Let's Eat Spotify Playlist. Turn this one up while the kids nosh on something yummy from our Easy Recipes Guide.
There are several playlists that help kids fall asleep, and most are strictly instrumental, employing piano, harp, and even glockenspiel to whisk kids off to Dreamland. But my favorite is Lullabies for Little Ones, which has songs with actual lyrics to induce slumber. The Beatles show up on this playlist with a gorgeous 2009 remastered version of Blackbird, and so does my vote for the most soothing song ever—Israel Kamakawiwoʻole's Over the Rainbow.
17. Fun Music for Kids: Pop 4 Kids
It's called pop music for a reason—these are the most popular kid-friendly chart-toppers on the airwaves. Because these songs are straight from the radio, expect a lot of Kidz Bop versions that avoid grown-up words and themes. Still, this playlist is a nice curation of contemporary music that everyone will like.
Kids will laugh until their tummies hurt, and they'll definitely get allll of the sillies out when they hear this playlist. With gems like Mr. Butt and The Poop Song, Silliest Songs Ever more than lives up to its name. I really like this playlist for morning rides to school. Kids can't help but start the day with a smile when a true masterpiece like The Art of the Fart comes blaring through the speakers.
Some songs are meant to be listened to, others are meant to be sung. Kids know these songs by heart and will happily join in the chorus, loud and proud, whenever they hear them. There are nursery rhymes, Disney bops, and yes—this generation's most prolific earworm—Baby Shark.
I don't know why, but I do know that kids love Hall & Oates. This is the only kids' playlist here with zero kids songs, just feel-good music from an analog age when you couldn't say bad words in the studio. Stevie Wonder, Aretha Franklin, Prince, and a full all-star lineup present 4 hours of old-school bangers for multiple generations.
21. The Ultimate Kids' Music Playlist: This is Raffi
While I love some of the newer faces on the kids' music scene like Justin Roberts and Blake Rules with Netherfriend—Raffi will always be the OG.
22. The Playlist That Makes Kids Brush Their Teeth: Your Daily Routine
Waking up? There's a song for that. Brushing your teeth? There's a song for that too. Getting dressed, eating breakfast, taking a bath, and all the other activities in a kid's daily routine get their very own soundtrack on this fun playlist.