50 Fun Things To Do in Paris with Kids
4/9/22
- By
Jody Mercier
A visit to the City of Lights has long been on my bucket list, and I was thrilled—and shocked—when my husband surprised me with an epic family vacation to celebrate a milestone birthday. We found plenty of things to do in Paris to fill our days and nights with outings and explorations that weren't always kid-centric but delivered a sophisticated, satisfying trip for our family of five, ranging in age from 8 to 40-something. And I'd be remiss if I didn't mention how kind, helpful, and stereotype-defying we found the French people.
From trekking through the Louvre Museum to climbing the Eiffel Tower and wandering the winding, cobblestoned alleys, here are our favorite things to do in Paris with kids. Find more international destinations nearby in our European Travel Guide for Families.
Subscribe to our newsletters to get stories like this delivered directly to your inbox.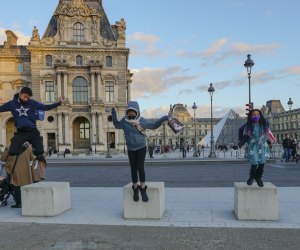 The City of Light made us all jump for joy.
Things To Do in Paris with Kids
This modern zoo is home to 3,000 animals. You'll see everything from anteaters to zebras.
One of the best children's museums anywhere, Cite des Enfants in the City of Science and Industry offers hands-on learning for kids ages 2-12.
After visiting the Cite des Enfants, slide down a dragon or wander through a bamboo maze in the creative playgrounds at Parc de la Villette.

Take in the view of Sacre Coeur from the Eiffel Tower.
Visiting the Eiffel Tower is, obviously, one of the most popular things to do in Paris. Skip the long lines and burn off some energy by opting to climb the 704 steps up to the second floor for some spectacular views. Make sure to catch the nightly light show from somewhere in the city—or from multiple points of view. It truly captivated us.
5. Cruise the Seine
We opted for a sunset dinner cruise in a glass-top boat booked through Viator, but the options are endless.
Related: 25 Things To Do in Amsterdam with Kids

Mona Lisa is a must-see in Paris.
6. Meet Mona Lisa
Arrive at the Louvre early and make a beeline for Mona Lisa. My kids told me it sounded as if I was plotting a heist as I explained to them the route we'd take to Mona Lisa's gallery when we got inside, but it paid off. We got an incredible view before the gallery got crowded!

You could easily spend several days at the Louvre.
7. The Louvre Museum
There's so much to see at the Louvre Museum, it's worth more than one entry—and maybe more than one day! While we loved the Venus de Milo statue, the Liberty Leading the People painting, and the opulent Napoleon Apartments, perhaps the biggest star of the world's largest museum is the building itself.
Related: Stockholm in 48 Hours: Best Things To Do in Stockholm with Kids

The Notre Dame is stunning both by day and by night.
While this massive cathedral is still closed following a devastating 2019 fire, it's still a stunning sight to behold. We visited at night and were so awed, we had to go back in the daytime.
Nearby you'll find the stunning Sainte-Chapelle, and you should definitely step inside to see its 1,113 colorful stained-glass windows and classic Rayonnant Gothic architecture.

Take a scenic stroll through Luxembourg Gardens. Photo by Ed Webster, Flickr, CC BY-NC-ND 2.0
In addition to gorgeous formal gardens, Luxembourg Gardens offers playgrounds, puppet shows, and more. The highlight is sailing vintage wooden boats on the duck pond.
Blow off some post-Louvre steam in the playgrounds at the Tuileries Gardens, the oldest French-style gardens in Paris. For a few Euros, your kids can bounce to their hearts' content on the trampolines. There's also a popular summertime carnival.
See the world's largest impressionist art collection at the Musee D'Orsay, which is housed in an old train station.
RELATED: 25 Things To Do in Berlin with Kids

Search for hidden fountains in the maze-like gardens of the Palace of Versailles. Photo courtesy of Dmitry Djouce, CC BY-NC-ND 2.0
Though it's a day trip, visiting the Palace of Versailles is worth considering. The gardens are a maze-like park with hidden fountains to discover. Kids will especially love Marie Antoinette's hamlet, a make-believe farm complete with animals. Bike rentals make getting around the giant site easier.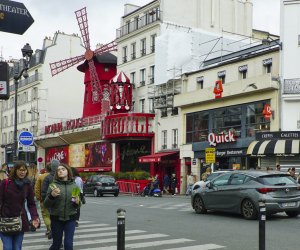 Get lost on the charming sidewalks of Paris.
14. Walk the City Streets
While we spent plenty of time on the Metro, my favorite days during our vacation were the ones where we just wandered the sidewalks, cobblestone alleys, and riverfront promenades to see where the day would take us.
15. Climb Aboard a Carousel
Charming, antique-looking carousels are everywhere. Ride an extinct dodo bird at the Jardin des Plantes carousel, spear the rings at the Jardin des Luxembourg carousel, take a twirl at the base of the Eiffel Tower, or ride one of the many other carousels found in parks and plazas around the city.
Brace the roller coasters at this theme park that brings ancient France to life.
Related: 25 Things To Do in Barcelona with Kids

Revel in the romance of the Pont des Arts. Photo by DXR, CC BY-NC-ND 2.0
See how the most romantic city celebrates love at this world-famous bridge, where couples have attached hundreds of padlocks to the bridge and thrown the keys into the river. While it's prohibited to add to the collection, it's still cool to take in.
See a puppet show, ride a camel, listen to a concert, ride a train, and more at this children's park.
19. Book a Bus Tour
Take a night tour via bus and marvel at the city lights.

Go shopping on the famous Avenue des Champs-Elysees. Photo courtesy of @Jonathan, CC BY-NC-ND 2.0
Stroll this well-known shopping destination lined with fancy shops, quirky public art, and fancy automobile showrooms.
Reach the end of the Champs-Elysees and you'll find yourself at the foot of the Arc de Triomphe, where you can marvel at the traffic as 12 streets lead to its base or climb to the top for sweeping city views.
Related: 30 Best Warm and Sunny Family Vacation Ideas

Kids under 4 ride free on the Paris subway system. Photo by Pierre Blache, CC BY-NC-ND 2.0
22. Ride the Metro
The Paris subway system is easy to navigate and reasonably priced. Kids under 4 years old ride free, and ages 4-9 are half-price.
This wacky, colorful, artistic fountain designed by Jean Tinguely and Niki de Saint Phalle can be found near the Pompidou Center, a modern art museum that was built "inside out."
Climb the steps leading to this beautiful basilica, or just sit on them to enjoy the street performers and amazing view of the city.

The views from the village of Montmartre are breathtaking.
25. Montmartre
The hike up the 270 steps to the stunning, colorful village of Montmartre is worth it for the views alone. Explore its tiny cobblestone streets on foot or kick back with a tour on The Little Train.
If you'd prefer a view of the Eiffel Tower instead of a view from it, this observation deck is worth a visit. It's located in a charming residential neighborhood filled with local shops and restaurants.
Related: 12 Hotels Around the World That Will Blow Your Kids' Minds

Go underground to the Catacombs for a glimpse of 200-year-old bones. Photo by Rob Mercier
Go underground to the Catacombs, where you can see the bones of some of the millions of people buried below the city 200 years ago.
28. See a Cemetery
Along the same lines, Paris' cemeteries are worth wandering through. Seeing the centuries-old monuments to lives lived was a step back in time and a lovely off-the-beaten-path view of Parisian culture and diversity.
At this grand building, you can see Foucault's Pendulum, which was invented by the French scientist to prove the rotation of the Earth.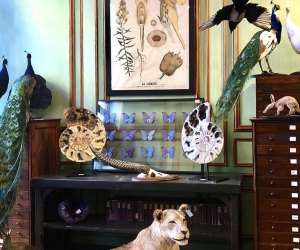 Deyrolle House is full of taxidermied animals. Photo courtesy of Deyrolle House, Facebook
Check out the amazing taxidermied animals at Deyrolle.
Visit Disney's Paris theme park to see how the French version compares to the Florida and California parks.
32. Shop the Street Vendors
We loved perusing the quirky wares. Our favorite spots were the carts set up along the Seine and seeing the creative artists who set up in the Place du Tertre near Sacre-Coeur.
Related: Our Favorite Family Vacation Spots of 2021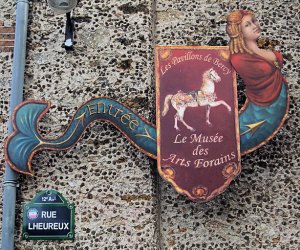 You can actually ride some of the antique carnival objects at the Musée des Arts Forains. Photo by Jim Linwood, Flickr, CC BY-NC-ND 2.0
See, touch, and ride an incredible grand collection of antique carnival objects at this gorgeous museum.
In summer months, the banks of the Seine turn into a beach. Visit the Paris Plages for sun, sand, and activities.
35. Frolic in a Fountain
When the temperatures rise, children turn the Trocadero (at the base of the Eiffel Tower) and other fountains into impromptu pools.

The lit-up Louvre at night is breathtaking.
36. Explore After Dark
They don't call Paris the City of Lights for nothing! Our adventures extended well after dark. We loved spotting the lights of the Eiffel Tower from wherever we were. Evening walks along the Seine were mesmerizing, with its inky waters drawing our gaze as we crisscrossed its bridges. Likewise, a late-evening stop at the Louvre was the best view we had of I. M. Pei's famed pyramid.
See more than 7,500 underwater creatures at this aquarium, including 50 sharks and Europe's largest jellyfish exhibit. Located in the Trocadero, it's an easy walk from the Eiffel Tower.
This fascinating museum depicts the history of war from the Stone Age to the present. Suits of armor, antique firearms, and an excellent kids' audio guide make it more fun than it sounds. One thing that struck us on our travels was the value of seeing history through a non-American lens.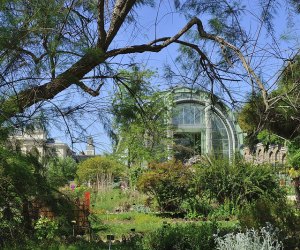 Enjoy a garden, a zoo, and a natural history museum at the Jardin des Plantes. Photo courtesy of Frédéric Bisson, Flickr, CC BY-NC-ND 2.0
The Jardin des Plantes is so much more than a beautiful garden. There's a small zoo and a natural history museum, too.
This children's science museum s all in French, but it has a lot of interactive exhibits that transcend language.
Distorting mirrors, rabbits from hats, and a short magic show (in French) make the Musee de la Magie a fun stop.
Stroll this open-air market—one of Paris' largest—on Thursdays and Sundays. You'll find everything from fresh produce and poultry to charcuterie and cheeses.

Bonjour!
43. Practice Your French!
I took three years of French in high school—more years ago than I care to count—and refreshed my knowledge with Duolingo before we departed. I still struggled with the language when we were there, but I'm glad I tried—and that my kids did, too. I think our muddled attempts softened the French's attitude, and we found everyone helpful during our stay!
Food in Paris You Simply Must Try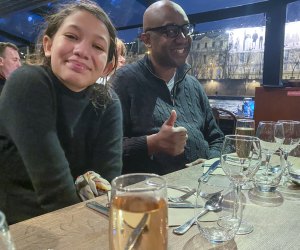 Paris is truly a foodie's paradise.
Of all the amazing things to do in Paris, eating the city's most popular foods is one of the most essential. And while this foodie paradise is filled with fabulous restaurants, there's nothing quite like strolling through the quaint streets and popping into any of the fromageries, patisseries, and markets you pass. You can get a croissant, crepe, or baguette from pretty much any of them and not be disappointed. Here is some of the food in Paris you definitely must eat.
44. Cheese
Do not leave Paris without visiting at least one fromagerie. These cheese shops peddle some super stinky (and yummy) French cheese.
45. Chocolat Chaud
During our wintertime visit, this creamy chocolate drink saved many a meltdown! You'll find fine drinking chocolate at bakeries, sidewalk cafes, and even street carts. We never had a bad cup!
Related: Not Home Alone: What Age and How to Prepare Your Child to Travel Alone in the City

Indulge in homemade ice cream from the famous Berthillon.
46. Homemade Ice Cream from the Berthillon
Wander the narrow streets of Ile-Saint-Louis to find the famous Berthillon, where homemade ice cream is prepared daily and can be ordered from a street-side counter.

Who In your family will be brave enough to try escargot?
47. Escargot
When in France, be a food explorer and try garlicky escargot—yes, snails—served at almost any bistro. I convinced 3/5 of my family to try them, and while no one asked for seconds, we all enjoyed them!
48. Macarons (Preferably Picnic-Style)
While Paris is well-known for its sidewalk cafes, our favorite restaurants in Paris weren't restaurants at all. We'd grab some provisions at a local market and enjoy a feast in the many gardens. Colorful macarons, freshly squeezed OJ, and a nice bottle of French wine were always the stars.

Pop into a patisserie and enjoy a baguette or a sweet treat.
49. Pretty Much Anything From a Patisserie
Baguettes, croissants, pain au chocolates—all of these were mainstays in our diet during our visit!
50. Crepes
Pancakes for dinner! Or lunch! Or dessert! Creperies serve both sweet and savory pancakes that are perfect for any meal, and are also the snack that fueled our many walks through the Parisian streets. Crepes were our first meal in France and our last bite before we headed for home.
Originally published in 2016; this post has been updated. Pam Hegner contributed additional reporting.
All photographs, unless otherwise indicated, were taken by the author.
t Click Here to Sign Up!