Stockholm in 48 Hours: Best Things to Do in Stockholm with Kids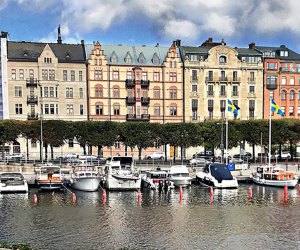 The beautiful Nordic city of Stockholm makes a wonderful family travel destination even if you can't spend the week. For those traveling through Europe with the kids, and taking advantage of high-speed train travel and plentiful flights for a multi-city tour, a stop in the capital city of Sweden is a must-do in our opinion.
Stockholm offers an amazing blend of historic and modern things to do for all ages. Surrounded by water and made up of more than a dozen islands, Stockholm's buildings sit in a row, symmetrically together, offering up stunning views. The streets are impeccably clean, and many (especially in the neighborhood of Norrmalm) are blocked off to cars and restricted to foot traffic only. You're also likely to meet local families at the many playgrounds that dot this kid-friendly and outdoors-loving city.
Read on for our favorite things to do in Stockholm. Find more nearby cities in our Family Travel Guide to Europe.

Staying in the trendy Sodermalm neighborhood offers access to parks and great restaurants and hotels. Photo courtesy of Visit Stockholm
While there are many popular neighborhoods to explore, we'd recommend staying in one of these for a quick visit as you'll be more centrally located to all the fun things to do in Stockholm with kids: Norrmalm, Gamla Stan (Old Town), Djurgården, and Sö​dermalm.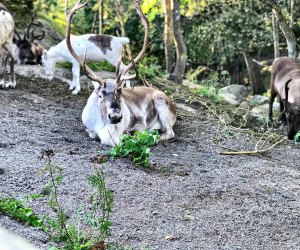 Your kids will love getting this close to real reindeer at Skansen, an open-air living history museum.
Culture Tour in Djurgården​
The Djurgarden neighborhood is comprised of world-class museums, as well as several top attractions for kids, such as an amusement park and zoo. It's filled with green spaces, yet close to downtown. Even if you only have one day in Sweden, we'd recommend making this area your first stop.
Morning
After grabbing an early classic Swedish breakfast at STHLM Brunch Club, start your morning at Skansen, the world's first open-air museum. To say it's a national treasure would be an understatement. This museum set the standard back in 1891 for what a living museum should be, building replica neighborhoods based on different phases in Swedish history. The site mainly focuses on the 18th century but multiple generations of life are represented by actors in classic dress, most of whom speak fluent English. The site is also home to a small, whimsical zoo, a wonderful aquarium focused on sustainability, and multiple dining options. You could wander the site all day and depending on the ages and interests of your children, it's quite a hike across the property so take your time. While you're there, make sure to grab some lunch before hitting your next location.
RELATED: Iceland with Kids: 10 Top Things to Do in Iceland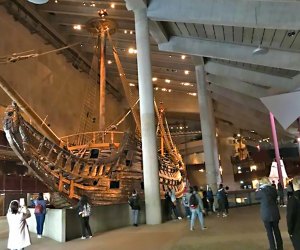 The enormous Vasa shipwreck is a take-your-breath-away museum stop.
Afternoon
A short walk away is the Vasa Museum, a popular maritime museum named for a 17th century shipwreck. The focus here is on the Swedish version of the Titanic, only it's less tragic. In 1628, an opulent ship left Stockholm's harbor only to sink before it was even out of sight. The museum explores what happens when ego perseveres over patience. The Vasa ship is the world's best-preserved 17th-century ship, and kids will likely thrill to walk around it taking in the details. It's also a quick trip, so you don't need to budget more than an hour for the visit unless ships are your passion. Stop at the nearby cafe for a Fika (the Swedish coffee break which includes very mild coffee alongside a fresh pastry, typically in the fashion of a cinnamon bun).
RELATED: Sleep on a Houseboat in Amsterdam for a Total Family Vacation Win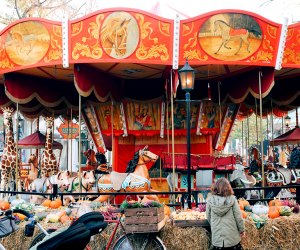 A ride on the carousel at the Grona Lund amusement park in Stockholm is sure to be a hit. Photo courtesy of Visit Stockholm
If the kids aren't too museum-ed out, check out Nordiska Museet for an exploration of Nordic life, featuring some cutting edge museum technology and immersion. But if you're ready for a change of pace walk over to Grona Lund, Stockholm's fun (and amazingly affordable) amusement park. Kids 6 and under are always free, and adults are only $13kr (roughly $13 US)! Any energy they have leftover, will surely burn off here. The park is small, with only 30 attractions, but it's very charming and inexpensive.
Evening
It's time to get some Swedish meatballs. Your restaurant choices are limited only by how far you want to travel (and where you might be staying). We loved our meal in Sö​dermalm at Meatballs for the People (reservations are a must).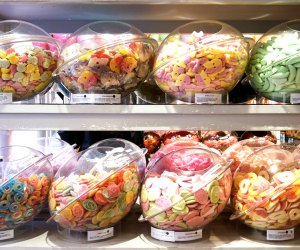 Sample the delicious, fresh-made candies. Photo courtesy of Visit Stockholm
Tour and Shop in Gamla Stan, Old Town
Morning
Spend the day in Gamla Stan, also known as Old Town, the preserved Medieval-era city center of Stockholm. No need to get up at the crack of dawn, Sweden isn't an early morning town so most shops and sights don't open before 10am. Grab a lovely breakfast with fresh-squeezed OJ at Café Schweizer, dishing up Swedish classics near all the sights. Then wander the streets of this charming and historic neighborhood. It's amazingly well-kept, and bustling with shops Make sure to walk all the way down the streets of Stora Nygatan and visit the adorable​ Kalejdoskop G Hasselberg toy store (especially for younger kids) and the Old Town Polkagriskokeri AB candy store. Grab lunch at Jerusalem Kebab and explore the gift shops along the way for all your Swedish swag.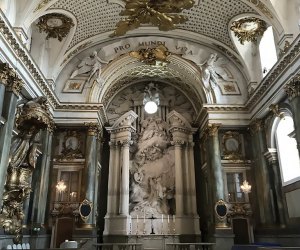 Take a peek inside the Royal Palace sanctuary, an active residence and museum.
Afternoon
On your way out of Gamla Stan, swing into the Royal Palace to view the amazing (and FREE) Sanctuary. Or purchase tickets to view the three museums, and royal treasury, that are also onsite. Just be ready to meet a royal: they still live here and use the palace daily. Enjoy the sites of the canal as you head across the bridge to Norrmalm.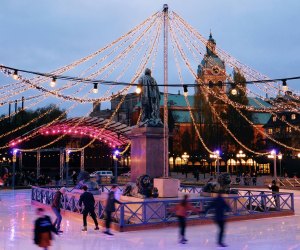 Ice skate or just walk around the pretty Kungsträdgården Park. Photo courtesy of Visit Stockholm
Walk (or bike, or cab) your way to Norrmalm, the trendy high-end side of town where you will find the heart of the "city" of Stockholm. Norrmalm has a lot to offer, so wandering is really your best bet. You'll pass some of the most amazing playgrounds every few blocks. The designs of many of these playgrounds are so imaginative and speak to the Swedes love of outdoor play for kids. Don't miss the Uggleparken playground and a walk around the beautiful Kungsträdgården park.
Evening
Grab an early dinner because your final event for the evening is a night at the Opera. Don't worry, there's always a show designed with a younger audience in mind. A visit to the Royal Opera, founded in 1773, is a must-stop (even if you don't catch a show).

This playground in Hammarby Sjöstad, south of Stockholm city, is a mini version of a shipyard. Photo by Anna Hållams/imagebank.sweden.se
More Top Things to Do in Stockholm
If you have another day in Stockholm with the kids, here are a few more favorite sights and eats to try!
Enjoy sunset dinner at Himlen where the 25th floor location gives you stunning views of the city.
Take the train to Trosa, a picturesque town only an hour away.
Cruise the archipelago by ferry to enjoy Stockholm's island life, waterways, and water sports.
Grab sushi at Raw for some of the freshest seafood around.
Check out the ABBA Museum, one of Stockholm's top tourist attractions and a celebration of the Swedish band and music.
Photos by the author except where noted