Stay on a Houseboat in Amsterdam for a Total Family Vacation Win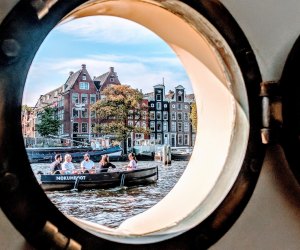 Amsterdam is a wonderful city to visit on a European family vacation. The city is kid friendly with lots of fun things to do for families, including wonderful parks, engaging museums, and many delicious restaurants to try. It's also relatively easy to navigate with children in tow.
The city is full of canals, which is another plus for kids as they often love to watch the boats or even take a ride. One of the most special (and affordable) ways to visit Amsterdam is to stay on an actual houseboat instead of in a hotel.
When you visit Amsterdam, you can't help but notice these charming houseboats lining the canals and Amstel River. They look so cozy, and many even have gardens growing around them. Our family stayed on a houseboat in Amsterdam for a long weekend and found it to be a comfortable and fun way to visit the city with children.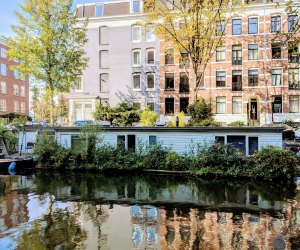 Gardens surround many of the Amsterdam houseboats.
Should you stay on a houseboat in Amsterdam?
Houseboats usually have all the conveniences of a modern apartment with a regular bathroom and shower and a small but full kitchen. This makes them great for families, because you can cook meals and have a living room and private bedrooms to spread out a little bit more than in most hotel rooms. We had heat, internet, and a TV, too.
The houseboats aren't rocky at all, so you don't have to worry about motion sicknesses with the kids (or yourself).
There are three main types of houseboats in Amsterdam. Some are smaller boats that really look like boat cabins inside. These are very cute but might not be suitable for a family as it typically comes with just one bedroom.
RELATED: Paris with Kids: 39 Fun Things to Do for Families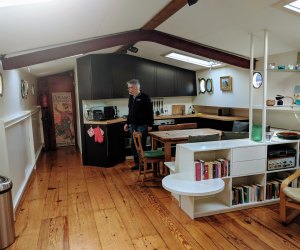 Full kitchens and multiple rooms allow families to spread out.
It's more commonplace to find a converted barge. Some of these look almost like modern houses with large windows, sliding doors, wood paneling, and maybe even a little outdoor deck. They can be quite large and chic but don't necessarily give you a real boat feeling on the inside. This type of houseboat might have two or even three bedrooms, as well as an open living space. Other barges might be modern but retain more of a boat feeling with porthole windows and other nautical elements.

Bunk beds work well in small spaces—and for kids!
Besides the convenience of having a bit more space and a full kitchen, which you could find with any Airbnb, we enjoyed sitting out on our boat deck with our coffee in the morning and with a glass of wine in the evening. Amsterdammers enjoy boating down the river on weekends, and it was fun to watch them drift by. Ducks and even some swans also came around to visit, and it was just a lovely spot to enjoy the scenery.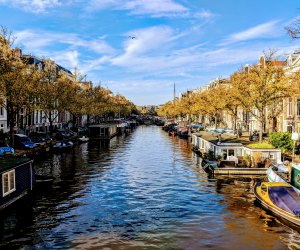 Houseboats line many of Amsterdam's canals.
Staying on a houseboat may not be for every family. Check carefully to see what the access is like to your lodging. It could be a gangplank with an open railing, or it could require clambering over multiple ramps. The decks usually do not have any safety railings, so you would want to be careful with small children if you spend time up on your boat's deck, and it just might not be worth the hassle of having to watch them 24-7 around these hazards. People traveling with small children, or anyone with mobility issues, will probably want to choose another place to stay in Amsterdam.
Also, consider location. The inner canals are narrower and can be quite picturesque, but they are also in the city center, which I've heard can get quite raucous. We found a houseboat on the Amstel River just a little bit outside of the center, but still close enough to walk anywhere in the city. We didn't have any issues with loud noises.
RELATED: Why You Might Enjoy a Disney Cruise to Europe as Much as Your Kids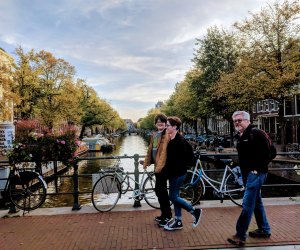 The kid-friendly city of Amsterdam is walkable and teeming with attractions.
How to find a Houseboat Rental in Amsterdam
You can easily find houseboats on Airbnb. There is a filter for "boats" that will bring them up. The nice thing about Airbnb is that if you've used the site before you will appreciate the familiarity with the process as well as a certain sense of security associated with the site. However, there are not many choices there.
You'll find many more options on sites specifically dedicated to houseboat rentals like BookaHouseboat.com and HouseBoatHotel.nl. I preferred the booking system of BookaHouseboat, but we ended up finding the better booking for our stay on House-Boat Hotel. On both sites, you'll be booking with an individual, similarly to Airbnb. One drawback to Houseboat Hotel is that, while you can pay your deposit in advance, you cannot pay the remainder by credit card. The whole fee must be paid up-front to use a card. Alternatively, you can pay the remainder in cash when you arrive. We didn't want to have to deal with finding a change place for that much money right on arrival, so we paid the whole fee in advance. This was a little unnerving, but we didn't have any issues. Our host was very nice and even allowed us to check in a few hours early.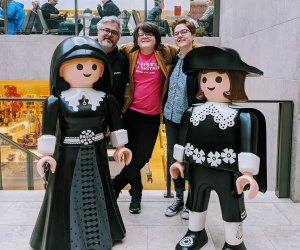 Pick a boat close enough to the city's main attractions, but not so near to the noisy city center.
Renting a houseboat is about the same price as a hotel room or Airbnb, depending on the location and the size of the boat. While a houseboat stay may not be right for every family visiting Amsterdam, it definitely added a memorable touch of novelty to our vacation. I would definitely do it again on a future visit to this fun, family-friendly city. If you are planning a visit, make sure to check our list of
25 Top Things to Do with Kids in Amsterdam
.