Why You Might Enjoy a Disney Cruise to Europe As Much As Your Kids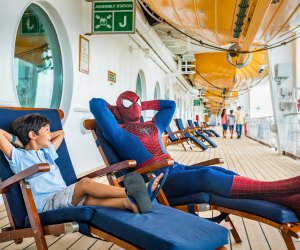 When my husband suggested a Disney cruise as a way to introduce our kids to Europe, I was doubtful. Our girls had yet to take a plane ride, and we were going to tackle the great cities of Rome, Barcelona, Cannes, Genoa, and others with them? Couldn't we just hit a theme park instead? Ultimately, though, I gave in, even as I imagined dragging a reluctant kindergartener through scenic city streets as she begged to watch "DuckTales" instead.
I shouldn't have worried. Not surprisingly, Disney knows how to make kids happy—and, as luck would have it, parents, too. While cruising with Mickey Mouse (and almost every princess) wasn't the same as my previous trips through Europe, it wasn't a floating Disneyland, either—and that was just fine.
The "Adventures Away" party is the official start of the cruise with high-energy music, dancing, special effects and appearances by Disney characters.
After flying to Rome, we boarded the Disney Magic, an Art Deco-styled cruise ship with room for 2,700 passengers. Although I have no doubt every room was sold out, it rarely seemed crowded on the ship thanks to careful planning on the part of Disney. Three pools (one just for adults 18 and over) plus two massive slides kept crowds down on-deck, while two seatings for dinner and three restaurants (not including a special adults-only restaurant available at an additional charge) managed mealtimes.
Amazingly, while kids were always present, there was never a sense they were running wild or without supervision -- with 950 crew members, there was always a "grown-up" on hand to gently ask kids to stop running or to not play with the drink machines (though admittedly, most kids seemed very well-behaved on our cruise). If traveling with a bunch of kids makes you think of a floating elementary school with all the usual coughs, colds, and flu bugs, Disney had that covered, too. Hand sanitizer pumps were everywhere, but Disney also had crew on hand to hand out wipes as you went into meals or came back from the ship. If that wasn't enough, there were large communal sinks outside of the dining hall. All common areas were spotlessly clean, too.
When you wanted to have time with your family, there was plenty of opportunity. In addition to off-site excursions, there were dance parties on-ship for the whole family, plus live shows twice every evening, three of them Disney productions (and when they say Broadway quality, they aren't kidding -- the singing, performing, lighting and sets were impressive) and one solo magician. Characters popped up around the ship every day, ready to meet-and-greet kids and cruisers. After waiting in long, sweaty lines at Disneyland, it was wonderful for my kids to have time to hug Belle or Stitch, talk with the characters, and only wait a few minutes for the chance. Another fun detail -- as we entered different ports of call, characters like Donald and Goofy changed their outfits to mirror looks associated with the city.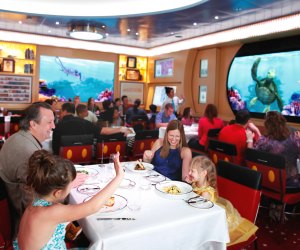 Dinner in the Animator's Palate
Dinner was a production in itself. In the Animator's Palette, screens showed sketches of characters from beloved Disney films -- and changed throughout the evening. There was more to the shifting artwork, but to reveal it would spoil the surprise. The rotational dining also included Rapunzel's Royal Table (where Rapunzel, Flynn Ryder and other characters performed and visited tables) and Lumiere's. Every family also had their own waiter assigned to them throughout the cruise, which made for a more personal experience (and also meant sharing baby pictures by the end of the week).
But when the ship landed in port (and in traversing the Mediterranean, there was a new port almost every day, with only one at-sea day), my kids weren't exactly itching to see castles that didn't have Cinderella living inside. After spending a few days in Rome before the cruise, during which my kids were more interested in juice boxes than the Colisseum, I didn't love the idea of dragging them through museums and down cobblestoned streets, either. The solution, thankfully, was right on ship. There are three youth clubs on ship -- the Oceaneer Club for kids ages 3 to 12 (they must be fully potty-trained, FYI), the Edge for tweens, and Vibe for teenagers. There's also a nursery for very little ones.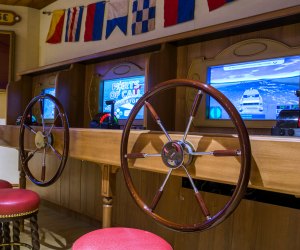 The Oceaneer Lab
The minute my kids got inside the Oceaneer Club, they didn't want to leave. Disney crewmembers had craft activities, dancing, and storytelling throughout the day, plus kids could watch movies or play on iPads (all featuring themed Disney entertainment). Given that the clubs are open all day and into the evening, I was wondering what the clubs did with kids who got tired -- then saw a child sleeping on a mattress in a quiet corner. There's also a Dine and Play program for families who choose the second dinner seating at 8:30pm (the early seating is at 6:30pm). Kids are fed earlier and escorted to the play space, then parents can have dinner alone.
Because our kids loved their club (and talked about it non-stop when they weren't there), my husband and I got to explore cities we hadn't visited on previous trips, such as Genoa and Marseilles. We did make the kids join us when we traveled around Pisa, only because we knew that cliched "holding the tower in your hand" photo was one they'd appreciate eventually. Otherwise, though, we wandered through markets and museums at our own pace, knowing the kids were having a blast on the ship.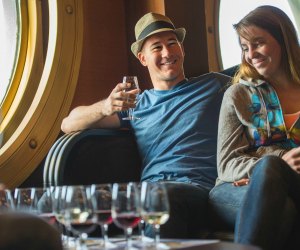 There are adult activities too, like wine tastings
Later, we could sit by the grown-up pool, read a book (!!!) and get "good" coffee. Unfortunately, though coffee was available in spots throughout the cruise, it was pretty awful. However, there was a coffee shop near the adults-only pool where you could get an okay coffee-bar style drink or smoothie for an additional fee.
Other than bad coffee, there was very little on the ship that proved bothersome -- which was a surprise given some of our previous cruise experiences. For anyone choosing the Mediterranean cruise traveling from the West Coast of the US (or anyone used to early bedtimes), know that even the 6:30pm dinnertime might prove challenging. Both of our kids fell asleep at the table more than once, though their jet lag lifted a few days into the cruise.
The Bibbidi Bobbidi Boutique has princess and pirate makeovers
For parents who love all things princess (or aren't 100 percent committed to the concept), know that there's a Bibbidi Bobbidi Boutique where little girls get princess hair and make-up makeovers as well as a princess dress for an additional charge -- and the staff applauds when they walk into dinner (and if you opt against it, your kid may longingly tug on your sleeve, asking for a tiara). Because this is Disney (and there's plenty of onboard shopping available), expect an upsell here and there, but it's never aggressive. There was also some glitchiness with communicating schedule info and changes, despite daily print-outs delivered to your door and a helpful app, though that was a minor problem.
What may stand out the most if you take any Disney cruise is how attentive and helpful the staff is. Every night, your fresh towels are sculpted into creative shapes (there's a towel folding seminar during the cruise if you're as amazed as we were). The top-rate performers who get standing ovations twice a night also spend their days escorting characters to meet-and-greets -- and do it joyfully. Everyone you meet will be more than happy to answer questions or help if you have a problem -- even if it isn't their specific job duty.
My kids didn't experience a whirlwind tour of Europe on this cruise -- and that was okay. We learned before the cruise started that visiting the sites my husband and I treasured was not going to resonate with them. Taking a Disney cruise turned out to be the best of both worlds -- a relaxed European cruise for the grown-ups, Disney-themed fun for the kids, and some great bonding time for all of us. Now we just need to find out when the Alaska cruise runs...
All photos courtesy of Disney Cruise Line.