Celebrate Earth Day! 25 Tips for Living More Sustainably Every Day
4/11/23
- By
Maureen Wilkey
Celebrate Earth Day with Earth Kids; our monthly column and newsletter with activities to educate and inspire kids about the environment.
Earth Day is a great time to talk to kids about what we can do to make an impact on the environment and resolve to change our habits to live more sustainably.
Kids may ask whether their individual actions matter. The short answer is: Yes, individual actions make a big difference! You don't need a million followers on YouTube to have influence. When we change our behavior and talk about it, we influence our friends and family. If they change their behavior, this creates a ripple effect of change coming from the behavior of one person. And don't forget that consumer action is power. When we demand change through our purchasing decisions, corporations change their behaviors and products to meet the demand. Every little thing we do can add up to really big changes.
With that in mind, we've gathered a list of things kids and families can do differently to live more earth-friendly lives. See how many of them you can do! Read more ideas in our Earth Kids Guide and sign up for our Earth Kids newsletter for more ideas and activities every month.
Reduce Single-Use Plastics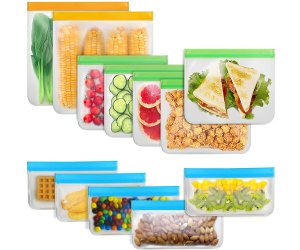 Tangibay reusable baggies eliminate the need for disposable plastic bags. Photo courtesy of the manufacturer
The big ugly secret that has recently been not-so-secret is that most plastic doesn't actually get recycled. So, not only does all of our single-use plastic waste end up in a landfill or the ocean, but making plastic uses fossil fuels and creates pollution. However, a few simple habit changes can really reduce the amount of plastic we use. Here are some ideas to reduce your plastic use:
1. Send waste-free lunchboxes
We try not to think about how many lunches we will be making in our children's lifetimes, but, spoiler alert: it's A LOT! Investing in some high-quality stainless steel lunchboxes and reusable baggies for school lunches and snacks is a simple way to cut out a lot of plastic in the trash. If you really need something disposable, Ziploc also makes these fun paper bags that can be recycled or composted more easily than plastic.
As for what to pack in that waste-free lunchbox? We've got 12 tips on packing a waste-free lunch every day.
2. Bring your own mug or cup
We have a drinking problem. We use almost 500 billion plastic bottles a year! Not to mention coffee cups. Switching to carrying a travel mug or water bottle will not only save the planet, it can also save you money as many shops offer a discount if you bring your own cup. Bonus points if you make your own tasty drinks at home. If you need to buy a drink, try to choose one in a glass container or aluminum can and make sure to recycle the container.
RELATED: How to Start a Green Club at Your School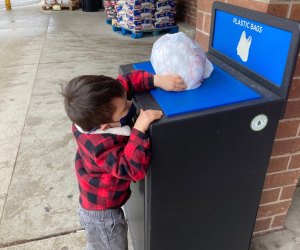 Get rid of those plastic bags forever by recycling them and switching to reusable. Photo by author
3. Swap your plastic bag habit with a reusable tote habit.
We all have it: The bag of plastic bags jammed in a drawer or cabinet. Bringing reusable bags may seem like a hassle, but can easily become a new habit. Tuck one in your purses for those little purchases and store a bunch in your car or grocery cart for the big shops. Voila! That huge wad of single-use plastic is gone! Want to recycle the bags you do have? Check this website for locations.
4. Use eco-friendly bottle-less cleaning products, or make your own
Buy some spray bottles and cleaning tablets (we've tried DAZZ and Blueland and been impressed) and you never need to toss another empty plastic bottle again. If you want to be fancy, you can even add cute labels. For DIY cleaners, you can mix equal parts white vinegar and water for an all-purpose cleaner or baking soda and warm water for cleaning kitchen counters and appliances.
5. Ask restaurants to leave single-use plastics out of your takeout
If you're ordering online, many restaurants give you the option of leaving out the plastic silverware and straws. You can also leave a note in the notes section, or call in your order and request no plastic utensils if you're eating at home or in a location where you have reusable forks and spoons. If you work in an office or often eat takeout on the go, consider buying a set of bamboo travel utensils to keep in your bag or desk.
RELATED: How To Get Free Stuff, Save Money, and Reduce Waste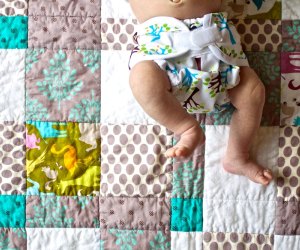 Cloth diapers don't go straight to landfills. Photo by ethan.john courtesy of CC BY-NC-ND 2.0
Reduce, Reuse & Upcycle
6. Shop at or sell to consignment sales
Kids outgrow their clothes every three months to a year, and toy interests come and go. Make sure another family gets use out of your old stuff by selling on consignment. Or buy something (especially something you didn't want to blow big bucks on) at a consignment sale. They're perfect for grandparents who might only use an item sparingly. Check for local consignment shops and events or use these online resale stores for kids.
7. Join your local Buy Nothing group
These local Facebook groups are dedicated to eliminating waste and helping neighbors by gifting items rather than tossing them. We've given away leftover tile from a renovation job and received a bread maker and faceplates for an outlet. It's wonderful to help the community and keep things out of the trash, too. There's now an app, but many people still use the Facebook groups. Find out more about the Buy Nothing Project.
8. Consider cloth diapering or using more eco-friendly disposable diapers
Over the 30 or so months you're going to use diapers for each kid, you could be throwing away a lot. Cloth diapering has gotten easier, but still isn't convenient for everyone—and it's not terribly eco-friendly if you're doing half-empty loads of laundry just for diapers. Consider using cloth, hybrid, or organic diapers to save a little waste.
9. Have a more sustainable period
Remember back when the options were pad or tampon, period? Now there are silicone cups, absorbent underwear, and reusable pads. You can also try organic versions of the old standbys. Check for health and safety for each product you use and teach your children about these options.
RELATED: Visit Yellowstone National Park with Kids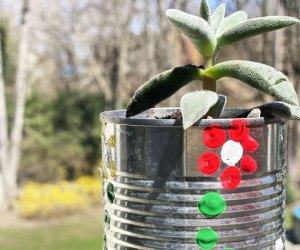 Get into the Earth Day spirit with these cute crafts for kids. Photo by Ally Noel
10. Make upcycled crafts out of your old junk and recyclables
Grandmas and great-aunts love egg carton flowers that don't wilt like real ones, and what kid doesn't love recycled rainbow crayons? We've also made robot costumes and train cars out of old boxes and lanterns from used water bottles. There are a million kinds of upcycled crafts you can make.
11. Trade in your old car seat at Target or another location
If it's too old to be reused, make sure it's properly recycled at Target or somewhere else! We've also had success trading in or reselling too-small bikes at local bike stores.
12. Borrow toys from a toy loan program or your local library
Some cities and counties have extensive toy loan programs, so check and see what your county does. Also, many local libraries lend toys like puzzles, puppets, and STEM-related toys.
Ways to Reduce Fossil Fuels
13. Walk, bike, or take public transit whenever possible
Half the fun is getting there! You'd be surprised at how far kids can walk if they want to get to the destination at the end.
14. Go solar
Take advantage of state and federal tax incentives to add solar panels to your home before the incentives run out. In some states, it's possible to cut your electric bill down to $0 a year! It's a great feeling to know your home is carbon neutral in terms of energy, and having power during an outage is a huge bonus.
15. Electrify your commute
After years of electric cars not quite doing what you needed to do, or not having enough charging stations, the tide has finally turned. There are many options for electric cars for almost every budget and car type; there's most likely an electric car that works for your family. State and federal incentives can also help reduce the cost, not to mention how much you'll save on gas. If you have solar and charge your car at home, your car could even run for free!
RELATED: How One Kid Can Take Action on Climate Change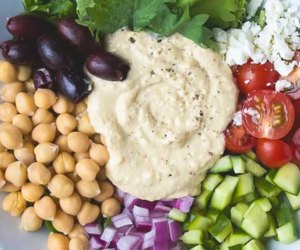 Buddha Bowls are a perfect build-your-own vegetarian dinner. Photo courtesy of Kay Nutritio
Eat More Sustainably and Support Local Farms
16. Reduce meat consumption with vegetarian recipes
My family has been practicing meatless Mondays with these kid-pleasing vegetarian recipes for years. With the variety of meat and dairy alternatives, you can now make yummy veggie tacos and pizzas that are kid-friendly. We also like choosing low-meat meals one or two days a week, like potato soup with just a sprinkle of bacon on each serving or pasta sauce with one sausage crumbled in.
RELATED: Recycled Crafts for Kids to Celebrate Earth Day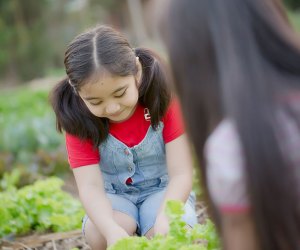 Kids love digging in the dirt, and nothing tastes as good as a veggie you grew. Photo by Mommy Poppins
17. Plant your own garden
Save money, reduce packaging, and encourage pollinators with your own backyard or apartment vegetable garden. We've found tomatoes, cucumbers, bell peppers, and zucchini are big hits with our kids.
18. Buy from farmer's markets, imperfect food purveyors, or other local producers
Farmers markets teach kids about family farming—often you can buy directly from someone who has grown the produce themselves. And it usually tastes better than fruits that have been bred to travel. Some grocery delivery services, like Imperfect Foods and Misfits Market, supply produce that still tastes good but doesn't meet the cosmetic standards of grocery stores. They're convenient and sometimes less expensive than the supermarket.
19. Can anything left in your garden at the end of the season
Our kids are obsessed with the bread and butter pickles from the recipe handed down from Great Grandma. Tomato sauce, jellies, and jams are also big hits. You can even simply freeze many fruits and vegetables for a taste of summer year-round.
RELATED: Kitchen Scraps You Can Plant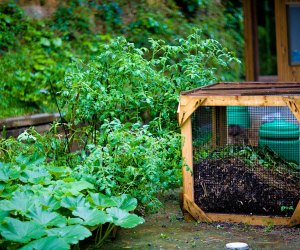 Composting is easy and cuts back on landfill. There are all kinds of ways of composting, from a garden bin to a kitchen container. Photo by Joi, CC BY 2.0
20. Composting isn't as hard as you think
The NRDC has a guide on how to do it without too much stink. Even if you don't have a yard, you can buy a composting container for your living space or garage; no matter how little counter space you have, you can always get one of these containers that tuck away under your sink. Read our complete guide to composting with kids.
RELATED: 30 Outdoor Activities in Nature for Kids for Hands-on Outdoor Learning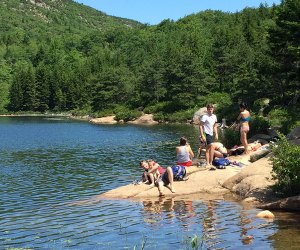 Visit the gorgeous Acadia National Park. Photo by Kelly Heyworth
Learn and Advocate for the Planet
21. Visit and support national parks and state parks
Spending time in nature is a great way to learn to value it. Many state parks are free all the time and national parks offer free days throughout the year. Whether it's a forest, a waterfall, a beach, or dunes, kids will experience something new and learn why they should try to keep green spaces alive.
22. Volunteer to help with a local environmental clean-up day
Local forest preserves and park districts offer a variety of options for litter pick-up days and outings. If you live by a river, lake, or ocean, they may have a non-profit sponsoring fun water clean-up activities throughout the year.
RELATED: 17 Tricks For How Kids Can Conserve Water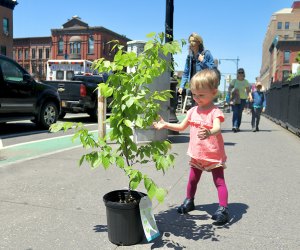 Plant a tree on your balcony or backyard. Photo courtesy of the NYRP
23. Plant a tree
You can start from a seed, sapling, or a young tree from a garden store in your own yard, or plant a tree in a park or near your kids' school by coordinating with administrators in your area. Kids often like helping throw the dirt back in the hole and watching their tree grow over the years.
24. Listen to an eco-themed podcast
Kids are going to be leading the way on climate change activism one day, so now's a good time to learn what it's all about. Check out this list of explanatory podcasts for kids of different ages from School Library Journal. We also like How 2 Save a Planet on Spotify.
25. Play a recycling-themed game
Get your recycling to the curb on time! This sustainably-made game is fun and teaches kids about the importance of recycling.
This article contains some affiliate links, which means we might earn a small commission if you make a purchase. There is no extra cost to the reader. We only recommend products and services that we have personally used or have thoroughly researched.