Online Consignment Shops to Buy & Resell Kids' Clothes
4/18/21
- By
Kaylynn Chiarello Ebner
Kids grow ridiculously fast. Some days, it feels like by the time my boys come home from school, they've already outgrown what I dressed them in that morning! My bank account can vouch for this as well. It's no wonder why many families are turning to a more economical and eco-friendly way to fill the closet: online consignment shops where parents can buy, sell, and trade new and pre-loved clothing.
Many resale shops not only have some great finds for the taking, but they also let sellers earn cash and credits. So go ahead, and give secondhand a second life. You'll be saving many pounds of clothing from the garbage heap, demonstrating your recycling skills to the kids, and possibly putting a dent in that annual clothing expenditure.
From newborns through teens, this parent-to-parent, no-haggling "marketplace" has tons of previously loved clothing, shoes, and accessories. Download the app, set up an account, and get ready to browse the "shops" of fellow parents that love this eco-friendly, economical way of buying and selling clothes. Sort by size, gender, category, brand, condition, and price to find what you need. Selling is a breeze. Take pics of the item you're listing, add a title/descriptions/keywords, hashtags, and wait until it catches someone's eye. Once you ship your package to the buyer, you'll receive the funds in your account to use on Kidizen or to cash out to PayPal. Kidizen takes a 12% cut from the list price. This consignment shop lets sellers handle their own shipping, or if they choose to list with free shipping, Kidizen will send the shipping label (the fee will come off your earnings).

Upload pics of your clothes to online resell shop Poshmark with a few clicks in the app. Photo courtesy the brand
Poshmark is a peer-to-peer shopping platform that makes you feel like you're raiding your friend's closet. There's an enormous inventory, where community members sell everything from Halloween costumes to everyday wear from brands like Hanna Andersson and Carter's. You can find special occasion dresses and designer names, too. If you're so inclined, haggling is encouraged! You can even host a Posh Party to buy and sell with your friends. Selling is super easy. Snap a pic of your items to post and Postmark provides pre-paid, pre-addressed labels for you to mail your stuff to the next taker. After the buyer receives the item, funds are released to your Poshmark account in a couple of days. You can spend your earnings on Poshmark, withdraw the money via direct deposit to your bank account, or request a check. For all sales under $15, Poshmark keeps $2.95 in commission. Poshmark's commission is 20% when a sale goes over $15, making it one of the steeper cuts among these online consignment options.
You'll definitely want to explore Facebook Marketplace as well as the many active BST (Buy, Sell, Trade) groups to join. Simply search the groups section for your favorite clothing brand and you're likely to find a dedicated resale shop of like-minded shoppers and sellers. These include: Old Navy Gymboree Carters Any Brand Kids Clothing BST, The Original Kids Closet Resale $25 and under, Gymboree Justice Carters Gap Any Brand Kids Clothing Buy Sell BST, Peek Kids Clothing Obsessed BST, Mini Boden & Hanna Andersson BST Group, and Tea Collection Clothing Exchange.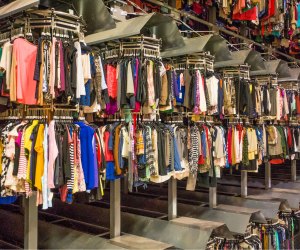 Recycle old clothes with the popular online consignment shop, thredUP. Photo courtesy the company
Sign up for an account (or sign in via Amazon or Facebook) and get ready to shop for everything from newborn bodysuits to jeans for your teen. For extra savings, there's a loyalty program, sale events, and a discount code for new customers. To sell, you can get a Clean Out kit that comes with a free pre-paid shipping bag to mail your goods or shipping label. The thredUP team will sort through it and select what's worth selling (you can pay $10.99 if you'd like thredUP to return unusable items.) Once your bag is processed, you can adjust the list prices and wait for your items to sell. If your items sell, thredUP pays you a percentage of the final selling price. For instance, you'll get 3–15% on items selling for $19.99 or less. Cash out your earnings or use them toward new wardrobe pieces. Note that thredUP listings are about 60-90 days, depending on the brand.
The name eBay is practically synonymous with the online buy/sell/trade marketplaces. You'll find a hefty selection of all sorts of kids' clothes, some new with tags, and others well-worn (ready descriptions carefully). If you're selling, eBay's commission is 10.2% if the buyer pays less than $100.
This platform bills itself as an easy-to-use parent marketplace for selling and buying preowned children's items, including strollers, diaper bags, and sports gear. Buyers can download the app to explore the offerings, buy goods, follow their favorite sellers, and leave reviews. You're welcome to negotiate prices with sellers, and if you buy, you'll have two days to confirm the conditions of goods upon receipt. Selling is just as simple: list, chat/negotiate with buyers, and ship out your goods (or arrange a local meetup, which is primarily available in New York City). The buyer is responsible for shipping fees unless you choose to list items as free shipping (and then the shipping is up to you to arrange). When you make a sale, a 10% selling fee is applied based on the list price. This fee includes the payment transaction fee.
Shoppers on this marketplace will find loads of shoes, clothes, and accessories to choose from (some free shipping, others not). You can "buy now," much like eBay, or ping the seller to make an offer. Save more by looking for promotions or discounted items, or by using coupons sent periodically. To sell, snap some pics, work up a description, and decide on a price. When it sells, Mercari will email you a shipping label (fees apply). After the buyer confirms shipment and rates the seller, the seller can also rate the buyer. Mercari charges sellers a minimum fee of 10% of the item price for completed sales. Mercari also charges sellers 2.9% plus $0.30 for each payment received from the buyer.
Mini-Cycle has an interesting model. You can buy new clothes from Mini-Cycle's partner brands (all mid to high-end brands and/or independent brands), sell them back to Mini-Cycle, and get paid. Mini-Cycle washes and repairs/repurpose the goods, and then resells them. So it's your choice: buy new, recycled, or rescued clothes. "Rescues" are overstock, defective, or out-of-season items sold at a discount. The company is based in Canada, but there's free shipping to the US for orders over $50. The target ages on the site for kids' clothes are newborns through age 12.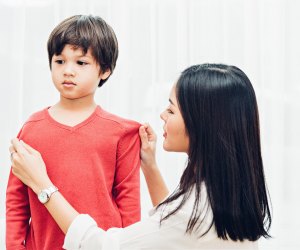 Size up for the next season with consignment for a wallet-friendly shopping session.
This e-commerce store (with a brick-and-mortar store in Vancouver, Washington) has a great online setup with thousands of maternity and kids' clothes of all sizes (plus books and toys). The prices are fantastic, and there's free shipping on orders of $25 and up. The selection leans more toward everyday casual, but we also found holiday dresses.
This site has one of the largest consignment inventories out there. From newborns to teens, you'll find dresses, sleepwear, swimwear, play clothes...you name it! Check out the clearance items for the steals, or the premium brands for the higher-end buys. Parents can also sign up to sell to Swap. If items are accepted, the site does all the listing, pricing, and photos, so you can sit back and earn money. Sellers keep 15% of the list price in cash (or 20% in credits) for items listed at $8 and under, and 70% of the list price in cash (or 20% in credits) for items over $8. Note that sellers pay $15 to ship their goods to Swap. That fee will be deducted from the seller's commission.
Looking for high-end pieces? Try Bagsy, which focuses on top-tier brands, sizes 0-12. This resell shop lists a ton of dresses, heirloom-type styles as well as jackets/collared shirts for your little gents. To sell, simply sign up for an online account, request a Bagsy Consignment Bag for $3.99, pack it with your gently used kids' clothes, and send it back (free shipping!). Bagsy will take care of listing the items, and you'll earn 40% of the sale price.
If you're tired of paying full price for winter wear and activewear, this site's for you! This Patagonia-sponsored site helps customers reuse, resell, and recycle their garments. Here's how it works. If you have Patagonia clothing that's in good condition, simply trade in your gear in exchange for credits that can be used to buy used or new clothing. You'll get a flat fee for items like $10 for kids'/baby sportswear or $20 for sweaters, and you can mail in your goods using a prepaid label. Shoppers can simply scroll through the Worn Wear site to find and buy jackets, coats, vests, fleeces, and sweaters listed as in "great condition" or "excellent condition." Patagonia even works with you on returns and repairs.