My Apartment Garden: How to Grow an Indoor Herb or Vegetable Garden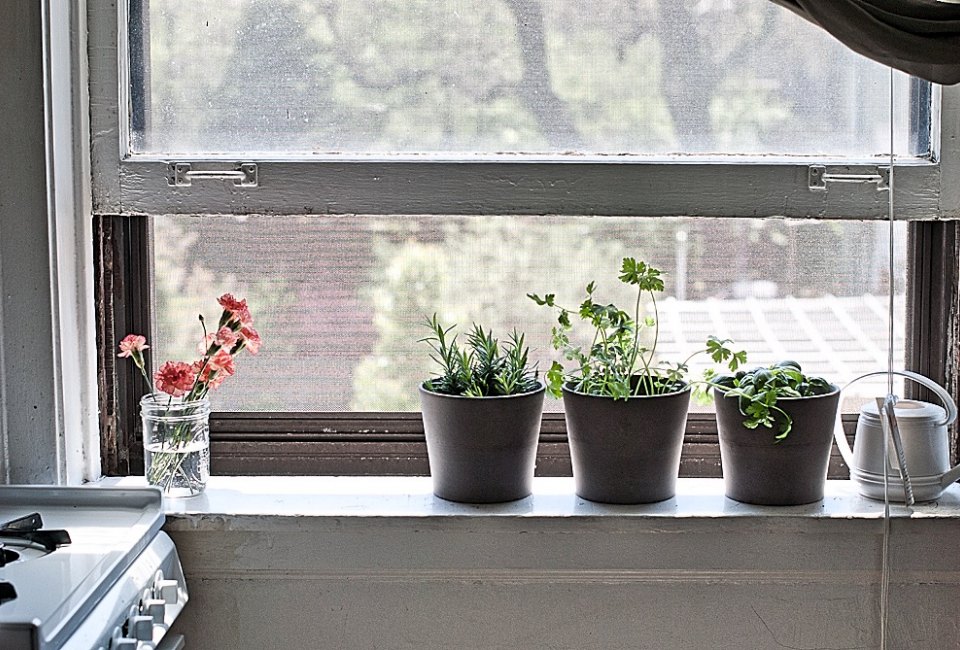 3/18/12
- By
Anna Fader
The farm-to-table movement has become a global concern as we try to reconnect with where our food comes from, and increase our support for small & local over big & industrial food production. As city dwellers, we can join a CSA, shop at a local greenmarket or even visit a nearby farm. But in our daily lives, it can be hard to find ways to connect with nature in NYC.
So this winter I tried something radical: I planted a small garden inside my apartment and we are now growing a portion of our own food right on our windowsill. I call this radical not because my apartment gets almost no direct sunlight or that even cacti eventually die under my care, but because growing our own food can have a radical impact on the world.

Honestly, I didn't plant my indoor mini-farm because I wanted to change the whole world, I simply wanted to change my family's world. I'm sharing the story of how I started my apartment garden in the hope that it inspires others. Growing food indoors is surprisingly easy if you do it right. Here's how I started growing herbs and vegetables indoors.
Light
The first thing I had to address was light. Even though our apartment is fairly bright, we don't get enough hours of direct sunlight to grow herbs or vegetables. I found large grow lights that are relatively attractive and fit on my windowsill for $50 on Amazon. The high-output bulb in this grow light is a big part of my garden's success and ensures that my indoor plants are getting enough "sunlight".

Seeds or Plants
I started out with this 12-pack of culinary herb seeds. Herbs are pretty easy to grow, and having a variety of different herbs on hand in the kitchen is really rewarding. After success with the herbs, I planted a second round of seeds, adding lettuces, Swiss chard and tomatoes to my garden.
I was up for the challenge of seeing if I could grow my plants from seeds (yes I can!), but you can also buy herb plants and vegetable starts at many greenmarkets and local nurseries. If you do start your plants from seed, using a seed starter kit makes it really easy.
Where to Put Your Garden
I put my garden on the windowsill in my kitchen because I thought it looked nice there and it's out of the way. However, since we don't get much direct sunlight through our windows, the fact that it's on the windowsill is arbitrary. Since you are providing your own light you can put your garden anywhere: on a shelf, in a closet, on a side table... wherever you have room. One thing to keep in mind is that, optimally, your grow light will be on 18 hours a day or more, so you'll want to put the garden in a place where the light won't interfere with anyone's sleep.
Involve the Kids
Growing an indoor garden is easy enough for even little kids. From planting seeds, to watering and gently harvesting, most kids will love getting to eat the plants they grew themselves—even if they are green.
Reap What You Sow
It took only a few days for my seeds to sprout and then a few weeks for them to grow into little plants that I transplanted into larger pots. Within about a month, I was ready to harvest my first batch of basil, which I used to make pesto.
How amazing to make a delicious fresh dinner with the main ingredient coming from our own garden! Now adding a few sprigs of cilantro, dill, parsley, sage or thyme to our meals is as easy as walking to the windowsill. It adds so much freshness and pleasure to our meals.
Easy Indoor Gardening
Seeing my apartment garden inspired a neighbor to start one of her own with her preschooler. She wasn't looking for quite as much of a hobby as my garden, so she simply bought a hydroponic indoor garden kit. It's small and self watering, so it takes almost no care. These kits include herb garden seeds and everything you need to get started.
I hope this inspires you to start an urban indoor garden. If it does, make sure to come back and leave a comment or share your photos on our Facebook page.
Note: We are an Amazon affiliate, and clicking Amazon links helps to support this site.

Sign up for our free
newsletters.
Mommy Poppins is a family activity website that helps people find things to do with kids.
©
2023
MommyPoppins. All Rights Reserved.
mp-prod4-v4.32.99
We use cookies and other data collection technologies to provide the best experience for our customers.
Learn More
Click Here to Sign Up!