Yellowstone National Park with Kids: A Year-Round Guide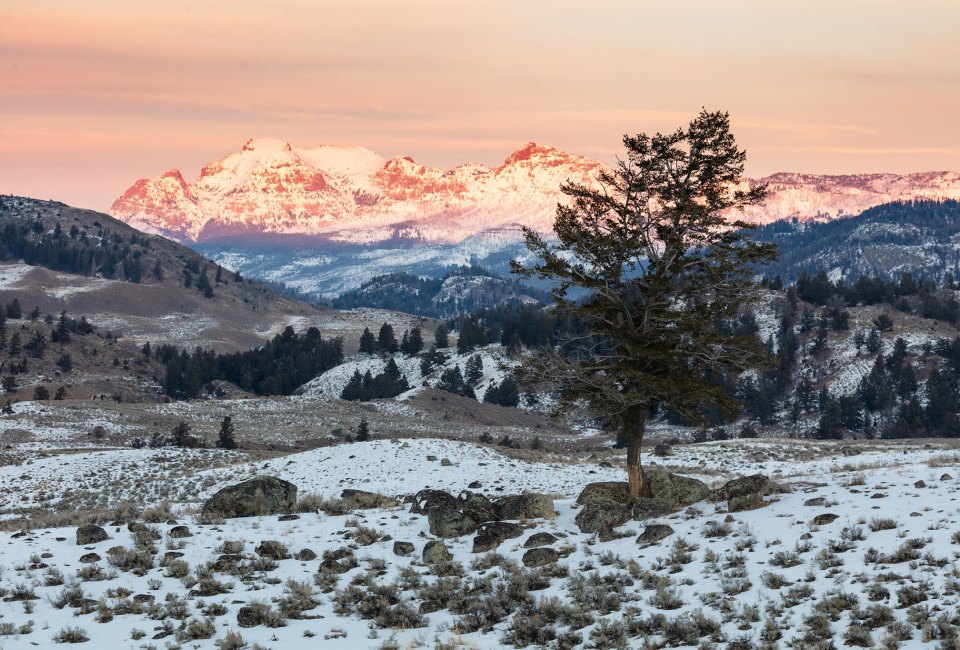 12/4/21
- By
Erica Velander
Yellowstone National Park (the world's first national park) encompasses 2.2 million acres of wild and unrivaled natural beauty. With canyons, gushing geysers, hot springs, lush forests, and a plethora of wildlife, there is no better place for children to learn about nature and watch the buffalo roam.
As a parent, it can be daunting to plan a trip that's "out in the wild." To help you, we've created this handy guide to visiting Yellowstone National Park with kids in any season. No matter when you visit, you'll see breathtaking natural wonders and plenty of animals, so don't forget your camera and binoculars, as well as sturdy shoes for hiking.
If your family's been bitten by the national park bug, see our guide to visiting Acadia National Park with kids. And be sure to visit our Family Travel Guide for more family vacation ideas.
When to Visit Yellowstone National Park
There is not necessarily a "best" time to visit Yellowstone National Park, as there are positives and negatives about each season. Here's what to consider when planning your trip:
Winter is, unsurprisingly, the quietest season at Yellowstone National Park. Most park roads are closed to car travel, and many lodges, hotels, and restaurants are closed. But Yellowstone's snowy winter landscape is breathtaking, and the absence of crowds can make for a very peaceful trip. Families that enjoy winter sports and activities can go skiing, snowshoeing, or take a snowcoach tour to must-see spots like Mammoth Hot Springs and Old Faithful (more on those later).
Summer is the busiest season, so families need to be prepared for crowds. But with all roads inside Yellowstone National Park open, those crowds will be a bit more spread out. Fishing, boating, and all other park activities are available, and ranger-led programs abound. Lower river levels mean that most campgrounds are open, as are all of the lodging and restaurants in and around Yellowstone, so families have plenty of dining and sleeping options.
Spring and fall bring smaller crowds than summer and the most pleasant weather to Yellowstone National Park. The brilliant colors of the changing autumn leaves also make for some unforgettable fall foliage. However, there are more restrictions in these seasons, with roads not fully opening until Memorial Day weekend and beginning to close again in October. Fishing, boating, and camping is also unavailable for most of spring and fall. And lodging is more limited, with most lodges inside the park opening on a staggered schedule from late April through June and starting to close again in late September.
No matter what season you visit Yellowstone National Park, you can be sure there will be plenty of animals to see. Some of the animals to look for in each season are Bighorn sheep, coyotes, foxes, and wolves in winter; bison, bears, elk, and moose in spring and fall; and bison and plenty of birds in summer.
How To Get to Yellowstone National Park
As mentioned above, Yellowstone National Park roads are limited in spring and fall, and all roads except the one between the North and Northeast park entrances are closed in winter. So if you're planning to drive to Yellowstone, check the Park Roads page to see what's open and plan accordingly. Keep this printable Yellowstone National Park map handy to help you navigate the roads once you're there.
If you're flying, the best options are Bozeman Yellowstone International Airport and Yellowstone Airport. Yellowstone Airport is more conveniently located, but it's small and not as easy to get flights to and from. Therefore we recommend flying into the "larger" airport in Bozeman. It's quaint, clean, and welcoming, with stone fireplaces and animals for the kids to enjoy. If you're a parent who gets overwhelmed when flying—and rightfully so, especially during the pandemic—this airport is sure to keep your anxiety at bay.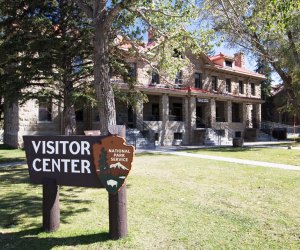 Explore Yellowstone's history, learn about wildlife at home on the northern range, and get park orientation information at the Albright Visitor Center. Photo by Jim Peaco / NPS
Top Things to Do in Yellowstone National Park with Kids
With so many trails to hike, animals to see, and activities to partake in, it can be overwhelming to plan a trip to Yellowstone National Park. Here are 10 of the best things to do with kids:
If you start your trip at the North Entrance of the park, make your first stop the Albright Visitor Center. There you can map out your journey, learn about the wildlife and history of Yellowstone, and join a self-guided Junior Ranger program for kids ages 4 and older. Kids who complete their booklet will receive a Yellowstone Junior Ranger patch.
If it's open when you visit, you don't want to miss swimming in the Boiling River. (It's closed in spring, early summer, and when the water is too high). The hot water from the spring combined with the cold mountain river creates a bath temperature that's comfortable for adults and kids. Keep in mind that there can be a strong current, so it's best to stay along the side of the river with children.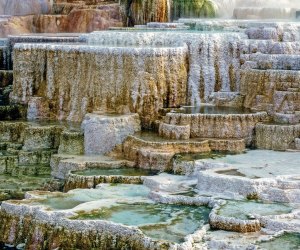 Mammoth Hot Springs is a sight to behold! Photo courtesy of @jonathonvelander
Just south of the North Entrance, you'll find the Mammoth Hot Springs terraces, a bizarre Yellowstone feature that looks like an inside-out cave. There are two terrace boardwalks that are easily walkable and more than 50 hot springs in the area. Expect it to take about an hour to cross both terraces. The boardwalks total about 1.75 miles of easy walking.

Stare in wonder at the incredible Grand Prismatic Spring. Photo by @jonathonvelander
Grand Prismatic Spring, although crowded, is a must-see if you travel to Yellowstone National Park. This enormous hot spring has a brilliant blue center surrounded by a ring of orange, yellow, and green hues. Watching the steam rise from the rainbow of colors is an otherworldly experience for children and adults alike.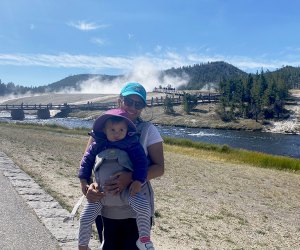 Take memorable photos at the Midway Geyser Basin. Photo by the author
In addition to the Grand Prismatic Spring, the Midway Geyser Basin is also home to the an enormous geyser crater called the Excelsior Geyser, as well as the Turquoise Pool and Opal Pool. It's best to plan this stop earlier in the day if possible because the parking lot gets packed, and you can end up having to park far away on the road. We recommend bringing a stroller or a carrier for young children. There is a boardwalk that is easy to walk on, but there are no railways that will deter wild toddlers from trying to get too close.
Although most people go for Old Faithful, you don't want to miss out on the rest of the Upper Geyser Basin. The Upper Geyser Basin loop trail is about four miles, but it's flat and stroller-friendly. You also don't have to do the whole thing; a great stopping point is heading about 1.5 miles to the Morning Glory Pool, a favorite among children for its brilliant colors.
And, of course, you don't want to miss Old Faithful, the predictable geyser that erupts 20 times a day. Old Faithful reaches miraculous heights of 100 to 180 feet, and eruptions typically last between 90 seconds and five minutes long. Due to the frequency of the eruptions, it doesn't matter what time you visit Old Faithful. You can find the estimated eruption times posted at most buildings in the Old Faithful area and on this webcam page.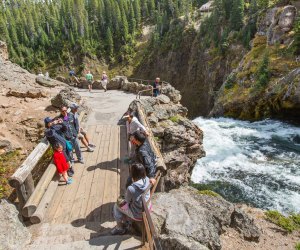 Hike along the path that passes the brink of the Grand Canyon of the Yellowstone's Upper Falls. Photo courtesy of NPS
There are numerous hikes to view the stunning Grand Canyon of the Yellowstone, but they can be challenging with young children. Luckily, you can get great views by driving and stopping at lookout points that involve short walks. Artist Point does not disappoint with picturesque views of the canyon and the Lower Falls waterfall. It's only a short walk from the parking lot and can easily be done with children. If you time it right, there is a good chance that you will see a rainbow over the waterfall at Artist Point.
7. Wildlife Watching
It should go without saying that the abundance of animals will be one of the highlights of your family's trip. Two of the best places for wildlife viewing in the park are Lamar Valley in the northeastern corner and Hayden Valley in central Yellowstone. In Lamar Valley you might see wolf packs, grizzly bears, large herds of bison, deer, bald eagles, and more. Hayden Valley is a great place to look for coyotes, grizzly bears, waterfowl, and wolves, and you're almost certain to see large herds of bison. The roads along both valleys have many pullouts where you can pull your car over and get out to scope out the animals.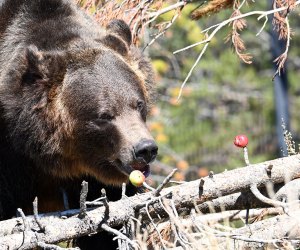 Meet Bo, the Grizzly & Wolf Discovery Center's newest resident. Photo courtesy of the center
This facility near the park's West Entrance is home to grizzly bears and gray wolves that are unable to survive in the wild, offering families a chance to see them up close. There's also a river otter exhibit, several reptiles and amphibians, and a raptor exhibit that's open from May through November. Children's programs, ranger talks, and wildlife movies take place throughout the day. The center is open 365 days a year and its resident bears don't hibernate, so you'll be sure to see them whenever you visit!
In winter, the interior of Yellowstone National Park is accessible only by commercial over-snow transportation. A tour aboard a heated snowcoach is the perfect way to travel to those inner areas that your family otherwise wouldn't get to see. Plus, the guides are knowledgeable, so your family will learn a lot about the park. Dress warmly, since the tours make plenty of stops for riders to get out and take pictures of the gorgeous snowy landscapes.
Though dining options abound at Yellowstone National Park, many eateries are closed in winter and in parts of spring and fall. But Wonderland Cafe, located near the park's North Entrance, is open year-round for breakfast, lunch, and dinner. Reservations can only be made for parties of six or more, so try to go at a non-peak time if you have fewer people. The cafe uses fresh, farm-to-table ingredients to make both unique dishes like bison bolognese and elk chili and kid-friendly options such as burgers and mac and cheese. Free Wi-Fi and charging stations make Wonderland a great stop for a bite to eat if you need to check email or charge up your phone for more photos.

Completed in 1999, the Old Faithful Snow Lodge is the newest of Yellowstone's full-service hotels. Photo courtesy of the lodge
Yellowstone National Park Lodging for Families
Yellowstone National Park is huge, and there are tons of lodging options in the summer. Lodging is more limited in the spring and fall, as places inside the park open and close on a staggered schedule. And in winter, the only open lodges inside the park are Old Faithful Snow Lodge and Mammoth Hot Springs Hotel, though some lodges outside of the park remain open.
If you want to stay inside the park, be prepared that it will be expensive and that people often book their stay at least a year in advance. Staying outside the park is the most affordable option and allows for some flexibility if you're booking last minute. Choose your lodging depending on what park entrance you plan to use. Check out some of our top lodging picks below.
Yellowstone National Park Lodging Inside the Park
If you are planning your trip well in advance and want to stay inside the park, the iconic Old Faithful Inn is worth the expense. Kids will love exploring the old inn, and adults will enjoy watching Old Faithful erupt while having a drink on the terrace.
Yellowstone National Park Lodging Near the North Entrance
Park Hotel Yellowstone in Gardiner, Montana is our top pick if you're planning to enter the park through the North Entrance. It has multiple room options that are ideal for families, including its "Bunk Bed Suite," which has a queen-size bed, an adorable bunk bed nook, and a full kitchen.
Yellowstone National Park Lodging Near the West Entrance
A short drive from Yellowstone's West Entrance, you'll find the Explorer Cabins, which stay open year-round. The property is home to 50 cabins that are well-suited for families. Some of them are even dog-friendly! Upon arrival, your kids will delight at the welcome s'mores kit, which they can savor by the community fire pit. Each private cabin also comes with Wi-Fi, a TV, and a kitchenette so you can prepare those epic picnic meals for your daytime travels in the park.
No matter the season, a trip to Yellowstone National Park is sure to be a gorgeous and memorable experience for the whole family.
Click Here to Sign Up!
i