20 Beautiful Spring Day Trips from Philadelphia for Families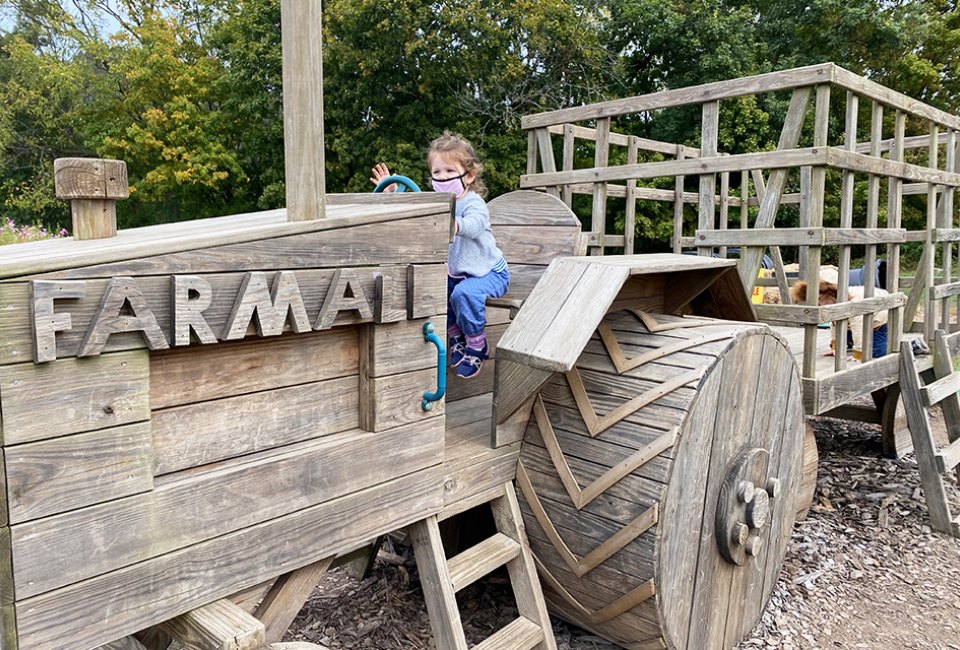 3/11/22
- By
Erica Velander
With the bulk of the cold weather behind us, we're ready to get out of the house and get out of town with these kid-friendly spring day trips from Philadelphia. From just outside the city, to the Philadelphia countryside and across state lines, this list of 20 spring getaways near Philly has awesome activities for kids of all ages. From breathtaking gardens and off-the-radar museums to train rides and nationally renowned attractions, there are so many places to explore right in our backyard.
Read on for family-friendly day trips within a few hours of Philadelphia, and find more inspiration in our Spring Fun Guide. Prepare for your next mini vacay with our Philly Family Day Trips and Weekend Getaways Guide.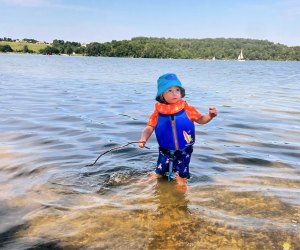 Enjoy an afternoon on the lake at Marsh Creek State Park. Photo by Erica Velander
Spring Day Trips near Philadelphia
1. Marsh Creek State Park — Downingtown
Pack a picnic, grab your swim gear, and head to Marsh Creek State Park for an afternoon on the lake. Rent paddleboards, canoes, or a kayak, or just let your little ones dip their toes in the water and fill their bucket with sand. Boat rentals will be available on a full-time basis starting in May.
2. Nockamixon State Park — Quakertown
Get out your fishing poles, and lace up your hiking boots for a day trip to Nockamixon State Park. The gates open for the Marina on April 1, but the park is open year-round for hiking, fishing, and boating. Spend the day hiking around the lake, and finish off the night with a trip to Owowcow Creamery for some mouthwatering hand-crafted ice cream.
RELATED: 10 Philly Arboretums and gardens for Kid-Friendly Fun

Longwood Gardens feels more like Buckingham Palace at times. Photo by Alyce Wilson
3. Longwood Gardens — Kennett Square
There's lots to love at Longwood Gardens: from treehouses to an indoor children's garden to daily fountain shows, synchronized with music. Eateries on-site also offer family-friendly fare, although they can be crowded at mealtimes, so plan accordingly.
4. New Hope
Drive to New Hope and explore this eccentric community. Take a train ride on the historic New Hope Railroad. Look for special seasonal excursions, such as the Easter Bunny Express. Make a day of it by adding a hike at Bowman's Hill Wildflower Preserve or checking out the Bucks County Children's Museum.
RELATED: Visiting Historic Philadelphia with Kids

Young history buffs will have fun seeing the barracks at Valley Forge. Photo by Alyce Wilson.
5. Valley Forge
Travel in the footsteps of George Washington with a visit to the Valley Forge National Historic Park. The park extends over 3,500 acres of rolling hills with 20 miles of trails and numerous historic buildings, as well as renovated log huts similar to where the Continental soldiers stayed during the long winter of 1777-78.
6. Hellerick's Farm — Doylestown
Enjoy some outdoor family fun at Hellerick's Farm in Doylestown, where you can try out the obstacle course, interact with goats, or get adventurous with the Aerial Adventure Park.
RELATED: Guide to Philly Museums for Kids

You can be in the driver's seat at the American Helicopter Museum and Education Center. Photo by Wenjun Chi
7. American Helicopter Museum — West Chester
Are your little ones interested in helicopters? Take a day trip to a hidden gem, the American Helicopter Museum and Education Center. On a nice spring day, the large airplane hangar will likely be opened and you can watch the planes land and take off at the nearby airport.
RELATED: Visiting the Poconos with Kids: 70+ Top Things To Do as a Family

Enjoy all kinds of water sports in the Poconos. Photo courtesy of Ally Noel
Spring Day Trips in Pennsylvania
8. Poconos
Head to the Poconos for a day trip or a long weekend. Start with a coffee and a savory scone at Cafe Duet, go for an easy waterfall hike, or rent a bicycle to tour one of the many parks and recreational areas. Then finish your day with the classic hot dog and apple pie special at the Village Farmer and Bakery.

Strasburg is a must-see destination for little train lovers. Photo by Alyce Wilson
9. Strasburg
All aboard the Strasburg Rail Road. The railroad is now offering some of its most popular events again, such as the Easter Bunny Train and the Day Out with Thomas. If you're looking for more to do, check out the Choo Choo Barn, a one-of-a-kind, 1,700-square-foot model train set. For a less crowded experience, aim to visit Tuesdays through Thursdays. For more outdoor fun, visit the nearby Cherry Crest Adventure Farm, which offers hands-on activities for all ages, related to farming, animals, and games.
10. Crystal Cave — Kutztown
Explore the world 125 feet underground at Crystal Cave, located an hour and a half from Philly in Kutztown. After the one-hour tour, roam the expansive grounds, complete with a hiking trail, a miniature golf course, and a gemstone panning area. Kids will delight in taking home their little treasures. If you have an aspiring spelunker, check out these other caves near Philly.
11. America on Wheels — Allentown
Spend the day in the Lehigh Valley at the America on Wheels museum. Their treasure trove of vehicles includes Mack trucks, fire trucks, motorcycles, vintage cars, and more.
12. Lancaster
You may already be familiar with the various Amish-related and historical tours available in Lancaster, not to mention outlet shopping and delicious eateries. But were you aware it's also a great place for water-related activities? Located along the Susquehanna Water Trail, Lancaster offers excellent fishing, canoeing, kayaking, and boating. Sickman's Mill offers tubing and kayaking trips down the Pequea Creek, a tributary to the Susquehanna River. And KayakLanCo offers kayaking trips for the entire family.

Get colorfully creative at the Crayola Experience. Photo by Alyce Wilson
13. Crayola Experience — Easton
Explore art and technology at the Crayola Experience's colorful world, just a short drive from Philly, in Easton. Watch the creativity spark go off as your children learn how crayons are made and star in their own coloring page. Finish your visit with a trip to the Crayola store, where you can shop for all your favorite craft supplies. Learn about the history of the world's most famous crayon and how it's made, and engage in hands-on and immersive computer activities, ranging from making your own crayon color to creating digital art.
Spring Day Trips Outside of Pennsylvania
14. Winterthur — Winterthur, DE
What better place to encourage blooming imaginations than a trip to Winterthur's Enchanted Woods? Your little ones will delight in crossing the Troll Bridge, exploring the carved-out Tulip Tree House, and hearing magical stories at the Faerie Cottage. For the flower enthusiasts in the family, the website's bloom report will let you know what blooms are in season to help you plan your visit.
15. National Cherry Blossom Festival — Washington DC
The 2023 National Cherry Blossom Festival in Washington, DC, runs from March 20 until April 16. Expected to be the peak time for viewing the beautiful cherry blossoms throughout DC, the festival also offers a kite festival, parade, and a day-long festival of live music and activities called Petalpalooza.
16. Inner Harbor — Baltimore
Baltimore's Inner Harbor offers tons of family-friendly fun. You could easily spend a day at the National Aquarium, where the highlight is the Dolphin Discovery exhibition. Or visit the Port Discovery Children's Museum for hands-on learning. Learn about everything from dinosaurs to outer space at the Maryland Science Center, or explore a wide array of diverse artwork at the American Visionary Art Museum.

Kids interacting with the art at Grounds for Sculpture. Photo courtesy of Grounds for Sculpture.
17. Grounds for Sculpture — Hamilton, NJ
The Grounds for Sculpture in Hamilton, N.J. is just over the state line from Pennsylvania. The outdoor museum is big enough to explore for a whole day, with nearly 300 sculptures, many of which are fine for little ones to touch.
18. Johnson's Corner Farm — Medford, NJ
Starting on March 24, Johnson's Corner Farm in Medford, N.J., will reopen for the season. Navigate the sunflower maze, take a farm tour, or pick your own strawberries from mid-May until mid-June. You can also enjoy the colorful Tulip Trail, opening for tulip picking in early April 2023.
19. Atlantic City, NJ
Just over an hour from Center City Philadelphia, Atlantic City, New Jersey, boasts a wide range of entertainment and activities. Visit Storybook Land, open on weekends in April, for classic rides set amongst classic characters and locations. Or visit the Steel Pier on the boardwalk, and then stop at Lucy the Elephant on Atlantic Avenue to view the oldest roadside attraction in the U.S.A., a six-story elephant built in 1881.
20. Revolution Rail — Cape May, NJ
For older kids, spend a day biking the Revolution Rail in Cape May, New Jersey. Wind through scenic marshland, view a deserted railroad track, and check out interesting overlooks. You can also stop at a nature preserve for a short walk along the trail. Reservations through Revolution Rail should be made online in advance.
This post was updated for 2022 by writer Alyce Wilson.
Sign up for the Mommy Poppins Newsletter today!
i