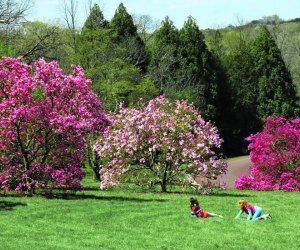 20 Great Spring Day Trips for Philly Families
Spring is here, and after a winter stuck inside dealing with COVID-19 restrictions, my family is eager to get out and explore. Is yours?
This list of 20 spring day trips for Philly families is sure to keep kids of all ages busy for the season. From strawberry picking to enchanted woods, to train rides, there are so many safe places to explore right in our own backyard.
These day trips are within two hours' driving distance of Philadelphia, and many can easily become spring weekend getaways. In fact, they're an ideal addition to our Spring Fun Guide and a great complement to our roundup of things we can't wait to do with Philly kids this spring. So read on.
As with all current events, COVID-19 protocols are in place. Visitors must wear masks and observe social distancing guidelines. If an event appears too crowded, try using the "nearby" search feature on our event calendar to find something else to do.

Enjoy an afternoon on the lake at Marsh Creek State Park. Photo by Erica Velander
1. Marsh Creek State Park
Pack a picnic, grab your swim gear, and head to Marsh Creek State Park for an afternoon on the lake. Rent paddleboards, canoes, or a kayak, or just let your little ones dip their toes in the water and fill their bucket with sand. Boat rentals will be available on weekends in April and on a full-time basis starting in May.
2. Nockamixon State Park
Get out your fishing poles, and lace up your hiking boots for a day trip to Nockamixon State Park. Spend the day hiking around the lake, and finish off the night with a trip to Owowcow Creamery for some mouthwatering hand-crafted ice cream.
3. Poconos
Head to the Poconos for a day trip or a long weekend. Start with a coffee and a savory scone at Cafe Duet, go for an easy waterfall hike, then finish your day with the classic hot dog and apple pie special at the Village Farmer and Bakery.
4. Winterthur's Enchanted Woods
What better place to encourage blooming imaginations than a trip to Winterthur's Enchanted Woods? Your little ones will delight in crossing the Troll Bridge, exploring the carved-out Tulip Tree House, and hearing magical stories at the Faerie Cottage. For the flower enthusiasts in the family, the website's bloom report will let you know what blooms are in season to help you plan your visit.
5. Norristown Farm Park
If your family is craving a dose of nature but doesn't want to drive too far from the city, explore the 690-acre Norristown Farm Park. This working farm has been continuously farmed since Colonial times. Stroll past the fields and streams, and view historic buildings dating back to the 1700s. The park also allows dogs and has plenty of stroller-friendly paved paths.
RELATED: Great Toddler Playgrounds in the Philly Area

Walk over the shark bridge at Adventure Aquarium, if you dare. Photo by Erica Velander
6. Crayola Experience
Explore art and technology in the Crayola Experience's colorful world, just a short drive from Philly, in Easton. Watch the creativity spark go off as your children learn how crayons are made and star in their own coloring page. Finish your visit with a trip to the Crayola store, where you can shop for all your favorite craft supplies. Be advised the Color Playground and the Toddler Town climber are currently closed due to COVID-19 protocols.
7. Adventure Aquarium
Are you looking for a rainy day activity that's close to home? Drive across the bridge to Adventure Aquarium, where you'll see hippopotamuses, touch stingrays, and if you have a daredevil in the family, walk across the shark bridge.
8. Legoland
Take a short drive to Legoland Discovery Center Philadelphia, where you can explore the City of Brotherly Love made out of LEGO bricks and race your own Lego car down a huge speed ramp.
9. Visit Ardmore
In the quaint town of Ardmore on the Main Line, you'll find a creative indoor place space, Lulu's Casita, which is perfect for children up to age 5. When you're done playing, walk across the street to one of the most magical children's stores you've ever laid eyes on, pucciManuli. Hungry? Head over to Suburban Square, where you'll find the newly opened Shake Shack.
RELATED: Animal Farms and Petting Zoos Near Philly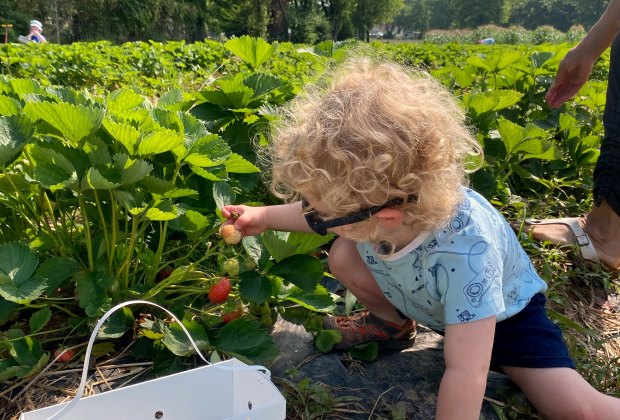 It's strawberry picking season at at Maple Acres. Photo by Erica Velander
10. Elmwood Park Zoo
Feed the giraffes and watch the bison roam at the Elmwood Park Zoo. Do you have a percussionist in the family? Make sure you don't miss the percussion garden on your trip.
11. Morris Arboretum
You don't even have to leave the city limits to experience a full day in nature. Have you ever had an urge to live in the canopy and get a bird's-eye view? Perch yourself 50 feet up in the trees at Morris Arboretum. Hear the birds chirping and find yourself in a robin's nest with eggs ready to hatch. Your littles can even scramble across a net in the squirrel scramble. The arboretum has been selling out every weekend, so consider a weekday trip or purchase your tickets in advance.
12. Shofuso Japanese House & Garden
Does your family love to travel to DC to see the cherry blossoms? If you're looking for a closer alternative this year, head to Shofuso Japanese House & Garden in Fairmont Park. Cherry trees typically blossom at the end of March through the end of April. After touring the garden, picnic under the cherry trees around the Horticulture Center.
13. John Heinz National Wildlife Refuge
Grab some binoculars, pack a picnic lunch, and head to John Heinz National Wildlife Refuge at Tinicum. Do some bird watching, take a hike, or relax and enjoy some peace close to home.
14. Schuylkill Center for Environmental Education
Witness the beauty of budding flowers at the Schuylkill Center. If you're heading out on a Saturday, stop by the visitor center to pick up a free nature explorer kit. Kits are available between 10am and noon on a first-come, first-served basis.
15. Strawberry picking
Maple Acres to pick your own. Eat them plain or make fun treats at home like homemade strawberry jam or strawberry shortcake. Check out our roundup of great area strawberry farms.
RELATED: 30 Family-Friendly Things to Do in Bucks County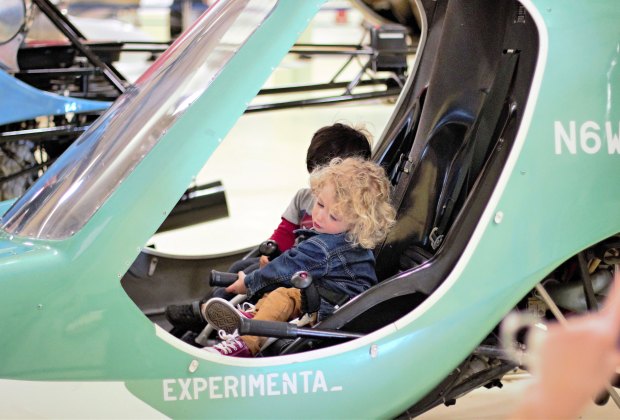 You can be in the driver's seat at the American Helicopter Museum and Education Center. Photo by Wenjun Chi
16. American Helicopter Museum
Are your little ones interested in helicopters? Take a day trip to the hidden gem, the American Helicopter Museum and Education Center. On a nice spring day the large airplane hangar will likely be opened and you can watch the planes land and take off at the nearby airport.
17. Strasburg Rail Road
All aboard the Strasburg Rail Road. The railroad is now open, operating at a limited capacity. Take a 45-minute train ride through the scenic Pennsylvania countryside. If you're looking for more to do, check out the Choo Choo Barn, a one-of-a-kind, 1,700-square-foot model train set. For a less crowded experience, aim to visit Tuesdays through Thursdays.
18. Explore New Hope
Drive an hour to New Hope and explore this eccentric community. Take a train ride on the historic New Hope Railroad. If you're eager to make a full day of it, drop your child off at The Farm Cooking School in Titusville, NJ, for a kids cooking class while you grab a bite. Cooking classes are geared toward children 9 to 15 and run through April.
19. Crystal Cave
Explore the world 125 feet underground at Crystal Cave, located an hour and a half from Philly, in Kutztown. After the one-hour tour, explore the expansive grounds, complete with a hiking trail, miniature golf course, and a gemstone panning area. Kids will delight in taking home their little treasures. If you have some aspiring spelunkers in the family, check out these other caves near Philly.
20. America on Wheels
Spend the day in the Lehigh Valley at the America on Wheels museum. Their treasure trove of vehicles includes Mack trucks, fire trucks, motorcycles, vintage cars, and more.