Crayola Experience Pennsylvania: A Day Trip for Doodlers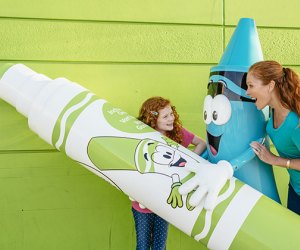 8/2/17
- By
Rose Gordon Sala
There are few sights more satisfying than a quietly coloring, fully focused child. Entering the four-story Crayola Experience in Easton, Pennsylvania, does not exactly replicate that peaceful scenario (it's busy with excited families!), but there's no doubt that it's a kid doodler's paradise.
Part creators' studio, part indoor playground, this 65,000-square-foot kid entertainment center is bedecked in bold primary colors with smiling crayons beaming at you from every corner. It offers more than two dozen art-making stations using the full spectrum of Crayola materials—paints, clay, markers and yes, crayons—as well as more active entertainment like a multilevel play, bounce and climbing structure, toddler section, a water table with boats, and a "Cool Moves" dance-like crayon-themed game.
It debuts a brand-new attraction, Adventure Lab, with an immersive and interactive quest-style game. Read on for the full Mommy Poppins review, and find more day trips and hot kid destinations in our U.S. Travel Guide for Families.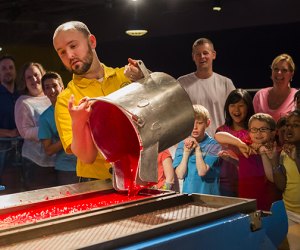 See a live crayon-making show at the "Crayon Factory" room.
Situated in downtown Easton off of the Centre Square in this pretty Lehigh Valley city, it's hard to miss the Crayola Experience's entrance with the oversized crayons zigzagging across the sidewalk.
Although once called the Crayola Factory when it opened its doors in 1996, you won't see crayons being made here unless you pop into the live show playing on the second floor, which offers a quick history lesson and fun live demonstrations. Completely reimagined four years ago into a full entertainment center, visitors can choose from a multitude of creative art projects or play. I suggest grabbing a map and heading to a floor where several attractions sound of interest to the group, or just work your way down (or up) each floor, letting your kid dictate where you linger and what you pass by. We made it through two floors in two hours with a baby and a preschooler in tow.
RELATED: Museum of the American Revolution: Philly's Latest Tourist Attraction

The "Drip Art" station creates colorful, kaleidsoscope-like patterns.
There are stations to work with modeling clay, to create 4D coloring projects, paint and even project your art projects from tablet onto the big screen. But one of my preschooler's favorite destinations was the "Drip Art" on the top floor. Staff hand you two crayons of your choosing, which you press into a little machine that then spins around, melting the crayon onto a paper plate below, creating a kaleidoscope of colorful wax. She didn't have the patience for the "Melt and Mold," another fourth-floor activity that lets you melt a crayon into a molded toy shape like a dinosaur, but many of the slightly older kids nearby were clearly charmed by carrying away a new trinket and happy to wait it out.
The brand-new Adventure Lab, debuting August 2, 2017, takes up residence on the third floor where it replaced the "Doodle in the Dark" attraction. Upon entering the "lab," kids are presented with a series of challenges, both digital and physical. They might have to jump over a rainbow of melted wax, or uncover a missing but critical ingredient. Tablets are in use here, and the kids interact with michevious crayon personalities like Goldenrod and Asparagus.
For a 3-year-old who typically spends more time than I'd like on our mobile devices, I was surprised she barely glanced at the Art Alive exhibit (second floor) where kids doodle on an iPad drawing app that projects artwork onto a wall. Actually, I think it was the most vacant station of the whole building—a testament to the other exhibits, really.
RELATED: Best of Amish and Dutch Country for Families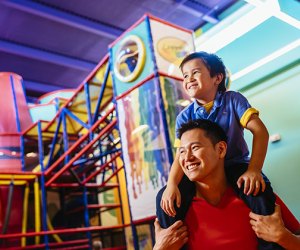 The third-floor Color Playground is one of the favorite attractions.
In addition to all the more involved art-making and tech-driven stations, there are plenty of tables for spontaneous art where kids can just draw with plain old paper and crayons, put together a puzzle or just chill with a book or snack. Yet, it was the two-story "Color Playground" jungle gym (described as best for 3-12 year olds) that I couldn't tear her away from. Kids zoomed in and out of the tunnels, climbed through and up it, hung like monkeys from the ceiling—and yes, I had to eventually physically remove her from it! Bring your very best in-charge mom voice—or at least your best bribe—if you ever plan on getting your kid out of there.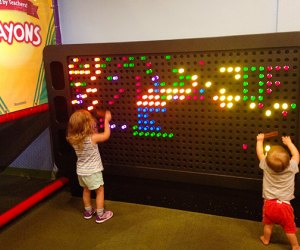 Little ones check out the Lite Brite-like pegboard in Toddler Town on the second floor. Photo by Rose Gordon Sala

Children ages 3-10 will likely get the most out of a Crayola Experience visit. I wouldn't drive here with a 1-year-old who can't yet hold a marker or a crayon, nor a tween who might turn up her nose at the scrum of grade-schoolers running about. But if an older or younger sibling is tagging along, they will find something to do. Even my 10-month-old was able to enjoy a bit of the day at the second-floor "Toddler Town," which includes a much smaller padded jungle gym, various tot toys and an adult-sized version of that 1980s staple Lite Bright, where kids (and you) can rearrange the fluorescent, shiny pins on the board. We also held him up to push a little boat through the 85-foot "Water Works" water table (third floor) where kids maneuver their vessel through a series of bridges and dams.
While we have no shortage of children's museums or art-making opportunities in New York City or Philadelphia, at just over an hour's drive, it's certainly a day trip we'd try again, especially as the weather turns cooler and we tire of the usual indoor play spots.
Be prepared to be charmed by the city of Easton with it's pretty walkable downtown and historical sites like the Colonial-era Bachmann Publick House and Jacob Nicholas House. We enjoyed peeking into the old-fashioned Carmelcorn Shop right off the the main square as well as ogling the cupcakes at Sweet Girlz Bakery (40 N. Third Street). Plenty of art galleries dot the downtown, and those staying the weekend might enjoy a family-friendly show at the gorgeous 1920s-built State Theatre, or a tour of Lafayette College's tree-lined campus for any high school kids in the crowd.
During the summer months, hop onto a mule-drawn boat ride at the National Canal Museum, or if kids have more energy to burn, head over to Scott Park where you can picnic along the bank of the Delaware River and romp on one more playground.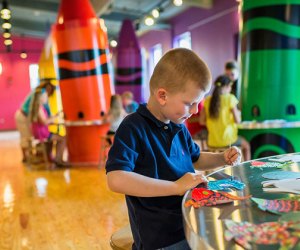 Painting from melted crayons at the Meltdown station.
Good to Know Before You Go
Strollers are allowed and easy to maneuver here; there's a fast-moving modern elevator and floor-to-floor ramps.

Wear play clothes, though we didn't make as much mess as expected.

There's a "mother's room" for moms who might like to pump or nurse in private. Baby changing station included.

Go early. No really. We got there on a Sunday morning as it opened and there was no line. By the time we made it through a couple of floors, it was mobbed. (Summer months are the busiest.)

An on-site café offers typical museum fare like pizza, salads, sandwiches and snacks. You'll also find plenty of eateries around town from the casual to the more upscale.

Metered street parking is available (credit cards accepted), or several parking garages and lots can be found downtown, including along the Third Street thoroughfare.

Yes, there's an on-site store where you can buy all the crayons and other Crayola paraphernalia you like. But you also receive two tokens with each ticket purchased, which can be used to "buy" a marker from a vending machine. Slipping the token into the machine and having a marker pop out in return was a highlight for my kid.
Crayola Experience is located at 30 Centre Square in Easton, Pennsylvania. It's open seven days a week. Adults and kids both pay $18.99 with some discounts for seniors, members of the military and for those who purchase an annual pass. BONUS: Mommy Poppins readers save $4 when you buy your tickets online at this link. Babies and toddlers under age 3 are free. It also hosts birthday parties and school and other group trips like Scouts.
For those traveling elsewhere with the kiddos: Crayola plans to open a Texas location next year, and it also recently opened locations in Orlando, Florida, and at the Mall of America in Minneapolis, Minnesota.
Unless otherwise noted, photos courtesy of the Crayola Experience
A version of this article first published in 2015, but it has since been updated.