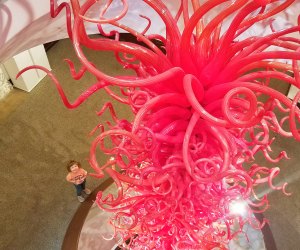 21 Philly Museums You've Never Heard Of
If there's one thing Philly has plenty of, it's museums. From art to cars, history, and more, there is definitely no shortage of museums in Philadelphia. With so many unique places to visit, there's bound to be some you haven't even heard of yet. Check out this list of great lesser known museums and find some fascinating new places to explore. Quite a few of these places are even FREE!
Note: Some of these museums have odd hours. You may need to make an appointment or reservation before you go. Check each website for more information.
Philadelphia
The Fabric Workshop and Museum
This museum is free (with a suggested donation of $3), and is a great place to check out modern contemporary art. Art of various mediums is displayed in this museum- sculptures, paintings, video, ceramics, and more. You can also take a tour of the studios. The Fabric Workshop and Museum offers occasional family programming and teen events as well.
Rosenbach Museum
Perfect for lovers of literature and art alike, the Rosenbach houses a variety of collections, including rare books, as well as special exhibits and unique events. Check their calendar for themed hands-on tours like Women Poets, Charles Dickens, or Herman Melville. The Rosenbach also offers reading groups for a fee.
Fireman's Hall Museum
Learn about the history of firefighting in Philadelphia at this free museum.
Philadelphia History Museum
This museum is dedicated to the history of our fine city of Philadelphia.
National Liberty Museum
The exhibits at this museum are dedicated to liberty, freedom, and the heroes of our nation. Kids will love ringing the replica Liberty Bell and seeing the jellybean children sculpture- made entirely out of jellybeans.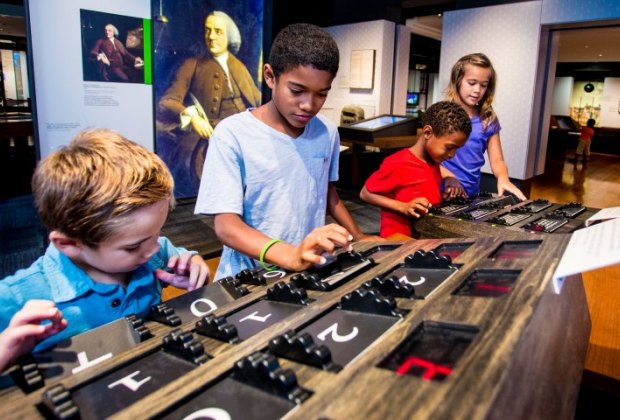 The Benjamin Franklin Museum features many interactive exhibits that kids will love. Photo courtesy of J. Fusco for Visit Philadlephia
Benjamin Franklin Museum
Just around the corner from NLM is the Benjamin Franklin Museum. Here, you can learn about Ben Franklin's life and legacy.
Simeone Foundation Autmotive Museum
Check out all kinds of automobiles at this car museum. Check your local library to see if a museum pass is available to get in for free.
Edgar Allan Poe House
Visit Edgar Allan Poe's Philadelphia home for a free tour.
The Colored Girls Museum
This home turned museum is dedicated to exhibits displaying the stories and art of black females.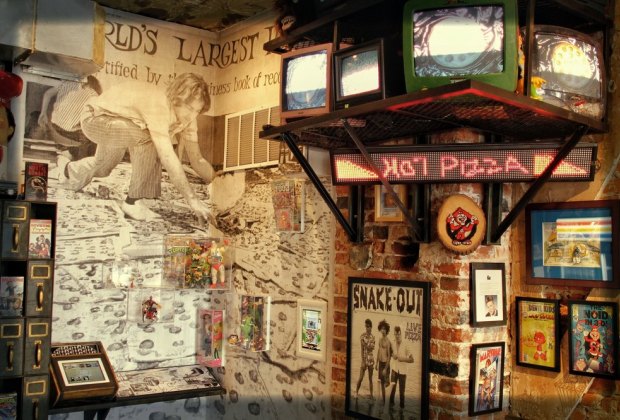 The museum at Pizza Brain is dedicated to every kid's favorite food- pizza! Photo courtesy of Pizza Brain
Pizza Brain
The world's first pizza museum is located right here in Phliadelphia! Order a slice for lunch while you're there.
The Wagner Free Institute of Science
This museum has been around since the mid-nineteenth century providing free science education to Philadelphians.
Kornberg School of Dentistry's Weaver Historical Dental Museum at Temple University
See a recreated nineteenth-century Victorian dental office, as well as displays of dental tools, and more.
Mummers Museum
Learn how to "strut" and check out some Mummers costumes up close and personal at this South Philly museum.
Chemical Heritage Foundation
If you have a budding scientist, this is a great museum! Guests can learn about the history of science and chemistry at Chemical Heritage Foundation.
Shoe Museum
Yes, that's right, there's even a shoe museum in Philly!
The Center for Art in Wood
This art museum exhibits art made from wood.
Suburbs
James A. Michener Art Museum- Doylestown
This art museum features permanent installations, special exhibits, classes, summer camps, and family programming.
American Helicopter Museum- West Chester
There are tons of aircrafts on display at this museum. This one is perfect for the aviation loving kid in your family!
The Stoogeum- Ambler
This museum contains close to 100,000 pieces of Three Stooges memorabilia. You'll also find interactive displays and an 85-seat theatre for film screeings and special presentations.
Mercer Museum & Fonthill Castle- Doylestown
Learn about everyday life in the 18th and 19th centuries in America at this history museum.
Wharton Esherick Museum- Malvern
This museum houses more than 300 of Wharton Esherick's sculptures, furniture, utensils, and more.
Photo of National Liberty Museum courtesy of the author