Caverns and Caves Near Philly to Explore on Tour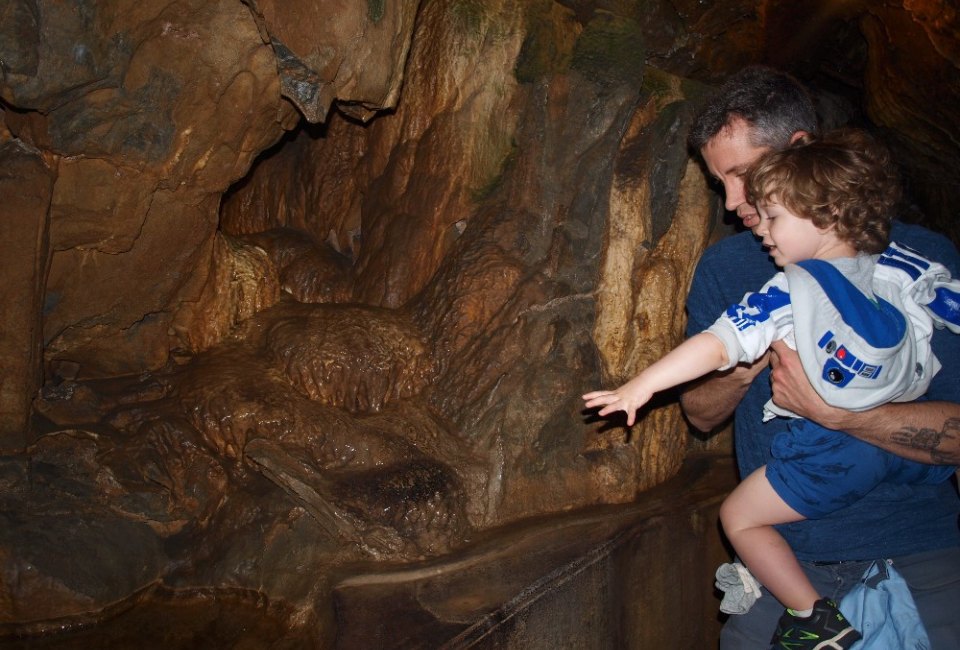 6/14/17
- By
Cait Sumner
Have you ever wondered what might be below us? If your kid loves adventure and learning about bats, stalagtites, stalagmites, and other rock formations, taking a cavern or mine tour is sure to be a ton of fun. The great part is that cave and mine tours are educational and exciting! We've rounded up all the best caves and caverns near Philly to take a tour nearby.
You'll have to drive quite a bit for these Pennsylvania caves, but it will be worth it, and some are close enough to other attractions to make a weekend getaway out of it. If you've never been in a cave, we've got tons of great tips for taking the plunge.
Caves Near Philly
Indian Echo Caverns- Hummelstown
Located just outside of Hershey, Indian Echo Caverns is just shy of a 2 hour drive from Philadelphia. Rain or shine, this cave is always a brisk 52 degrees, so it's a great place to visit on a hot day. The caves are open 7 days a week and the facilities also feature a petting zoo, a playground, and picnic areas. Make a full day of it, or stop by on your way to Hershey Park! Be aware that this limestone cave is home to some animal life including bats, insects, and blind fish.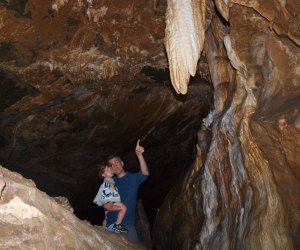 A huge stalagtite in Lost River Caverns.
Lost River Caverns- Hellertown
Lost River Caverns is a shorter drive at just over an hour outside of the city in Lehigh Valley. Another 52 degree limestone cave, Lost River offers a 30-45 minute tour along paved and well lit walkways throughout the cave. There is no wildlife to be found in this cave as the only entrance and exit is located in the gift shop. Along the tour, you'll also get a chance to see the water of the Lost River itself, which is clear as day. No one knows just where this river goes, but it's suspected that it never sees the light of day, which is why the water is so clear.
Crystal Cave- Kutztown
If you're really looking to make a day of it, Crystal Cave is located a short 45 minute drive from Lost River Caverns in Kutztown (about an hour and a half from Philadelphia). The 55-minute educational tour of this limestone cave includes a 13-minute movie about the geology of caves. Crystal Cave is not open year-round, so be sure to check the website for hours. The temperature of this cave is always 54 degrees, no matter the weather outside. Check out the (seasonal) mini golf course while you're there!
Penn's Cave- Centre Hall
Penn's Cave is a bit of a hike from Philadelphia. Near State College, about a 3-hour drive from the city, this is definitely one you might want to make a weekend out of- or at least plan a full day for it. This is an all-water limestone cavern and tours are given by boat. That's not the only attraction at Penn's Cave- check out the 90-minute Farm-Nature-Wildlife Tour, Miner's Maze, and 2-hour Cave Rock off-road mountain tour (not for children under 8).
Coal Mines Near Philly to Tour
Lackawanna Coal Mine- Scranton
Take a 3-4 minute ride downhill in a mining car to enter Lackawanna Coal Mine. Once inside, the walking portion of the tour is about a half mile long in the 53 degree mine. Unlike most caves, this coal mine is somewhat handicap accessible- call before you go for more information. This coal mine is just over 2 hours from Philadelphia.
Pioneer Tunnel Coal Mine & Steam Train- Ashland
This horizontal drift mine runs 1800-feet into the side of Mahanoy Mountain. The tours of this mine are partially by open mine car and partially by foot and last about 35-minutes. The average tempature inside is about 52-degrees. This tour is also handicap accessible. While you're there, you can also enjoy a scenic steam train ride. This coal mine is located near Knoebels- so you can make a whole weekend out of it! Pioneer Tunnel Coal Mine is just over 2 hours from the city.
No. 9 Mine and Museum- Lansford
Located near Jim Thorpe, this mine is just under 2 hours from Philadelphia. Ride by rail, then take a walking tour through this coal mine, and even explore the old elevator shaft!
Things to know:
You'll need to drive a bit, so bring some snacks and drinks for the car ride.
Mines and caverns, on average, are about 52-54 degrees Fahrenheit. It's a great trip for a very hot day, but you'll need to bring a sweater or light jacket for when you're inside.
Some caves can be a bit wet and slippery, so wear appropriate footwear.
Most caves are not handicap accessible, but some coal mines are. If you need accomodations, call before you go.
Lost River Caverns had restrictions about what could be brought in the cave. No strollers, babies must be worn in front (not on back), no food and drink, etc. Check with each place before you go.
Let the kids know, they most likely won't be allowed to touch anything as it could harm some of the formations.
Watch your head!
Header image of Lost River Caverns. All photos courtesy of the author.
Sign up for the Mommy Poppins Newsletter today!