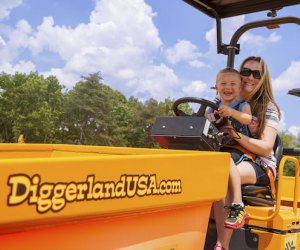 Outdoor Adventure Birthday Parties for Extra Energetic Philly Kids
The weather is finally starting to warm up, and it's time to kick the winter blues to the curb and start planning those spring and summer birthday parties. Party planning can be a hassle, but there are so many options in the area for great outdoor fun. A fine weather birthday is the perfect excuse to do something exciting and new outside. We've rounded up some really fun (and easy) spots to host a birthday party for active kids who love the outdoors.
Smith Memorial Playground
East Fairmount Park, Philadelphia
Age: 1-10
If you haven't been to Smith Memorial Playground, you're really missing out. This playground sits on 6.5 acres of land; it's the size of 6 football fields! It even has a giant wooden slide for kids to ride down on burlap sacks. The birthday parties here are a piece of cake; you can choose from Smith's party room or one of its outdoor porches for a party with up to 20 kids. Everything can be booked online and it's super affordable at $150- $275. A party reservation includes a Smith t-shirt and a crown for the birthday child, as well as a Smith staff member. All that's left is to order some pizzas, bring some sodas and you're done!
Union Fire Association
Bala Cynwyd, PA
Age: 2+
Union Fire Association hosts the perfect birthday party for any kid who loves fire trucks and firefighters. The party includes a lesson about fire prevention from members, a tour of the fire trucks and a chance to shoot the fire hose! You can also arrange to have costumed characters come visit the party. This one is a great option for a party that's both fun and educational.
Painted Dreams Horse Farm Pony Parties
Newtown, PA
Age: 2-14
This place is any animal lover's dream come true. Kids receive a horseback riding lesson, a craft and a pony-grooming lesson. The birthday child also gets a T-shirt. Prices range from $32-$35 per guest, and parents must sign a release before their child can ride.
Elmwood Park Zoo Treetop Adventures
Norristown, PA
Age: 3+
For extra active and adventurous kids, check out Elmwood Park Zoo's Treetop Adventure. Featuring two different courses and a zip-line, kids are sure to sleep through the night after this party! The party package includes zoo admission, a picnic area reserved for your guests, access to Treetop Adventures including safety harnesses, a zoo-themed birthday cake and an animal feeding, which varies seasonally. Discounts are available for zoo members and rates range from $19 - $41 per child. All children must be 36" or taller to participate.
Big Red Pedal Tours Cookies & Cream Tour
Philadelphia, PA
Age: 10+
This is a great birthday party idea for kids 10 and up. Kids pedal their way through a food tour of Philadelphia starting with dessert and ending with pizza. Stops include Happily Ever After, Insomnia Cookies, and Big Ass Slice Pizza. The cost for a private tour is $299 and it's a 15-person minimum. Great discounts are available at each stop.
Diggerland
West Berlin, NJ
Age: 3- 15
Gear up for some fun with your truck loving kids at Diggerland. Kids spend 2 hours controlling, driving and riding real construction equipment. The best part is the package includes a slice of pizza for each kid and 2 drink pitchers with refills. For $349 you get admission to the park for the birthday kid, 10 guests and 12 chaperones—a total of 23 people! All of the attractions at Diggerland have a minimum 36" height requirement. Kids 42" or taller can take advantage of even more attractions. Diggerland also offers plenty of add-on packages and an Extended Dig Package; so you can easily add more food, decorations, goodie bags or an ice cream cake to your party. All you have to do is book your party, get a cake and let Diggerland take care of the rest.
Photo Credit: Diggerland USA