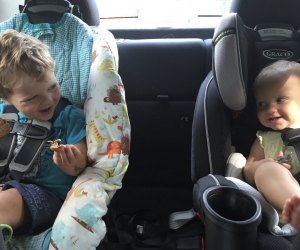 15 Family Road Trips Under 10 Hours Away from Philly
Taking a vacation with kids can be tricky, especially when it comes to traveling. Flying can be stressful and expensive, and if you're anything like me, it may be your least favorite mode of transportation even without kids. Sometimes, half the fun and adventure of the vacation can be getting there! Road trips can be a great way to bond with your family, so we've rounded up a few awesome places that are less than a 10-hour drive from the greater Philadelphia metro area. As an added bonus, you can travel to a few of these places by train, too!
Niagara Falls, NY- 415 miles (approximately 6 - 7 hours)
This is a must-see for kids and adults alike! Take a ferry boat right into the action or walk right up on a Cave of the Winds Tour. Check out nearby attractions in Buffalo, or, if you have passports, head over the border to Canada.
Boston, MA- 310 miles (approximately 5 - 6 hours)
Boston is a great place to visit with kids, and not too long a drive! As an added bonus, you can find great things to do there using the Mommy Poppins Boston site. Check out Freedom Trail, The Public Garden, or check out a museum, like Boston Museum of Science.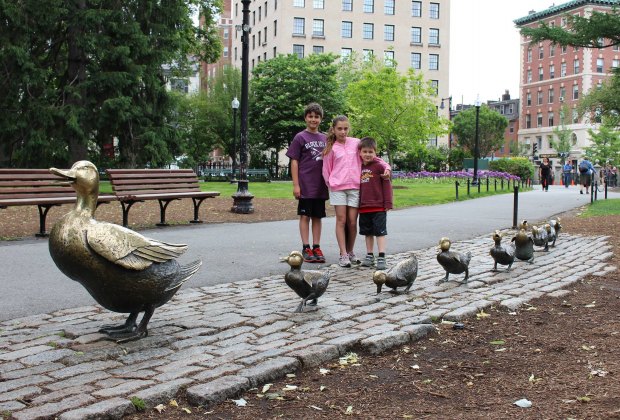 Photo of The Public Garden by Kristen Sullivan
Portland, ME- 408 miles (approximately 7 hours)
Portland, Maine offers a plethora of fun activities for the whole family. Visit the observatory, take a horse drawn carriage ride through the downtown area, or take a ferry ride.
Assateague Island, MD / Chincoteague Island, VA- 152 miles and 188 miles, respectively (approximately 3 - 4 hours)
Assateague Island is a great place to take a vacation if you and your family love the outdoors. You'll see all kinds of wildlife on this trip, including wild horses! We've grouped this one together with Chincoteague Island because they've both got great beaches and wildlife. Check out the pony swim on Chincoteague Island for a really unique experience.
Myrtle Beach, SC- 577 miles (approximately 9 hours)
Visiting the beach is always fun for the kids. Get a nice change of pace from the Jersey Shore, by visiting Myrtle Beach. Visit the Nascar Racing Speedway, take a pirate adventure tour, check out a water park, go on a zip-lining adventure, and more.
Williamsburg, VA- 298 miles (approximately 5 hours)
Williamsburg has it all, from history, to parks like Busch Gardens, and hiking, kayaking, biking, and more. There's something fun for everyone.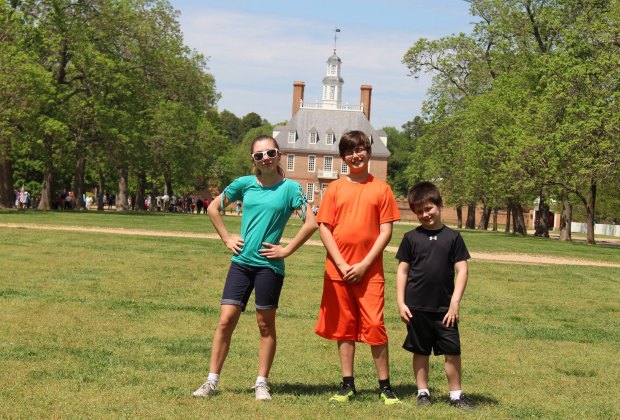 Photo of Colonial Williamsburg by Kristen Sullivan
Cedar Point in Sandusky, OH- 479 miles (approximately 7 - 8 hours)
Deemed the roller coaster capital of the world, Cedar Point is a must-visit for any thrill-seekers. Cedar Point also features water rides and a new exhibit called Forbidden Frontier on Adventure Island opening in 2019.
Pocono Mountains, PA- 110 miles (approximately 2 hours)
Of course, Philly families may automatically think of skiing when the Poconos are mentioned, but there is so much more! Horseback riding, festivals, picnicking, and hikes are just some of the many options that await visitors.
Outer Banks, NC- 384 miles (approximately 7-8 hours)
Those that like the water but want a different scene from the Jersey shore can take a ride south to North Carolina's Outer Banks. These quieter beaches allow families to truly unplug. Besides the beautiful beaches, visitors may see wild horses. Additional sites include nearby lighthouses and a sea turtle rescue center.
Virginia Beach, VA- 276 miles (approximately 5 - 6 hours)
Boardwalk, sand, fishing, an aquarium, and a few other great museums-- Virginia Beach is a great spot to vacation with kids. Looking for other great places to explore nearby? Check out our Virginia road trip round-up for more fun ideas.
Pittsburgh, PA- 304 miles (approximately 5 hours)
On the other side of the state, Pittsburgh is a great town to visit with lots of activities for kids. Kids can use their imaginations at the Children's Museum of Pittsburgh, tour the USS Requin submarine at the Carnegie Science Center, and see animals at the Pittsburgh Zoo & PPG Aquarium.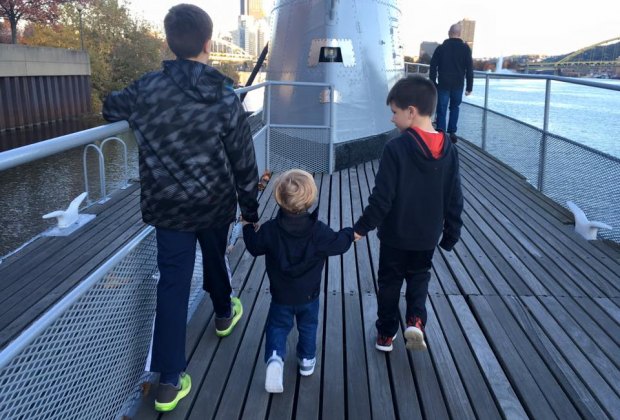 Photo of USS Requin by Kristen Sullivan
Adirondack Mountains, NY- 357 miles (approximately 6 hours)
This is a great vacation year-round. In the Adirondacks you can go swimming in summer, see the leaves in fall, and go skiing in winter. Take a look at our awesome list of things to do in Lake George for more ideas!
Washington, D.C.- 139 miles (approximately 2-3 hours)
Our nation's capital offers national monuments, cherry blossoms, free museums, and phenomenal zoo. This trip can be quite affordable since many attractions are no charge. Another cost saving tip is to stay outside of DC and take the Metro off peak to avoid parking charges.
Blue Ridge Parkway, VA/NC- 400 miles (approximately 6 hours)
Turn off the screens and look out the window while driving along the Blue Ridge Parkway. The parkway is 469 miles long and is known as America's Favorite Drive. Along the way, travelers can camp, canoe, hike, picnic, bike, and take pictures. Popular spots along the Parkway include Blue Ridge Parkway Visitor Center, Mabry Mill, Linville Falls, and Doughton Park.
Cape Cod, MA- 348 miles (approximately 6 hours)
Cape Cod is so much more than just a beach, with so many things to do, the whole family will be entertained. Ride along gorgeous bike paths, go on a whale watching cruise, and visit Woods Hole Science Aquarium (for free!).
Originally published 2016. Header photo courtesy of Christine Mooney for Mommy Poppins.