A Guide to Acadia National Park with Kids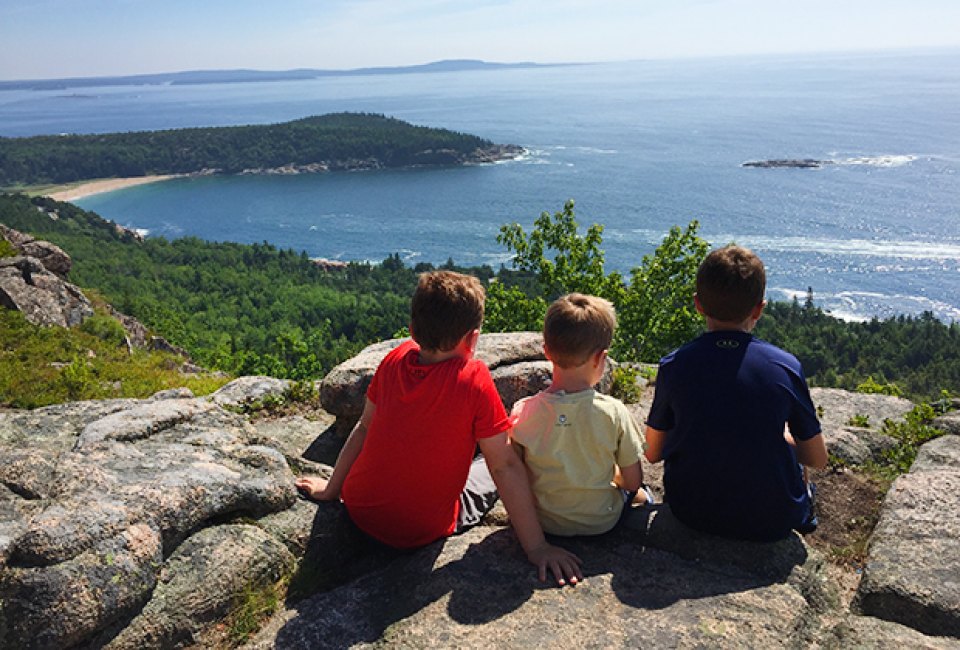 7/10/17
- By
Kelley Heyworth
Of the 59 amazing major national parks across the U.S., only one can be found in the Northeast: Acadia National Park in Maine. And luckily for those of us who live within reasonable driving distance, Acadia happens to be a park that's perfect for families. Manageable hikes, super swimming spots, family-friendly dining, and spectacular sights with colorful names (Thunder Hole!) make a weekend trip not only doable, but totally enjoyable. Here are some tips for enjoying this coastal wonder.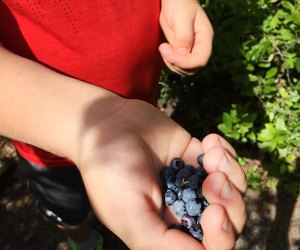 Look for wild blueberries in late summer along the hiking trails.
When to Go
The most popular time to visit Acadia is in the late summer, and for good reason: Maine, which can feel blustery well into spring, feels perfectly pleasant (70s) most days in July and August, which also happens to be the peak season for wild blueberries (found in many local dishes and treats). If you want to avoid crowds, September through early October also tends to be superb weather for exploring the area. Regardless of how warm the forecasted daytime temps are, be sure to pack layers for the evening, and rain jackets. Acadia is second only to Pacific Northwest in terms of annual rain fall, so light showers are common.
Where to Stay
There are no official hotels or resorts in the national park, which sits primarily on an area called Mount Desert Island, but some very charming towns on the edge of the park. Our family's pick: Bar Harbor. The closest and most developed town next to Acadia, it also has the greatest number of lodging and restaurant options (and is pretty cute to boot). An affordable family favorite there is the Hampton Inn Bar Harbor, which offers bay views, spacious rooms, a DIY laundry center, a pool, and (to really the knock the kids' hiking socks off) evening cookies. A bit more upscale: The Harborside Hotel, which is located on premier waterfront property, includes access to the swanky Bar Harbor Club, which has a gorgeous outdoor pool, tennis, and exercise facilities.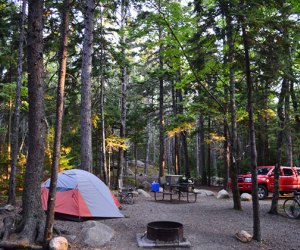 Blackwoods Campground is inside the national park and a 10-minute walk from the ocean. Photo courtesy of throughthewoofingglass.com
If you want to stay inside park grounds, you have your pick of three, well-maintained campgrounds. The most popular is the Blackwoods Campground. A 10-minute walk from the ocean, Blackwoods' campsites accommodate large tents and RVs and each has a fire ring and picnic table for dining. Most important, Blackwoods has a large number of flushing toilets and free shower facilities a half-mile from the campground.
Getting Around
Car access to Acadia is $25. Limited parking lots on the paved road that loops around the park can get crowded by midday, but we found that if you arrive by 8 or 9am, spaces are definitely available. To avoid having to hunt for parking throughout the day, a good idea is to find a spot early and then tour the park using the free Island Explorer shuttle, which operates continuously throughout the day and stops at all the major hotspots.
Hikes to Try
You can't go to Acadia without planning on some hikes. There are 125 miles of hilly or mountainous routes ranging from easy to strenuous, and the views from the seaside trails, in particular, are truly magnificent. On most trails, you just need to follow the cairns (small, manmade piles of stones) to stay on-route. Here are some family-friendly picks.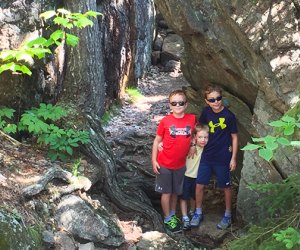 If you have kids who like scrambling through caves and caverns, take the Cadillac Cliffs route on the Gorham Mountain ascent.
Gorham Mountain: Our active 3-year-old was able to keep up for most of this one-way hike, with some piggyback rides at the end. Start at the Gorham Mountain trailhead parking lot, along the park loop just past Thunder Hole on the right. Follow the path up the south side of the mountain; when you come to a fork that allows you to ascend through Cadillac Cliffs, take it if you have adventurous kids. Our older boys (7 and 9) loved scrambling through the caves. Once you reach the 525-foot peak of Gorham, snap some pics—the views are jaw-dropping! Then either descend the way you came (1.8 mile loop) or continue down the north side of the mountain. If you head down the other side on a one-way hike, you can hang a left to go another half-mile or so to the Bowl (a swimming lake) or a half-mile to return to the main road (to go to Sand Beach).
Cadillac Mountain, Summit Loop Trail: Reaching the top of Cadillac Mountain, the highest peak along the eastern seaboard, is a must-do in Acadia. But the 7-mile (roundtrip) hike can be daunting for kids. A nice option is to drive the 3.5-mile paved road up to the near top of the mountain in the early morning (the Island Explorer does not go up Cadillac, unfortunately), and then walk the 0.5 summit trail to the peak. The peak is wide, with 360-degree views of the surrounding island, and there's lots of terrain for the kids to scramble on (though take care around the sharp granite outcroppings).
Wonderland Trail: This easy, flat, 1.5 mile (roundtrip) forested trail is a terrific stop when exploring the southern side of Mount Desert Island, including the towns of Bass Harbor and Southwest Harbor. Time your visit to low tide, to explore the sea life swimming in the tidal pools along the rocky shoreline. Bring bug spray!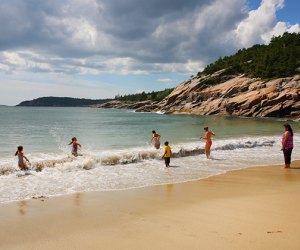 Sand Beach is a popular swimming and lounging spot. Photo by Shira Kronzon
Sights to See
Other than the jaw-dropping summit views, our kids really enjoyed three more sites at Acadia. The first two are conveniently close to each other along the loop road, therefore easily accessible by the Island Explorer shuttle. One is Sand Beach, the pretty, crescent-shaped stretch of coastline nestled between granite peaks. It's a great spot to bring a picnic lunch or dinner and splash in the waves between hikes. The other: Thunder Hole. Essentially a narrow inlet between rocks on the island coastline, Thunder Hole is so named because of the roar that the waves make when crashing into this naturally made cavern. There's a walkway that safely guides visitors to the wave break area, and lots of surrounding flat rock for kids to explore when they've gotten their fill of watching for a whopper of a wave to come in.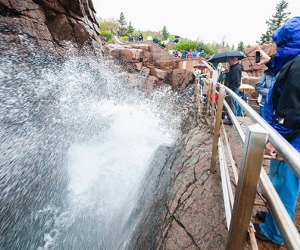 Thunder Hole lives up to its name. Photo by Kent Miller/courtesy of NPS.
Another fun stop just north of Southwest Harbor is Echo Lake. The sparking pond has clear, cool water and is surrounded by cliffs on either side. It conveniently features changing rooms and bathrooms. Our kids were delighted and surprised by the calling loons who hang out in the lake.
Places to Eat
Unlike some national parks we've visited, Acadia happens to shine in the food department. The baked goods and seafood are highlights. We got our fill at these stops:
Jordan's Restaurant: In downtown Bar Harbor, Jordan's is known for its mouthwatering breakfast, notably its wild Maine blueberry pancakes. Situated in a diner setting with smiling waitstaff and lots of free coffee refills, it's a great spot to kickoff a day in Acadia.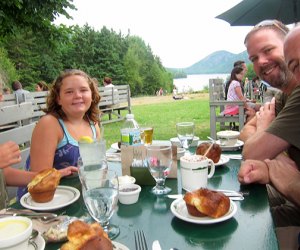 Enjoy delicious popovers and more in a gorgeous setting at Jordan Pond House. Photo by John M./CC BY-SA 2.0
Jordan Pond House: Make a lunch reservation well in advance for this bucolic indoor/outdoor restaurant smack in the middle of the park grounds. It's not cheap, but it is a delicious treat we'd definitely do again. We loved sitting outside on the lakefront grassy property, and ate our weight in homemade popoevers the restaurant is known for. The kids noshed on grilled cheese and peanut butter and strawberry jam sandwiches, and my husband and I devoured our fresh salads, sourced with local produce.
Thurston's Lobster Pound: We are in Maine, after all. This particular seafood shack, opposite Bass Harbor, is worth driving to. Our kids loved watching the staff pull our dinner from the giant cooking tank just outside the entrance, and liked the buttery chunks of lobster almost as much. There are also different kinds of seafood, corn on the cob, and thick slices of blueberry cake.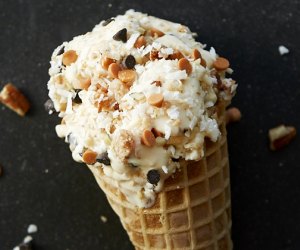 Mount Desert Island Ice Cream hits the spot after a day at the park. Photo courtesy of the shop
Mount Desert Island Ice Cream: After a long day of hiking and swimming, a cold treat in downtown Bar Harbor hits the spot. While the town has more than its fair share of ice cream spots, Mount Desert Island, which has two locations, is special. They never make more than 5 gallons of their homemade ice cream at a time, and its all made with an extra-high butterfat content, making for extra-creamy deliciousness. There are plenty of exotic flavors to choose from, but you can't go wrong with the vanilla, made from real vanilla beans scraped that day.
For more ideas for summer trips not far from Boston, check out our day trip and weekend getaway guide.
Top photo: View from the top of Gorham. Unless otherwise noted, photos courtesy of the author