Fun Skyline Drive Family Road Trip in Virginia's Shenandoah Valley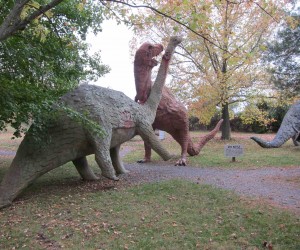 5/11/19
- By
Allison Tibaldi
The Skyline Drive in Virginia's Shenandoah Valley is considered one of the most scenic road trips on the east coast. Only 75 miles from Washington, D.C., and an easy drive from Philadelphia and New York, it can be a fun add-on to a trip to our nation's capitol or a fun getaway on its own.
Though the natural beauty of the valley is the star of the show, there's lots to do to keep kids entertained, including easy hikes, caverns, family-friendly museums, a drive-in movie theater and down-home eats. Motels and resorts are modestly priced and there are excellent camping facilities for a bona fide back-to-nature experience.
Shenandoah National Park
Mother Nature is at her best in Shenadoah. Even the most jaded teenager will marvel at the Blue Ridge Mountain views from the car window as you cruise the 105-mile, two-lane Skyline Drive. Get out of your car and experience the park's pristine beauty up-close. There are over 500 miles of hiking trails. Stoney Man Trail is an easy 1.6-mile circuit with a spectacular view that is perfect for families. Big Meadows, near the Visitor's Center, is the place to spot wildlife. The Junior Ranger activity program offers ranger-led nature activities for families daily in warmer months and on weekends throughout the year.
Caverns
Observe stalagmites and stalacites, formations so unusual, they look like Tim Burton's set designer might have created them. There are six caverns located in the valley, and two are big hits with families.
Shenandoah Caverns in Quicksburg is the only Virginia cavern with an elevator, so you can descend and ascend without lugging a stroller up and down cumbersome stairs. Once you're in the cavern, the one-hour guided tour will have you trekking a mile on a crushed gravel pathway marveling at fabulous formations along the way. After you've explored the caverns, head next door to the American Celebration on Parade. It's a massive warehouse filled with dozens of ornate floats that once participated in famous parades and Presidential Inaugurals.
Luray Caverns in Luray are the most popular caverns in Eastern America. The guided one-hour tour will take you on paths crammed with towering stone columns and crystal-clear pools of otherworldly beauty. Musical kids should enjoy an underground concert, as the world's only Stalacpipe Organ is here. You'll hear music of symphonic quality in this unusual setting.
The Shenandoah Valley Discovery Museum
The Shenandoah Valley Discovery Museum in Winchester offers families an interactive experience. Hands-on exhibits focus on math, science, literacy, art and music. Young museum goers benefit from the Artisan in Residence program, where kids get to understand the artist's process through direct interaction and observation of a working artist. The museum recently moved to spacious new digs, so everything is spanking new. Take some time to explore Winchester's pedestrian-friendly downtown.
Explore More Discovery Museum
The Explore More Discovery Museum in Harrisonburg's staff is dedicated to the principle that children learn through play. Young visitors will be having such fun they will never notice that they are developing foundational learning skills. Miniature replicas of everyday life experiences, like a farmer's market and auto repair shop, are winners. They make an extra effort to include tweens with age-appropriate offerings like a television studio where you can anchor the news.
Visit a Farm
The region stays true to its agricultural roots offering an array of farm opportunities. You may pick your own fruit or purchase it at a farm stand.
Back Home on the Farm is in Harrisonburg. There is glorious fresh produce available, but the Virginia-themed merry-go-round is the big draw. Ride on one of 30 horses painted to represent a different historic Virginian.
Great Country Farms in Bluemont welcomes families with activities like a seasonal corn maze, wagon rides and pig races.
Mackintosh Fruit Farm is just down the road in Berryville. It is a true family farm, with farmers Bill and Lori tending the land with their two teenagers, so city kids may be interested in glimpsing this alternative reality.
Dinosaur Land
If you can palate a spoonful of kitsch, kids love Dinosaur Land. This roadside attraction in White Post is home to some 50 hulking dinosaur statues made out of fiberglass, a sculpture park of prehistoric creatures. The gift shop is straight out of the 1970's. Dinosaur Land has been attracting visitors for 50 years, so they are doing something right.
Drive-In Movies
The Family Drive-In Theatre in Stephens City opened in 1956. Moviegoers from near and far come to enjoy this all-American blast from the past. The dedicated owner makes it his business that each and every patron has a positive experience. From the excellent food served at the concession stand to the on-site playground for active kids, this is retro family entertainment at its finest.
You Made It! Craft Studio
This do-it-yourself craft studio is located on Main Street in downtown Harrisonburg. Kids and adults can engage in a number of crafts such as painting pottery or making glass art and jewelry. If you choose to paint an unfinished pot and have it glazed and fired, they will mail it to your home. The staff couldn't be friendlier. Perfect for a rainy day.
Where to Stay
Massanutten Resort is a sprawling 6,000-acre resort loaded with recreational options. There's an indoor/outdoor water park, zip line, rock-climbing wall, golf, fishing and skiing in winter. Accommodations are in 2,500 condos and spacious hotel rooms, so don't expect intimate.
In downtown Winchester, The George Washington Hotel is a mix of history and modern amenities. Built in 1924, the 90 atmospheric guest rooms include 10 suites, some with built-in fireplaces. It is walking distance from shops, restaurants and the children's museum.
Shenandoah National Park has a variety of overnight accommodations. Camp at one of four sites or stay at Skyland Resort or Big Meadows Lodge, where accommodations range from rustic cabins to suites with a view of the Blue Ridge Mountains.
Where to Eat
The Thunderbird Café outside of Harrisonburg serves generous portions of Southern comfort food. Breakfast is an eye-opener, with creamy grits, pancakes, sausage and homemade biscuits providing sustenance for the entire day.
At Kline's Dairy Bar, the ice cream and frozen custard have been made fresh daily since 1943. There are several branches scattered throughout Virginia, including one on Main Street in Harrisonburg. It's hard to beat a Kline's cone on a hot summer's day.
For more travel ideas in Virginia, consider a trip to Colonial Williamsburg, Richmond, Virginia Beach, or Washington DC.
Originally published in 2015.