50 Things To Do in Portland, Maine, with Kids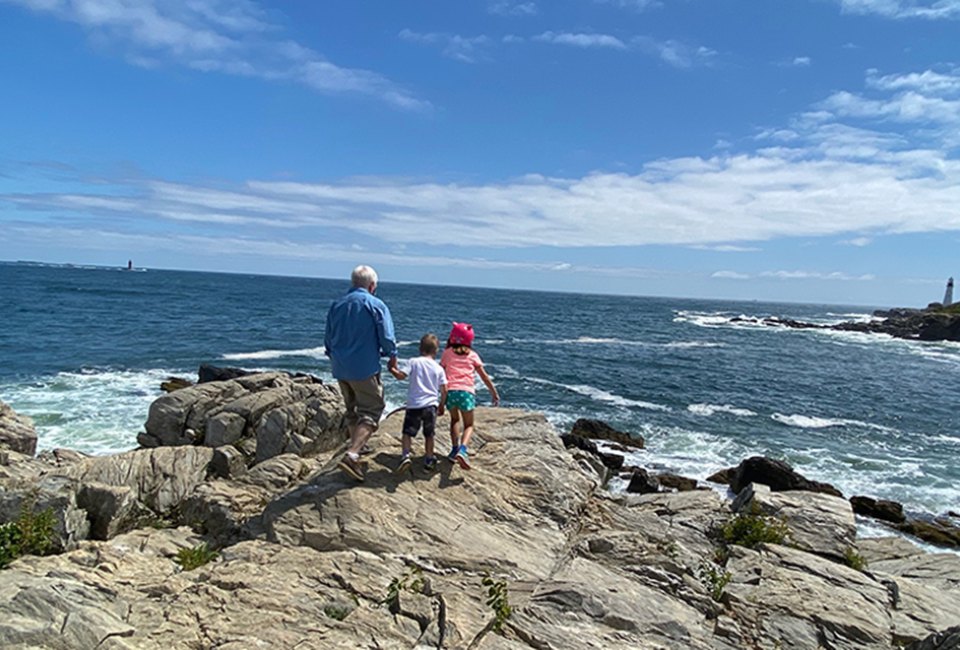 8/19/21
- By
Rose Gordon Sala
Among my favorite things to do in Portland, Maine, is to simply walk the cobblestone streets of the Old Port district, stopping into the boutiques for shopping and grabbing a coffee for a stroll along the waterfront. As a kid growing up in Maine, my family biked Back Cove, sledded down the Eastern Prom, and ice skated at Deering Oaks; as a teen, I went into "the city" for live music, the fantastic Portland restaurants, and the many art museums and festivals.
Portland, Maine, is a pretty port city less than 2 hours from Boston with a strong progressive bent, some might even call it a hippie streak. Now, as a tourist, I love returning with my own kids. It's home to a top-notch children's museum, crammed full of pretty parks and outdoor activities, culture, jaw-dropping coastal beauty, and truly great food. It's easy to day trip from Portland to the ski mountains in the winter, or to a stunning Maine beach in the summer.
To plan a memorable weekend trip, take a look at these 50 fun things to do in Portland with kids. It's truly one of our favorite places to visit. Find more fun things to do in Maine with kids and New England with our family travel guides.
1. Take a train ride
Ride back in time on an antique narrow gauge train along the scenic Eastern Promenade of Casco Bay (April-October).
2. Bike the Back Cove
Bike along the Back Cove loop trail, or connect to the Eastern Prom for a full morning of biking Portland with the kids.
3. Bug Light Park
Fly a kite at Bug Light Park, a favorite spot among locals. Catch a seasonal outdoor movie here, festivals, and plenty of ocean views.
4. Portland Observatory
Tour Portland Observatory, the only known remaining historic maritime signal tower in the United States, where you can take in magnificent views of Portland, Casco Bay, Back Cove, and Mt. Washington.
5. Old Port District
Explore the shops, Portland restaurants, and the waterfront by walking the narrow, cobblestone streets of Portland, Maine's Old Port District.

Dive into authentic gelato at Gorgeous Gelato in the Old Port. Photo courtesy of the shop
6. Ice Cream Shops
Indulge in delicious homemade ice cream shops in Portland for a sweet summer treat. We love local favorite, Beal's Ice Cream, as well as newcomer, Mt. Desert Island Ice Cream, for their rich, top-notch small-batch ice creams. Or introduce the kids to authentic gelato with a visit to the divine Gorgeous Gelato, founded and run by an Italian couple. All three shops are found in the heart of Portland's Old Port district.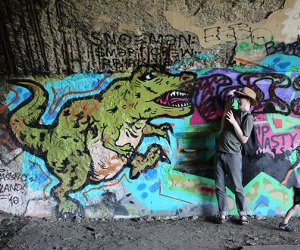 Rent bikes or a golf cart and explore the old graffiti covered tunnels in Battery Steele on Peaks Island. Photo by Shira Kronzon
7. Peaks Island
Among the top iconic things to do in Portland in the summer is a trip to Peaks Island. Take a short ferry ride to Peaks from downtown Portland. Spend the day exploring: Wheel around the island with a stroller or rented bikes, and be sure to duck into Battery Steele, a WWII defense that is now part of a nature preserve on the island.
8. Umbrella Cover Museum
Find wonder and beauty in the simplest of things at the quirky Umbrella Cover Museum on Peaks Island (season begins Memorial Day).
9. Street Festivals, Parades, July 4th Fireworks
Enjoy street festivals, music, crafts fairs, and walking tours by checking out the ongoing local Portland events calendar. The annual July 4th fireworks shot over the harbor are a wonderful time to visit.
10. Fort Williams Park
Explore the abandoned Battery Keyes fort built in 1906 at Fort Williams Park, which sits adjacent to the waterfront. A trip to this old fort often ranks high among the kids' favorite things to do near Portland. Skip rocks along the beach here, or take in the view of Maine's oldest lighthouse, Portland Head Light. There are a number of walking trails near the lighthouse, too.

Discover the secret stone slide in the Children's Garden at Fort Williams.
11. Children's Garden at Fort Williams
Grab a lobster roll or gelato from one of the food trucks at Fort Williams while you continue exploring the gorgeous Children's Garden with flowers, tunnels, a pond, and a secret stone slide.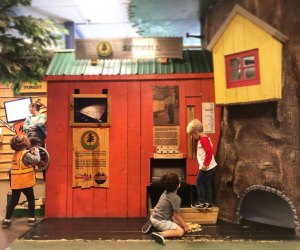 Get into woodworking at The Children's Museum + Theatre sawmill!. Photo courtesy of the museum

12. Children's Museum & Theatre of Maine
Play dress-up, splash at the water table, or create your own display in the Maker Space at the Children's Museum and Theatre of Maine. The museum and theater moved to a brand-new building in 2021, and it's simply stunning!
13. Portland Skate Park
Don their helmets and try out the Portland Skate Park, which just finalized expansion plans.
14. Go Fishing
Cast a line and try to catch a mackerel off the end of the Maine State Pier on Commercial Street. Pick up gear at the Tackle Shop.
15. Root for the Portland Sea Dogs
Join the Portland Sea Dogs Hood Kids Club and run the bases after a game, or just take in a baseball game with this minor league home team.
16. Portland Ballet's Nutcracker
Visiting during the holidays? Enjoy a Victorian Nutcracker or another top performance at the Portland Ballet.

Discover fairy houses and more forest dwellings on Mackworth Island.
17. Mackworth Island
Hike the fairy trail along Mackworth Island, which serves up views of the Casco Bay and gives kids plenty of space to explore Maine woods. Even the youngest kids can usually complete the full loop around the island. (Just pack your snacks and water!)
18. Salvage BBQ
Dig into authentic southern BBQ and Maine micro brews at this popular Portland restaurant, Salvage BBQ. It's spacious and casual enough that kids can run around without causing a scene. Enjoy large communal tables, and a few arcade games, too. In non-covid times, bands play here.
19. Treehouse Toys
Pick up a Maine-made, earth friendly toy to entertain the kids at the hotel and take home as a souvenir at Treehouse Toys.
20. Deering Oaks Park
Enjoy a mega playground at Deering Oaks Park, as well as a pool and splash pad in the summertime. Come winter, kids skate around the pond here while enjoying the holiday lights.
21. Harbor Fish Market
Let kids pick out that night's dinner from Harbor Fish Market, where the sea water can be seen beneath the planks of the pier.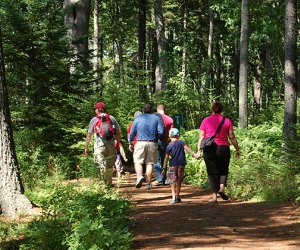 Take a hike. Portland is filled with hiking trails! Photo by JR P/CC BY-NC 2.0
22. Go for a Hike
Explore Portland's trails year-round on foot, cross-country skis, or snowshoes. We especially love the Presumpscot River Preserve for its bridges, waterways, and pretty waterfall.
23. Public Market
Eat your way through Portland's Public Market in Monument Square. Portland, Maine, has been recognized repeatedly as a foodie city, and Public Market is a great way to sample the wares! We love slurping up a "Best of Portland" soup (gluten free, vegetarian and vegan options available) at Kamasouptra in the Public Market House.
24. Portland Museum of Art
Pay a visit to the Portland Museum of Art, where kids always enjoy free admission. Don't miss the outdoor, seasonal sculpture garden.
25. Portland Public Library
Drop in to the Portland Public Library to explore the shelves or visit the Children's Special Collection in the "Portland Room," for a free kids activity in Portland. (Most children's programming has moved online due to covid, and while the library is open, it is operating on reduced hours.)

A free trip to the playground is always a parenting win.
26. Eastern Prom Playground
One of our favorite things to do with kids at home is to explore the local playground. Mine now love the Eastern Promenade Playground with its wide open spaces if somewhat modest equipment. Located on Portland's East End, parents can order lunch and treats from the food trucks that line the street.
27. East End Vend
Shop through the seasonal East End Vend market with "farmers, artists, and foodies."
28. Tour the Waterfront*
Take the Walk the Working Waterfront tour to learn about sea trades. Our fave: Touring the Billy and Andy lobster boat, and having kids color their own buoys. (*On hold due to covid.)
29. Victoria Mansion
Behold the opulence of a Turkish Smoking Room circa 1860 at Victoria Mansion, a favorite stop for school groups and tourists alike.
30. Wadsworth-Longfellow House
Enjoy a moment of quiet in the Longfellow Garden at the historic Wadsworth-Longfellow House.
31. Dine at DiMillo's
Savor the catch of the day while enjoying scenic views from DiMillo's floating restaurant, which sits in Portland Harbor. Sure, it's touristy, but kids will thrill to eat on a boat!

Meet Lenny, the ​life sized chocolate moose at Len Libby Chocolatier.
32. Len Libby's
Gape at the world's only life size chocolate moose, Lenny, at Len Libby Chocolatier in neighboring Scarborough. While you're there, sample the Needhams, a favorite local chocolate stuffed with coconut.
33. Ice Skate at Thompson's Point
This open-air ice rink sits atop Thompson's Point, which juts out over the river, and it's among our favorite things to do in Portland during the winter. Skate rentals, a snack stand, and Maine beers are available, too. Outdoor concerts play here in the summer, and the newly rebuilt children's museum is just behind it. A welcome addition to the city!
34. Becky's Diner
Order a Mickey Mouse Fruity-Face Pancake at Becky's Diner on Hobson's Wharf.
35. Payson Park
Hit the playground, seasonal splash pad, or sports fields at this Back Cove park in Portland, Maine.
36. Portland Pie Co.
Sink your teeth into a hearty specialty or gluten-free pizza at Portland Pie Co.

Go north or south to day trip from Portland to a Maine beach; there are loads of nearby options.
37. Hit the Beach
In my book, no trip to Maine is complete without a trip to the beach! And while you shouldn't swim in Portland Harbor, there are a number of gorgeous, sandy, swimmable beaches near Portland, including Crescent Beach State Park, Popham Beach State Park, Ferry Beach, Willard, Scarborough/Pine Point, and the tiny, but tide pool and surf haven of Higgins Beach.
38. Duck Boat Tour
Ride the duck boat around Portland, both on the street and in the water! The kids will go nuts for this.
39. Book a Hotel with a Pool
Start the day with a swim in the indoor pool before heading to the dining room for your free breakfast when you stay at the Residence Inn Portland Downtown/Waterfront or the Hyatt Place Old Port.
40. USM Planetarium
See the light show at the University of Southern Maine's Planetarium for the perfect rainy day activity in Maine with kids.

41. Try Candlepin Bowling
Bowl the way Mainers do with smaller balls and "candlepins." Try Big 20 in Scarborough where nothing seems to have changed in decades, from the wood paneling to the manual scoring; or roll the big balls at the modern Spare Time in Portland that includes arcade fun and concessions. Bowling, of course, makes another fantastic indoor, rainy day activity for kids.
42. Day trip to Old Orchard Beach
Hit the amusement park rides and arcade, devour Pier Fries and walk the pier, or just enjoy a day at the beach in nearby Old Orchard Beach.
43. Holy Donut
Indulge in a treat at Holy Donut, an inventive local donut shop.
44. Rose's Foods
Or load up on the lox with your everything bagel from the beloved Rose Foods.
45. L.L. Bean Flagship Store
Shop for those iconic boots, sleeping bags for the kids, or kayaks at the flagship L.L. Bean store just a short drive away in Freeport. This pretty coastal town is loaded with outlet shopping and decent restaurants, and the flagship store often hosts events.
46. Maine Mariners
Watch the Maine Mariners skate to ice hockey glory – or try – at the downtown Portland arena.
47. Patriot Cinemas - Nickelodeon Theater
Catch a new release at this Portland movie theater smack in the middle of the Old Port. True story: This theater used to offer $1 admission specials, but the prices are still a bit lower than average.
48. Swim the Kiwanis Community Pool
For just a couple of dollars, non-resident kids can swim at this downtown Portland outdoor pool and splash pad. Non-resident grown-ups can swim for less than $6.
49. Sail through Casco Bay
Book a sailboat or another boat tour for a leisurely cruise through Casco Bay. There are a number of sailing companies in Portland, of course! We've linked to a few favorites.
50. Portland Paddle
Learn to sea kayak or paddleboard with Portland Paddle. It also provides a "family paddle" tour.
Originally published April 2012 by Tara D, but revised and updated in 2021 with help from some pretty awesome Mainers.
Photos by the author except where noted.
Click Here to Sign Up!
i