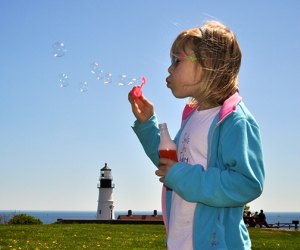 25 Things to Do with Kids in Portland, Maine
Less than two hours from Boston, Portland, Maine is a city filled with history, culture, jaw-dropping natural beauty, and truly great food. Though the busy, pretty waterfront on Casco Bay gets the most tourist love in Portland, there's a lot of fun to be had just a little farther afield, making it a perfect spot for a weekend trip with the kids. Pack up the car or take the train, and settle in for an engaging, relaxing, and picture-perfect weekend getaway.
To plan a memorable trip, take a look at these 25 things to do with the kids in Portland—it's truly one of my kids' favorite places in New England.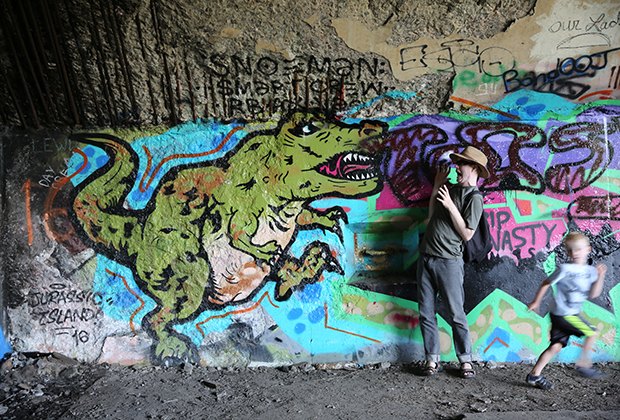 Rent bikes or a golf cart and explore the old graffiti covered tunnels on Peaks Island. Photo by Shira Kronzon
3. Take a ferry ride to Peaks Island. Wheel around the island with a stroller or rented bikes, and be sure to duck into the island's interesting old tunnels on your journey around.
4. Find wonder and beauty in the simplest of things at the quirky Umbrella Cover Museum on Peaks Island (season begins Memorial Day).
5. Join a foot-powered parade to kick off the annual Old Port Festival, an event packed with live music, activities for kids, festival food from local restaurants, and Maine-made arts & crafts (June).
6. Start the day with a swim in the indoor pool before heading to the dining room for your free breakfast when you stay at the Residence Inn Portland Downtown/Waterfront.
7. Create a little magic during Fairy Fridays at the Coastal Maine Botanical Gardens (July & August).
8. Cast a line and try to catch a mackerel off the end of the Maine State Pier on Commercial Street. Pick up gear at the Tackle Shop, a few streets away.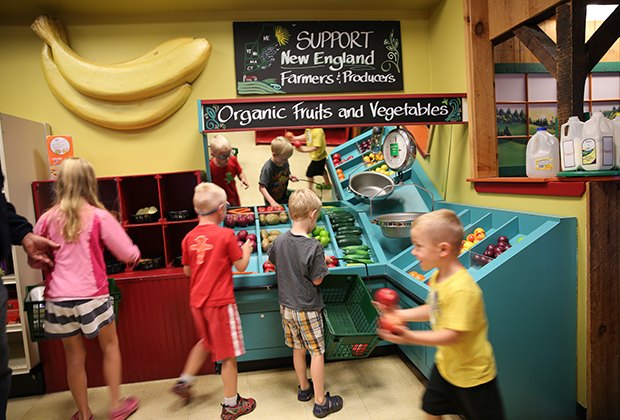 Be sure to hit the Children's Museum. Photo by Shira Kronzon
9. Spy on passersby through the Camera Obscura from a pitch black, windowless room at the top of the Children's Museum and Theatre of Maine.
10. Tour Portland Observatory, the only known remaining historic maritime signal tower in the United States, where you can take in magnificent views of Portland, Casco Bay, Back Cove and Mt. Washington.
11. Order a Mickey Mouse Fruity-Face Pancake at Becky's Diner on Hobson's Wharf.
12. Join the Portland Sea Dogs Hood Kids Club and run the bases after a game.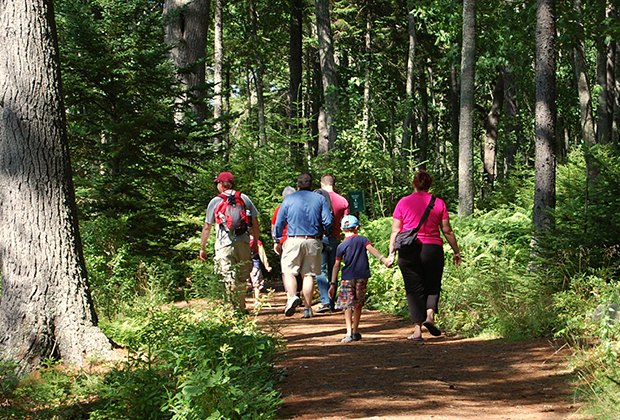 Take a hike. Photo by JR P/CC BY-NC 2.0
13. Explore Portland's trails year-round on foot, cross-country skis, or snowshoes.
14. Pick up a Maine-made, earth friendly toy to entertain the kids at the hotel and take home as a souvenir at Treehouse Toys.
15. Sink your teeth into a hearty specialty or gluten free pizza at Portland Pie Co.
16. Pay a visit to the Portland Museum of Art, where kids like studying the animal-themed installation Modern Menagerie and tinkering in "The Workshop," an interactive playspace that encourages creativity and problem solving.
17. Drop in to the Portland Public Library for one of their cool kids' programs or visit the Children's Special Collection in the Portland Room.
18. Come in June and "Walk the Working Waterfront" to learn about sea trades. Our fave: Touring the Billy and Andy lobster boat, and having kids color their own buoys.
19. Behold the opulence of a Turkish Smoking Room circa 1860 at Victoria Mansion.
20. Enjoy a moment of tranquility in the urban oasis of the Longfellow Garden at the Wadsworth-Longfellow House.
21. Savor the catch of the day while enjoying scenic views from DiMillo's floating restaurant.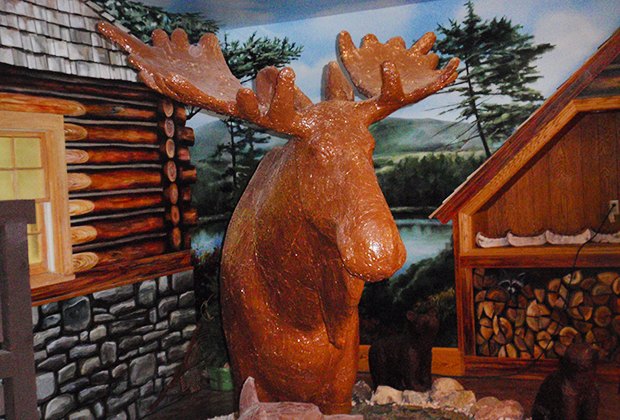 Meet Lenny, the ​life sized chocolate moose at Len Libby Chocolatier. Photo by Al/CC BY-NC 2.0
22. Gape at the world's only life size chocolate moose, Lenny, at Len Libby Chocolatier in neighboring Scarborough. While you're there, pick up a batch of original recipe Bangor Taffy for a taste of bygone days.
23. Ride through festive downtown Portland on a horse drawn carriage (weekends, late November to late December).
24. Take pleasure in slurping up a "Best of Portland" soup (gluten free, vegetarian and vegan options available) at Kamasouptra in the Public Market House.
25. Find the water in Deering Oaks Park. Wade in the pool in the summertime, or admire the holiday light display around the pond as you glide by on ice skates in the winter.
Originally published April 2012; Updated June 2013, August 2017
Top photo by Stephen Ritchie/CC BY-NC 2.0
Subscribe to our weekly e-newsletter to get the latest on fun things to do with kids in Boston; plus tips, ideas, crafts, good food and more!