Family-Friendly Day Trips to Pennsylvania's Waterfalls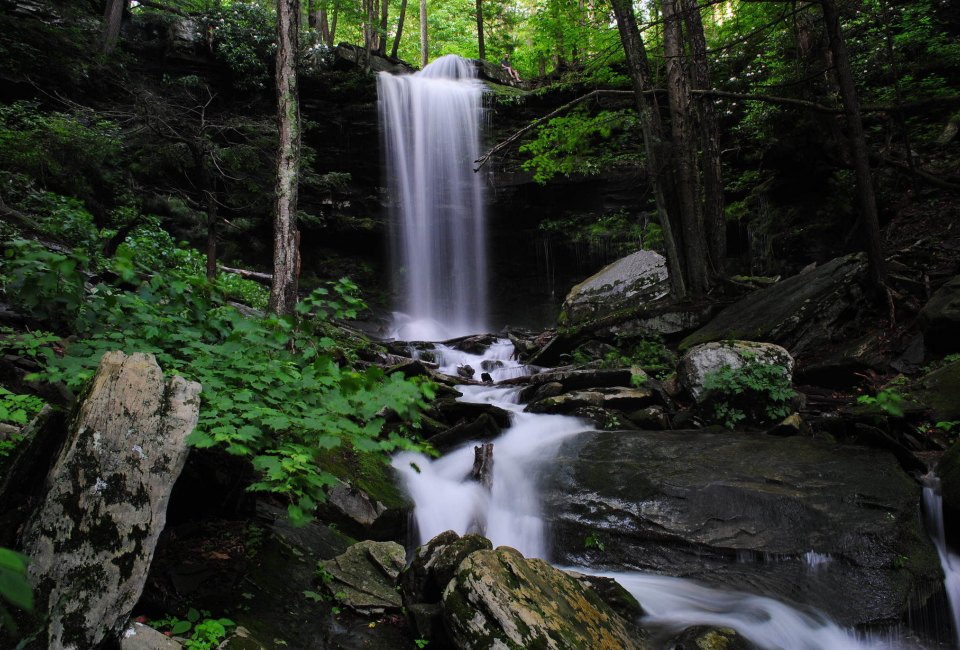 8/17/16
- By
Brianna Angelucci
With fall just around the corner, and the cooler weather that comes with it, families are eager to venture out of their air conditioned homes for crisp air, beautifully changing leaves, and outdoor fun without the mosquitos and humidity. What better way to see the natural beauty of Pennsylvania than a day trip to one of this state's many enchanting waterfalls? We've compiled a list of some of the best waterfalls within a reasonable drive of Philly. Taking into account families with younger kids, all of these waterfalls are easily accessible from the road or with just a short walk on easy-to-navigate trails.
Jacoby Run Falls
The farthest waterfall on the list is just north of Montoursville in Loyalsock State Forest. The breathtaking waterfall is located along a very pleasant hiking trail, perfect for families with children of all ages. There is plenty of parking at the trail head and you can enjoy a lovely picnic at the foot of the falls.
Dingmans Falls
Located in Dingmans Ferry, PA, this waterfall is one of the most popular in the eastern part of the state. Park at the Dingmans Falls Visitor Center for a restroom break, park info, and small bookstore. From here, you can access the trails or take a guided tour of the falls. This location has limited parking and often fills by 10 AM on weekends so plan to start your day early.
Adams Falls
Ricketts Glen State Park is one of the most scenic in Pennsylvania and spans across three counties covering 13,050 acres. Adams Fall is located only 100 feet from the Evergreen Parking Lot off of route 118 and provides a beautiful backdrop for your picnic. For more adventurous families, you can hike the entire 7.2 mile trail and enjoy 21 waterfalls in this expansive park. For an easier walk, just hike the 3.2 mile section following Highland Trail.
Sullivan Falls
Just a few miles away from Ricketts Glen, lies another waterfall paradise that is much less crowded. While the majority of the more than 20 waterfalls here are hidden deep along narrow paths, two of the falls are very close to the road. Sullivan Falls is a few hundred yards down an unmarked trail but you can hear the thunderous sounds of water from the 35' falls. Just follow your ear to find one of the most impressive waterfalls in the entire state! Access to Sullivan Falls is from Jamison City Road, just a few miles from the main entrance of Ricketts Glen State Park.
Bushkill Falls
This network of eight waterfalls is located in the Poconos Mountains and is easily accessible through well-defined hiking trails and bridges. Known as the "Niagara of Pennsylvania," you can easily extend your day trip to an overnight weekend excursion to fully enjoy the beauty of the falls and surrounding areas.
Mill Creek Falls
If you want to combine a waterfall trip with a visit to our state's capital of Harrisburg, check out Mill Creek Falls in York County. Located on the Mason Dixon trail, just off Route 372, you can easily walk to the falls and back in under ten minutes. But if you have the time and skill level for more hiking, the trail offers nearly 200 miles to explore.
Nay Aug Falls
Located in Nay Aug Park in Scranton, this is one of the easiest falls to visit. The waterfall itself is only a half-mile walk from the parking area. When you have finished visiting this beautiful site, Nay Aug Park also offers playgrounds, two Oympic-sized pools, and plenty of trails.
Photo of Jacoby Run Falls courtesy of alltrails.com.
Sign up for the Mommy Poppins Newsletter today!