Baltimore's Inner Harbor: 20 Family-Friendly Spots to Explore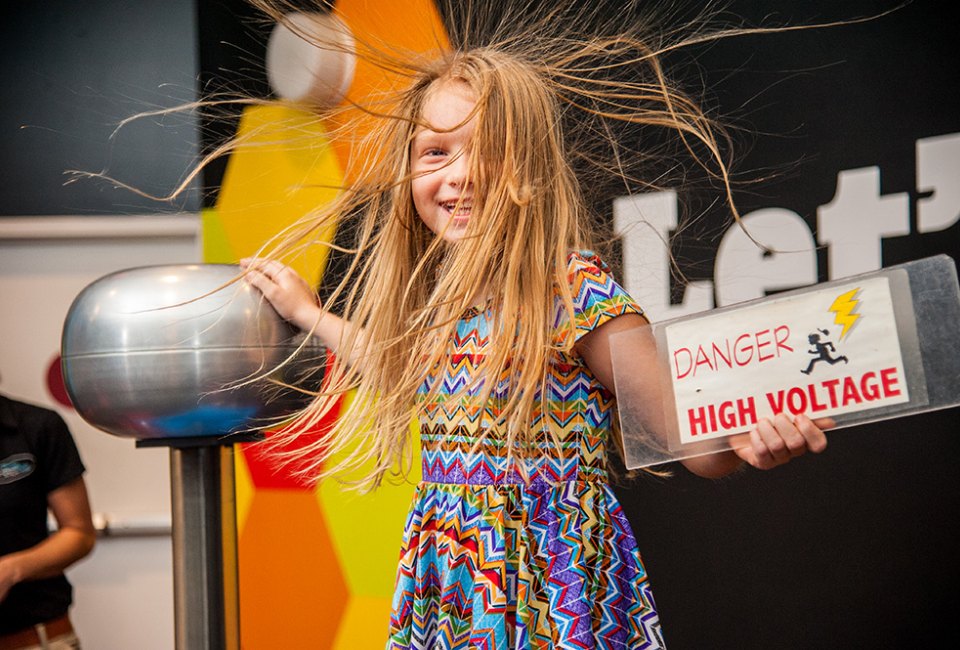 3/10/20
- By
Jody Mercier
In the midst of a redevelopment renaissance, Baltimore's Inner Harbor neighborhood is a beacon for families with its compact size, jam-packed with plenty of engaging attractions, kid-friendly eats, and a balance of history and new-age attractions. We've visited Baltimore before and found plenty of family-friendly fun to enjoy in the Charm City, but the Inner Harbor area packs enough in for a day trip from the Washington, DC, area or a weekend away for other East Coasters. Even better: It's easily accessible by Amtrak, and you won't need a car once you're there.
Read on for 20 things to do in the Baltimore Inner Harbor area, plus our parent-tested pick for a great place to stay. Be sure to check out our City Guides for more great family travel ideas.

Don't miss the impressive National Aquarium in the Baltimore Inner Harbor. Photo by Theresa Keil
Baltimore Inner Harbor Cultural Destinations
1. From the moment you lay eyes on the glass mosaic exterior of the American Visionary Art Museum, it's clear you're in for a treat. This museum showcases a diverse array of works big and small from a wide variety of talents. You're never sure what you'll see from one gallery to the next. Kids will surely get a giggle out of the Fart Machine located near the bathrooms on the lower level and the kooky gift shop, aptly named Sideshow, offers plenty of unique trinkets to remember your visit, plus a working Zoltar machine.
2. Situated on a pair of piers in the heart of Baltimore's Inner Harbor, you'll find The National Aquarium, home to more than 20,000 animals, spread out over 250,000 square feet of exhibition space. The highlight is the Dolphin Discovery exhibition, with a thriving colony of dolphins ready to educate and entertain.
3. Another beautiful Inner Harbor institution, The Maryland Science Center, is one of the oldest science museums in the nation. It has exhibits dedicated to everything from dinosaurs to Newtown's Laws, electricity, the human body, outer space, and beyond.
4. The nearby Port Discovery Children's Museum houses three floors of hands-on fun catering to children ages 10 and younger. There are more than 20 different exhibits to explore from the toddler-friendly Chessie's Playground to the four-stories tall Skyclimber.
5. Visit the "Birthplace of the American Railroad," at the B&O Railroad Museum, where you can explore hands-on exhibits in a railroad roundhouse, explore old railroad cars, twirl on a train carousel, and take seasonal train rides to the spot where the first stone was laid for the B&O Railroad in 1828.
Get on the Water in Baltimore Harbor
6. Explore the historic ships of Baltimore harbor, including the USS Constitution, the last all-sail warship built by the U.S. Navy. It's also the only Civil War-era vessel still afloat. Tours are available daily.
7. Also floating nearby and open to visitors are the USS Constellation, USS Torsk (a submarine), Lightship Chesapeake, USCG Cutter Taney, plus a lighthouse. Tickets can be purchased to visit the lighthouse and two ships, or all four.
8. Hop aboard a "Chessie"-shaped paddleboat or rent an electric-powered pirate ship and explore the Baltimore harbor on your own.
RELATED: 50 Things to Do in Richmond, Virginia

The historic Cross Street Market offers a number of kid-friendly food vendors.
Kid-friendly Baltimore Inner Harbor Restaurants
9. Explore the historic Cross Street Market, which has fed Baltimoreans since the 19th century, for a wide range of options sure to please the pickiest palates. Try an authentic New York slice at Pizza Di Joey, pick up some kid-pleasing, "World Famous" Royal Farms Chicken, or opt for authentic Mexican eats at Taco Love Grill. There's coffee for grown-ups, sweets for dessert, and more.
10. Grab breakfast at Diablo Doughnuts on Federal Hill. With irreverently named selections like Unicorn Farts (a yeast donut doused in vanilla glaze and topped with Fruity Pebbles), you'll get a giggle along with a tasty treat for the kids.
11. The family-owned Miss Shirley's Cafe has an Inner Harbor outpost, serving a popular kids Bento box option for breakfast and lunch, with just-right portions of mini Belgian waffles, mac-n-cheese, and more. Adults appreciate the Southern-inspired menu filled with plenty of local flavors—and crab cakes.
12. Dine alfresco, right on the water, at Phillips Seafood, where kids eat free Monday-Thursday.
RELATED: These DC Museums Are Free Every Day!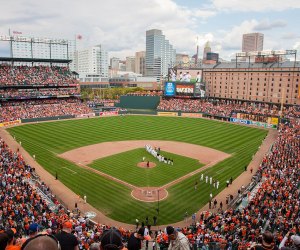 A Baltimore visit isn't complete without a visit to the modern Camden Yards. Photo courtesy of Visit Baltimore
Root, Root, Root for the Home Team
13. The historic Oriole Park at Camden Yards is easily walkable from your hotel in Baltimore's Inner Harbor, whether you want to catch a game or enjoy a behind-the-scenes tour.
14. Brush up on your history of the Great Bambino with a visit to the Babe Ruth Museum. The former Yankee great was born in Charm City. Visit his childhood home, learn about his early years, and view plenty of artifacts from his history-making career.
Take in the Views
15. Visit the World Trade Center Baltimore for a trip to its Top of the World Observation Level, which offers a 360-degree, open-air view of the city and harbor below.
16. Trek to the top of Federal Hill to explore the historic Federal Hill Park. You'll get a fantastic view of the city and learn how this elevated point served as a lookout and defensive stronghold during the Civil War and War of 1812.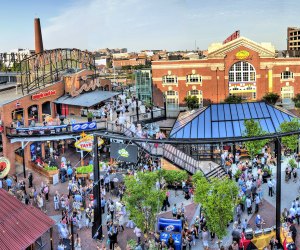 The Power Plant Live Baltimore complex includes restaurants, Barnes and Noble, and more activities. Photo courtesy of The Cordish Companies
Explore Kid-Friendly Shopping
17. Hit the much more commercial Power Plant Live adjacent to the National Aquarium. You'll find everything from a gigantic Barnes and Noble to an escape room and plenty of dining options, plus more grown-up haunts.
18. Pop into The Book Escape, a well-stocked indie new-and-used book shop on Federal Hill, to check out its reasonably-priced selection. Pay it forward and earn store credit if you've finished your vacation read and want to pass it on!
20. Visit the seasonal Christmas Village in Baltimore. Modeled after traditional German markets, you'll find a curated selection of gifts, classical Christmas decorations, fun eats like Raclette sandwiches and booze-spiked hot cocoa in commemorative mugs. Kids can sit on Santa's lap to share their secrets, too.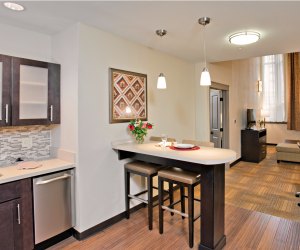 Full kitchens and spacious suites made a stay at the Staybridge Suite Inner Harbor Baltimore a breeze. Photo courtesy the hotel
Where to Stay in Baltimore's Inner Harbor
The Staybridge Suite Inner Harbor Baltimore is one of the city's newest hotel properties. Housed in a restored, historic 1907 building that has at points been home to a bank (you'll spot the vault in the breakfast nook) and the Chamber of Commerce, the Staybridge Suites features studio and 1-bedroom suites with fully equipped kitchens, complete with stoves, microwaves, and full refrigerators. A complimentary breakfast is served in the lobby daily and evening socials on Mondays, Tuesdays, and Wednesdays include light bites and happy hour drinks. This Inner Harbor hotel is just steps from all area's top attractions and minutes from Union Station via a cab ride, providing a great home base for your weekend of exploration. A hotel shuttle is available to take you to a few set stops nearby. There's also an on-site fitness center and self-serve laundry facilities.
Click Here to Sign Up!
i