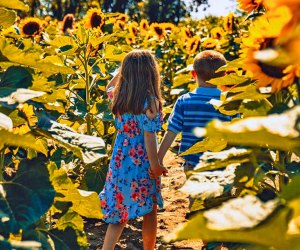 Sunflower Farms Near Philly for Family Fun
There's something magical about frolicking in a sea of sunflowers on a summer day that delights children of all ages and adults. From August and into September in the Philadelphia area, there are countless sunflower field activities to choose from, including picking your own flowers, taking professional photos, or making your way through a sunflower maze. Read on to learn about the best sunflower farms near Philly for the whole family to enjoy.
If you're looking for more pick-your-own activities, check out our guide to farm and U-pick fun.
Sunflower Farms for Families in the Philly Area
A half-hour from Philadelphia you'll find 99 acres of rural beauty at family-owned Dalton Farms. With a target 2021 opening date of Aug. 21, the farm plans to open daily for sunflower festivities through September. All guests ages 3 and older must purchase an admission ticket in advance online. Cost of admission is $10 Mondays through Fridays and $12 on Saturdays and Sundays. The farm also has food vendors, live music, paddleboat rentals on a private lake, wine tasting, and a beer garden.
An hour's drive from Philadelphia lies Hellerick's Family Farm, where taking your family's photos in a stunning field of sunflowers is made easy. Once the season starts in mid-August, the sunflower festival is open daily, and a professional photographer is on-site and available for sessions. The admission price for 2021 is $11.99, including access to the sunflower field, three sunflowers, and access to the adventure farm with 54 activities. Tickets are available on the farm website. If you have animal lovers in the family, consider making reservations for the farm's unique goat experience. Its special goats have been trained to do goat yoga, and you'll get to witness a mini-session and feed the goats during your visit.
This year, Johnson's Corner Farm has a unique excursion to experience the magic of its sunflower fields. Every day, from 5 to 7pm, you can participate in its Sunflower Celebration with a wagon ride to the fields. At the end of the path, you have the opportunity to pick your own sunflowers, take photos, or simply stroll through a beautiful field of flowers. The farm has already kicked off its 2021 sunflower season, and tickets are available online. Admission is $9 per person, and children under 12 months are free.
Spend a day in nature over more than 300 breathtaking acres at the 17th-century preserved Johnson's Locust Hall Farm. Their sunflower season starts with "Park N Pick," which grants guests access to picking fields all day. Reservations for 2021 cost $4.95 per person for all guests age 2 years and older. "Park N Pick" is open Friday through Sunday from 9am until 3:30pn. In September, the farm opens its Sunflower Photo Trail with thousands of sunflowers of all varieties. You can also visit the sunflower fields at golden hour with Evenings on the Farm every Friday and Saturday throughout the summer from 6pm until 9. Enjoy live music, food available for purchase through Olive & Shae, bottles of wine through Tomasello Winery, and hayrides to the picking fields. Reservations for Evenings On The Farm are $9.95 per person.
If you're up for a drive, head north to the Poconos to visit a new hot spot, Pocono Organics. Its 2021 sunflower season is set to kick off in mid-August. Stroll through the field, take photographs, and then enjoy a healthy lunch at the café, with a delectable menu created by executive chef and Chopped champion Lindsay McClain. The field is free to enter and enjoy, but picking is not permitted.
Shady Brook Farm kicks off its 2021 sunflower picking season on Aug. 7 with its annual Sunflower Festival, which continues on on Aug. 8, 14, and 15. Guests can purchase tickets online. Admission is $12 per person, and children 23 months and younger are free. The festival includes access to the sunflower field, wagon rides, the BEARS playground, BarnYard animals, a hilarious animated chicken show, and much more. After picking your sunflowers and taking the perfect picture for your social media, don't forget to stop into Stone's Throw, a cozy pub on-site, where you can grab a salad, a local brew, or a local wine. It also has live music every Friday, Saturday, and Sunday.
RELATED: Zoos and Animal Farms Near Philly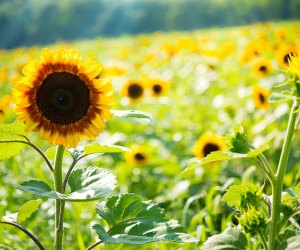 Delight in the late-summer flowers at Yesner's Tree Farm. Photo courtesy of the farm
Grab your camera and get ready to capture a golden field of sunflowers overlooking the scenic Mahoning Valley. Beginning Aug 6, Yesner's Tree Farm kicks off its 2021 sunflower festival, which continues Aug. 7, 13, 14, and 15. Admission is $12 per person and tickets are available online. If your family is a fan of corn mazes, you won't want to miss the festival's 2-acre sunflower maze designed in a sunflower pattern. Other activities include hayrides, a corn cannon, playground, and three different food trucks. After festival dates, pick-your-own sunflowers continues until early September. The farm operates on an honor system, and you can pick and pay at your convenience.