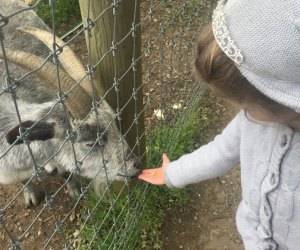 Meet the Animals: 6 Great Animal Farms and Petting Zoos near Philly
Spring, summer, or fall, when the weather is nice, there's so much to do to get outside: festivals, parks, spray grounds, amusement parks, and more. But your little animal lover might be craving some one-on-one time with some cute and cuddlies, and there's no better time to visit the local petting zoo or animal farm than during the warmer months. Luckily, there's a handful of great places in the area for just that.
1. KidZooU-- Philadelphia
KidZooU is part of the Philadelphia Zoo. An indoor and outdoor, interactive zoo experience, this petting zoo puts humans and animals together in a unique, award-winning environment that combines exhibits such as the Duck Pond where kids can feed the ducks, the Goat and Kid Tower playspace, and interactive places such as the Barnyard where kids can mingle with and brush goats and sheep. The indoor space is perfect if the weather is too hot, too cold, or rain starts to fall. Inside, visitors can watch ants transport food through their underground tunnels, learn interesting facts about rats, and try to spot the most colorful butterlies in a beautiful butterfly habitat.
2. Elmwood Park Zoo--Norristown
Elmwood Park Zoo is a family favorite because it's not too big and not too crowded, but has all of the fun of the bigger zoos. If feeding sheep gets the little ones excited, imagine how amazed they'll be when they get to feed a freakishly tall giraffe or a big burly bison. They can feed the goats and sheep here too, and even some of the birds, but nothing is going to compare to having Dhoruba or Waylon, the resident giraffes, take a piece of lettuce from their hands. In addition to a variety of animal exhibitions, there's also a playground, carousel, and catipillar train to entertain the kids.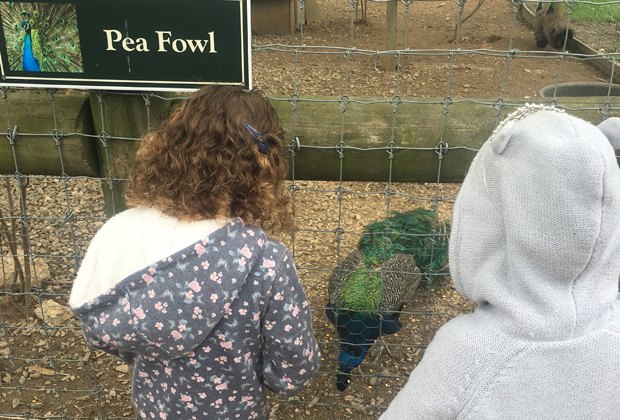 Feeding the peacocks at Linvilla Orchards.
3. Linvilla Orchards-- Media
A fun economic alternative to spending an afternoon at the zoo, Linvilla Orchards boasts a barnyard area with chickens, ducks, peacocks, roosters, hens, cows, horses, emu, sheep, and goats. Visitors can buy the feed for the birds on site for a quarter for a handful, or bring along your own heads of lettuce and carrots for the goats. The birds are in centrally located cages so kids can get up close and feed them. They'll be amazed at the variety of colors, shapes, and sizes chickens come in. The larger animals are behind wooden fences. Just next to the animal area is a vast playground with wood structures including a train, plane, castle, and many more for kids to explore. Linvilla is also the place to pick your own fruits and vegetables -- check the website for what's ripe and available for picking. There's a farm market and on weekends, food stands, that serve hot dogs, chicken nuggets, grilled corn, apple donuts, and homemade ice cream. Linvilla also hosts a free storytime and craft every Tuesday.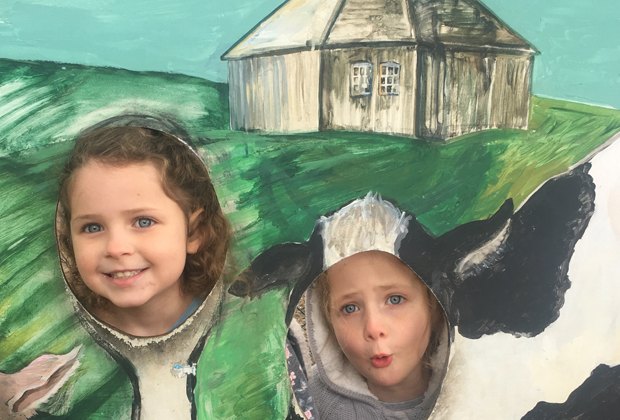 A fun photo opportunity at Linvilla!

4. Merrymead Farm-- Lansdale, PA
Each day from 3:30 to 6pm, get up close to farm life at Merrymead Farm where you can watch cows get milked, then visit the resident chicks, calves, sheep, goats, bunnies, peacocks, pig, and donkey. And because it's a dairy farm, visitors are strongly encouraged to sample the delicious ice cream. There's 32 flavors from which to choose, but trust us, we loved Chocolate MOO Trail the best.
5. Terhune Orchards-- Princeton, NJ
A farm, a vineyard, a market, trails, and more, Terhune Orchards' 200-acres produce a variety of crops, but it's the barnyard that's the most fun for the little ones. That's where you can feed chickens, sheep, goats, horses, ducks, and geese. For those visiting during the weekedays, there's a program called Read & Pick and Read & Explore where parents and kids can participate in a farm activity and a story of a farm product or animal. Topics are seasonal and have included growing asparagus and sheep's wool.
6. Pocono Snake and Animal Farm -- East Stroundsburg, PA
An eclectic collection of animals including a bear, deer, bobcats, monkeys, lemurs, sloths, chinchillas, a raccoon, macaws, alligators and a huge snapping turtle populate the Pocono Snake and Animal Farm, but the real attraction here is feeding more exotic animals. Visitors can toss peanuts to the monkeys who have impressive catching abilities and try bottle feeding pot belly pigs and miniature goats. This attraction is small, so expect to spend an hour or so here on a break from the waterpark resorts.


All photos courtesy of the author