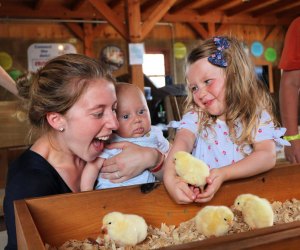 Meet the Animals: Zoos and Animal Farms Near Philly
Bring your little animal lover to meet the animals at Philly zoos and nearby animal farms. Kids will thrill to get one-on-one time with animals whether by seeing them, feeding them, or even petting them.
The zoos near Philadelphia, including the popular Philadelphia Zoo, have all reopened but with new coronavirus-related restrictions in place. Some Philly petting zoos have kept animals on display but removed feeding opportunities. Read on to find out what has reopened near you, but be sure to check individual websites for the latest info before heading out the door.
Top Zoos Near Philadelphia
The Philadelphia Zoo has reopened to visitors this summer as long as guests make an online reservation and wear a mask! See the bears, watch the penguins, or check out the big cats, including lions and tigers. We bet they'll want to hang with the gorillas, too! Normally, the zoo's KidZooU, an indoor and outdoor interactive zoo experience, lets kids mingle with farm animals, such as goats at Goat and Kid Tower and ducks at the duck pond, as well as butterflies and ants. However, in 2020, the petting zoo is not available. Visitors can still see the mini horses, alpacas, and goats, but feeding them is no longer allowed.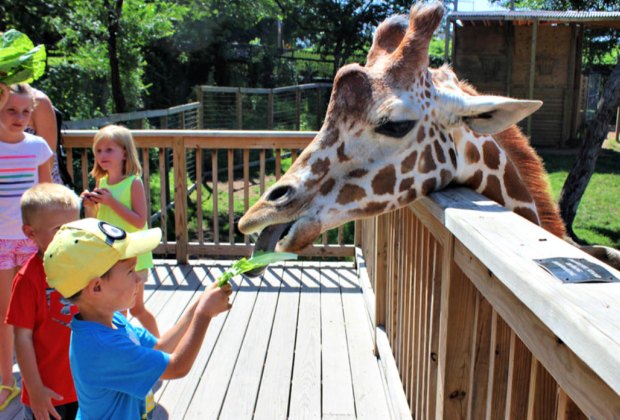 Kids can feed the giraffes at Elmwood Park Zoo. Photo courtesy the zoo
Elmwood Park Zoo is a family favorite because it's not too big and not too crowded, but has all of the fun of the bigger zoos, including some of the larger animals like a jaguar and zebras. There are also several petting-zoo style feeding opportunities here in normal times, including sheep, goats, and birds. But nothing is going to compare to having Dhoruba or Waylon, the resident giraffes, take a piece of lettuce from their hands. In summer 2020, kids can still feed the giraffes but must purchase a ticket. Birds, bison, and other animals are not available to feed at this time. In addition to a variety of animal exhibitions, there's also a playground, carousel, and caterpillar train to entertain the kids. Purchase tickets to this Philly zoo online to reserve your time slot.
Visit the 350-acre Wild Safari preserve at the Six Flags Adventure in New Jersey to see more than 1,000 animals. You can't get out to pet them, of course, but some animals, such as the giraffes and ostriches might walk right up to your car. In 2020, Six Flags brought back the safari as a drive-thru instead of using its park vehicles. Guests should go online to reserve a time slot and ticket ahead of time. Kids will thrill to have this mini African safari just an hour away from Philadelphia with elephants, tigers, lions, and baboons.
A short drive south brings the family to the small Brandywine Zoo in nearby Delaware. See the pygmy goats, red panda, bobcat, a bald eagle, some impressive snakes, and more. The Barnyard where kids can usually get a bit closer to the animals is closed at this time, but kids can still view these animals in their enclosures. Timed reservations and face masks are required in 2020.
Top Petting Zoos Near Philadelphia
Grab a cone of homemade ice cream (32 flavors!) from the takeout window at this dairy farm and then head over to see the animals. Each day from 3:30pm to 6pm, get up close to farm life at Merrymead Farm by watching the cows get milked outdoors, weather permitting. Then visit the resident chicks, calves, sheep, goats, bunnies, peacocks, pig, and donkey. Bring quarters to buy food out of the dispensers. But really, don't miss the Chocolate MOO Trail ice cream—our personal favorite.

This Lancaster County farm is made for animal interactions! Photo courtesy Cherry Crest Adventure Farm
This petting zoo has reopened at 50% capacity for Tuesday- Saturday visiting.
Visiting Lancaster County? Stop by this animal farm that's ready to entertain the kids with dozens of activities. In addition to visiting the animals, children can participate in over 50 unique farm activities including a tractor pull, ropes course, apple blaster, paintball range, hay chute, playground, and straw bale maze. Guests can also expect butter making demonstrations, country pig races, and festivals throughout the season.
An eclectic collection of animals live at this Poconos animal farm, including a bear, deer, bobcats, monkeys, lemurs, sloths, chinchillas, a raccoon, macaws, alligators, and a huge snapping turtle. The real attraction here is feeding the animals! Children can feed the bear, alligators, and monkeys by tossing food to them. The pigs and goats can be fed by bottle, too. This attraction is small, so expect to spend an hour or so here on a break from the nearby water park resorts.
Mask wearing is required on the farm and children are asked to remain outside the farm store. Children can visit with the barnyard animals but feeding is not available right now.
A farm, a vineyard, a market, trails, and more, Terhune Orchards' 200-acres produce a variety of crops, but it's the barnyard that's the most fun for the little ones. That's where you can feed chickens, sheep, goats, horses, ducks, and geese. There are also cats! For those visiting during the weekdays, there's a program called Read & Pick and Read & Explore where parents and kids can participate in a farm activity and a story of a farm product or animal. Most storytimes and other events have gone virtual for 2020.
Unfortunately, the barnyard area is closed due to the coronavirus as is the playground. Pick-your-own fruits and vegetables and fishing remain open.
A fun economic alternative to spending an afternoon at the zoo, Linvilla Orchards boasts a barnyard area with chickens, ducks, peacocks, roosters, hens, cows, horses, emu, sheep, and goats. Visitors can buy the feed for the birds on site for a quarter for a handful, or bring along your own heads of lettuce and carrots for the goats. The birds are in centrally located cages, so kids can get up close and feed them. They'll be amazed at the variety of colors, shapes, and sizes chickens come in. The larger animals are behind wooden fences. Just next to the animal area is a vast playground with wood structures including a train, plane, castle, and many more for kids to explore. Linvilla is also the place to pick your own fruits and vegetables; check the website for what's ripe and available for picking. There's a farm market and on weekends, food stands, that serve hot dogs, chicken nuggets, grilled corn, apple donuts, and homemade ice cream.
A version of this article first published in 2017 but it has since been updated.