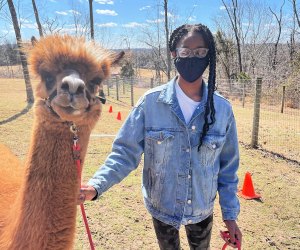 14 Philly Area Alpaca Farms for Furry Family Fun
There are planty of great animal farms in the Philly area, but if you haven't been to an alpaca ranch, you're missing out on one of the most unique experiences around.
These furry and friendly camel cousins can be fed, petted, and walked in farms throughout Philadelphia's surrounding counties, often free of charge.
It's easy to confuse alpacas for llamas, a close relative that's enjoyed a pop-culture resurgence in recent years as a feature of graphic design elements and memes. But alpacas are smaller than llamas, with differently-shaped faces and ears. Their disposition is gentler, making them ideal for human interaction.
Alpacas are bred for their fleece, shorn once a year in the spring, with a feel that closely mimics cashmere at a much better price point. The fleece is used to make everything from clothing to stuffed animals to dryer balls, and the products are for sale at most of the farms listed. Below are some of our picks to get up close and personal with these amazing animals.
As with all current events, COVID-19 protocols are in place. Visitors should wear masks and observe social distancing guidelines. If an event appears too crowded, try using the "nearby" search feature on our event calendar to find something else to do.
Family-Friendly Alpaca Farms in the Philly Area
Once you've called ahead to make an appointment, owner Maggie is happy to welcome you to Kraussdale Alpacas, a small farm where she's currently raising 12 alpacas—three males and nine females. Like many local breeders, Maggie fell in love with alpacas during a trip to their native South America, and decided to turn her passion into a career. The animals are fenced in, but are happy and curious once they see you, and enjoy being petted through the fence while Maggie gives a brief alpaca education. Her store is loaded with goodies for purchase, and you can take a small fur sample home for free. There is no cost for a visit, but donations are welcome.
RELATED: Where to Experience Nature in Philly Wthout Leaving the City

You can pick up a stuffed alpaca at the store after you meet real ones at at Kraussdale Alpacas. Photo by the author
There are only three male alpacas at this expansive Harleysville property, but owners Alex and Sandy offer guests plenty to do. Bring quarters for the feeder machine, which dispenses grain pellets that the alpacas excitedly gobble from a plate you can hold. For $20, enjoy "Walkapaca," where you can leash and guide an alpaca on a stroll through the pastures, and even take them through an obstacle course. Get a running start with Chevy, and he'll hop over a low bar for you like a show horse. If you'd rather just observe the animals, and maybe have a picnic or hike the property's trails, it's $10 per family. There's also a scavenger hunt with six stops that you can mark on a punch card. Alex constructed two adorable mini cottages on the farm that double as retail outlets, one strictly for yarn and fibers, and the other for alpaca-related products. Little Lost Creek also hosts birthday parties on site. Be sure to call ahead to schedule your visit.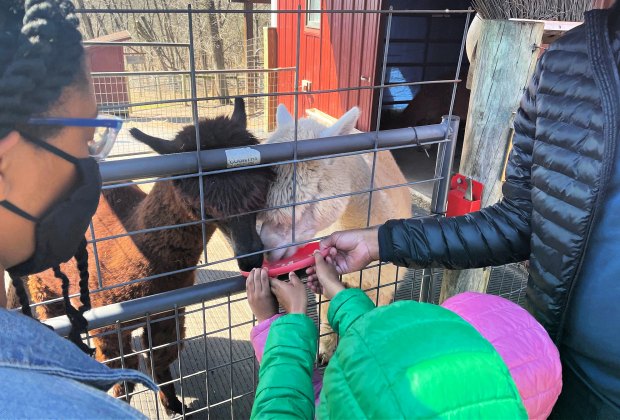 You can feed these friendly creatures by hand at Little Lost Creek. Photo by author
Trotter Hill Alpacas in Glen Mills is a family-run farm with a menu of activities offering intimate encounters. Visitors of all ages are welcome to interact with the herd of 13 alpacas, but some activities require a little more maturity. Groups of two to five people can schedule a woodland walk' with the alpacas on Fridays at 3:30pm, but the farm cautions that this involves a 30-minute uphill trek, and asks that guests be at least 15 years old with no fear of animals. The cost for walks is $30 per person. For a less intensive experience, groups of eight or less can make an appointment to see the animals on Thursdays, Fridays, and Sundays. These 45-minute visits start at 10am and teach you everything you need to know about alpaca life. The cost is $25 for a group of five and $40 for a group of eight. The farm has played host to fun events in the past, including alpaca yoga sessions, complete with brunch and mimosas. There is also a shop on the premises.
RELATED: Family-Friendly Campgrounds Near Philly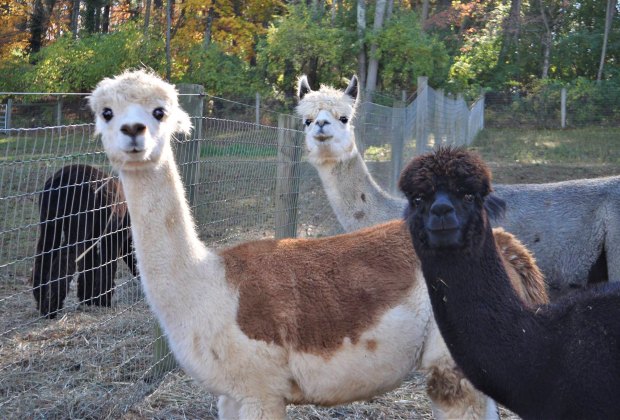 Alpacas come in many colors at Trotter Hill Alpacas in Glen Mills. Photo courtesy of Trotter Hill Alpacas
At Silkie's Alpaca Farm in Chester Springs, agritourists are welcome for visits of 30-45 minutes. Groups should be limited to six or fewer, and ages 5 and older are charged $10 each for some light feeding, leading, and petting while you learn about the herd. The farm asks guests to observe a 1:1 parent/child ratio for any kids younger than 5. If you fall head over heels for one of the animals, they even have an adoption program for $200 a year. You can also see the difference between an alpaca and a llama for yourself here — one llama is living among some other standard barnyard animals, and there's even a giant tortoise. The owners prefer late morning or early afternoon visits Tuesday through Thursday. Visit their website to make an appointment and check on store hours.
Just down the road from Spring Mountain in Schwenksville, look for the barn with the blue roof. That's Nite Star Alpacas, which opened in 2016. Owners Jim and Ann welcom farm visitors starting in May to meet and learn about their herd of at least nine alpacas. They also offer classes on carding and felting if you're interested, and they have their own store as well. Call ahead for an appointment.
RELATED: Delaware Valley Wineries that Are Family Friendly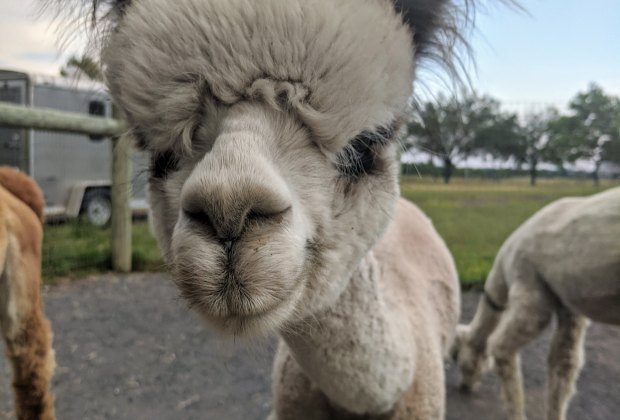 Alpacas aren't camera-shy either. Photo by Christine E. Nogier/courtesy of Nite Star Alpacas
Visits are free at this family-oriented farm, where you can pet and feed 35 alpacas, just call to make an appointment. There is also a store on site with alpaca products.
An old grist mill in Chester County is home to Grist Mill Farm Alpacas, where a mix of 15 males and females live. Call ahead for a farm visit to learn about the animals and give them a little snack. Visit the store onsite for some shopping.
Bucks County has alpacas too, and about 25 of them live at Harley Hill Farm in Quakertown. Starting in May 2021 you can call ahead to visit, and Lori or Bill will be happy to greet you and answer any alpaca questions while you feed the animals some hay. Updates are posted to their Facebook page about weekend hours, so it's good to check there first. There are free family weekends in September and June, and other seasonal farm events like pumpkin and apple picking. Admission is $15 per adult and $5 per child, and you'll receive a voucher for half the price of each ticket to use in the farm store.
Fifteen alpacas are free to see at this Bucks County farm, provided you schedule an appointment. Pet, feed, and walk the animals out to pasture when the weather permits. Donations are welcome.

Photo courtesy of Bucks County Alpacas
There's no cost to come see the 17 alpacas at this property. Call ahead to schedule a visit so you can walk and pet one of the smaller alpacas, and check out the products in the store.
Eleven alpacas roam over 10 acres at Deerwood Alpacas in Quakertown, where you can come to feed and walk the animals on the property's pastures. The owners like to spend about 10-15 minutes on a short educational presentation, and have handouts available for children and adults. Adjacent to the barns are acres of beautiful woodlands if you just want to come and hang out. The farm accommodates small groups of up to six people at no charge, just call first to make an appointment. It also has a small store, and is open to events depending on the weather.
See, pet, feed, walk, and learn about the 16 alpacas at this Boyertown farm that's free for families to enjoy. Donations are accepted. Call ahead for info.
Call to schedule an educational tour and meet 42 alpacas, who love to snack on carrots and cheerios, just like your kiddos. This farm holds seasonal family-friendly events year-round, including holiday parties. The alpacas and the ranch itself are available for events, and the ranch offers classes on knitting, felting, spinning, and crocheting. The ranch and store are open daily. Admission is free and donations are welcome.
Private tours here promise feeding, petting, hugging, and optional handling instruction. Admission of $25 per person comes with a $15 store credit to be used that day. Tours are by appointment only.