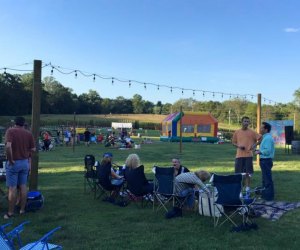 You Sip, They Play: 4 Delaware Valley Wineries that Are Family-Friendly
Usually, the only time parents seem to get a chance to enjoy a glass of wine is after the kids are tucked into bed. But the rolling hills of Delaware Valley are teeming with vineyards, and some of the onsite wineries are even, dare we say, kid-friendly. This is especially true during the spring, summer, and fall when the weather is nice enough for families to take advantage of the wineries' outdoor spaces.
Some wineries are more geared towards families than others so we've compiled a list of four Delaware Valley wineries that you can add to your warm weather list of places to go.
1. Penns Woods Winery Chadds Ford, PA
The wine shop at Penns Woods sits inside a Victorian era farmhouse overlooking a wide swath of land dotted with shady apple trees, a large barn, and views of the family-owned vineyard. While there's a porch that visitors can sit on and enjoy the wine, families will feel most comfortable out on the lawn where they can set up in the shade at any of the picnic tables. Bring your own blankets and toys for the kiddos while you sit back and imbibe either by the glass or with a wine tasting flight ($12 for 5-1 ounce pours or $15 which includes a souvenir wine glass).
Penns Woods Winery also offers a lot of events throughout the year. There's live music outside on the lawn most Saturdays and Sundays during the warm months, as well as classic car shows, running races, specials for Mother's and Father's Day, yoga and painting in the vineyard, special monthly tastings and food pairings, and more. Parking is right on site and you're encouraged to bring your own food (but not outside alcohol), although they do have food trucks on occasion.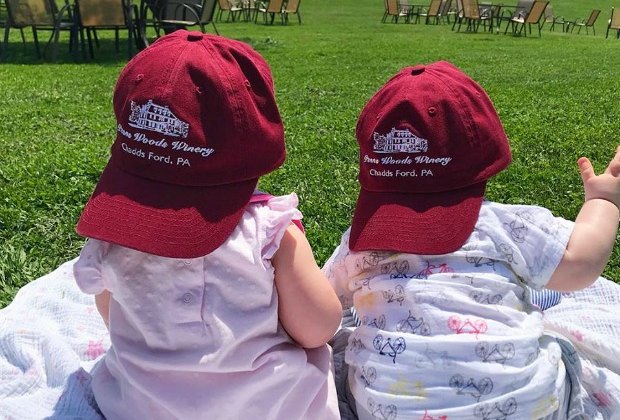 Enjoying the sun at the winery. Photo courtesy of Penns Woods Winery
2. Paradocx Vineyard Landenberg, PA
You may have seen Paradocx Vineyard's fun wine "bottles," gallon-sized paint cans, but what puts Paradocx on our list is its lawn, outdoor seating area, and family-friendly events, including its annual Community Day, held on October 12, 2019, where kids can get their face painted, jump in the moon bounce and heck, you can even adopt a pet. There are also barbecues, and for families with older kids, summer concerts starting at 6pm on certain evenings. If you like yoga and wine (who doesn't?), then the grownups in the family can try out Paradocx's Yoga in the Tank Room events.
Wine flights cost $10 each or if you'd rather choose your own, a custom flight is $12.
3. Black Walnut Winery Sadsburyville, PA
Another winery with an outdoor seating area and lawn is Black Walnut Winery. While they operate a tasting room in downtown Phoenixville, families will enjoy the winery in Sadsburyville. Live music, festivals, food trucks, and more find a home here throughout the year. You can also bring your own food (just no outdoor alcohol).
Taste your choice of five wines for $7 or seven wines for $10.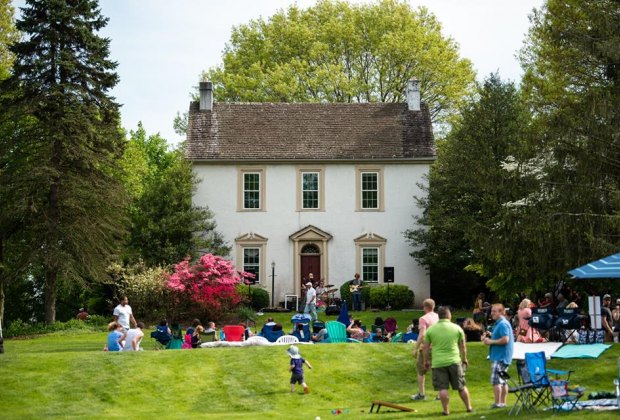 Photo courtesy of Chaddsford Winery

4. Chaddsford Winery Chadds Ford, PA
Chaddsford Winery hosts some fun events for grown-ups, including an adult summer day camp, but with food trucks, a relaxed atmosphere and outdoor seating, you can certainly bring your kids, too. Indoors is mostly standing room only for its tastings, which vary from $10-$15 for a flight of three wine, but bring the wine outside, and you'll get a chance to enjoy the terrace, gravel circle, and lawn, a great spot for the kids to stretch their legs while you relax a bit.
Things to know:
Bring toys, snacks for the kids, and blankets to sit on.
Unless they are service animals, your pets are best left at home.
While bringing in food is encouraged, outside alcohol isn't permitted at any of the wineries.
Call ahead to see if any of the events you have your eye on are weather-dependent.
Hop on over to our Facebook page and let us know which one you're heading to first!
Originally published 2018