18 Awesome Things that Opened in Philly in 2021 for Kids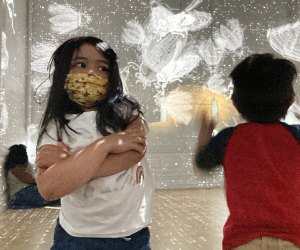 The pandemic still slowed things down in 2021, but it didn't stop our city from getting some incredible new additions like playground upgrades, art exhibitions, and entries to the ice cream scene. With an emphasis on safety and outdoor activities, Philly families have been able to enjoy new play spaces, culture, and of course, some sweet treats over the past year. So in the spirit of year-end list-making, we're running down the best kid-friendly destinations that opened in Philly in 2021.
With 2022 on the horizon, cheers to another fun year of adventures and more family-friendly destinations to come.
Subscribe to our newsletters to make sure you never miss a thing.
2021 New Indoor Play Spaces
After being closed for two years, the historic and beloved Smith Playhouse has finally reopened. The renovated playhouse includes the second-floor addition of Tinker Town, an interactive play experience that encourages kids to become creators and builders. Tinker Town boasts a drawing and design station, a fabric and soft construction area, a building area with recycled materials and blocks, and a construction area complete with tools and wood. Admission is free, but you have to reserve your spot on their website.
Kids enjoying the Fabric Zone at the all-new Tinker Town in Smith Playhouse. Photo courtesy of Mommy Poppins.
The perfect winter activity to get your kids' energy out has opened in Conshohocken at the Coliseum Sports Complex. The new Happy Kidz program is open every Tuesday and Thursday from 9:00-12:00. Happy Kidz is an open play session complete with ball pits, toys, bounce houses, and snacks for sale. The cost is only $8.50 per child, and one adult is free. Each additional adult is $2.50.
3. Kidology––Philadelphia
In February 2021, Kidology opened up a new location in Northeast Philly. This one-of-a-kind sensory gym was designed for kids in physical therapy to overcome challenges and learn. It features a zip line, gripped staircases, harnesses, and even a rock-climbing area. In addition to the therapeutic services, the gym is also available for open play every other weekend.
The much-loved indoor play space, Chatter Splatter, has opened its new location this year. Their new space in Norristown is now open and ready for visitors. It's the perfect place for winter play, and children's birthday parties. Tickets must be purchased in advance on their website.
This hip new music venue, bowling alley, and restaurant opened in Fishtown this year. The Brooklyn Bowl is now offering "Family Bowl" events during the day so kids can now get in on the fun! Tickets to the family bowl events can be purchased on their website.
2021 New Museum & Art Exhibits
Van Gogh: The Immersive Experience is the perfect way to introduce your child to this influential artist. This family-friendly art exhibit will enthrall children of all ages. The best way to describe this experience is that it feels as if you have walked into a painting. Encounter the brilliance of Van Gogh in a 20,000 square foot light and sound spectacular featuring two-story projections of his works. Your kids will gaze in amazement as they walk through the dazzling big hall, and will love embracing their inner artist in the special kids' art room filled with art supplies.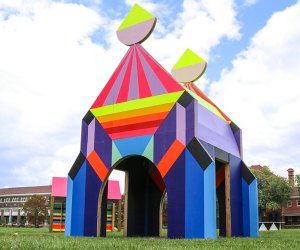 One of many new art exhibit pop-ups this year, Magical Fantasy is on display at the Navy Yard. Photo courtesy of the Navy Yard

The newest addition to the Philadelphia Navy Yard is an art exhibit called Magical Fantasy (#NavyYardMagic). This wonderland of artwork was created by London-based artist, Morag Myerscough. It consists of three magical structures where kids of all ages will delight in spending an afternoon playing and dreaming.
A young shopper checks out at the brand-new Food & Family exhibit at Please Touch Museum. Photo courtesy of Liz Baill.
The Market at the Please Touch Museum was renovated this December with the help of a 1.2 million-dollar investment from GIANT Supermarkets. This new and improved space is twice as big, giving kids even more opportunities to engage in food-themed pretend play.
This multi-sensory exhibit includes imaginative activities like climbing a boulder wall to capture the Wicked Witch's broomstick, making your way through the Cowardly Lion's "Courage Crawl," and creating your own tornado. The Wizard of Oz Educational Exhibit is only open until January 16, 2022, so if you haven't had a chance to catch it yet, make your reservation on the Please Touch Museum's website today.
This pop-up exhibit at the Franklin Institute allows guests to get an up-close look at live moon jellyfish specimens, learn about a jellyfish's life phases, and view the photos and videos taken by renowned National Geographic explorer Anand Varma. All guests can access the Jellyfish Revealed exhibit with their regular admission tickets to the Franklin Institute.
2021 New Outdoor Play Spaces
This neighborhood park in East Falls, which used to be an open green space, is now home to a brand-new play space. The play space at McMichael Park is not your typical playground. Philadelphia Parks and Recreation worked with community stakeholders and SALT Design studio to create a unique kid-friendly environment made with all-natural materials. The equipment provides opportunities for climbing, balancing, and appreciating nature.
This year, the dream of a long-time Logan Square activist family came true. After eight years of planning and construction, a playground and dog run opened in Logan Square. Located at 21st and Winter Streets, the Parkway includes two fenced-in areas for dogs and a playground for kids.
Toddler parents, you don't want to miss this great new addition to Philly parks. This month, Tarken Rec Center opened its brand-new toddler playground, basketball courts, and futsal courts.
2021 New Kid-Friendly Restaurants
Van Leeuwen Ice Cream started out as a food truck on the streets of NYC, and since then they've expanded across the country. This summer they opened their first location in Center City, Philadelphia. Some fast favorites are the strawberry lavender donut, created in partnership with Federal Donuts, and their Kraft Macaroni & Cheese flavored ice cream.
From family-friendly dining with indoor and outdoor seating to a floor-to-ceiling candy wall filled with sweet treats, the Sugar Factory is sure to become a favorite addition to the restaurant scene for Philly families. The Sugar Factory's known for their over-the-top Insane Milkshakes which are lavishly decorated and served in chocolate-covered mugs.
2021 New Holiday and Christmas Events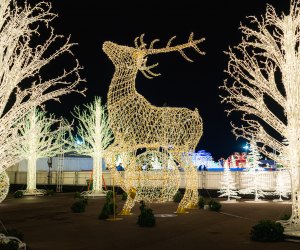 An illuminated deer surrounded by trees makes up part of the festive landscape at Tinseltown. Photo courtesy of Comcast Spectator Events.
Of all the new holiday venues that popped up in Philly this year, Tinseltown was the only one to cause traffic delays on 422. Highway drivers and spectators alike marveled at the more than one million bulbs lighting up the Greater Philadelphia Expo Center each night; the venue also features ice skating and a winter village. Catch it before it leaves town for the season in early January.
A new outdoor skating rink has popped up in Newtown Square this December. Flight on Ice has a 6,000 square foot skating rink, holiday shopping, and a heated tent where you can enjoy food and beverages. The rink will be open through February and special programming is planned throughout the winter season for Christmas, the Super Bowl, and Valentine's Day.
A brand-new drive-thru light show made its home in the Northeast section of the city this year. Families can enjoy the one million pixel lights that comprise Dasher's Lightshow from the comfort of their cars through early January.