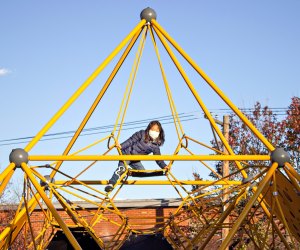 Philly Playgrounds That Received Upgrades in 2020-21
Philly families have always relied on outdoor spaces for fun. Neighborhood parks and playgrounds provide a sense of community and a place to exercise. Over the past several months, going outside actually gives kids and grown-ups a sense of normalcy. Being outdoors in local parks and playgrounds helps to support mental, physical, and emotional well-being during these difficult times.
Below is a list of area parks and playgrounds that recently received a makeover through Philadelphia Parks & Recreation and a City program called Rebuild. This initiative invests funds raised from the Philadelphia Beverage Tax to improve vital spaces such as playgrounds, libraries, and recreation centers for the community. Imagine how excited children will be when they arrive to find new playground equipment at their favorite spot. Or head to a new location and explore. Read on to discover what to expect at your next playground play date.
Additional parks, playgrounds, and recreation centers are expected to receive upgrades through the Rebuild program. Locations such as the 8th and Diamond Playground, Miles Mack Playground, and Fishtown Recreation Center are currently under construction. Stay tuned for future updates.
Staying home this weekend? There is plenty of fun to be found on Poppins@Home. Virtual STEAM Labs, a plane, trains, and automobile series, and a tween/teen cooking class await Philly kids.Be aware of COVID-19 restrictions that may be in place when visiting these locations. Park and playground openings may be impacted by mitigation efforts. Please keep your family and others safe by always wearing masks and maintaining social distancing measures. If an event appears too crowded, try using the "nearby" search feature on our event calendar to find something else to do.
Newly Upgraded Philly-Area Parks and Playgrounds, 2021
This location has new playground equipment and a sprayground. Basketball fans can play on the resurfaced courts. New security cameras, fencing, and fire alarms have been installed. Future improvements include a mini pitch build and field enhancements.
RELATED: Philly Playgrounds Perfect for Toddlers

New playground equipment has been delivered to Disston Recreation Center. Photo courtesy of Rebuild Philadelphia
This spot offers everyone in the family opportunities for fun. Walkways from brand new playground equipment connect to an adult fitness area. Landscaping and field improvement have also been made. An update to the rec center building is in the future renovation plan.
Situated at South 11th Street and Mifflin Street, this location boasts an outdoor area with bocce ball courts and greenspace. Inside the center, there are several multi-purpose rooms including a gym. New improvements include play drums and xylophone for kids to make music, a chin bar for upper arm exercise, and the installation of of extra safety surfaces.
From basketball courts to sports fields and playground equipment, this location has plenty to keep the kids entertained. Recent enhancements include new basketball courts and line games as well as improvements to both the playground equipment and sprayground. Additionally, trees were planted to add extra shade during those hot and humid summer days.
RELATED: Destination Playgrounds in Philly Worth a Visit

Enjoy improved landscaping and a new sprayground at Gifford Playground. Photo courtesy of Rebuild Philadelphia
This 6.4-acre park received upgraded playground equipment, additional seating, enhanced landscaping, and a brand-new sprayground just in time for those hazy, hot, and humid summer days.
Head to Gold Star Park to sit in the shade of the large trees, run in the lawn area, and play at the playground. Kids can expect to find updated equipment as well as new safety surfaces. An ADA-accessible ramp and boulders for additional seating round out improvements added this year.
New basketball courts, a skate park, track, and sport fields make up this neighborhood playground. It also features a multipurpose room that hosts children's and adult programs. Both the playground and sprayground have been renovated, including new pavement, fencing, and landscaping. Inspiration for the park's design came from nearby Cobbs Creek.
Lots of open space with shade to rest makes this park located near Fairmount Park Conservancy a favorite for nature lovers.The playground received an update with nature-inspired touches to encourage climbing and balance activities. Don't forget to visit the climbing turtle if time permits.
RELATED: Zoos and Gardens for Philly Families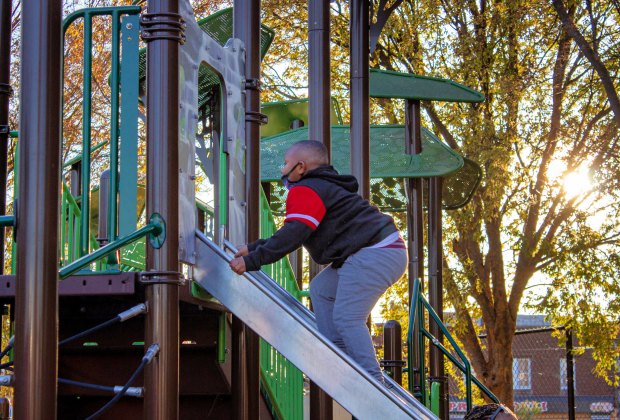 Improvements at Moss Playground include new basketball courts and playground equipment. Photo courtesy of Rebuild Philadelphia
Home to the Moss Eagles Youth Athletics Association, this spot has new basketball courts and a playground for kids. Cheerleaders can find a new cheer pad for practice. Grown-ups can use the new adult fitness area. Fencing, security cameras, sidewalks, and tree plantings complete the recent improvements.
This small park has lots of fun to offer. Interactive games and a brand-new play area that encourage inclusive play have been added. Moms and dads can enjoy adult fitness equipment, perfect to stay in shape or to keep up with little ones.
With more than 20 acres, children can enjoy new playground equipment and sprayground. Other amenities include batting cages, tennis courts, basketball courts, and fields.
Granahan Playground has something for everyone. Kids can enjoy playground equipment, shoot baskets on the courts, or have a catch on the sports fields. In the warm weather, kids can cool off at the recently renovated sprayground. A hockey rink and skate park are also available. Updates have been made to playground equipment for more inclusive play as well as the planting of shady trees.