The Ultimate Guide to Philly Area Playgrounds for Toddlers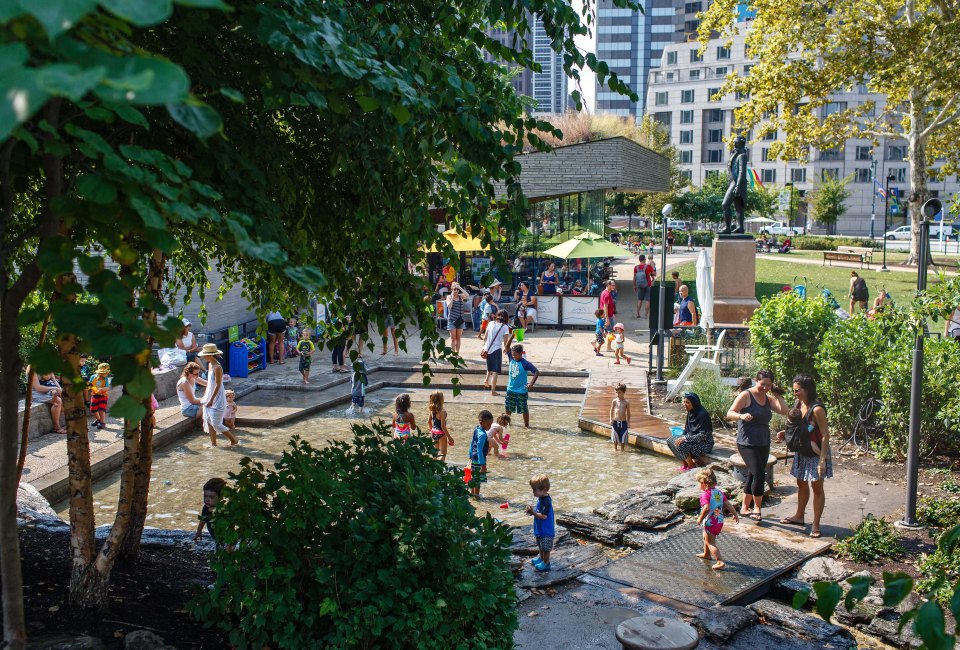 3/20/23
- By
Veronica Lameiro
We found the best tot lots and toddler playgrounds in Philly where the little ones can let off their steam.
Like a lot of things in those early years, going to a playground with a toddler can feel treacherous. Everything is a little too big so you find yourself helicoptering your kid's every move. That's why tot lots are perfect for the smallest kiddos. With fun interactive areas, smaller steps and slides, and baby swings, these pint-sized playgrounds mean kids can have a little more independence while they play (and so can you!). If you're looking for fun, safe playgrounds ideal for younger kids, we've got a list of some great tot lots in the Philadelphia area.
For more on Philly's best outdoor play spaces, visit our Guide to Playgrounds and Parks in Philadelphia. Need rainy day activities? Look no further than our favorite indoor play spaces and playgrounds.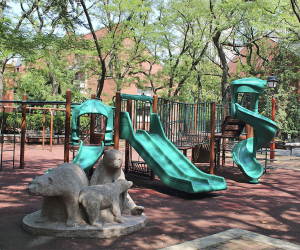 The shaded Three Bears Park is a cool place to play on hot summer days. Photo courtesy of the park
Best Playgrounds for Toddlers in Philadelphia
Young kids can connect with nature in the heart of the city in the Children's Discovery Garden, inspired by Philadelphia's Wissahickon Valley.
Three Bears Park is a hidden gem of the city. Located in Society Hill, the swings, slides, and climbing equipment (and three bears statue) are the perfect size for younger kids.
Completed in the summer of 2019, this playground in the heart of Fishtown is all about imagination, with adorable features for the littlest guests plus a spray ground for summer months! The space also has a miniature track which is perfect for new scooter riders and training wheels.​ In Fishtown for the day? Check our guide to kid-friendly Fishtown attractions!
This Northern Liberties neighborhood park includes a huge green space to run and well-tended community garden. The tot play area is perfect for exploration, though note that there is no public restroom on site.
The tot lot at this West Philadelphia park is ideal for young explorers, and on weekends you can also find youth soccer, a farmer's market, and many more activities in the wide-open green spaces. Clark Park is also on our list of perfect picnic places in Philadelphia.
This Center City Philadelphia park is perfect for youngsters! Seger Park's bucket swings, slides, and crawling tunnel will keep your toddlers entertained for hours, and in the summer kids can enjoy a spray ground to cool off.
RELATED: Visiting Historic Philadelphia with Kids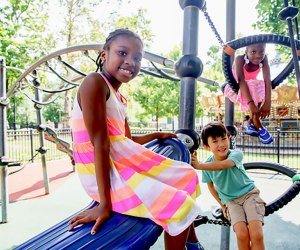 Franklin Square is known for its playground, but make sure to take a ride on the carousel too! Photo courtesy of Visit Philadelphia
Teach your kids some history while visiting one of Philadelphia's five historical squares. The playground is consistently voted one of the best play spaces by Philadelphia Magazine and it's easy to see why because kids can also enjoy a ride on the park's carousel, plus other activities. Need more things to do around Franklin Square? Check out our round-up of kid-friendly places in historic Old City Philadelphia.
Starr Garden is known as Philadelphia's first playground, and its tot lot provides a safe and fun place for young children to play. The 2.2 acre site also features a sprinkler, basketball courts, and sports fields.
This popular playground in East Fairmount Park features an indoor playhouse with three stories of indoor fun for toddlers. The massive outdoor playground (complete with wooden slide) is open April through December. Smith Playground is also one of our favorite playgrounds for birthday parties in Philadelphia.
This brand-new playground in FDR Park is set to open in summer 2023. The exciting new play area will be kid-friendly and nature-friendly!
RELATED: Best Sprinkler Parks and Splash Pads near Philly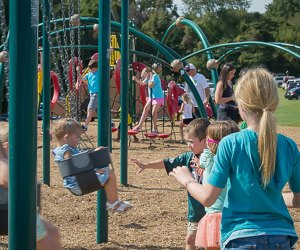 There are plenty of toddler and baby swings at Pocopson Park. Photo courtesy of the park
Best Playgrounds for Toddlers in Chester County
This is a 10-acre park is open from dawn to dusk and features a walking trail, a great playground for toddlers, and a butterfly garden. Note that dogs and bicycles are not allowed in the park.
Kerr Park's climbing walls, stairs, and ladders provide a fun and safe place for toddlers to have fun. Kerr is one of the many Chester County parks families should visit!
This suburban West Chester playground features play equipment for bigger kids as well as equipment for toddlers––like a horse-shaped climber! There's plenty more to do in Chester County, just check out our guide for kid-friendly activities in Chester County!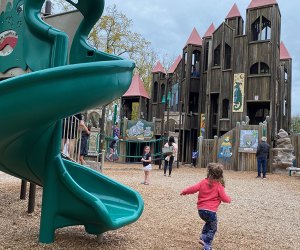 Climb to the top of the towers and slide down slides at Kids Castle in Doylestown. Photo by Rose Gordon Sala
Best Playgrounds for Toddlers in Bucks County
Kids will marvel at the sight of this 8-story castle that has so many things to discover, including walkways, stairways, crawl spaces, and ladders. This Doylestown playground was newly refurbished in 2022, including making the toddler area more separate and safe.
This park includes several playgrounds including a tot lot for children 2-5 years old.
The main part of this playground is a pirate ship, and the rest of the playground is perfect for toddlers and kids up to age twelve.
Best Playgrounds for Toddlers in Montgomery County
This wooden playground resembles a castle that your little prince or princess can explore for hours. It has a special area designated for toddlers, complete with a sandbox.
Swings, slides, tunnels, ladders… if your kid can dream it, this playground in Lukens Park has it! And best of all, it's accessible for kids of all ages and abilities.
Fischer's Park is a sprawling park in Harleysville featuring two different playgrounds and lots for space to run around.
Best Playgrounds for Toddlers in Delaware County
Freedom Playground is great for kids of all ages and abilities, and includes a climbing wall, a large sandbox, and even a boat where kids can pretend to be sailors and let their imagination run free. Over the summer, this park also has misting stations to help keep cool.
The soft, rubber-like floor at Media Tot Lot is ideal for toddlers. Kids can climb through the big tube and ride the tire swings, or climb on the pretend car and take a ride with friends. The area features picnic tables and a pollinator garden.
This fenced-in playground has slides and swings perfect for toddlers, a fire engine climbing structure, and a rain garden. It's located close to downtown Swarthmore, so you can visit and then walk into town for a meal or snack.
This playground is part of Primos Elementary school and not open to the public during school hours, but it is a great place for all kids to play in off-hours. Designed for kids with autism, there is plenty of space to safely climb, explore, and swing.
This article was updated by Hillary Moses Mohaupt in March 2023.
Sign up for the Mommy Poppins Newsletter today!