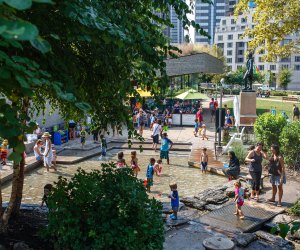 The Ultimate Guide to Philly Area Playgrounds for Toddlers
Everyone knows that going to a playground with a toddler can be treacherous. Everything is a little too big and you find yourself helicoptering your kids' every move. That's why tot lots are perfect for the smallest kiddos. With fun interactive areas, smaller steps and slides, and baby swings, kids can have a little more independence (and so can you). If you're looking for fun, safe playgrounds ideal for younger kids, we've got a list of some great tot lots in the Philadelphia area.
Philadelphia:
Sister Cities Park
Urban kids are encouraged to connect with nature in the Children's Discovery Garden, inspired by Philadelphia's Wissahickon Valley.
Three Bears Park
Three Bears Park is a hidden gem of the city. Located in Society Hill, the swings, slides, and climbing equipment are the perfect size for younger kids.
OUR LATEST VIDEOS
Fishtown Rec Center
Completed in the summer of 2019, this fresh new playground is all about imagination, with adorable features for the littlest guests plus a spray ground for summer months! The space also has a miniature track which is perfect for new scooter riders and training wheels.​
Liberty Lands
This neighborhood park includes a huge green space to run and well-tended community garden. The tot play area is perfect for exploration, but beware of the wood chips if you are wearing sandals!
Clark Park
The tot lot at this West Philadelphia park is ideal for young explorers and on weekends you can also find youth soccer, a farmer's market, and many more activities await.
Seger Park
Seger Park's bucket swings, slides, and crawling tunnel will keep your toddlers entertained for hours.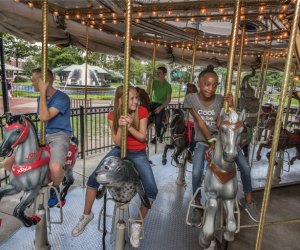 Photo of Franklin Square's carousel courtesy of R. Kennedy for Visit Philadelphia
Franklin Square
Teach your kids some history while visiting one of Philadelphia's five historical squares. The playground was voted one of the best play spaces by Philadelphia Magazine and kids can also enjoy a ride on the park's carousel.
Starr Garden Playground
Starr Garden is known as Philadelphia's first playground, and its tot lot provides a safe and fun place for young children to play.
Smith Memorial Playground and Playhouse
Smith's playhouse provides three stories of indoor fun for toddlers, and the massive outdoor playground (complete with wooden slide) is open April through December.
Chester County:
Penn Township Park- West Grove
This is a 10-acre park with a walking trail, a great playground for toddlers, and a butterfly garden.
Kerr Park- Downingtown
Kerr Park's climbing walls, stairs, and ladders provide a fun and safe place for toddlers to have fun.
Pocopson Park- West Chester
Toddlers can scale the horse-shaped climber at this suburban playground.
Bucks County:
Kids Castle- Doylestown
Kids will marvel at the sight of this 8-story castle that has so many things to discover, including walkways, stairways, crawl spaces, and ladders.
Veterans Memorial Park at Maplewood Park- Doylestown
This park includes several playgrounds including a tot lot for children 2-5 years old.
Montgomery County:
Parkside Place Complex- North Wales
This wooden playground resembles a castle that your little prince or princess can explore for hours. It has a special area designated for toddlers, complete with a sandbox.
Everybody's Playground- Horsham
Swings, slides, tunnels, ladders… if your kid can dream it, this playground's got it! And best of all, it's accessible for kids with special needs.
Manderach Memorial Playground- Limerick
Manderach is located within the Limerick Community Park, which spans 70 acres. Your kids will have a blast riding down the long tube slides that rise three stories above ground.
Delaware County: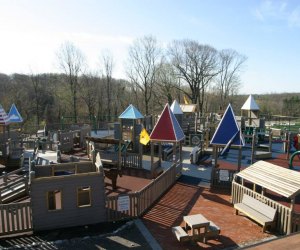 Photo courtesy of Friends of Freedom Playground's Facebook page
Freedom Playground- Haverford
There is a climbing wall, a large sandbox, and even a boat where kids can pretend to be sailors and let their imagination run free. Over the summer, this park also has misting stations to help keep cool.
Media Tot Lot- Media
The soft, rubber-like floor at Media Tot Lot is ideal for toddlers. Kids can climb through the big tube and ride the tire swings, or climb on the pretend car and take a ride with friends.
Thatcher Park- Swarthmore
This playground has slides and swings perfect for toddlers, and a fire engine climbing structure. It's located close to Downtown Swarthmore, so you can visit and then walk into town for a meal or snack.
Primos Autistic Support Playground- Upper Darby
While this playground is part of Primos Elementary school and not open to the public during school hours, it is a great place to play in off-hours. Designed with autistic kids in mind, there is plenty of space to safely climb, explore, and swing.