Philly Playground Crawl: How Many Can You Visit in Just One Day?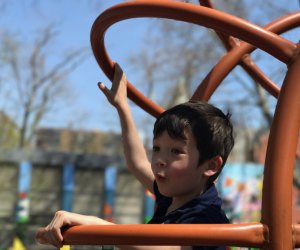 The dog days of summer are coming to an end. You can almost smell the fall in the air, and humidity levels are dropping (hooray!). Which means it is time to check off that summer bucket list before the kids head back to school and the days get shorter. One way to celebrate time with your kids is to take a page from your college days and go on a crawl—only this time, hit up the best parks and playgrounds in walking distance. There are plenty of great parks to play in, but we picked a few neighborhoods and areas that have some of the best parks in walking distance. Grab the stroller, pack a lunch (or follow our advice on where to get lunch), and get crawling!
Northern Liberties and Kensington:
Start the day at Palmer Park and grab a bite to eat at Philly Style Bagels, enjoy the morning people watching.
Next head over to Penn Treaty, with a lovely new playground and ample running space. There's plenty of green space to even enjoy a picnic lunch, or practice your scooter and bicycle skills on the track that runs through the park. The playground is well shaded and some afternoons are lucky enough to catch the ice cream truck or a food truck to meet your hunger needs.
If it's an exceptionally hot or sunny day head over to Shissler Park to run in the spray ground and cool off.
Finish up your afternoon park stroll at Liberty Lands. Play equipment for little kids and big kids are available as well locally maintained gardens and a really excellent nearby dining scene.
If all the travel is wearing you down, grab a coffee at One Shot, pick up an order of pizzas at Rustica, and enjoy an early dinner because after all this fun these kids will be ready to go straight to bed!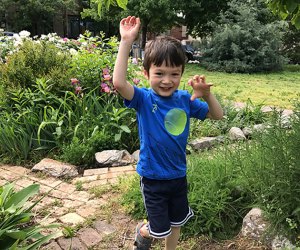 Playing in the gardens at Liberty Lands Park
South Philly:
Start in South Philly at Dickinson Square Park, a 3-acre park that has been a part of Philly since the early 1900s and features up-to-date equipment for kids of all ages.
As it warms up head over to Herron Playground, which has an excellent splash pad featuring five zones of water features. It also has some really awesome playground equipment perfect for all ages.
After a good morning of wearing your kids out, stop in for a tasty fried chicken lunch with donut dessert at the original Federal Donuts.
After a recharge, head over to Shot Tower Park. This 1.3-acre facility features an historic shot tower, sprayground fun, and a brand new batting cage.
Finish up the day at Spruce Street Harbor Park. Play in the fountains, check out the new swing set and sand features, and have your pick of delicious eats (as well as a well-earned glass of wine or beer).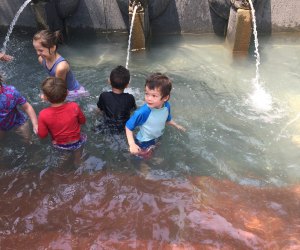 Splashing in the fountains at Spruce Street Harbor Park
Old City/Society Hill:
Begin the morning at Three Bears Park, an adorable well-maintained playground that is especially good for the younger kids.
Then take a short walk over to Starr Garden Playground. Locally known as Philadelphia's first playground, Starr Garden has separate playgrounds for younger and older kids, so there's no fear of trampling.
Make sure you packed plenty of snacks because it's off to Seger Playground a few blocks away. Seger offers a fenced in space for little children, and a creative new playground space for older children.
After plenty of play, head over to Washington Square where you can eat a picnic lunch outside. Either pack your own, or choose from a wide selection of take-out dining options. People watch on the lawn and relax because you have a bit of a walk ahead of you.
Take a stroll to your last stop, Franklin Square. This fenced in playground is one of the best in the city! It also features a carousel and mini-golf. Grab dinner from Square Burger while you're there (which also has plenty of veggie options).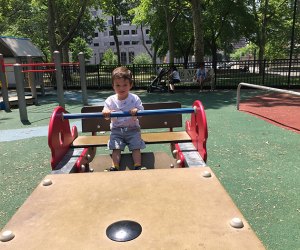 On the see-saw at Franklin Square
Center City/Art Museum:
The fun begins at Sister Cities. While not a traditional playground, the unique climbing structure and water features are excellent fun for the summer. In cooler months, it becomes a play space with imagination blocks. You can even have a coffee or tea at the cafe before moving on to your next stop.
Then drop by the new Whole Foods for a snack on your way to the Roberto Clemente Park, which has one of the coolest spraygrounds in the city, great slides, and swings.
Finish the afternoon at the Eastern State Playpen, a fun structure including a rock wall located just outside the penitentiary.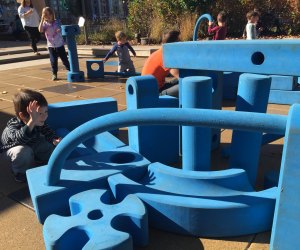 Playing with the imagination blocks at Sister Cities
All photos provided by the author.