17 Things To Do with Kids in Lehigh Valley, Pennsylvania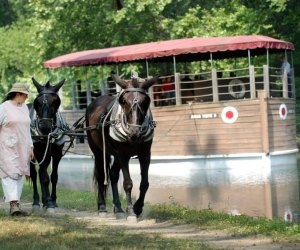 8/4/17
- By
Cait Sumner
Lehigh Valley, comprised of Allentown, Bethlehem, and Easton, is chock-full of entertainment for the kids. From crayons and caverns to music, science, and more, the Lehigh Valley has something to offer everyone in the family year-round.
With so much to do, and its proximity to Philadelphia and NYC, this pretty Pennsylvania region makes for the perfect place for a long weekend getaway with the family, or even a day trip.
Allentown
Lehigh Valley Zoo
Feed the giraffes, meet the penguins, watch a wildlife show, and more at this awesome zoo. This zoo has tons of great events and interactive experiences that kids will love.
Bonus: Lehigh Valley Zoo is part of the AZA Reciprocal Zoos & Aquariums program so if you have zoo membership, you might be able to get 50% off admission.
Shankweiler's Drive-In
See a movie at what's known as "America's oldest drive-in!" This movie theater has been in continuous operation since 1934, and it plays tons of great kids' features and includes a full-service snack bar with hot dogs, cheeseburgers, popcorn, and sweet treats.
RELATED: Amish Country with Kids: Best Things to Do, See, Eat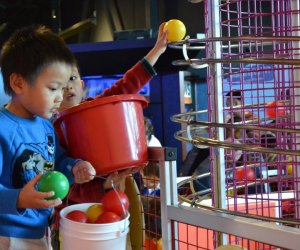 Engineers on a Roll is a preschool exhibit at the Da Vinci Science Center. Photo courtesy of Da Vinci Science Center
Da Vinci Science Center
This science museum features tons of fun and interactive exhibits. Older kids can check out the science of fear in the Goose Bumps! exhibit, the animation station, the quakes and shakes seismometer, and more, while smaller kids can enjoy the Deer Park Water Table or the Engineers on a Roll exhibit.
Lehigh Valley Iron Pigs
Root for the hometeam when you visit the Lehigh Valley Iron Pigs, the triple-A affiliate of the Philadelphia Phillies. This minor league team offers lots of giveaways and special events, so check the calendar before you go.
America On Wheels Museum
Perfect for the wheels-obsessed kid (or parent) in your family, this museum is full of vintage cars. While you're there, grab an old-fashioned milkshake or float at the 1950s Hubcap Cafe.
Dorney Park & Wildwater Kingdom
Visit two parks for the price of one! If you've got a thrill-seeker check out all the water rides, rollercoasters, and thrills this amusement park has to offer. Dorney Park also offers plenty of kid rides, so even the smallest family members can have fun. You might even meet Snoopy while you're there.
Allentown Art Museum
This art museum includes a special interactive art gallery for families with three art tables where kids can create their own masterpieces. Admission is free EVERY Sunday and includes family programming and tours.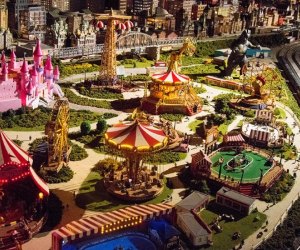 Train lovers can't miss the model trains at this exhibit. Photo couresty of Merchants Square Model Train Exhibit
Merchants Square Model Train Exhibit
Located on the second floor of Merchants Square Mall, this model train exhibit includes elevated trains, underground subways, an operating amusement park, a functional drive-in movie theatre, and so much more. Model train shows are 30-minutes long and happen all throughout the day so you can catch it once, or stay for a while and watch it a few times.
Bethlehem
National Museum of Industrial History
Located in a 100-year-old Bethlehem Steel facility, this museum offers exhibits dedicated to America's industrial heritage. There are over 200 industrial artifacts on display.
Banana Factory Arts Center
The Banana Factory is home to many art exhibitions, but also family programming, events, workshops, and classes. There are 30 studio artists, three galleries, and multiple classrooms at this old banana distribution warehouse.
SteelStacks
SteelStacks is a versatile venue featuring concerts, dance, comedy, and a movie theater. Family programming is offered every Saturday morning. Check the calendar for free concerts and other great events happening throughout the year.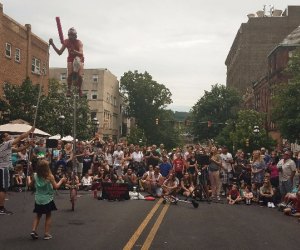 The Unicycling Unicorn performs a juggling act on his 12-foot unicycle with the help of some audience volunteers at Musikfest. Photo courtesy of the author
Musikfest
This music festival happens all throughout downtown Bethlehem every year in the beginning of August. Expect lots of free concerts and music as well as family programming from Crayola and kid-friendly performances like The Ostrich Rider, Alléz-Oops, and more.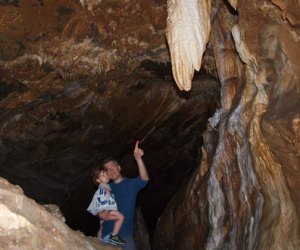 Check out the Stalagtites at Lost River Caverns. Photo courtesy of the author
Lost River Caverns
Take a trip underground to tour Lost River Caverns. This awesome limestone cave is always a cool 52 degrees, no matter the weather outside. And, yes, there is in fact a crystal clear river that runs right through it! Nobody knows where it leads...
Easton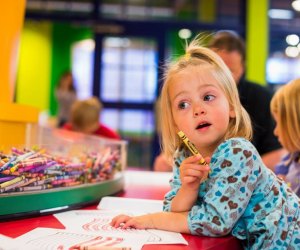 Make your own puzzles, coloring pages, and crayons at Crayola Experience in Easton. Photo courtesy of Crayola Experience
Crayola Experience
Learn how crayons are made, make your own crayons and coloring pages, create "drip art," and check out the new Adventure Lab exhibit. Read our review before you go for more info about what to expect.
National Canal Museum
Ride a canal boat, meet the mules, and discover the history and science behind canal boats in beautiful Hugh Moore Park. You'll even get a chance to harness a mule and steer a boat yourself! You can also rent a bike or a boat from the museum and enjoy the 520-acre park on your own.
Bushkill Park
This quaint, old-fashioned amusement park first opened its doors in 1902. Flooding closed it in 2007, but it has since been reopened for roller skating and, come 2018, will reopen for rides and amusement as well. Follow the park's Facebook page for more information regarding the rehab process, or head over for roller skating fun.
Sigal Museum
This museum displays authentic artifacts dating as far back as 12,000 years. Discover authentic pre-European artifacts like a life-size diorama of a Lenni Lenape bark hut, or "wikewam." From agriculture to industry and everything in between, learn about local history in the Lehigh Valley throughout the years.
Top photo of National Canal Museum's Canal Boat Tours by Bruce Winter via Express Times File Photo and Lehigh Valley Live.