Smith Playhouse Makeover Brings Fun New Additions for Kids
12/28/21
- By
Danielle Smith
Following a two-year closure, the doors to Smith Playhouse are finally open and welcoming kids back for three floors of never-ending fun. The century-old iconic play destination has received extensive upgrades thanks to a multimillion-dollar investment, and Mommy Poppins recently had the chance to preview all of the cool new features, along with improvements to existing favorites that Philly families have come to know and love.
Guests to the Playhouse will be happy to find familiar options for dress-up and pretend play on the first floor's Bodek Hall, a reimagined Smithville and Starr Indoor Playground on the lower level, and the latest and greatest addition on the building's second floor–a rotating interactive play space dubbed Tinker Town for now. Of course, the outdoor playground remains one of the best in the city, and not to be underestimated, brand new bathrooms have arrived to make parents' lives a little easier.
Read on for all the need-to-know information about visiting the remodeled Smith Memorial Playground and Playhouse, then make plans to stop by for an unforgettable family outing.
The New Smith Playhouse and Tinker Town
Tinker Town is the star attraction of Smith's renovations, with hands-on activities grouped into five designated zones. Upon entering Tinker Town, kids are greeted by the Design Zone, the Fabric Zone, and the Recycle Zone, with all the materials needed to craft creative works of art. Drawing and design stations offer supplies galore, including reused materials like old egg cartons and toilet paper rolls, along with natural materials like pinecones.
RELATED: Indoor Play Spaces & Fun Zones for Philly Area Kids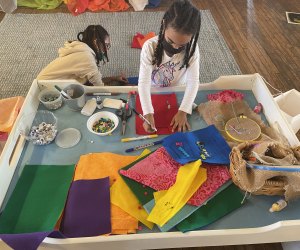 Kids using all the crafting materials and supplies at the Tinker Town Fabric Zone.
A soft construction station lets kids experiment with felt squares and fabric swatches to weave designs or make quilts, while a flippy sequin board and colorful sheers beckon imaginations with bright colors.
RELATED: Free Indoor Play Places for Philly Area Kids
Get geared up for construction projects at Tinker Town's Construction Zone.
Towards the back of Tinker Town is the Construction Zone, where budding engineers can don hard hats and neon safety vests, then get straight to work with fake tools or the real deal. An array of hammers, nails, and other construction accessories are provided alongside workstations and pieces of wood. Across from the Construction Zone is the Build Zone, where parents like me will find the nostalgia of Lincoln Logs impossible to resist. There are also crates full of blocks and LEGO bricks to keep kids busy and engaged.
Tinker Town is a temporary name for the second-floor area, which will occasionally swap themes aimed at promoting imaginative, educational play. Future planned installations include a music-themed La La Land, a book-themed Word World, and Fortlandia. Space for quiet time on this floor has also been enhanced with a new Nursing Room and the updated Marion Stokes Library, where kids can relax with a few good books after tiring themselves out.
The New Starr Indoor Playground and Bodek Hall
It wouldn't be the Starr Indoor Playground without Smithville, and it wouldn't be Smithville without the bikes and trikes, which are still parked on the track for kids to race a few laps. In addition to pretend camping and picnicking, a brand new area adjacent to Smithville is home to a netted reading loft that kids can access with a ladder. Beyond the loft is yet another new space with a toddler trampoline and cardboard boxes for more building and exploring.
RELATED: 30 Fun Indoor Activities for Philly Kids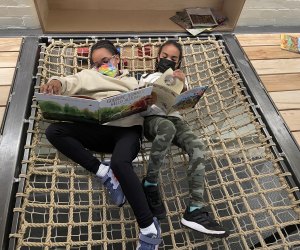 Relaxing in the loft under renovated skylights.
Bodek Hall remains the hub for dramatic play–a puppet theater entices young thespians along with costume options. The first-floor Hall is also home to a kid-sized restaurant and kitchen, dollhouses, toy vehicles, and more blocks.
Visiting Smith Memorial Playground and Playhouse
RELATED: Guide to Parks and Playgrounds in Philadelphia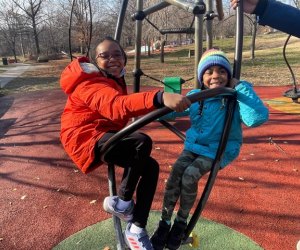 Go for a spin on Smith Memorial Playground.
After touring the renovated Playhouse, families should absolutely spend some time on the six-and-a-half acre Smith Playground, with state-of-the-art climbing structures and the storied Giant Wooden Slide nestled in East Fairmount Park's gorgeous landscape. The combination of inside and outside play offered at Smith continues to make it one of the best places for families in the city. Smith is free and open to visitors from 10am to 4pm Tuesday through Sunday during the winter, weather permitting, but visitors should check the website before going for updates to operating hours.
All Photos courtesy of Mommy Poppins
Places featured in this article:
Sign up for the Mommy Poppins Newsletter today!
i