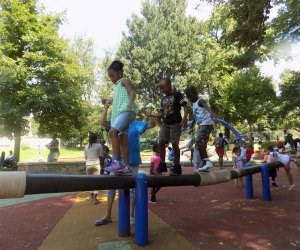 Philadelphia Area Parks that are Perfect for Birthday Parties
When the weather is beautiful, there's nothing better than an outdoor event. Whether you're celebrating a birthday, graduation, or another special ocassion, there are plenty of beautiful nearby parks that are perfect for hosting celebrations.
Philadelphia
Smith Memorial Playground
A party at Smith is just right for summer! Birthday kids enjoy a free t-shirt and birthday crown. When booking your party, you can choose from one of the playhouse's party rooms or outdoor porches. Kids will love roaming around on the 6.5 acre playground.
Franklin Square
Rent the pavilion at Franklin Square where kids can enjoy mini golf, unlimited carousel rides, and playground access. Outside food is not permitted, but the facility offers a helpful catering list, or guests can enjoy burgers from Square Burger.
Montgomery County
Green Lane Park
Green Lane Park has two pavilions available for full day or half day rental: Morrow Pavilion and Deep Creek Stone Pavilion. Both facilities include plenty of picnic tables and grills. Morrow offers horseshoe pits and a nearby sand volleyball pit, while Deep Creek Stone is close to the park's playground.
Central Perkiomen Valley Park
This park has a picnic pavilion that can be rented for half a day or all day. Amenities include picnic tables, charcoal grills, playground, volleyball net, and horsehoe pit.
Lorimer Park
Rent the enclosed pavilion at Lorimer Park for a rain or shine event. Located in Abington Township, this indoor pavilion invludes picnic tables and a fireplace. Call to make reservations.
Fort Washington State Park
Two picnic pavilions are available for rent in Fort Washington State Park. Large playfields are available nearby. Pavilions are available to rent online or on a first-come first-serve basis if unreserved. This park is a carry-in/carry-out trash disposal area, so you will have to take all of your trash with you.
Delaware County
Clayton, Smedley, and Upland Parks
Pavilions are available for rent at Clayton, Smedley, and Upland Parks in Delaware County. A reservation form is available online for these locations.
Ridley Creek State Park
Book online reservations for one of the pavilions in beautiful Ridley Creek State Park. Each area has charcoal grills and picnic tables and several areas offer nearby fields for play. Pavilions can be reserved in advance or are available on a first-come first-serve basis if unreserved.
Bucks County
Pavilions are available for rent in Core Creek Park, Playwicki, Silver Lake, Tinicum, Lake Towhee, Tohickon Valley, and Peace Valley. More information is available on Bucks County's website.
Chester County
Hibernia County Park
Hibernia County Park offers four small pavilions and one large pavilion. Reservations are required and can be made online or over the phone.
Nottingham County Park
Nine pavilions are available for rental year-round at Nottingham County Park. Reservations are required.
Warwick County Park
Located in Pottstown, this park has two small and one large pavilion available for rental year-round. Reservations required.
Photo courtesy of Smith Memorial Playground.