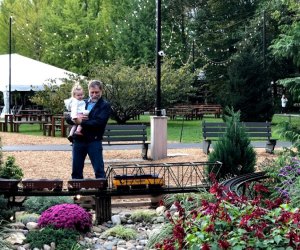 32 Things to Do with Kids in Chester County
Chester County encompasses more than 700 square miles and is home to nearly 500,000 people. So it's no surprise you have quite a few options when it comes to finding fun things to do with your children. So if you live in Chester County or are visiting the area and looking for ways to keep the kiddos entertained, read on for our list of 32 fun activities and places that are perfect for families in this Philly suburb.
For more ideas for quality time family fun, check out our Chester County, PA Guide.
Chester County Places to Do Arts and Crafts with Kids
1. Color Me Mine - Glen Mills
Choose an unpainted ceramic and paint it. Pick from a plate, mug, bowl, vase, figurine and more. The cost is $8 per person, plus the price of the item you choose to paint.
2. Painting with a Twist - Exton
Attend an all ages class, with pricing at $27 per person. Learn how to paint unicorns, llamas, or an outer space scene.
Chester County Gardens to Visit with Kids
3. Jenkins Arboretum and Gardens - Devon
With 48 acres of gardens and woodlands and1.2 mile trail, you could spend the good part of a day here. Admission is free, though donations are welcome. Jenkins Arboretum is open daily from 8 a.m. to sunset.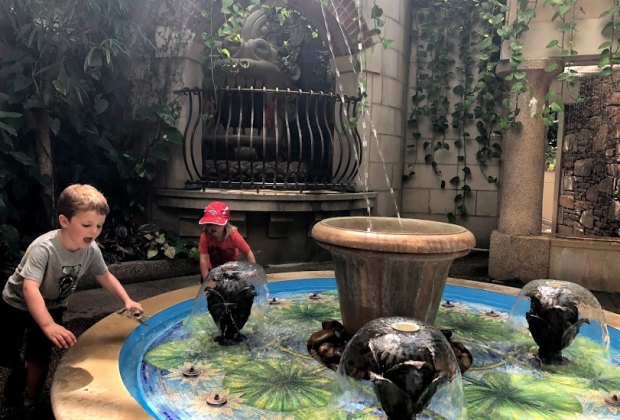 The children's garden at Longwood Gardens is always a hit with the kids.
4. Longwood Gardens - Kennett Square
Kids can learn about flowers, trees, plants and insects. Take part in one of the family-friendly activities offered throughout the year, free with general admission tickets. Prices are $22 for college students and seniors, $25 for adults, and $13 for youth aged 5-18. Children 4 and under are free.
Fitness Activities for Kids in Chester County
5. Beanie Yogini - Malvern
This yoga studio for kids offers storytime yoga, dancer's yoga, parent and child yoga and more. Classes run 45 minutes to one hour. Pricing starts a $12, and multi-class packages are also available.
6. Ice Line Skating Rink - West Chester
Head to a public skating session. Skate rental prices are $3 and admission is $10. Walkers are available for children 7 and younger.
7. My Gym - Exton/Lionville
Help your children develop strength, flexibility and balance in an environment that fosters physical engagement. Classes are available for infants through 10-year-olds, beginning with Little Bundles all the way up to Ninja Training. If you've never been before, you're in for a treat: according to the company's website, your first class is free.
8. Philadelphia Rock Gyms (PRG) - Coatesville​​
Fridays are kids night designed for 6-15-year-olds. Let your kids climb from 5:30 p.m. to 7:30 p.m. for $20. Introductory classes for families are also available, starting at $59. You can also purchase climbing passes, and youth walk-in classes are available every Saturday and Sunday.
Indoor Activities and Entertainment for Kids in Chester County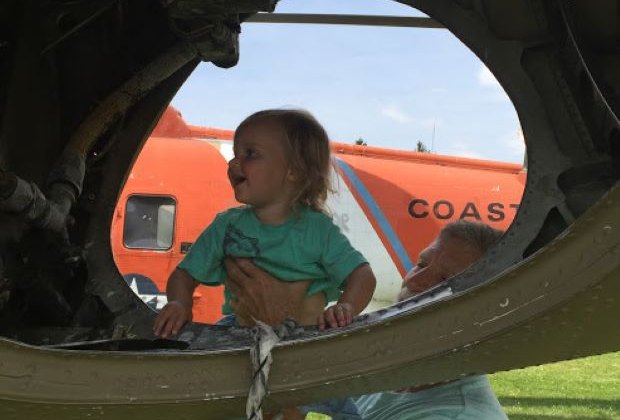 Kids will love getting an up close look at the helicopters at the American Helicopter Museum.
9. American Helicopter Museum and Education Center - West Chester
Learn about aviation history in a hands-on environment, featuring more than 20,000 items on display. Your kids will enjoy climbing into a real helicopter and trying a flight simulator. The cost for adults is $10 and $8 for children. Children younger than 2 years old are free. The museum is closed Mondays and Tuesdays.
10. Bounce U - Exton
When your kids need to expend a little energy, head to this inflatables heaven. Pick from open bounce sessions, preschool sessions, sensory sessions and more. Pricing is $9.95 per bouncer.
11. Chester County Sports Arena - Downingtown
Open Fridays, Saturdays and Sundays, this spot offers roller skating, with matinee skating sessions as well as kids skating sessions on Saturdays from 11 a.m. to 12:30 p.m. You can also enjoy mini golf, plus a ropes course open in the spring and a pool open in the summer.
12. Chuck E. Cheese - Berwyn
An old standby, Chuck E. Cheese offers arcade games and play equipment. When it's time for a break, grab a pizza. Of note, the Kid Check stamping system ensures children can only leave with the family members sharing the same unique stamp.
13. The Colonial Theatre - Phoenixville
Watch a movie at this historic theatre, built in 1903 and featured in the '50s sci-fi film The Blob. After your flick, take a stroll down Bridge Street and grab a bite.
14. Downingtown Playdium - Dowingtown
With arcade games, a laser maze, soft play areas and toddler zones, you're sure to find something to please all. Let your kids run, jump, crawl and slide the day away. Food is available onsite, and pricing is $8 for playdium admission with additional costs for the laser maze and arcade games.
15. Escape West Chester - West Chester
Buy a ticket to the family friendly escape rooms at this venue, featuring one-hour adventures. Clues adapted for elementary aged children can be requested. Pricing is $26 per person.
16. Grand Slam USA - Malvern
Spend the day at this 30,000 square foot indoor activities and sports center. Choose from batting cages, laser tag, mini golf, ninja obstacle course, basketball and arcades.
17. Herr's Snack Factory Tours - Nottingham
Take a bite out of a fresh potato chip at Herr's Snack Factory. Follow a guide throughout the factory, watch a video and see real workers in action. Tours last approximately one hour. Pricing is $4 for adults and $3 for children over 3.
18. The Palace Bowling and Entertainment Center - Downingtown​​
Get your youngsters to perfect their strikes and spares. At Palace Bowling, specials are available certain days of the week, such as Lease-a-Lane Sundays from 8:30 a.m. to 10:30 a.m., where up to 5 people can bowl the time away for $15, plus shoe rentals.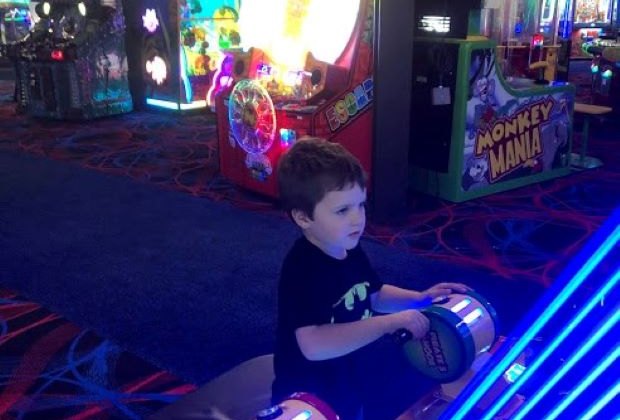 Who doesn't love a fun arcade game? Round 1 in Exton has tons to choose from, plus bowling and more!
19. Round 1 - Exton
Located in Exton Square Mall, this entertainment destination features bowling, ping pong, karaoke and arcades. Grab a bite while you're there.
20. Urban Air Adventure Park - Downingtown​
Take a ride on the zip line, head through the obstacle course, flip into the foam pit or just jump around. Pricing ranges depending on age and time you want to spend there, from $10 for 5-year-olds and under (1 hour of play) to $27 for 2.5 hours of play.
Outdoor Adventures for Kids in Chester County
21. Sunset Valley Farms - West Chester
Go horseback riding for the day. Pricing runs $50 for a half-hour or $100 for an hour. Kids 3-5 years old can take private 15-minute sessions for $35. Lesson packages are also available.
22. Treehouse World Adventure Park - West Chester
Climb through more than 10 tree houses including a 75-foot-train-treehouse, a 12x12 gingerbread treehouse, a pirate ship treehouse and more await you. Zip lines and bungy trampolines are also available onsite. There are various passes available, ranging from $24 to $60, depending on number of activities selected.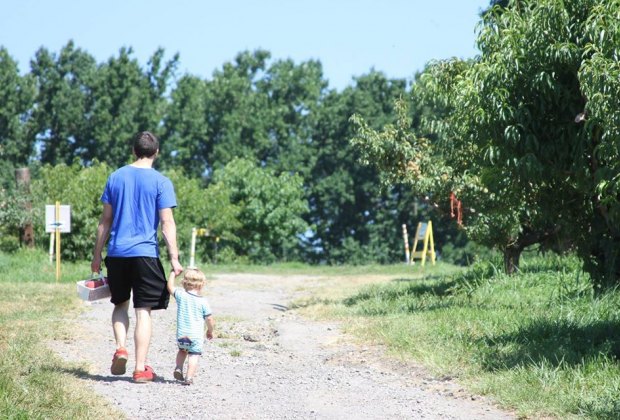 Visiting a pick-your-own farm, like Highland Orchards, is a great activity for families with children of all ages.
23. Highland Orchards - West Chester
Highland Orchards boasts over 200 acres of pick-your-own farmland, for anything from berries to peaches to pumpkins, as well as a recently renovated playground, goat pen and feeding area, farm market, bakery, and lots of seasonal events. Don't leave without grabbing a couple (or a dozen) apple cider donuts!
24. West Chester Railroad Company - West Chester
When spring comes around, take a 90-minute round-trip ride on a train or take a fall foliage ride. Head from West Chester to Glen Mills and back, enjoying a picnic stop midway.
Get Outdoors with these Chester County Parks that Are Great for Kids
25. French Creek State Park - Elverson
Go fishing, camp or hike at French Creek. When summer rolls around, enjoy the park pool, have a picnic and barbeque. Rent a paddleboard or kayak too.
26. Marsh Creek State Park - Downingtown
With more than 1,700 acres and a 500+-acre lake, your outdoor enthusiasts will really enjoy this spot. Grab your fishing pole, hiking boots and insect repellent. And in the summer, rent a kayak, canoe or paddleboard.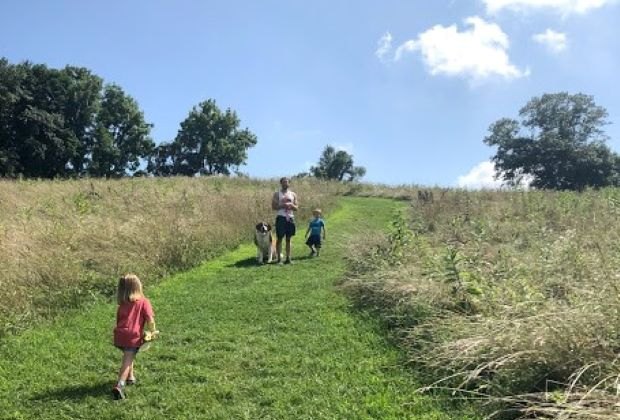 Get the whole family outside for a hike at Stroud Preserve.
27. Stroud Nature Preserve - West Chester
A great place to take a hike with the family, there are challenging hills but also lots of long gravel trails on flat land and through the woods. Be sure and check the preserve's calendar for fun events that kids will enjoy, like s'mores nights in the park.
Fun Places to Eat with Kids in Chester County
28. Pike's Pub at Whole Foods Market - Exton
During the warmer months, the rooftop at the Whole Foods Market in Exton is perfect. Tables and umbrellas fill up much of the space, but there's also room for a small stage and some games. Kids like to climb and play hide-and-seek around the wooden box seats and planters. Either grab some food from the downstairs cafe or order a burger at the rooftop "food truck". Parents can enjoy a glass of wine or a brew while the little ones enjoy the food and open space.
29. Jaco Juice and Taco Bar - West Chester
Freshly squeezed juices, made to order smoothies (the Nutter Butter is a personal favorite), amazing breakfast burritos, and anytime tacos, Jaco is a casual spot that's sure to please. Plus with the walk-up counter, it's easy to order food and take it to go, whether walking around town or sitting out at one of the patio tables and people watching. If you find yourself in Media, there's a location there as well.
30. Gemelli - West Chester
If you're looking for gelato and artisanal desserts, look no further than Gemelli in downtown West Chester. Flavors range from traditional Italian classics like Pistachio to children's favorites, such as Oreo cookie, to gourmet blends, such as local goat cheese and organic Pennyslvania raspberry jam blend. Unlike other gelato shops in town, Gemelli is open year round so you can get your sugar fix even in the middle of the winter (and you can always grab a coffee, too, to warm up). For adults and children over the age of 16, gelato making classes are also available.
31. Green Street Grill - Downingtown
A fun and bustling breakfast and lunch restaurant in Downingtown, Green Street Grill has a large menu with lots of kid-friendly options, a kind and knowledgeable staff, and a location just a couple of blocks from the Downingtown Library and Kerr Park, a 45-acre green space and all-abilities playground.
32. Pica's Restaurant - West Chester
Delaware County natives love Pica's iconic tomato-sauce-on-top pizza, and after several decades of only have one location, the restaurant branched out and put one in West Chester. With tasty pizzas, soups, and sandwiches - plus a large parking lot - Pica's is a great place for kids and families.
Visit our Facebook page, and let us know which Chester County venue tops your list.
All photos courtesy of Christine Mooney