7 Reasons Kids Love Longwood Gardens in Chester County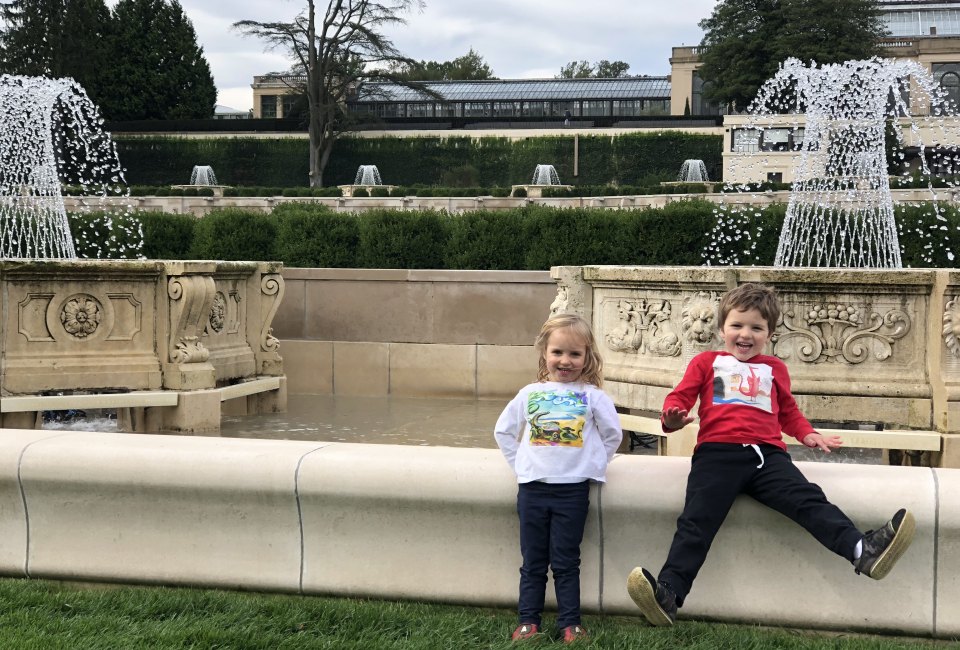 10/21/18
- By
Maureen Rayburn
Longwood Gardens is a special Chester County destination for children and grown-ups alike. Every season it has something exciting to offer. In the fall, it's tough to beat its array of colorful foliage, and kids enjoy the pumpkins and harvest activities. Winter brings a wonderland of festive lights and holiday displays.
Once spring and summer roll around, Longwood Gardens transforms into an oasis filled with incredible blooms, shady pathways, and outdoor events and musical performances in the Open Air Theatre. Visitors don't have to be horticultural experts to appreciate everything Longwood has to offer. Here are seven reasons why kids (and adults!) can't get enough of Longwood, no matter the weather.
1. Tree houses
Three tree houses are positioned throughout the gardens, each with a different theme. The Canopy Cathedral is a favorite because it's a double-decker, and the views from the balcony and windows are really spectacular. There are two floors of interesting architecture and wood carvings (including a dragon that greets visitors on the way up), and there are lots of nooks and crannies where kids can play, hide, and use their imaginations.
The Birdhouse is the highest treehouse at Longwood, and although it's smaller than the others, it's tough to beat the scenery from up there. Part of the Forest Walk, the Birdhouse literally gives visitors a bird's eye view of the surrounding wooded area, a real treat during the summer and fall months.
The Lookout Loft is the only treehouse in the gardens that is ADA-accessible, so it's also suitable for little ones in strollers. With wood-plank walkways to run up and down and tall, spiraling copper tulips to shout into, it's a lot of fun (and a great way for little ones to use their outside voices). The tulips are meant to amplify the sounds of nature, but they also work well as enormous bullhorns.
2. Children's Corner
The Children's Corner is an outdoor space specifically designed to be a spatial and tactile learning experience inspired by honeybees. There is a bee-themed labyrinth featuring educational stations and a Flower Fountain that's well-suited for splashing and cooling down. Parents love the Children's Corner because it's loaded with shady areas and comfortable benches for relaxing, while the kids burn off some of their extra energy. In the autumn, the Children's Corner is the site of the Pumpkin Playground, where kids can play and pretend among hundreds of pumpkins, some small and some really big.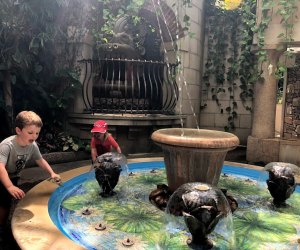 3. Indoor Children's Garden
Kids find something new to love in every corner of the Indoor Children's Garden. A great way to beat the summer swelter, rainy day blues, or chilly winter afternoons, this garden is tucked just inside the main entrance of the conservatory, and it's always buzzing with activity. Little ones love the fountains and the rain wall, and children of all ages enjoy painting with water, sneaking down the hidden staircase, and playing in the kid-friendly plant displays.
Insider tip: Bring a change of clothes for the kids. Longwood lends out towels to anyone who needs them, but it's a good idea to take off those drippy clothes to stay comfy. Visitors can get changed in "America's Best Restroom" and get a glimpse of the Green Wall on the way!
4. Nature-Inspired Seek and Find
Families with kids of all ages enjoy Longwood's seasonal nature hunts, which encourage children to explore the gardens with every one of their senses. Younger children love searching for bugs and listening for birds and bullfrogs, while older ones discover the nuances of tree bark and leaf shapes on different plants. Don't forget to check out the catfish pond near the Italian Fountain Garden and the waterfall and pond by the bell tower. Our family often extends the hunt to our backyard after our trip to Longwood! Nature-hunt checklists are available at the visitors' center, as well as inside the conservatory.
5. Open-Air Theatre
After a morning of exploring the gardens, visitors can sit in the Open-Air Theatre to watch a fountain show. Shows are a perfect length to keep kids' attention—they're about five minutes long, and they happen every hour on the hour during most days. My daughters love how the spray from the fountains create rainbows in the sun, and it gives us another opportunity to create an educational experience during summer fun.
Plus, Longwood Gardens often hosts free family-friendly musical performances in the Open Air Theatre. Spanning from local performers to nationally known artists, Longwood's shows keep kids engaged and entertained. One downside of the Open-Air Theatre is that the seating area lacks shade during certain times of the day. Make sure to pack some extra sunscreen and hats for everyone in the family.
6. The Fountains
The recently revitalized Main Fountains Gardens is truly spectacular. With water performances running several times a day from late spring to mid-autumn, the fountains are an impressive blend of waterworks, music, and theater. And don't miss the newest addition to the main pump house, the Grotto, a secret tunnel with unique water features and a cool interior, perfect for hot days.
7. The Garden Railway
From October through early January, the Garden Railway is available for viewing near the Terrace Café​. This unique and seasonally changing model train display captivates kids and grownups with new plants and features added throughout its season. The best part is it's located next to the main restaurants, as well as the wood-fired pizza and barbeque food stands.
For more information about upcoming events at Longwood Gardens or to learn more about the seasonal displays, check the Mommy Poppins Event Calendar, visit longwoodgardens.org or call 800-737-5500.
This post was originally published in May 2015 and has been updated with current information. Photos courtesy of Christine Mooney for Mommy Poppins
Places featured in this article:
Sign up for the Mommy Poppins Newsletter today!