Let Imaginations Take Flight at the American Helicopter Museum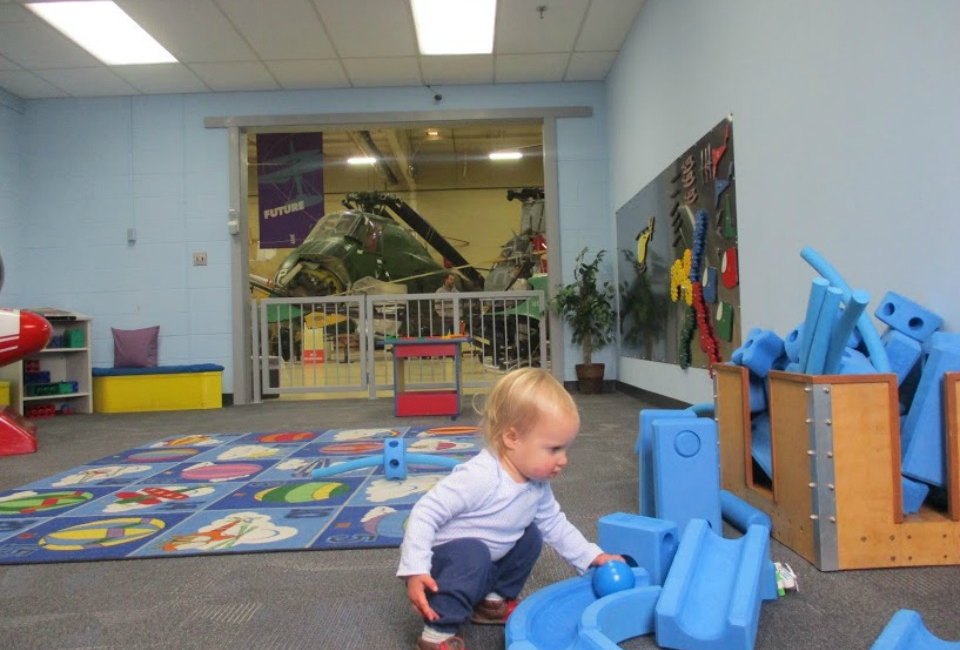 7/26/18
- By
Christine Mooney
From little two seaters to giant military helicopters, the American Helicopter Museum in West Chester (about 40 minutes east of Philadelphia), gives kids hands-on experience with rotary-winged aviation. Moms, dads, and grandparents alike will enjoy giving their little ones an hour or two of fun learning in a location that's easy to get to, offers free parking, and isn't a sensory overload. This museum is a regular on my list of things to do on hot summer days, rainy winter afternoons, whenever the grandparents come for a visit, or really anytime we want to get out of the house and look at fun "things that go."
After having been to the American Helicopter Museum many times with my three children, here are my thoughts and some tips on making the most of your visit.
Tucked between the Brandywine Airport and QVC Studio Park in West Chester, the American Helicopter Museum is easy to get to. It's just a few minutes off the Boot Rd exit of Route 202, and while it's close to the West Chester borough, because it isn't directly in town, finding the museum isn't difficult and there is a sizable parking lot that offers free parking. It's especially easy to find as several large real life helicopters are parked on the front lawn. They are accessible for anyone who'd like to walk up to them; however, they aren't open for climbing inside.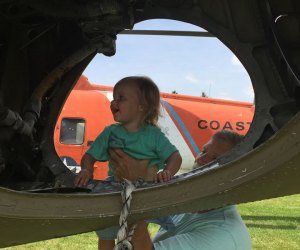 Getting a close-up look at some of the aircraft outside the museum
The museum also sits right beside the tarmac at the Brandywine Airport, a small regional hub where small planes take off and land from throughout the day (more on how to get the most of this part later).
Upon entering the museum, tickets need to be purchased, which can be done in the gift shop. My kids always spend quite a few minutes browsing through and asking for toys. Whether or not you wind up buying anything, however, the staff are very friendly and don't seem to mind that the kids are looking around.
Next stop: The museum itself, which is one large airplane hangar that has been converted to house the helicopters and includes a small movie theater, a playroom, and several other rooms, one of which is a small cafeteria that can be used for birthday parties or other events. Food isn't available for purchase on site, however, so you'll need to pack snacks if you anticipate being there during mealtime.
While the museum offers interesting tidbits that grownups or aviation enthusiasts would mostly care to learn, there are several helicopters that kids (and adults) can climb into, which is the highlight for many young museum goers. My kids love sitting in the small two-seater copters, pretending to fly off on all sorts of adventures. There's a much larger medical military helicopter to walk through, as well.
Since my children range in age from almost five years old to just turned one, my personal favorite part of the museum is the gated playroom, which has a mini helicopter that the kids can sit inside, a playmat, puzzles, coloring sheets, and various STEM toys to play and build with. It's a nice chance for the kids to cut loose a little bit after being so good not sprinting up and down the museum.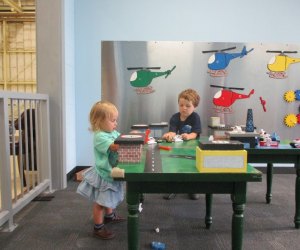 Taking a break from the life-sized helicopters to play with some helicopter toys
Families can also watch a short film on helicopters, see a model-sized simulator of why helicopters are able to fly, and get a closer look at retired helicopters or those in the process of restoration that have seen action around the globe.
All of the staff we've encountered have been incredibly nice, and many of the museum docents are of a retired age - aviation enthusiasts and friendly grandparent types. They've always been patient and kind, happy to explain anything as we go along but not intrusive.
Finally, we can't forget to walk outside and visit the massive 57-foot Osprey on the tarmac. It's fun to see up close, but the outdoor area also gives a great view of the airfield. This makes it prime viewing for the Brandywine Airport. However, be aware that during hot days, most small aircraft fly during the cooler morning hours so if you're planning a visit in the afternoon, it might be pretty slow airplane watching. If you don't mind hopping back in the car, families can also drive over to the terminal off Ward Avenue and sit outside on the benches lining the airstrip and watch from there (for free).
The American Helicopter Museum also hosts a variety of special events throughout geared towards kids and adults and a mix of both. From kids' offerings like weekly storytimes and Girls in Science and Technology programs to adults only events like Hops and Helicopters and family events such as World Helicopter Day, the museum really has a lot going on and its events calendar is definitely worth a look.
Overall, my family really enjoys spending an hour or two at the American Helicopter Museum. Its manageable size, friendly staff, and hands-on helicopter displays make it worth a visit, and even a return visit or two.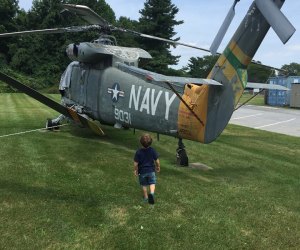 One last look before heading home, but don't worry! We'll be back!
Things to Know before You Go:
The museum is open Wednesday through Sunday. Hours vary by day and sometimes the museum closes early for special events so be sure and check the site for the most up-to-date information.
Ticket prices range from free (kids under two) to $8 (children under 12) to $10 (regular adult admission). The museum does offer discounts for seniors, military, and students as well.
Outside food and drink are permitted in the cafeteria so pack snacks or a lunch as there isn't much in the immediate vicinity to grab a bite to eat. Within a few miles, however, there are options, including a Panera Bread and a Qdoba.
The QVC Studios are right down the street. Families with kids who are at least school age would enjoy going on one of the studio tours; however, it can be tough with toddlers and babies, as parts of the tour come very close to the live broadcast and the unpredictable noises from younger children can be problematic.
All photos courtesy of the author.
Sign up for the Mommy Poppins Newsletter today!