How to Pack a Zero-Waste School Lunch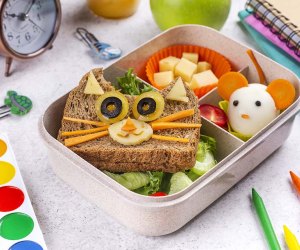 9/20/22
- By
Maureen Wilkey
Packing a zero-waste school lunch sounds like lots of extra work, but it doesn't have to be hard, and it's worth the effort to create a better planet and Earth-friendly habits for our kids. Wrappers, chip bags, applesauce pouches, milk cartons, juice boxes—there's a lot of waste associated with school lunches. By making school lunches as zero-waste as possible, you can help keep extra packaging and food scraps out of landfills. Luckily, there are lots of ways to easily reduce or eliminate waste in your kids' lunchboxes, and many of them will actually save you money.
Here are our top 12 tips for packing a zero-waste school lunch. For more ways to save the planet, including water conservation tricks and ways to live more sustainably every day, check out our Earth Kids Guide.
Be sure to also sign up for our Earth Kids newsletter to learn about more eco-friendly activities and tips for green kids!
How to Pack a Zero-Waste School Lunch
1. Reduce and Eliminate Packaging From the Start
At least half of my kids' school lunches consist of raw fruits and vegetables, which don't have to come in packages. Bring reusable produce bags to the grocery store, shop at farmers markets (where vendors can dump fruits and veggies into your own bag), plant your own produce garden, or use produce delivery services like Imperfect Foods or Misfit Market that reuse delivery boxes. Say so long to the plastic bags of baby carrots, and give kids something that looks like Bugs Bunny would eat it!
RELATED: Great Lunch Boxes for Kids, Containers, and Bento Boxes for Back to School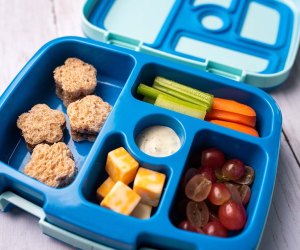 The Bentgo is a popular bento box for school lunches.
2. Buy in Bulk
Single-serve packages are convenient, but even putting one bag of chips and one granola bar in your kid's school lunch each day creates 10 bags or wrappers a week, 40 weeks a year. Instead, buy snacks in bulk and put them in a reusable storage bag or bento box. Better yet, make your own granola bars!
3. Pack a Cloth Napkin
Remember when we started making face masks out of fun fabrics in the early days of the pandemic? You can do the same with napkins! Pick a fun fabric pattern and hem it into a little square for kids to wipe their faces, hands, and eating area. Bonus: The napkin will absorb any lunchbox spills. Also, if you're not handy with a sewing machine, don't worry about hemming. The napkins will just look shabby chic, with adorable frayed edges.
4. Pack Fruits and Vegetables in their Natural Packages
Bananas, clementines, apples, pears, cucumbers, cherry tomatoes, carrots—none of these need to be packaged! Some of them can be dropped into the lunchbox as-is, while others may need to go into a reusable bag or bento box. Plus, they're all easy to eat and have easily compostable remnants. Having trouble finding great reusable bags? That's pretty common. Read on...
RELATED: 100 School Lunch Ideas for Kids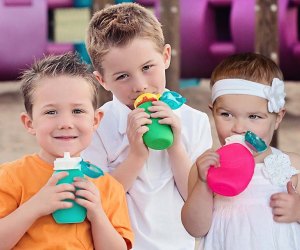 Try the Aqua Squeasy Snacker reusable food pouch for yogurt, applesauce, and more. Photo courtesy of the manufacturer
5. Find Reusable Containers for Liquid or Gelatinous Foods
Lots of kids like yogurt, applesauce, and dips that are hard to pack without single-use packaging. Oft-touted beeswax paper or fabric bags leave sandwiches soggy, dried out, or worse, and are hard to clean. That can lead to more food waste, not less! But manufacturers have upped their games and are finding unique solutions, like these reusable pouches and tiny Tetris-like boxes to store these kinds of items in. Buy the biggest container of food that you can while still reasonably using the product before its expiration date, and you'll save both money and packaging. It might take a few tries to find packaging that works for your family, but once you do, you're set.
6. Ditch Plastic Straws and Water Bottles
If your kid has trouble drinking from school milk cartons without a straw, pack them reusable straws. They don't have to be expensive, and some even come with a cleaner, like these from REI. To keep kids hydrated, reusable water bottles are so much more Earth-friendly than disposable plastic ones.
7. Get Reusable Utensils
There are lots of fun options online for reusable silverware. Some even come with fun cases so dirty utensils are not floating loosely around your kid's lunchbox.
RELATED: Best Clothing Labels and Name Tags for Kids' Gear

Be sure to label everything you don't want to lose! Photo courtesy of Mabel's Labels
8. Label Reusable Items
It doesn't count as zero-waste if your silverware, reusable straw, or bento box goes from the lunchbox to the table to the lost-and-found to the garbage can. So make sure you pick out one of our favorite name labels for all of the fun reusable items in your kid's lunchbox—and for the lunchbox itself.
9. Get Kids Involved in Lunch and Meal Planning
Many kids will go on streaks, wanting nothing but turkey sandwiches one week and only cheese and crackers the next. I find that by asking my kids what they feel like eating, I throw out significantly less food, they eat more, and everyone is happier. We also try to plan dinners together that will yield leftovers for lunch. My daughter loves pasta salad made with leftover pasta, cherry tomatoes, Parmesan cheese, and any pepperoni or other meats left over from the last meal. Use our list of 100 school lunch ideas to help plan your meals for the week or month.
RELATED: 20 Vegetarian Recipes Your Picky Kids Will Love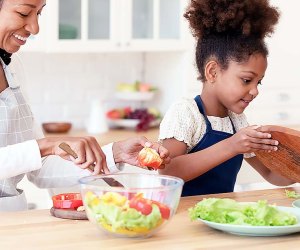 Kids can help make their own lunches the night before.
10. Establish an Evening Lunch-Packing Routine...
Bigger kids can pitch in by washing containers and prepping their lunches, while little kids can be helpful by telling you what they want for lunch the next day.
11. ...and a Post-School Unpacking Routine
I ask my kids to bring home whatever they don't eat. Some items, such as apple slices, cherry tomatoes, and graham crackers, can be eaten as a snack even if they didn't stay completely cold, while others can be composted. Speaking of which:
12. Compost and Recycle as Much as Possible
Zero-waste lunches are a great goal, but it's hard to predict what your kids can and will eat in their often too-short lunch period. Most people will need to dispose of some packaging or food that has spoiled, which you can do by composting in your yard or a compost container and buying recyclable packages when you can. Some schools don't have recycling containers handy in the lunch rooms, and very few schools have composting bins, so teach kids to simply bring home everything, and you can sort what gets recycled and what gets composted. As a side benefit, you'll see exactly what your kids ate; mine often throw everything out that they didn't eat, so I don't know just what got consumed, and what hit the trash!
Click Here to Sign Up!