Great Lunch Boxes for Kids, Containers, and Bento Boxes for Back to School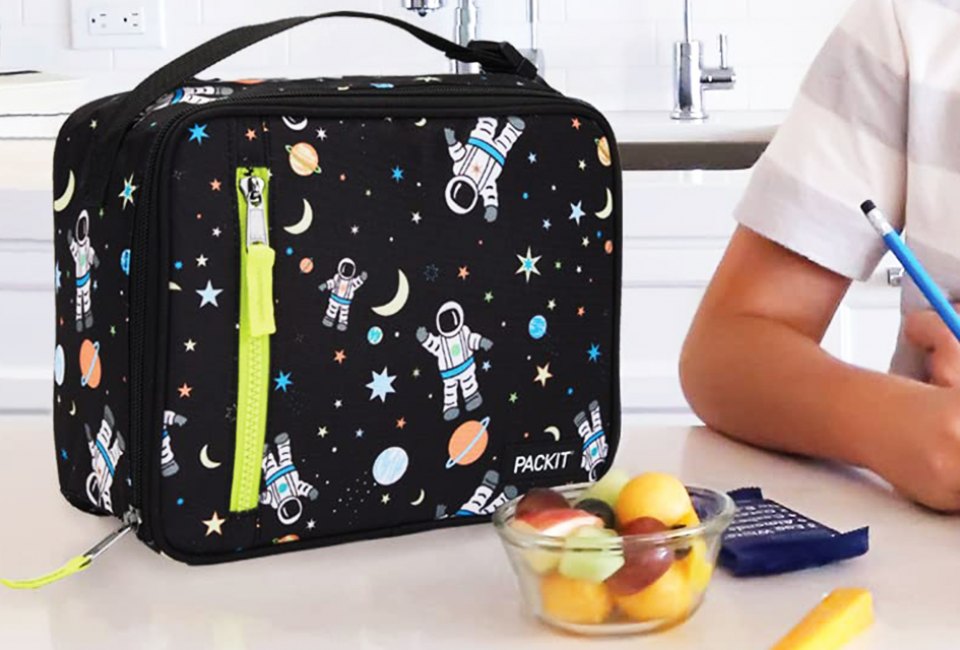 8/9/21
- By
Danielle Smith
Back-to-school shopping season is upon us, which means it's time to look for the best new book bags, stock up on school supplies, and get other end-of-summer necessities. We're ready to help you check off one more box: lunch! We searched everywhere and asked everyone, and these are the best kids' lunch boxes, bento lunch boxes, and other lightweight containers for every kind of food.
What to put inside a lunch box can really depend on your kiddo's age, stage, and (sometimes wacky) food preferences of the moment, but we can help you make sure that their favorite foods arrive at school in an organized, temperature-controlled, spill-free environment. Read on for the kids' lunch boxes and containers that will solve half of the back-to-school lunch equation!
For more back-to-school tips, from perfect alarm clocks for the first day to school lunch ideas kids will actually eat, check out our Back-to-School Guide.

Land's End Kids Insulated Soft-Sided Lunch Box is a classic that never goes out of style.
The Best Kids' Lunch Box in Every Category
For an affordable, spacious, durable insulated lunch box that simply gets the job done, this one is best-in-classroom. A handy side water bottle pocket is great for kids that may not bring a backpack every day. Land's End promises this lunch box is leak-resistant and offers five hours of cooling ability. Ice packs fit nicely in the interior mesh pocket, and an outer zip pocket is useful for utensils. Many of the designs are compatible with the matching ClassMate backpacks, and both can be personalized with embroidery, a monogram, or both.
Keeping food fresh until the lunch bell rings can be tricky, especially when bulky ice packs aren't always a great fit. The PackIt lunch bags have built-in freezable gel walls and fold into a flat shape that conveniently slides in your freezer at night. In the morning, just unroll and put the food inside, where the pre-frozen temperature keeps things fresh for hours. The bags can hold a medium-sized container, water bottle, and a couple of snacks, with an outer zip pocket suitable for forks and spoons. It's basically a portable fridge, making it a long-time parent fave.
Crafted from the same rugged, water-resistant materials as its backpacks, L.L. Bean's Flip-Top lunch boxes are sturdy meal carriers built to last for several years. A shoulder strap makes getting to and from the lunchroom easy. With a bigger than average size, deep storage lids, and outer zip pockets, these kids' lunch boxes accommodate quite a lot of food. Several monogram options are available to really make it your child's own.
If you're looking for all-in-one convenience, the Go Green Lunch Box Set can't be beat. 40 dollars buys a leak-proof, dishwasher-safe bento box, insulated carrying case, eight-ounce stainless steel water bottle, and two gel ice packs. The coolest feature is the interior dry-erase whiteboard, where you can leave your child a special message every day. Go Green Lunch Boxes were created by a mom, so it's not surprising to see how much thought went into the design.
Need hot and cold storage at the same time? The Mackenzie Dual Compartment Lunch Box can help. Two separate (zipped) storage units can handle one temperature on top and another on the bottom. It fits a thermos, two entree-sized containers, a snack-sized container, and utensils. It also comes with a shoulder strap. The Mackenzie line has a wide range of designs that match the backpacks of the same name and a slew of personalization choices. These lunch bags are beloved by parents and children alike, year after year.
Hydroflask made big waves with its popular must-have water bottles, and the insulated lunch boxes command the same attention. While most lunch carriers are insulated, these are double-insulated, with two-layer protection that includes a food-grade, BPA-free liner—ideal for making sure no sandwich ever gets smushed. Durable construction prevents excessive wear and tear, but the bags are backed by a 5-year warranty just in case. Eight brightly color-blocked designs means there's one to suit every kid's taste.
We love a good two-in-one product, and the FlatBox is just that. This lunch bag unzips itself into a placemat to enjoy a picnic-style lunch on the go. It's made with triple-insulated neoprene for temperature control, and can easily fit a sandwich or thermos, a piece of fruit, a couple of snacks, and a drink. You can throw it in the washing machine, and the flat storage option saves cabinet space. Some younger kids might struggle with the refolding concept, but for most elementary schoolers this is a great choice.
Bigger kids have bigger appetites, and the YETI Daytrip is a lunch bag that will carry them straight into adulthood. From a brand that specializes in outdoor gear, the Daytrip Lung Bag is super functional, with an adjustable hook-and-loop grid feature that allows you to choose the size of the bag, so there's no extra air space. It has a large insulated food-safe interior with magnetic closures and comes in 6 different colors. At $80 it's definitely a higher price point, but luckily it comes with a 3-year warranty, so it'll last for more than one grade.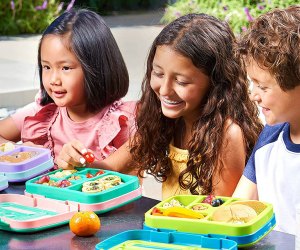 Bentgo Kids 5-Compartment Lunch Box ensures that foods never touch. (Ewwwwww.)
The Best Kids' Bento Boxes
The PlanetBox Rover tends to sell out every time there's a sale, and for good reason. Parents have fallen in love with this thoughtfully designed stainless steel bento box for its appeal to picky eaters, with portion sizes that cater to grazers. The smallest section (the "treat spot") is surrounded by four large sections for fruits, veggies, and other entrees. Two of those sections fit containers that come with the box, adorably named the Little Dipper and the Big Dipper. Kids can decorate their Rover with themed rubber magnets—just remove them before throwing the box in the dishwasher to clean. These eco-friendly bento boxes also boast a 5-year warranty.
The Bentgo Kids bento box also has five compartments, within a removable tray that can be taken out for microwaving. The portion sizes target kids ages 3-7, so this one is definitely suited to younger children. It's leak-proof and drop-proof, with rubber edges to cushion unexpected falls. It's also non-toxic, dishwasher safe, and available in a variety of fun colors and prints. Bentgo consistently scores high marks from happy parents.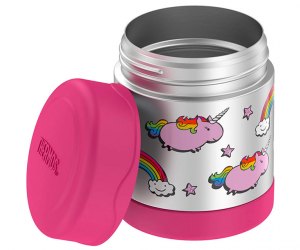 Thermos Funtainer 10 ounce Stainless Steel Food Jar keeps hot foods hot and cold foods cold.
The Best Kids' Food Containers
The undefeated champion of insulated food containers is the Thermos Funtainer. These containers last forever, keep foods and liquids warm for five hours or cold for seven, come in a bunch of colors and designs, and have a folding spoon that fits conveniently inside the lid. These aren't the same thermoses we carried as kids; huge improvements have been made in the design and function departments, including vacuum insulated technology and push-button tops. The compact size makes them easy to carry, easy for little hands to twist open, and easy to clean in the dishwasher. We recommend picking up more than a few.
Soups and cereals are safe and sound in these bowls that give parents more lunch options to consider. Liquids are okay in a thermos, but there's something about an actual bowl that just feels right for certain foods. Double-walled glass construction wrapped in silicone maintains temperature, but the bowl is also microwaveable. The screw-top airtight lid keeps everything inside where it belongs. I can hear my girls now requesting Frosted Flakes Fridays, and with this bowl, I might just cave every once in a while.
This article contains some affiliate links, which means we might earn a small commission if you make a purchase. There is no extra cost to the reader. We only recommend products and services that we have personally used or have thoroughly researched.
Photos courtesy of the companies