Iceland with Kids: 10 Things You Will Want To Do on a Family Trip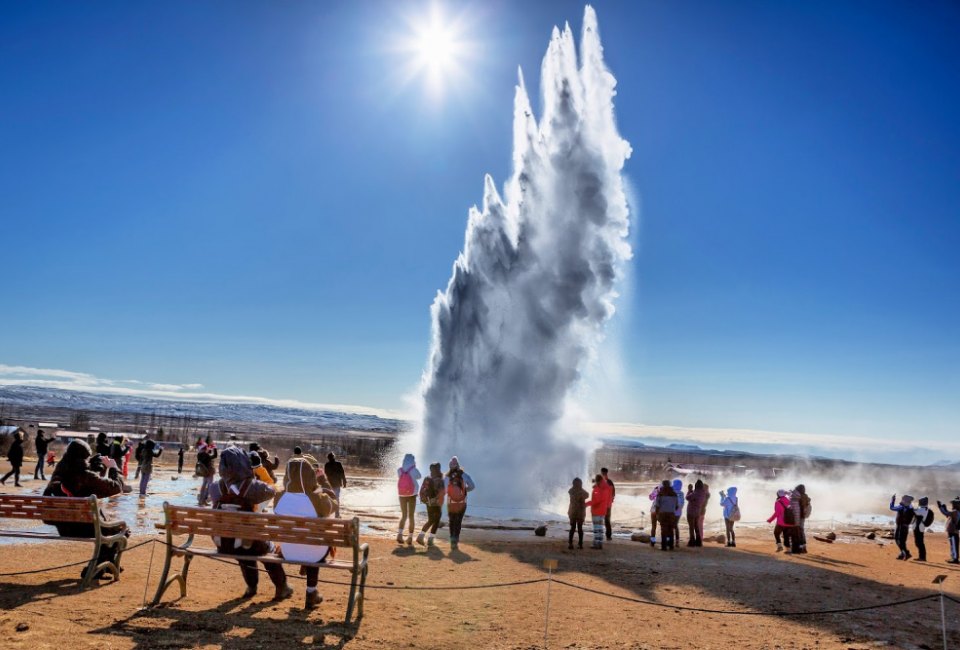 8/10/19
- By
Roberta B
Iceland has become the place everyone talks about. It's dramatic. It's beautiful. It's rugged, unspoiled, totally different, and the perfect stop between North America and Europe. In fact, it's where the two continents actually meet (cue photo op)! But without amusement parks, warm weather, or any kind of branded entertainment, will it hold your kids' attention? The answer is heck yeah. There are endless fun things to do in Iceland with kids, especially somewhat exotic outdoor adventures.
Tell the kids you're bringing them to the Land of the Midnight Sun, and check out as many as you can of the 10 extra-special Icelandic attractions below.
One more tip to consider before you start: Iceland is not a sit-in-one-hotel kind of place; to really take in the wonder that is Iceland, you'll be moving around quite a bit, and not anywhere near cities or even towns. Consider combining your hotel and rental car budget and seeing the countryside in a camper van. As we worked to find hotels near the places we wanted to see (not as easy at it sounds), we kept passing clever families who had booked a Happy Campers van, allowing them to sleep almost anywhere. Whether or not you sleep in your vehicle, though, be prepared to do some eating in it, and stock up on snacks for the car to get through the hours when you won't see any on the road.
Best Things to Do in Iceland with Kids
1. Blue Lagoon
The Blue Lagoon is one of Iceland's most famous destinations, and probably the most indulgent one, too. It's an enormous volcanic hot spring lake, for soaking, swimming, and caking on mineral clay masks while knocking back cocktails served at bars in the water (kids can get fruit smoothies and slushies). It's not cheap, so it might be tempting to skip it, but with all the hiking and driving involved in an Iceland vacation, a little decadent pampering in a volcanic spa is merited—and to take the sting out of the price, kids under age 14 get in for free.
Make the trip a little cheaper by booking a visit near the end of the day (prices go down in the hours closer to closing time). During the summer months, when the sun never fully sets, the Blue Lagoon stays open until midnight. Its location 20 minutes from the airport makes it a great first or last day activity.
2. Waterfalls
As you'd expect, Iceland has a lot of ice, which has to go somehere when it melts—resulting in more waterfalls per square inch than any place you'll ever see. Keep eyes on the cliffs for a non-stop display of dramatic waterfalls, with a few worthy of special mention for photo ops. Skógafoss (foss means waterfall) is exceptionally wide, with easy access to the top and bottom of the falls—and a campground in the parking area. Seljalandfoss is the only one that charges for parking, but it's worth a stop all the same for the dramatic trail that goes behind the falls. From the same parking lot, don't miss the breathtaking Glujafoss, just a 10 minute walk down the trail; if you're prepared to be slightly adventurous clamboring over a few rocks and into a cave, you will be rewarded with an extraordinary view of the falls cascading majestically into the cave. All of these are falls along the southern ring road and easily accessible from their parking lots. Gullfoss is a popular stop in the Golden Circle, also with a short easy access trail and free parking.
3. Geysers
You have to see a geyser in Iceland—it's where the word actually comes from! The one that's called Great Geysir is actually dormant these days, but just a few steps away is Strokkur, which erupts dramatically about every 5-10 minutes. Trying to catch it shooting with a camera is great entertainment not only for kids but also for loads of adults who set up their tripods and watch blast after blast. Strokkur is located in Haukadalur Valley in the Golden Circle, in a volcanic field that includes Great Geysir and Litli Geysir as well.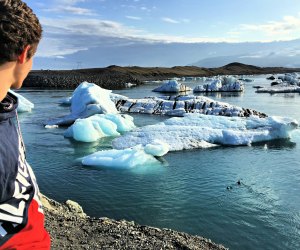 The icebergs in the glacial lagoon at Jökulsárlón are an amazing sight.
4. Jökulsárlón
It's a bit of a drive to get to Jökulsárlón, but the payoff is all that and more. Think icebergs.. and seals.. and think icebergs some more. The area is a glacial lagoon, which means that this is where huge hunks of ancient glacier break off, float around a nearly freezing cold lake for a spell, then flow swiftly out into the Atlantic ocean. The view is spectacular and other-worldly; some bergs float silently by while others crash together dramatically. Ducks dodge the action, while seals sunbathe on an ice cube strewn beach.
For an extra adventure, in nearby Fjallsárlón it's possible to take an iceberg boat tour on the lake, to see the glacier up close and skirt between the floating bergs. Even if you don't take a tour, the boat launch area is a rare and handy spot to get a bite to eat or use a restroom.
5. Where the Continents Meet
Bet your kids didn't know you can walk from North America to Europe! Iceland sits on two continents, with the North American and Eurasian continental plates meeting for great vacation photos. One spot to enjoy the view is Thingvellir National Park on the Golden Circle. The continents actually meet underwater in a lake in this park, and some visitors take diving tours to get up close views. An easier (and drier) spot to take the photo is at the Bridge Between Continents on the Reykjanes Peninsula—not far from the Blue Lagoon. The journey from North America to Europe and back again can be made across the bridge or by walking across the lava sand below.

The plane wreck on the beach is full of surprises.
6. Plane Wreck Hike
And now for something completely different! Driving along the southern ring road, there is an opportunity for a hike down to a black sand beach where 40-odd years ago a US Navy plane crashed on the shore. In all the years since then, no one has cleaned it up. The outing isn't as morbid as it might sounds—everyone survived the crash—and it's actually kind of fascinating to the right kid. It's definitely a change of pace after taking in loads of nature, and it's an interesting thing to climb up and over and inside. My son was tickled at being allowed to explore something that he felt certain would have been roped off in his own country. The hike is about 45 minutes each way, though there is a "Plane Wreck Shuttle" (for real) that makes the journey a few times every hour, from parking lot to plane wreck and back again.
7. Whale Watching
It comes as no surprise that Iceland is one of the world's best spots to go whale watching. For a chance to see some of the most exotic marine life—ranging from humpbacks to belugas to narwhals—the north shore, and particularly Húsavik, is the ideal spot to sail from. If your path doesn't take you that far afield, though, the next best launching point is Reykjavík. On our whale watching tour out of the capitol city we saw a few minke whales and a few different kinds of dolphin, on a day when the sea was as smooth as glass.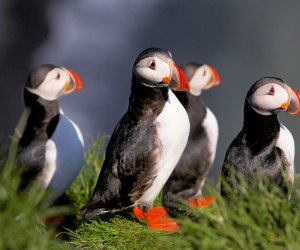 Who can resist a puffin? Photo courtesy of Visit Iceland
8. Puffin Watching
If you visit Iceland during the spring or summer months (especially between June and August) you should make time to see the country's favorite and most ridiculously adorable bird. The little clown-faced seabirds are migratory and come to nest and raise their young on land during the summer months. Some of the prime spots to view them en masse include Borgarfjörður eystri in the east, the puffin islands in the south, and Látrabjarg in the west. Alternatively, a puffin tour can be bundled with a whale watching tour out of Reykjavik, if you're trying to make the most out of a short trip.
9. Ride Icelandic Horses
Icelandic horses are a unique and extraordinary breed. They are small, clever, have several gaits, and are hairy enough to stay outdoors all winter long in the harsh Icelandic climate. In fact, as you travel the countryside you will see them everywhere, roaming freely. Farmers put hay out for them in the winter and apart from that leave them to their own devices. And tourists ride them.
Heading south from the Golden Circle or west from Seljafloss, you will see non-stop ranches open for business. Leave time to stop at any of them for a lovely ride across the countryside, imagining Icelandic sagas you go.

The water color at Bruarfoss is hard to believe until you see it!
10. Bruarfoss
Yes, this is another waterfall, but a completely different experience. In fact, this may well be the best hike in Iceland. Reaching Bruarfoss from the parking lot takes nearly an hour, but the hike passes other waterfalls along the way as well as the most astonishingly blue water we had ever seen. We thought the photos we had seen were enhanced, until we saw the turquoise water for ourselves! The parking lot and trail can be a little tricky to find; in fact many websites report that the trail is closed, because in the past hikers were cutting destructively through private property to reach the falls. There is an official trail, though, and it is well worth finding. These directions are useful for finding the parking lot and trailhead.
Photos by author, unless otherwise noted