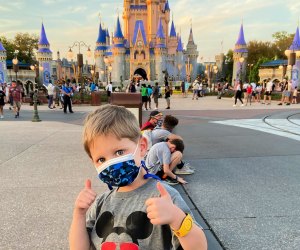 Disney World Reopening: Here's What It's Like To Visit Right Now
If you are looking to travel to the most magical place on earth during the pandemic, rest assured, it's still magical. We recently visited Disney World in Orlando with kids ages 4 and 6 and learned some tips and tricks that we wanted to share — and yes, Disney World's reopening includes most rides and resorts. Here's a rundown of what you need to know before heading to Disney World in 2021.
Planning an Orlando trip? Check out more of the exciting Orlando openings happening this year and a brand-new Peppa Pig theme park coming in 2022.
COVID-19 NOTE: Keep in mind that many restrictions on travel remain, and for good reason, as the pandemic is not over yet. Please do not travel if you are sick. Please wear a mask, and consult all local travel requirements and restrictions ahead of booking.
What's Open At Disney World Now?
All Disney Parks Are Open
The Disney World reopening now includes Magic Kingdom, Animal Kingdom, Epcot, and Hollywood Studios. All are open! I'll go into more about how the experiences have been modified a bit, but one key point is that all guests over age 3 must have a reservation to get it. While you can opt to make your reservation at the gate, it's best to do so online. Some parks are booking well in advance. For example, we couldn't secure a March reservation to Hollywood Studios.
The Park Hopper option is still available. This is where you can visit multiple parks in one day, but it cannot be used until 2pm. So, if you start out at Magic Kingdom, you cannot switch or visit your next park until then.
Tip: Despite advertised hours, you can still expect a "rope drop," where guests who arrive early (usually about an hour before the park opens) are let in to enjoy those rides operating early.

Most all rides are open. Photo by Matt Stroshane/Disney
Disney World Rides
Almost every ride in the four parks was operating unless it was undergoing scheduled maintenance or had shut down due to technical difficulties. (If you have never been to Disney World, you'll know this can happen a lot in normal times.) The Disney World app for your smartphone is especially helpful here as it is updated each day with ride closures; rides that are closed are marked with a "star" icon in place of the wait time.
What's great is that many of the rides we enjoyed only filled each cart or boat with one family/group. On the roller coasters, however, all seats were typically filled.
Disney World Resorts
Disney has a list of reopened resorts on its website and a few that have been temporarily closed. For example, the Beach Club Resort, Wilderness Lodge, and Polynesian Village Resort are all slated to begin accepting reservations later this spring or this summer. Masks are required when walking around Disney World resorts but can be removed when swimming at the pools, which are open. You do need to put the mask back on when ordering food or drinks. One large change to note: the extended theme park hours for Disney resort guests were not available during our stay in March 2021. This could change but is something to keep an eye on when booking and weighing the advantages of an onsite Disney hotel vs. another resort.
Transportation Options
All forms of transportation within the park are open, from the monorail to buses. The mask requirements remain in place; buses have newly installed plexiglass separating sections of seats. There is no longer standing room on buses, which means you may have to wait a bit longer to grab a seat. The Magical Express bus which takes resort guests to and from the airport is operating as well.
RELATED: 75 Things to Do in Orlando Other Than Theme Parks

Live shows are out, but you can still catch a parade here and there.
What's Closed at Disney World? (or Changed!)
Live Shows
Sadly, all live productions and shows are currently closed at Disney parks. This includes the firework shows but does not include the occasional parade. We saw several small character parades at Magic Kingdom and Epcot during our visit.
Character Appearances
At this time, you cannot take pictures with your favorite princess or villain. Characters still appear throughout the park on parade floats or on stages that are set apart from the crowd. We were able to wave at Buzz Lightyear, who made frequent appearances in Tomorrowland in Magic Kingdom, as well as some menacing Storm Troopers in Galaxy's Edge. Rey and Chewbacca also made social-distanced appearances.
Fast Passes
Fast passes are suspended at this time. Sigh! All guests must file into the same line to enter a ride or attraction. The start of said line, by the way, is typically not at the true entrance of the ride. There are markers on the ground indicating where guests should stand to maintain social distance, and this added space means the start of lines can extend far beyond the ride itself. There are helpful staff members who stand at the end of lines with a tall sign to help you find your way.
Still, we found most lines took 30-45 minutes even if the looked longer or if posted wait time on the Disney app was longer. The lines that took the longest were at the "buzzier" attractions as you would expect: Flight of Passage in Animal Kingdom; Millenium Falcon: Smuggler's Run in Hollywood Studios; and Splash Mountain in Magic Kingdom.
RELATED: Top Orlando Resorts & Hotels for Families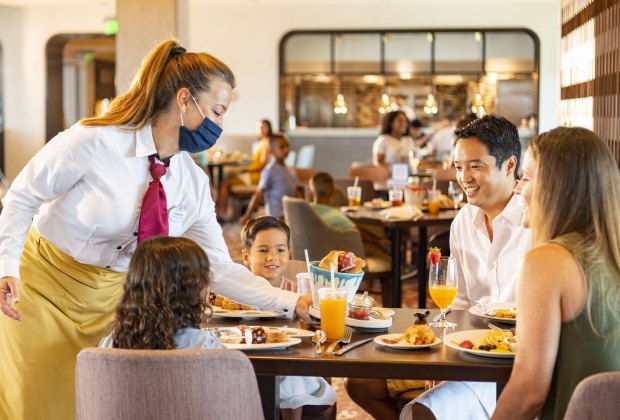 The Disney restaurant scene has been upended much like the rest of the industry during the pandemic. Photo by Matt Stroshane/Disney
Disney World Restaurants
The dining scene at Disney World has been completely restructured. Many park restaurants are closed, and any that are open fall into one of three categories:
Reservation-only. The nicer eateries with inside seating now require reservations. Once you have your park ticket reserved, you can book 60 days prior to your reserved dates. We booked our reservations right away, and it was difficult to find new time slots when we were actually in the park.
Quick service. Most of our meals were eaten at quick-service spots around the parks. You must use the Disney app to order your food and reserve a time slot. They do not accept walk-in orders. It's best to order before your group gets hangry, because sometimes you may have to wait upwards of an hour for a time slot and for your food to be prepared. There are 3-5 of these kinds of eateries in each of the parks.
Snack stands. Scattered throughout all of the parks are smaller stands and shops where you can buy ice cream, popcorn, drinks, and other small snacks without any kind of mobile or online reservation. Hooray!
Keep in mind, families can still bring in their own snacks and drinks if desired.

Temperature checks, mask mandates, and social distanced lines are some of the safety precautions in place. Photo by Matt Stroshane/Disney
Disney World Safety Precautions in 2021
Disney World has put a number of safety measures in place to reassure guests and to ensure a safe reopening. Here's what to expect:
Temperature checks at the entrance of each park.
Sanitizing stations positioned in every line as well as throughout the park. There are also some hand-washing stations around Epcot and Magic Kingdom. Bring your own sanitizer, too, as stations run low by the day's end.
Social distancing throughout the park. There are markers on the ground in every line, as well as in stores. Some specialty stores, like most shops inside Galaxy's Edge at Hollywood Studios, limited the number of guests inside and thus formed social-distanced lines outside.
Plexiglass. You will see lots of plexiglass installed where social distancing is not possible, like inside buses and in ride queues like Pirates of the Caribbean in Magic Kingdom.
Masks. Masks are required for all guests over age 2 at all times unless you are actively eating and drinking. The staff is strict at enforcing this. We did find some pockets of shade to enjoy some snacks, a drink, and a mask break with the kids. You must also keep your mask on during pictures, including pictures taken by Disney staff.

We felt safe and enjoyed the rides, so the visit was a success for our family.
Hot Take: To Visit Disney World Now — or Not?
Our kids had an absolute blast, and as first-time Disney World visitors, they had no idea what they were missing with the lack of character appearances and big shows. It just means our next visit will be that more magical. Overall, the lines did not take long, we were able to fit in almost every attraction, and our kids did great with the mask requirements. Adjust your expectations appropriately knowing things will be different and sometimes uncomfortable, but all of the changes and closures did not stop us from creating unforgettable memories together. So for our family, it was a definite: yes!
Read Disney World's full reopening protocols and updates for the latest.
Photos by the author except where noted.