25 Things To Do in Lake Tahoe with Kids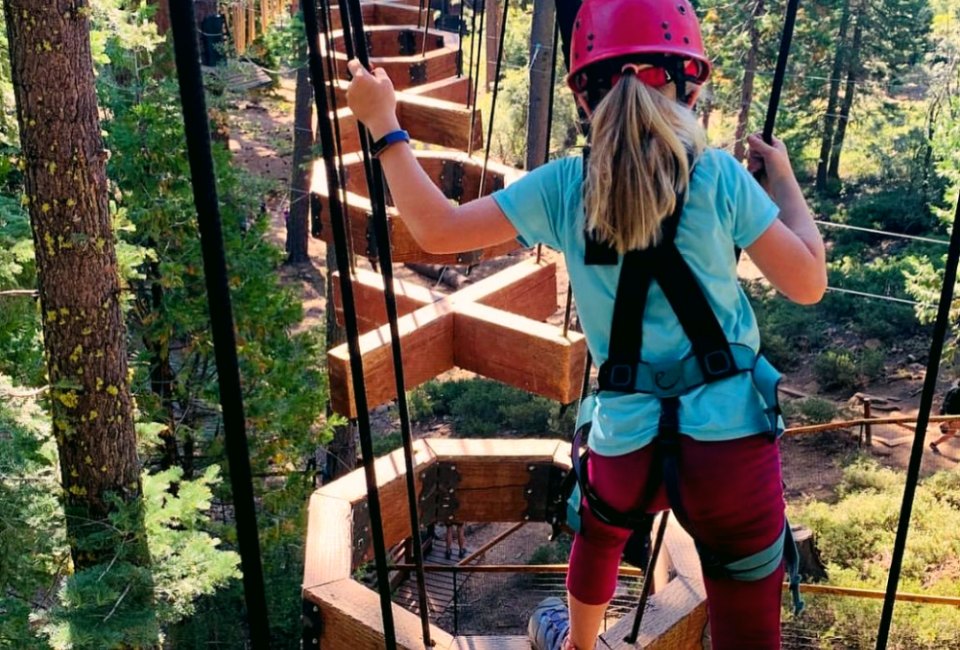 8/23/21
- By
Melissa Bean Sterzick
Lake Tahoe is gorgeous all year, and whether your family likes water sports and hiking or skiing and snowboarding, there are so many cool things to do with kids in Lake Tahoe all year round that a trip there is always in order. It's one of my favorite road trips from Los Angeles with my girls, and we go as often as we can. We've learned that a family road trip is best carried out with a solid list of fun stops along the way, as well as when you get there, so I've included some of our favorite roadside activities that break up the drive. From the secret to finding Hidden Beach to the single best vacation activity my family has ever done, here are 25 great things to do with kids in Lake Tahoe.
For a lake getaway that's closer to home, check our guide to Things To Do in Lake Arrowhead with Kids, and for more California family adventures visit our Weekend Getaway Guide.

Learn the secret to finding Hidden Beach. Photo by the author
Best Things To Do in North Lake Tahoe
Lake Tahoe is divided into North Lake Tahoe and South Lake Tahoe. North Lake Tahoe is a little more quiet and rural. There are more ski lodges and more hiking trails on this side of the lake. South Lake Tahoe has casinos, festivals, and nightlife (as well as some great backcountry skiing and plenty of things to do with kids, as you'll see below).
Kings Beach is on the northeast side of Tahoe City. It's a day-use only area with a large sandy beach and multiple picnic tables. Don't miss the Tahoe sculpture, which shows an outline of the lake at every depth. Kings Beach is one of the easier beaches to access in North Lake Tahoe, with close parking, nearby restaurants, and plenty of places to rent equipment and boats.
This is a gorgeous, out-of-the-way spot I'd really rather not share, but here goes! The beach itself is surrounded by giant boulders with lots of sand for sunbathing, picnicking, and swimming. It's a great place to spend a day as long as you bring plenty of food and sunblock. It's located just off of Highway 28, and there is a developed bike and walking path that leads to the beach. You have to do the work to go to Hidden Beach–the bike path is about a mile long and you have to take it as there's no parking at the beach. However, if you're traveling with two adults (and young children), we recommend having one adult drop everyone off and then walk back after parking. The best parking choice is near the intersection of Lakeshore Boulevard and Hwy. 28 in Incline Village.
3. Rent a boat or a jet ski
To really explore the lake, find rentals at North Tahoe Watersports. The company has three locations: Kings Beach, Tahoe City Marina, and Tahoe City. The company offers a full selection of recreational water sports activities, including parasailing flights, boat and personal watercraft rentals, and a large selection of non-motorized rental equipment.

High above the ground, have an adventure in the treetops. Photo courtesy of Tree Top Adventure
4. Get off the ground at Tree Top Adventure
This is the best thing we have done in Lake Tahoe—or on any vacation—is Tree Top Adventure. Tree Top Adventure is an Aerial Adventure Park (aerial trekking course) and much more than a zipline or zipline tour. Participants navigate rope swings, wobbly bridges, swinging logs, tight ropes, cargo nets, horizontal climbing walls, ziplines and more, as they progress through a variety of bridges to consecutive tree platforms. This is not a "ride." You are fully involved and engaged and will be sweaty, dirty, tired, and smiling afterward. What's really amazing is that the courses are connected by a continual belay that keeps everyone safe the entire time. The harness is secured by a thick wire to the line and it moves easily, without detaching, from each activity. Courses accommodate all levels of athleticism and range from easy to quite challenging. Kids must be at least 5 years old to participate. I promise, you won't regret trying this out!
5. Hit the slopes
In the winter, there's plenty of fabulous skiing around the lake. Our favorite skiing option in North Lake Tahoe is Palisades Tahoe, Alpine Meadows, but there are several others and all offer options for families and children. If you visit when there's no snow, you can take a scenic Aerial Tram ride with gorgeous views of Lake Tahoe at Palisades Tahoe, and visit the free Olympic Museum there.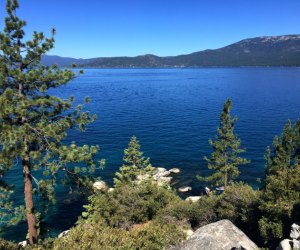 See stunning Lake Tahoe. Photo by the author
6. Take in a view of Lake Tahoe
No need for a tram for stunning views. Take Mt. Rose Highway (Nevada Highway 431) about 3 miles to the Mt. Rose Scenic Overlook. (There's a sign 500 feet before the overlook.) There are no parking spaces, but there's room for at least two dozen vehicles to pull over. This is a breathtaking panoramic view of Lake Tahoe. We have gone during daylight and at night—city kids will not believe how many stars they can see.
If you're in North Lake Tahoe and need a few grocery items and a great sandwich, go to Tahoe Central Market. The market is owned and operated by the Habeger family, who are longtime North Lake Tahoe residents. They provide the community with fresh, local, organic produce and dairy, along with a gourmet deli, daily soup menu, juice bar, and a wide selection of beer and wine to fuel your day of hiking, skiing, or just hanging out by the lake.
8. Stop for breakfast or lunch at King's Café
King's Cafe is our favorite breakfast place in North Lake Tahoe. It's not fancy, but everything is good. Choose from sandwiches and wraps, fantastic waffle fries, and vegetarian options.
9. Order tacos for takeout
Everybody's different, but when we're on a lake vacation, my family wants really good food, but we don't like to have long meals in restaurants—there are so many other things to do. La Mexicana Meat Market & Taqueria is where we stop for breakfast burritos, tacos, and delicious salsas to eat on the go. The super nachos are pretty super.
The view is even better from the back of a horse. Photo courtesy of Zephyr Cove Stables
Fun Things To Do in South Lake Tahoe
10. Hike in the forest
Rainbow Trail is an easy walk starting at Taylor Creek Visitor Center. Walk along the 1/2 mile paved path through the forest, past a stream with colorful bushes on the banks, and look for the bright red Kokanee salmon that spawn in the fall. Autumn is the best time to see the salmon and the foliage, but a hike in the spring or summer is pretty beautiful, too. Stop by the visitor center for maps, information, or souvenirs. This trail is wheelchair and stroller-friendly.
Visit a Scandinavian castle in California. Photo courtesy of Vikingsholm Castle
11. Storm the castle
Considered one of the finest examples of Scandinavian architecture in North America, Vikingsholm Castle sits on the shore of Emerald Bay with beautiful views of Lake Tahoe. It was built in 1929 by Lora J. Knight. The castle is a short hike down from Hwy 89. The home is open seven days a week from Memorial Day until the end of September.
Of course, in the winter you hit the slopes. Photo courtesy of Heavenly
There's one reason to make this drive in the winter: for the winter sports. Just remember to bring tire chains (as they're required if snow starts to fall), or if you have little ones prone to getting carsick. There are 15 ski resorts in Lake Tahoe including Heavenly (with a mountain coaster, gem mining, a gondola ride, and hiking in the summer).
13. Giddy up
Try Zephyr Cove Stables for trail rides that come with a meal! Explore the high sierra wilderness with views of Lake Tahoe from the back of a horse. Kids must be at least 7 years old to ride.
14. Lounge at the lake
El Dorado Beach and Boat Ramp is located on Highway 50 at Lakeview Avenue. Lakeview Commons at El Dorado Beach and Boat Ramp is the largest beach area in South Lake Tahoe, and it is the place to go for a picnic, to launch a boat, rent a kayak or water toy, see the lake, or simply relax. Highlights of this facility include a bike trail, restrooms, a swim area, and two parking lots.
15. Enjoy fall foliage
Don't underestimate fall in Lake Tahoe. It's not too cold yet, the tourists have gone home, and the region offers stunning views of some of the best fall foliage.
Heidi's offers everything—pancakes, omelets, coffee, eggs your way, crispy bacon, locally made sausage, home-fried potatoes, fruit waffles, stuffed crepes, skillets, burgers, salads, and sandwiches. A Tahoe fixture since 1964, the restaurant is a yellow Swiss-style chalet and a great place to start whether spending the day on the lake, exploring the mountains, or hitting the slopes.
17. Listen to music with dinner
California Burger Co. serves up burgers, sandwiches, hand-made milkshakes, 100 different whiskeys, 10 different ice-cold draft beers, and live music every single day. Or try California Burger Co.'s sister restaurant Social House Craft Sandwiches serving sandwiches made with fresh-baked bread, and unique vegetarian options. Grab a fancy slushy, too—alcoholic and non-alcoholic options are available.
18. Have a strudel
Visit Oktoberfest at Palisades Tahoe in September, where kids revel in live entertainment by Joe Smiell's 20 Piece Bavarian Band, the Almenrausch Schuhplattler Dance Troupe, the Alpentänzer Schuhplattler Dance Troupe, and the Alpentanz Kapelle Band. Chow down on brats, pretzels, cheese, and traditional European dessert/pastries (including apple strudel and nussgipfel), plus root beer floats for the kids.
Try parasailing; even kids can do it! Photo courtesy North Tahoe Watersports
19. Fly high
North Tahoe Watersports' Tahoe City Marina location offers parasailing in addition to watercraft rentals. The company has flown people aged 5 to 85. Enjoy an hour-long boat ride with 8-10 minutes of air time. It's something your little daredevil will never forget.
20. Experience Tahoe history
The Tallac Historic Site is a must-see for locals and visitors to the area. Tours are offered Thursday through Sunday during the summer month's and the public is free to wander the estates year-round.
Go carb crazy at Erick Schat's Bakery. You won't be sorry. Photo courtesy of the bakery
Things To Do with Kids on the Way from LA
From Southern California, if you take Highway 395 to Lake Tahoe (from various other freeways and highways) there are some fantastic things to see and do on your way to Tahoe—or on the way home—to make the journey as fun as the destination!
We stop at this bakery coming and going (unless we run late and it closes 5 minutes before we get there; then we cry). Load up on amazing bread, cookies, pastries, candy, gelato, and ice cream. If you're in need of real food, not just snacks and bread, grab a pre-made salad or order sandwiches from the deli.
22. Make time for Copper Top BBQ — Big Pine
This is another must-eat. (I know, more food. But it's a long drive!) I highly recommend the pulled pork (on its own or in a sandwich) and all the sides: mac 'n' cheese, green chile beans, and potato salad. Lines get long, and occasionally, late in the day, supplies run out. It's still worth it. There are combos and kids' meals, drinks, brownies, and shave ice, too. If you have a cooler, grab some vacuum-sealed meat to go.
Bodie State Historic Park is a sobering but important place to visit. Photo by the author
Bodie is a genuine California gold-mining ghost town. Visitors walk the deserted streets of a town that once had a population of nearly 10,000 people. We were there for two hours and could have spent two more. Some of the areas are OK for strollers, but not all. There are no commercial facilities at Bodie, such as food or gasoline. There is a bookstore inside the museum where you can ask about daily tours. Restrooms (flush toilets) are located at the parking lot and the picnic area. Bodie is open all year, but because of the high elevation (8375 feet), it is accessible only by skis, snowshoes, or snowmobiles during the winter months.
Manzanar is a simple, sobering site, and good for kids studying US history. (Really, it's just a great place for all Americans to visit, and be aware of this chapter of history.) In 1942, the United States government detained more than 110,000 men, women, and children in remote, military-style camps. Manzanar War Relocation Center was one of ten camps where the government incarcerated Japanese immigrants ineligible for citizenship and Japanese American citizens during World War II. We drove around, then got out and wandered around on foot–all the buildings are gone and the area is marked with signs and plaques. The visitor center offers extensive exhibits, a 22-minute park film, a bookstore, a Junior Ranger program, and an information desk.
Visit the stinky, salty Mono Lake. Photo by the author
25. Take some photos at Mono Lake —Lee Vining
On Highway 395, 13 miles east of Yosemite National Park, near the town of Lee Vining, sits Mono Lake. This lake is more than a million years old—one of the oldest lakes in North America. Salts and minerals wash into the lake from Eastern Sierra streams, and the lake has no outlet. Water evaporating from the lake each year has left the salts and minerals behind, so the lake is now about 2.5 times as salty as the ocean and very alkaline – which explains the smell! We don't stay at Mono Lake long, but it is an easy stop. Take a quick break from the car for a short walk in a beautiful setting.
Click Here to Sign Up!
i