35 Things To Do in Newport Beach and Costa Mesa with Kids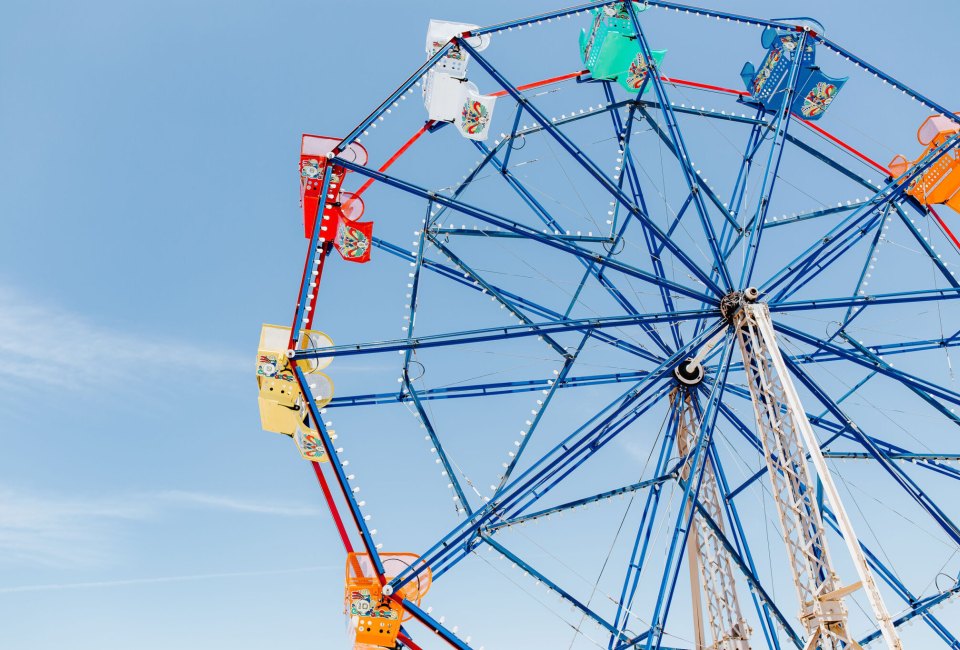 6/23/23
- By
Dana Zepeda
Newport Beach may be synonymous with surf, sun, and sand, but there's plenty more to do in this scenic community beyond lying on the (admittedly inviting) beach. From whale watching to skate parks and petting zoos, there are countless kid-friendly activities to engage a family in the heart of Newport Beach—plus a wide variety of enriching options in adjoining Costa Mesa as well.
And when SoCal's version of winter rolls around, some of the season's most memorable events take place in these two communities, including one of the oldest holiday traditions in the country.
For more amusement in Orange County, discover fun things to do in Irvine with kids, and add these things to do with Orange County kids before they grow up to your ever-growing bucket list. If you're looking for more sandy beaches along the coast, check out our Beach Guide to Los Angeles and Orange County.
Best Outdoor Activities in Newport Beach & Costa Mesa
Located on the OC Fairgrounds, this beloved farm is home to peafowl, oxen, rabbits, chickens, pigs, goats, sheep, and more.
Relax and watch the boats and yachts in the bay while your kids play on the appropriately nautical-themed structure.
A classic Newport Beach attraction, the Balboa Fun Zone is a must-visit for kids. Make sure you take the time to ride its old-fashioned Ferris wheel.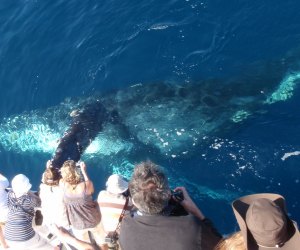 The whales travel farther than any of us to enjoy Newport Beach. Photo courtesy of Visit Newport Beach
Newport Beach is one of the best locations in Southern California to go whale watching. Newport Landing is conveniently right next to the Balboa Fun Zone.
If shopping is on your list, head to Fashion Island. Kiddos can pass the time at this semi-outdoor mall by checking out the life-size koi pond.
Feed the ducks at the expansive TeWinkle Park or enjoy the all-abilities Angels Playground at this lovely park. There's plenty of shade for parents too.
Hike to the butterfly house at the Environmental Nature Center. Just keep in mind the butterfly house is only open intermittently. Call ahead to confirm they're open on the day of your visit.
RELATED: Things To Do with Orange County Kids Before They Grow Up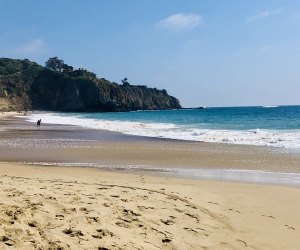 Make it a day at Moro Beach in Crystal Cove State Park. Photo courtesy of Gina Ragland
One of the most scenic beaches in Southern California is Moro Beach at Crystal Cove State Park. Rent a fire pit at The Beachcomber, roast s'mores, and if your kids are up for hiking, consider hitting the trails just east of the beach for spectacular ocean views.
9. The Wedge — Newport Beach
Post up at the jetty to watch local surfers tackle "the wedge", and soak in the sunset.
Grab a bite to eat, shop, and enjoy some live music on Thursdays, Saturdays, and Sundays from 12pm to 3pm on the deck.
If your kids love to fish, there are few experiences like taking a deep-sea fishing expedition. Choose from half-day, full-day, and even overnight expeditions.
RELATED: Best Beaches for Kids and Families in Los Angeles & Orange County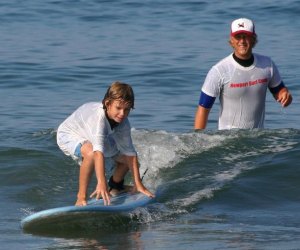 Newport Beach kids practically surf before they walk. Photo courtesy of Newport Surf Camp
Orange County is synonymous with surfing. Learn to ride the waves at Newport Surf Camp.
Maybe you or your kids aren't skate pros, but you can still get a taste of the sport at Volcom Skatepark.
With Southern California's near-perfect year-round weather, tide pooling can be done any time of the year. Little Corona Del Mar Beach is a popular spot for tide pools.
If your kids are train fans, this is a must-visit. Public train rides are free with the Orange County Model Engineer at Fairview Park.
Explore the harbor all on your own on an electric Duffy Boat. Find te boat rentals just off the PCH on Newport Harbor.
RELATED: Best Outdoor Water Parks in Los Angeles for Family Fun

Add this inflatable water park to your summer bucket list. Photo courtesy of Newport Dunes Beach Resort
This is one of the coolest summer spots in Southern California. A literal inflatable water park in a cove that's tucked away deep in the bay.
Stroll the splendid botanical gardens, step into the library, and enjoy the weekly Little Seedlings storytime every Friday.
Taking the historic Balboa Island ferry by foot, or driving your car onto the small vessel, is an experience in itself.
There aren't too many places in Southern California that allow you to have bonfires on the beach, but Newport Beach is an exception. Find First-come, first-serve fire rings scattered throughout Newport Beach near the Balboa Pier and Corona del Mar State Beach.
Grab your hiking boots or bring your mountain bikes, and take to the trails in this 135-acre park.
Top Indoor Activities in Newport Beach & Costa Mesa
22. My Gym — Newport Beach
Babies, tots, and kids through ten years old will love this indoor gym where they can participate in fitness and gymnastics classes.
Just a short drive from Newport Bay, the Segerstrom Center for the Arts has operas for children, classical music, and more.
This free educational museum celebrates veterans right next to Centennial Farm. Make it a whole day of activities at the OC Fairgrounds.
RELATED: Best Children's Museums in Los Angeles and Orange County

Admire art and architecture. Photo courtesy of Orange County Museum of Art
Inspire budding artists by taking them to this always-free art museum in the heart of Orange County. The museum offers ongoing family fun programs.
Sometimes you might need a break from the heat, and bowling in air conditioning is the perfect way to hide from the sun for a bit.
The interpretive center, which is open Tuesdays through Sundays, and includes interactive exhibits to learn all about Newport Bay.
While you're on Balboa Island, pay a visit to this unique store and book a makeover with a "real" mermaid. Once Upon An Island is an under-the-sea-themed salon and indoor playground. It's also a great place to host a party.
Kids can enjoy family-friendly performances or be in the thick of the action with youth acting classes for grades 3-12.
While the collective offers private art classes and camps, there are also drop-in classes that kids can try.
Kid-Friendly Restaurants in Newport Beach & Costa Mesa
Who doesn't love a milkshake? Indulge in an Oreo cookie fantasy milkshake at this location of Ruby's, located at the end of the Balboa Pier. Or if you're further south, head to the Crystal Cove Shake Shack.
If you ferry to Balboa Island, you can't miss out on "the original" frozen banana.
This family-favorite Costa Mesa staple has an expansive kids' menu and an enormous outdoor seating area.
Can't-Miss Events in Newport Beach & Costa Mesa
RELATED: Best Holiday Lights Drive-Thrus, Walk-Thrus, and Christmas Light Shows in Los Angeles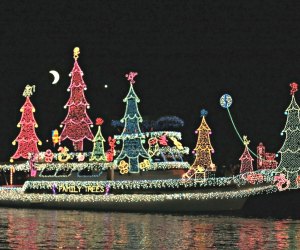 This is the community that invented boat parades. Photo by fortherock/CC BY 2.0
The Newport Beach Boat Parade is an iconic holiday event in Newport Bay. Ooh and aah over the floating holiday lights at the nation's oldest boat parade.
During the winter, have fun in the snow, visit Santa, or go ice skating at Winter Fest OC.
Originally published in 2017. Additional reporting by Matt Matasci.
Sign up for the Mommy Poppins Newsletter today!
i