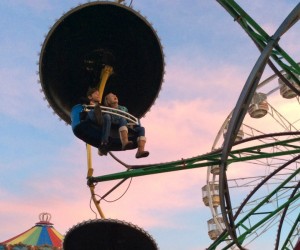 Winter Fest: Orange County Carnival with a Candy Cane Twist
This season, Orange is the new white, it seems, as Costa Mesa gets its own new winter tradition at the OC Fairgrounds. Winter Fest is a hometown carnival with a touch of frostbite—in the form of ice tubing and ice skating. There is even a daily flurry of faux snow at dusk for a seasonal photo op, and a few other wintery surprises. If the folks of Costa Mesa were tired of having to drive for holiday entertainment, Santa has answered their wish early.
The central attraction of Winter Fest is the Candy Cane Carnival, which is a classic traveling carnival set-up that targets the younger set quite well. Rides include squeal-inducing things that spin and go up and down, as well as classics like a carousel and a mirror maze. Teens should be warned that there are no roller coasters or thrill rides, but the selection is ideal for the 3-12 set. One carnival ride is included with each admission ticket; unlimited ride wristbands are available for an add-on of $20.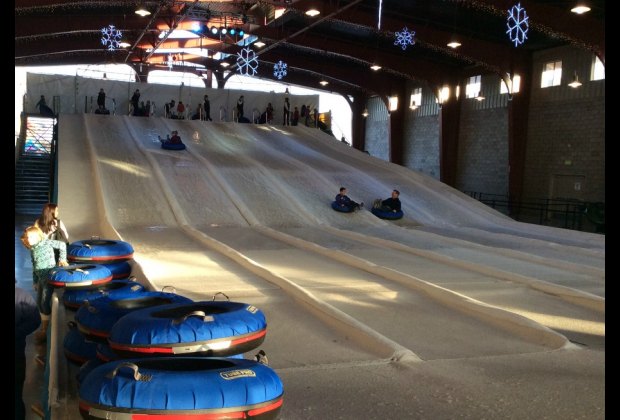 Ice tubing without getting cold!
The wintery part of Winter Fest comes in the form of ice tubing and ice skating. Unlimited tubing is included with admission, and kids of any age are likely to enjoy being pushed down the icy incline on a rubber ring. The tubing hill is inside a hangar, which is handy with the rainy holiday week we seem to have coming. A front-of-line pass is available for an extra $10, but the weekend we went the short wait really didn't merit it. The height is a good starter hill and not tiring to climb back up, allowing for many repeat trips.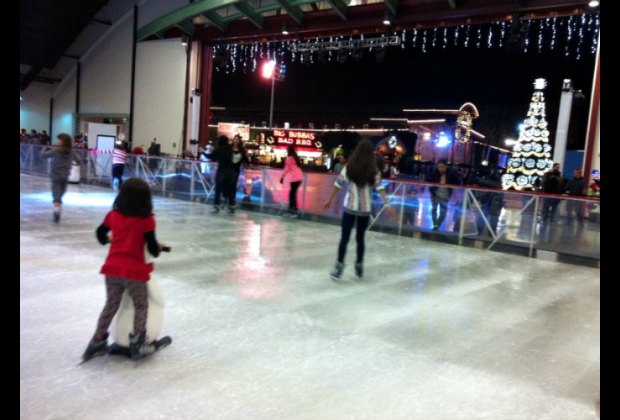 OC kids finding their skating legs
Ice skating is also indoors, in another hangar, with Christmas movies playing silently on a wall above. Skating requires a $5 add-on ticket, available at a window adjacent to the rink. The target age here is young, too: little penguins with handles are available for beginners to lean upon, and no one is moving very fast. One advantage of the attraction being new is that the skates are all brand new this season. Skating is offered in one-hour sessions, so it's a good idea to check session times and then work around when you want to skate.
The giant Christmas tree, which lights up each evening with a visit from the Claus family, is directly in front of the ice rink. Other entertainment includes a stage featuring a magician and musicians throughout the day and a small train ride that does a loop around the event area. Two reindeer graze in a small enclosure near the rink, with opportunities every three or four hours to feed them a graham cracker for a photo op. Although there is no extra charge for the reindeer encounter, the line gets long and moves slowly; if feeding the reindeer is important to your little one, I'd recommend arriving early for the posted feeding time; even better if one parent can do line duty until the crackers come out.
As is the case with many outdoor festivals, food options are not cheap, so your family may want to keep costs down by planning a visit between mealtimes. The grounds are very pretty in the evening, so an ideal visit might be after an early dinner, to enjoy the lights and some evening jollies before filling little heads with visions of sugarplums and tucking them in, happy and tired from tubing and ready for a long winter's nap.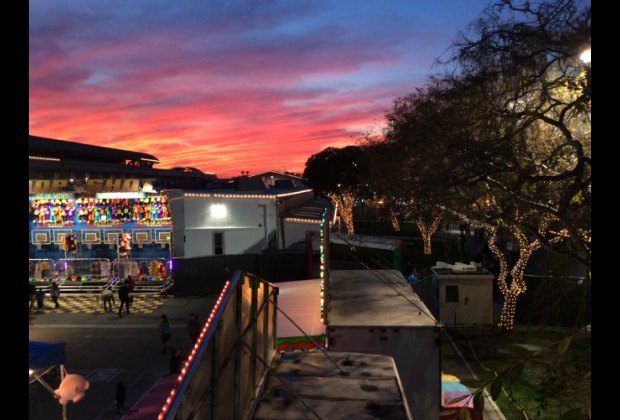 Winter Fest is open daily, including holidays, December 21, 2017 - through January 7, 2018.