Best Pictures with Santa in Los Angeles: 27 Only-In-LA Santa Photo Ops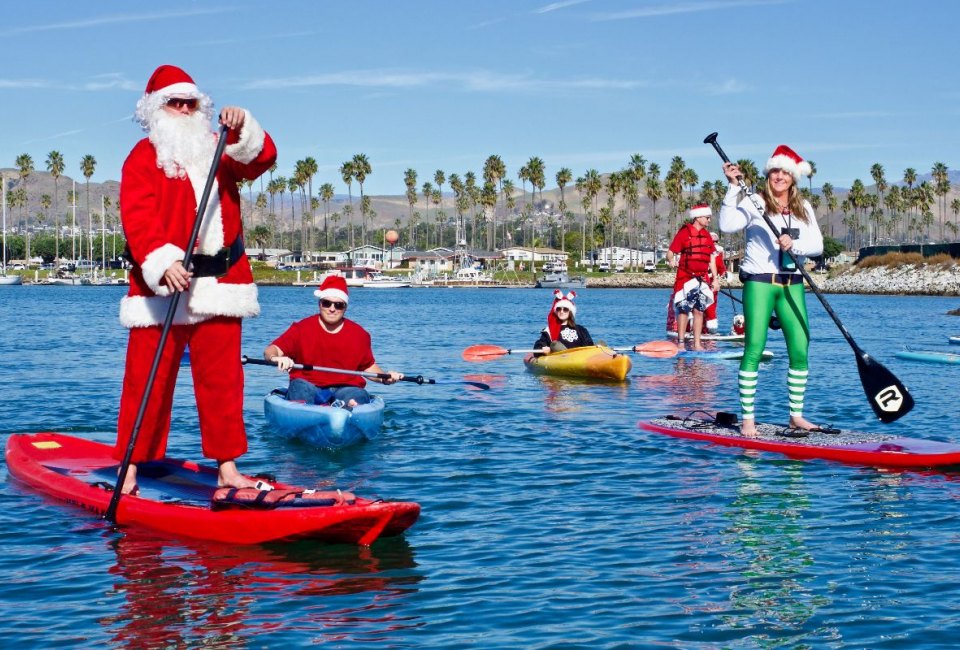 11/25/22
- By
Roberta B
Pictures with Santa in Los Angeles aren't your standard snaps: here we have Paddling Santas, photos with Diving Santa, Singing Santa, and so much more.
We're raising SoCal kids here, and that calls for an outside-the-box place to take pictures with Santa from Long Beach to Pasadena and all points in between. For a real Angeleno Christmas photo, get out those selfie sticks and snap a few pictures with Santa at one of these fun, funky, and totally LA Santa photo opportunities, from skiing Santas to diving Santas to the Santa at Disneyland.
Get our picks for the best holiday activities and Christmas events in Los Angeles, festive Polar Express train rides, every holiday lighting celebration in LA, and more, check out our Guide to Holiday and Christmas Activities in Los Angeles.
Some of these unique Santa events are time sensitive and crowded, so if you find yourself in need of a more typical Santa picture opportunity, we've also included the cream of the mall crop, at the bottom of our list!
Unique Pictures with Santa in Los Angeles
December 10, 2022
Stand enough Santas up on paddle boards, and you could call it a school of Santas—or maybe a pod? Whatever you call it, the competition for most SoCal Santa gets pretty stiff in Ventura Harbor during the annual Santa Paddle. Paddle up alongside a Santa or two to snap your picture. FREE
December 3 & 4, 2022
An afternoon boat ride aboard the Dana Pride is a fine chance to get the full attention of the man in red. You might even get to see some dolphins along the way; what could be more SoCal?
December 11, 2022
Santa will be visiting Minibop Music, and a professional photographer will be on hand to capture family photos, as the awesome teachers put on a special holiday-themed musical performance.
December 23, 2022
Kids can meet jolly ol' Saint Nick, tell him their holiday wishes, and pose for a photo. Be sure to bring a camera and plenty of energy to enjoy one of our favorite indoor play spaces.
RELATED: Where to Have Breakfast with Santa in Los Angeles

Visit Santa and baby goats at Underwood Family Farms in Moorpark. Photo courtesy of the farm
Weekends from November 25 - December 24, 2022
Who loves Santa? Who loves baby goats? Is there anything more lovable than putting the two together? Underwood Farms hosts the man of the hour every weekend at its annual Christmas Tree lot. You may even have the chance to see some reindeer on select weekends in December.
December 9, 10, 16, and 17, 2022
Take in a classic holiday celebration with live music, crafts, and of course, "the man with the bag" himself at the Stagecoach Inn Museum.
RELATED: Best Holiday Activities and Christmas Events in Los Angeles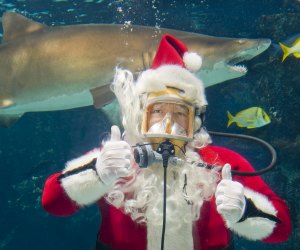 Look out behind you, Santa! Photo credit prweb
December 3 & 4, 2022
Santa dives in among the underwater critters at the Aquarium of the Pacific to bring them some Christmas treats, and guests can pose for photos from the dry side of the glass.
December 10, 2022
At Hermosa Beach Pier's Great Santa Stroll, everyone can be Santa, and part of a worldwide competition for the most Santas gathered in one location. The admission price includes a five-piece Santa suit, and you can take pictures with a variety of Santas (including yourself!).
December 18, 2022
Get your exercise in while meeting the jolly old man from the North Pole at this free hike hosted by HiKing-with-Friends at Ascot Hills Park. Make sure to register in advance. FREE
RELATED: Best Polar Express Train Rides & Christmas Trains in Los Angeles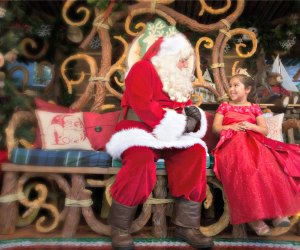 St. Nick is at Disney's California Adventure for Santa's Holiday Visit. Photo by Scott Brinegar/Disneyland Resort
November 11 - December 24, 2022
This is a pretty traditional Santa Claus, and the visit is not remotely free, but what could be more SoCal than hanging with the happiest dude on earth at the happiest place on earth? The King of Christmas can be found at the Redwood Creek Challenge Trail in California Adventure, where his elves have some outdoor games set up and he takes photos with fans, through Christmas Eve. According to my kids, "the Disneyland Santa is the real(est) Santa."
December 10, 2022
Head to Topanga's Theatricum Botanicum for a unique, only-in-LA Christmas celebration with food and drink, caroling, and even an aerialist. Santa and Mrs. Claus will be there for family photo ops!
December 10, 2022
The Santa Monica Miracle on Main Street is back with carolers, tree lighting, and of course, Santa! FREE
RELATED: Best Christmas Light Displays and Christmas Lights on Houses in Los Angeles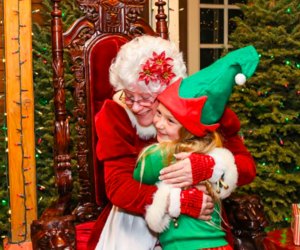 Mrs. Claus gives the best hugs. Or high fives, if you prefer! Photo courtesy of the Irvine Park Railroad
November 25 - December 23, 2022
Irvine Park Railroad is one of our favorite holiday trains, and it's a great place to get your Santa photo. The ride travels through Irvine Park before arriving at the North Pole, where kids can show Santa their wishlist and take pictures.
November 25 - December 30, 2022
Hikari - A Festival of Lights is hosted by Tanaka Farms in Irvine and includes much more than photos with Santa. At the event, you'll also be able to ride a holiday wagon ride, walk through the Gingerbread Forest of lights, and much more.
RELATED: Best Holiday Lights Drive-Thrus and Christmas Light Shows in LA

Take tea with Mrs. Claus, and have breakfast with Santa. Photo courtesy of Skypark at Santa's Village
November 17, 2022 - January 8, 2023
Check the website for times Santa and Mrs. Claus are in residence.
One of the quintessential Southern California photo ops with Santa, Skypark at Santa's Village has a few experiences available where you can snap a picture with the big guy in red. From Breakfast with Santa to Tea with Mrs. Claus, you'll be able to get a one-of-a-kind photo.
December 18, 2022
Mountain High's annual Santa Sunday offers two equally great options: come to the resort dressed as Santa Claus and get a free lift ticket (with a $20 donation to charity) or just come to the resort to ski with 100 or so Santas all day. Either way, it's a great photo op, with the bonus of a great day on the slopes.
December 9 - 11, 2022
Receive a free digital file of your photos when you visit Santa at the South Coast Botanic Garden. After you take your picture, search for Poppy the Elf and enjoy holiday LEGO sculptures.
RELATED: Best Outdoor Ice Skating Rinks in Los Angeles for Kids and Families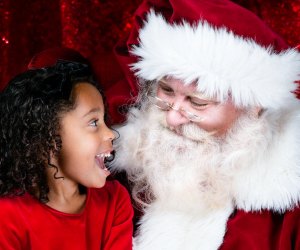 Convenience, plus a pretty great Santa means a mall might be the answer. Photo courtesy of Glendale Galleria
Best Pictures with Santa at the Mall
Sometimes you just want that amazing picture to send to grandparents and need to do it fast and easy. That might mean you just want to head to your local mall. These mall Santas are the cream of the crop and we truly recommend them all.
November 18 - December 24, 2022
Santa's Back at the Manhattan Village Mall, where everyone can reserve a time to take photos with the jolly fellow!
November 25 & 26 (holiday PJs), December 2 & 3 (Santa Paws), 9 & 10 (ugly sweaters), 16 & 17 (Santa paws) 2022
Santa photos are FREE here! Now that's a Christmas miracle.
November 18 - December 24, 2022 (except November 24)
If you're in the South Bay, make an appointment at the Lakewood Center for your Santa pictures. He'll be set up at the Center Court near Macy's. Photo packages are available for purchase.
November 19 - December 24, 2022 (except November 24)
Santa Monica Place brings back this fantastic Santa experience at the Center Plaza. Photo packages are available for purchase.
Fridays through Sundays, November 25, 2022 - December 24, 2022 (and Monday - Saturday starting December 19)
When you take a photo with Santa at the Westfield Century City, it's more than a simple "say cheese" moment. The journey starts with a visit to Santa's backyard, where kids can help map out his Christmas Eve travels. Next, kids can check out Santa's magical carriage, and learn all about how he hits so many houses in one night. Mrs. Claus is in her bakery, and is happy to pose for selfies as she whips up some Christmas cookies (visitors will get to take one home after their photo with Santa). Last, visit Santa's bungalow for a quick chat and a private photo opportunity. All visitors receive a postcard to send to the North Pole and a sweet treat.
November 11 - December 24, 2022 (except November 24)
Santa will be in the Valley in November and December for free pictures as the Westfield Topanga! Every Tuesday is PJ party day, and every Thursday is ugly sweater day.
November 18 - December 24, 2022 (except November 24)
The Glendale Galleria has photos with Santa from November 18 until Christmas Eve. With the reservation system here, you don't have to spend an hour in line to get a photo, and special photo days, like pet nights and Santa Cares (a sensory-friendly visit and photos with Santa) are available on select dates.

The Grove has one of the most classic Santas in town, and you can see the giant tree! Photo courtesy of The Grove LA
November 21 - December 24, 2022 (except November 24)
The Grove is a magical place at Christmastime, and Santa must agree, because he's available for pictures throughout the holiday season. Walk-ins are welcome, but wait times may vary. You can also reserve a spot online.
November 19 - December 24, 2022 (except November 24)
Pre-book your visit with Santa online and check out his house at the Winter Wonderland on the Green at the Americana.
November 17 - December 24, 2022
Del Amo has a classic Santa photo experience this November and December until Christmas Eve.
And finally, if you're game for an only-in-SoCal holiday photo op without Santa, don't miss Hermosa Beach's annual Sand Snowman Contest!)
Originally published November 28, 2013