AutoCamp Joshua Tree: Hip Glamping in the Desert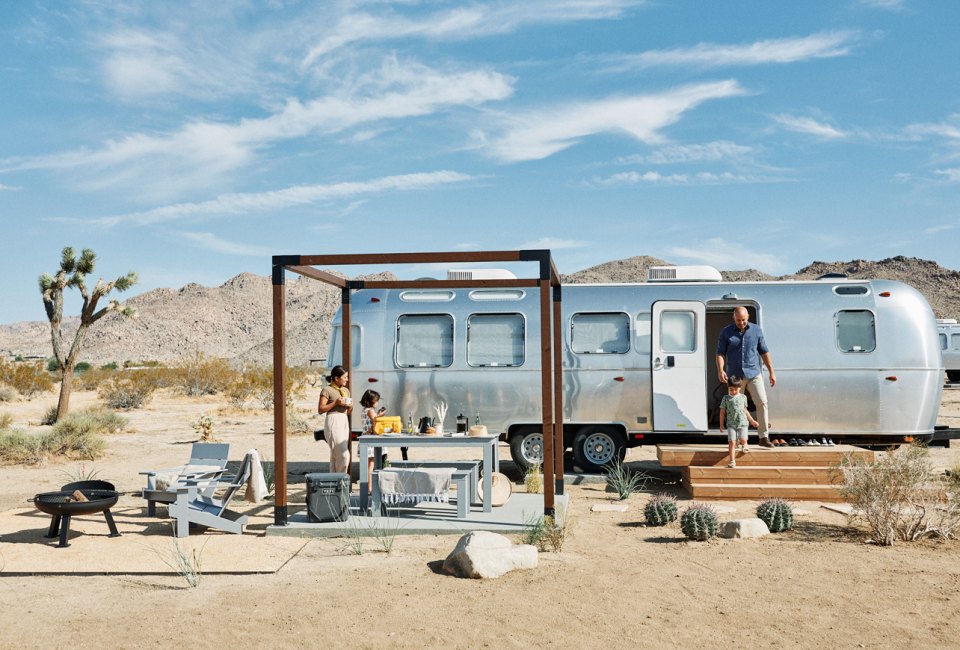 3/7/22
- By
Jean Kuo Lee
Joshua Tree National Park's annual visitor count has grown by a million in the last decade. It's no wonder: the place has a very special charm, attracting globetrotters and locals alike who come to stargaze and spend time in the wilderness. Exploring huge rock formations in a Dr. Seuss-kind of landscape has never been more fun for city kids itching for time outdoors. After a few trips to Joshua Tree National Park with my family, I've come to love not only the desert, but the quirky towns that surround the park and the Old West history now being reinvented by the hipster culture.
In the past, we've camped or stayed at fun hotels for families in and around Joshua Tree. Recently, though, we opted to try the new place in town: AutoCamp Joshua Tree. Read on for the scoop on this new Airstream glamping experience.
Looking for more ideas for Joshua Tree camping, glamping, and even hotels? Check out our Hiking and Camping Guide for Los Angeles Families. We've got loads of suggestions for family camping trips and other Weekend Getaways and Day Trips from Los Angeles.

Modern, stylish, and no need to pack up the whole car—just come as you are and experience the desert.
Glamping is the Answer
While I love camping, it can definitely be rough with kids. The adults have to pitch the tent, build the fire for cooking and keeping warm, prep the food, then clean it all up. Then there's the cold nights, the pit toilets, and the lack of showers or even running water. In Joshua Tree, the temperatures can drop very low in the winter, which is the peak season to visit. There's no electricity, no Wi-Fi, and none of the usual entertainment.
But there are the stars and the campfire memories. There is the experience of unplugging, slowing down, and enjoying each other's company. Plus, sleeping in the great outdoors! The moment you check into a hotel, you lose the adventure and the fun of roughing it. What's a parent to do?
Go glamping, where you can have your cake and eat it, too. Experienced the rugged desert without sacrificing all the comfort, style, and tech of city life.
RELATED: Best Glamping Near Los Angeles for Family Fun
Beautiful, strange, glorious Joshua Tree.
AutoCamp: Glamping in Joshua Tree
AutoCamp is glamorous camping inside a deluxe Airstream, which is a fancy RV. What it does really well is provide all the conveniences for an effortless stay in the wilderness. Go ahead, see all your attractions, which, by the way, is not a piece of cake. At Joshua Tree, you're hiking dusty trails, climbing and scrambling up rocks, perhaps even bouldering or rock climbing. After a big, active day, most of us are spent by dusk … and you haven't even set up camp yet! It can make for a pretty stressful experience.
RELATED: Free Entrance Days at Our National Parks
AutoCamp puts the glam in camping.
What AutoCamp Gets Right: The Glam in Glamping
AutoCamp reveals itself as a stylish, upscale place from the minute you arrive. Guest campers check-in at the clubhouse, AutoCamp's equivalent of a hotel lobby—but infinitely more hip. The clubhouse has several cozy lounge spaces with board games, roaring fires, and light food options. We took some time to relax on the communal outdoor patio. On weekends, AutoCamp hosts artists for campfire talks, a great way to enjoy the local art scene and to hang out by the fire. In another month, AutoCamp plans to finish construction on the pool, which is a major bonus if you're visiting during the warmer months.
RELATED: Top Things To Do in Joshua Tree with Kids
Backyard fire pits allow families to campfire cook if they so desire. Photo by Jean Kuo Lee
As we wheeled our luggage to our Vista Airstream, I quickly appreciated having our own private covered patio with picnic benches and a fire pit. Though the Airstream suites are placed relatively close together, each suite has just enough outdoor space to enjoy a meal out under the stars with family.
RELATED: Zion National Park, A Guide for Families
.
Always the perfect temperature, no bugs, and no sand in your living quarters!
Airstreams Provide Upscale Comfort in a Cozy Space
Our luxury trailer was divided into three parts: the bedroom; the lounge area with futon and kitchenette; and the luxurious bathroom.
What I loved about the bedroom was the ability to close the door while the kids slept on the futon in the lounge area. The queen beds all have a memory foam mattress, providing the plushest bed you'll ever experience in the wilderness. We also had a flat-screen TV with built-in sound all to ourselves. We made sure to draw all the blackout blinds, which was nice because the sun always wakes me up when we're camping!
The lounge area was spacious enough for us to pull out the futon for two kids to sleep on. It's a cozy space but also smartly designed with storage in the kitchenette for dishware, cleaning supplies, and appliances.
The bathroom, however, wins the trophy for "best glamping idea." In short, the bathroom is a spa-like haven for tired travelers. The walk-in rain shower with the upscale bath products melts away sore muscles and soothes even the most thinly stretched tempers after a full day of hiking with family. In a gorgeously designed setting—marble tiles, vintage bronze fixtures, Edison-style bulbs—how can you feel anything but pampered? Just when you thought you were ready to throw in the towel when it comes to camping, here's a luxury bathroom with a full-length mirror, blow-dryer, and skylight to boot.
Tech for the Modern Family
Yes, there is a lot to be said about taking a break from our tech-saturated lives when camping. But for modern nomads and remote workers (and schoolers), sometimes you need the Wi-Fi to keep up with the flexibility that modern families rely on. I love that there is Wi-Fi available in the Airstream and in the clubhouse. It let my kids turn in their school work on Monday morning on the day of our check-out.
On top of Wi-Fi, the Airstream comes equipped with other conveniences, like a microwave and mini fridge. The heater was also essential for keeping warm as the temperatures dropped to 30 degrees Fahrenheit outside. Our 31-foot Airstream was lit up with over a dozen lights and also provided multiple electrical outlets and charging stations.
RELATED: Huttopia Paradise Springs Has Great Glamping Near Los Angeles
Relax and enjoy the scenery; heaters will keep you warm when the chilly desert night falls. Photo by Jean Kuo Lee
Trade-offs of Glamping
For all of the perks of glamping at AutoCamp Joshua Tree, you do end up losing a bit of the adventure that comes from rugged camping. For the convenience of being just minutes from the Joshua Tree National Park entrance, you trade the fun of being in a remote location, since AutoCamp is centrally located in town.
However, it's your choice for how much you want to rough it. By all means, bring your own ice chest and food. Cook some meals over the fire and leave the microwave untouched. Turn off your devices and unplug. But know that you have a warm bed and a hot shower at the end of the night, and none of the stress that often comes with camping.
RELATED: Family Travel Bucket List: Visiting California's Channel Islands
Common spaces provide more space to lounge and play.
Good To Know Before You Go​
AutoCamp Joshua Tree is family-friendly for its enclosed campgrounds, pool, and clubhouse. The Airstreams and other suites are best for two adults and two small kids, however. If you have a larger family or older kids, it'll be a tight squeeze.
Check out the complimentary bikes! The property is enclosed and safe and there's nothing better than letting the kids ride around on the paths while you enjoy a drink in the lounge.
Bring bathing suits in the summer for swimming and poolside lounging.
Play a game of Scrabble or chess as you sit by the fire and relax over some snacks in the lounge where it's toasty in the wintertime and air-conditioned in the summer.
Pick up locally sourced foods available in the clubhouse for breakfast, lunch, or dinner.
Leave your firewood at home. AutoCamp only allows compressed, smoke-free logs for burning. Bring your own or buy them at the clubhouse.
Learn how to use the heater in the Airstream. Choose "gas mode" instead of "electric mode" if you want to eliminate the loud overhead fan that other customers complain about.
Lastly, pack light: you won't need that much at AutoCamp because they've thought of just about everything!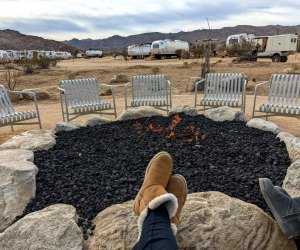 Put your feet up—glamping is all the fun and beauty of camping with none of the toils. Photo by Jean Kuo Lee
AutoCamp Joshua Tree is a 3-hour drive from Los Angeles, or about an hour north of Palm Springs. Looking for more SoCal weekend getaway ideas? We've got 'em!
AutoCamp photographs by Matt Kisiday and Josh Franer, unless otherwise noted
Places featured in this article:
Sign up for the Mommy Poppins Newsletter today!