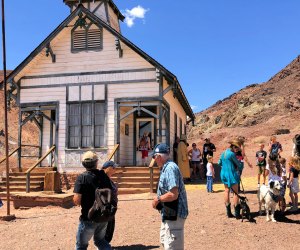 Is Your Family Ready for a Ghost Town Vacation at this Popular SoCal Tourist Spot?
If you thought vacations in ghost towns were only for sitcom families, think again! Just a short drive from LA is the Calico Ghost Town, an old mining town that boomed in the 1880s but was abandoned not long after. Walter Knott, of Knott's Berry Farm fame, restored the town in the 1950s into a Wild West locale perfect for a family vacation. And while Calico may or may not have actual haunted houses, it can be a wonderful Halloween month outing all the same.
Part haunted old mining town, part Westward Expansion history, part good-ole touristy excitement, Calico has something for everyone in the family. The main Calico entrance evokes the charming main drag of an Old West town. Visitors can find some kitschy shops here (geodes and penny candy anyone?), restaurants, and attractions set to the rustic theme. On our visit, the streets were lined with several excellent bluegrass bands dressed in old-timey garb. The town even had seating areas set up so visitors could sit back and relax for a bit. We placed free "bets" on pig races and even watched a staged Western gunfight. Cover those ears!
Is it really a ghost town? Overall, Calico feels more spooky than scary. The five original buildings from the 1880s plus the refurbished schoolhouse all have a decidedly eerie feel about them, but nothing to make you jump out of your pants. If you're looking for more "ghost" in your Ghost Town, the year-round Saturday night Ghost Tours could be a haunting hit. Calico Ghost Haunt festival also happens during the last two weekends in October, featuring costume contests, carnival booths, wildlife animal shows, pumpkin carving, trick-or-treating, and special haunted attractions.
Photo by InSapphoWeTrust/CC BY 2.0
We particularly loved the Lucy Lane Museum, which gives historical context and has some haunting photos of former inhabitants. The Mystery Shack Tour is a wonky-floored carnival attraction that school aged kids are likely to love. The Calico Odessa Railroad is another highlight that was a big hit with my family. Riding the train lets visitors tour the mountains, learn about the old mines, and cool off from the hot desert sun. We didn't get the chance to tour the Maggie Mine, as our young toddler was wary of the dark tunnel, but I wish we had. It's full of mining artifacts, and you get to wear a cool hard hat with a headlamp.
There are a couple other attractions to check out, including an area where kids can pan for gold. Watch out for the fees to participate in the extra attractions, though; each activity costs a few dollars extra per person and can add up with the admission, food, and all those geodes you'll be taking home.
Great food options can be found at The Calico House restaurant and a few other theme park style snack stands, but we suggest The Old Miner's Cafe at the very top of town. The mountain views from the outdoor deck simply can't be beat.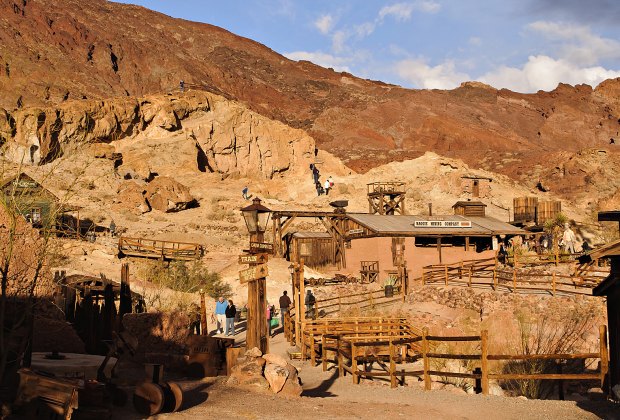 Photo by InSapphoWeTrust/CC BY 2.0
Calico Ghost Town is more of its own destination than Pioneertown, the other Old West town in the desert we've covered. It's located about 2.5 hours outside LA in the mountains of the Mojave Desert. Parking is in a lot below the town, and a shuttle is available to transport guests to the entrance. We did our visit as a day trip, but there are some rustic cabins and a nearby campground that families use to make this a full-fledged weekend getaway. The campground is full service with bathrooms and water/power hook-ups, but the sites offer little to no shade. In fact, be certain to bring a hat, glasses, and plenty of sunscreen to Calico, as most of the shady spots are indoors. Fees for camping run $30 to $40/ a night and cover admission to Calico; cabin rentals range from $65 to $160 a night—or more for special event weekends.
Other activities that you can book in advance include more in-depth mining tours, an off-road wagon trail adventure, or mountain biking and OHV trips along trails in the adjacent Mule and Odessa Canyons.
Calico Ghost Town makes for an entertaining outing, especially for kids between the ages of 3 and 13. Younger toddlers might have trouble navigating the hilly terrain and will likely be too young to participate in many of the activities (as was our 18-month-old), and teens might not find enough to do to spend a whole weekend. However, if you visit during one of the festivals, such as the Bluegrass or Halloween Festivals, there is bound to be plenty for kids of all ages.
Calico Ghost Town is right about the halfway point between Las Vegas and LA, making it an excellent pit stop on a Sin City trip. And of course if you're looking for a super cool getaway to impress the kiddos, the nighttime ghost tour plus some outdoor camping make for a spooktastic family outing around Halloween.
Calico Ghost Town
Admission: Adults $8; Children (4-11) $5, (3 & under) free
Dogs are welcome for a $1 fee and must remain leashed.
Certain attractions and festivals have additional fees. Check the schedule for more information.