The Huntington Botanical Gardens: One of LA's Best Gardens for Kids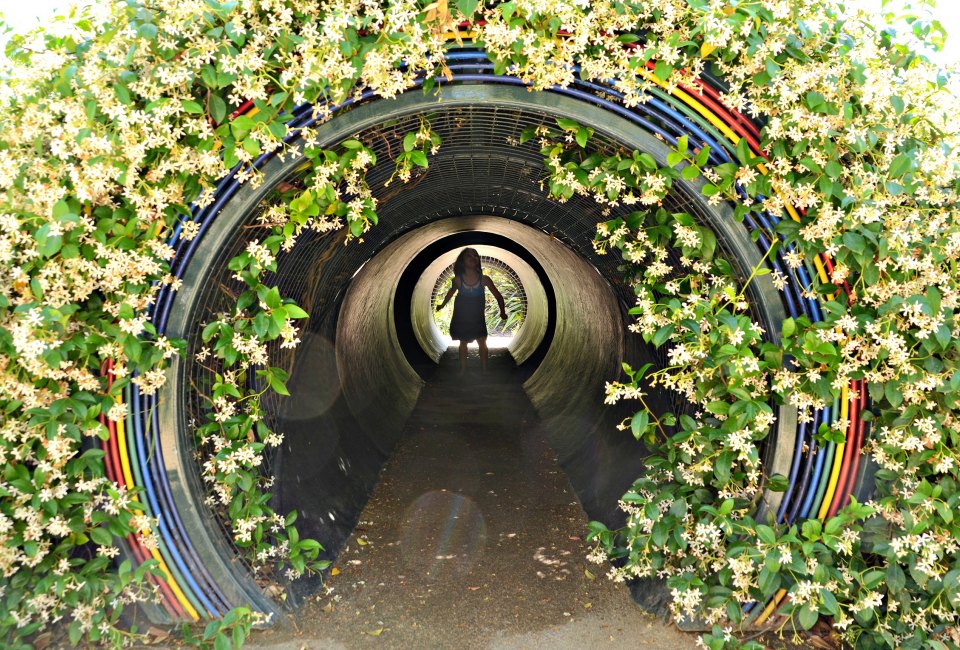 10/1/13
- By
Toby B
Back in my carefree, pre-child days The Huntington was a favorite weekend destination. I would tour the galleries and stroll the grounds, admiring sculptures and snapping artistic pics; I usually planned my trip around a posh-feeling high tea.
When it came time to share the Gardens with my daughter, I wasn't sure how well she would fit into this bastion of gentility. Turns out The Huntington is a child's paradise. The Huntington Botanical Garden is particularly kid friendly. Read on for the top spots when visiting The Huntington with kids and when you can go for free.
The Huntington Gardens (full name: The Huntington Library, Art Collections and Botanical Gardens) is situated on 207 acres in San Marino -near Pasadena, a short hop from CalTech. Of those, 120 acres are the public botanical gardens. Consider bringing a stroller or baby-carrier for younger kids; new walkers might have a hard time covering that much ground.
The Desert Garden, established in 1907, is one of the largest and oldest assemblages of cacti and other succulents in the world.
The sheer range of plant life and architecture alone is enough to engage just about any kid. The Desert Garden is devoted to cacti, bad boys of the plant world. Kids seem to revel in the peril and menace these succulents suggest. The Conservatory is a greenhouse offering interactive exhibits, including a steamy Rain Forest, and a winding ramp that entices kids to run up and down (but which you must caution your child not to run up and down, because it's slippery when wet). Wildlife we've encountered on our visits includes koi fish, free roaming geese, squirrels, and the occasional super-cool insect.
Two of my favorite destinations are the Chinese and Japanese Gardens. As much about the architecture as the plants, these two pavilions transport you to another world, with period buildings complimenting the botanical aspects. Both heavily feature water elements.
Photo by Winston Suk/CC BY 2.0
However, all of the above are just the prelude on a child's visit to the Huntington; the main attraction is the Children's Garden. As much a playground as a garden, this space gives kids the chance to discover the elements: light ("fire"), water, wind, and earth. No need to give kids direction; just set them loose and watch as they experiment and play. Young visitors can sculpt with magnetic sand (which feels like a powder but forms shapes when poured on a magnetic bar); run through tunnels, fountains, a fog grotto, and a misting "rainbow room;" go hands-on with assorted fountains and pools, and experiment with sound at the pebble chimes. Inspired by different structures, kids set up impromptu tea parties and create games to chase after each other. You'll want to allot a minimum of an hour for your child to explore; my daughter often cannot be pulled away for any other reason than "the Huntington is closing and we're going to be locked in."
We haven't yet tried any of the "Library & Art Collections" with my daughter (we've had limited success with traditional museum visits). For those interested, however, the Huntington more than holds its own among world-class museums. Among the Library's highlights are a Gutenberg Bible, early editions of Shakespeare's works, and the Ellesmere manuscript of Chaucer's Canterbury Tales; on view in the Art Galleries are The Blue Boy by Thomas Gainsborough, as well as works by Mary Cassatt, Edward Hopper, and Andy Warhol.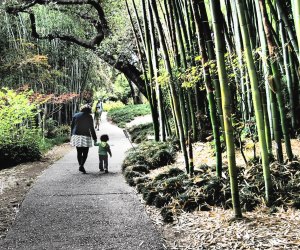 Photo by Ian D. Keating/CC BY 2.0
We often try to get tickets for the "Free Day," held on the first Thursday of the month. Tickets are distributed at 9am on the first of the previous month, (for example, November 7 tickets become available on October 1). Each person can reserve a maximum of 5 tickets for either morning (10am) or afternoon (1pm) entry. Tickets go fast; by 9:15am they're usually gone. Everyone needs a ticket for the Free Day, even infants.
The Huntington Library, Art Collections and Botanical Gardens
1151 Oxford Road
San Marino, CA 91108
626.405.2100
Places featured in this article:
---
The Huntington Library, Art Collections and Botanical Gardens
Sign up for the Mommy Poppins Newsletter today!