Easy Pumpkin Carving Ideas and Pumpkin Carving Stencils for Halloween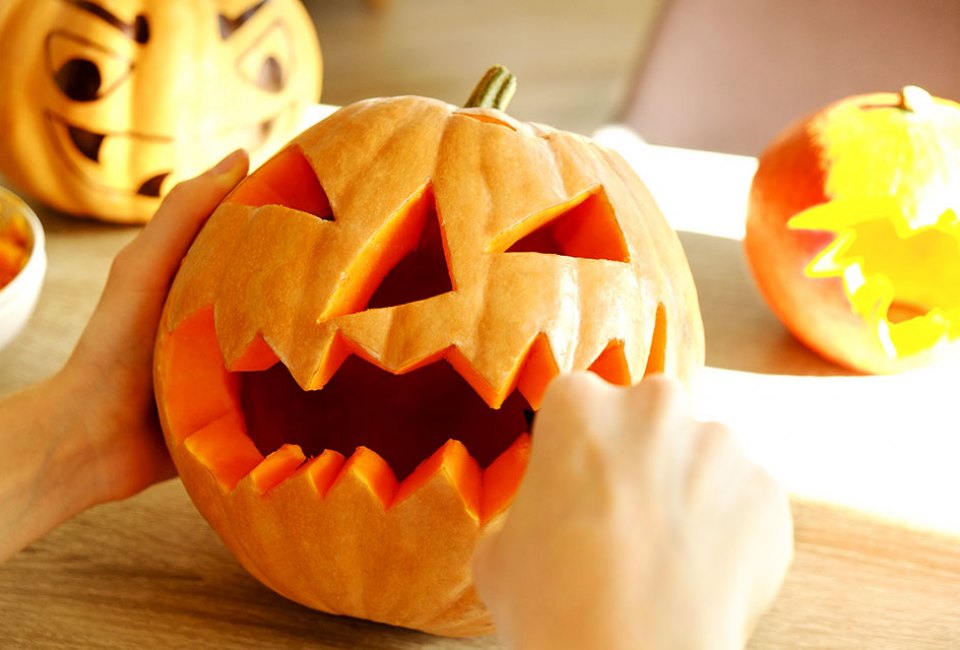 9/22/22
- By
Sally Chaffin Brooks
Halloween kicks off with your best pumpkin carving idea... The cornerstone of any great Halloween display—the jack-o'-lantern—is always one of our favorite things to do with kids in the fall, right after the apple picking and a pumpkin patch outing. Pumpkin carving is one of those rare activities that every member of the family can enjoy: little kids love the mess, big kids love the chance to wield a knife, and parents love to show off latent creative skills. From easy to timely to spooky pumpkin carving ideas, we've rounded up 20 of our favorite pumpkin carving stencils, all of which include a link to the FREE pumpkin carving stencil design.
Be sure to check out our Halloween Guide for loads more ideas for Halloween fun: We've got over 100 ideas for kids' Halloween costumes, scarily funny Halloween jokes for kids, Halloween movies for the whole family, and so much more.
And for Halloween activities near you, check out our Local Halloween Fun & Activities Guide!
Subscribe to our newsletters to get stories like this delivered directly to your inbox.
With a little practice and plenty of options, we're sure you'll find the pumpkin carving idea that captures your family's Halloween vibe, from Baby's First Halloween sweetness to Cyclops to superhero character themes.
Click through to the link for each FREE pumpkin carving idea and stencil.

Simple shapes are just right for younger kids.
Easy Pumpkin Carving Ideas
If you love Halloween, but lack the knife skills or just want to let a younger kid get into this year's pumpkin carving fun, then these simple pumpkin carving stencils are for you.
Cats and Halloween go hand in hand. This adorably spooked cat from The Pumpkin Lady (who, by the way, has over 900 free pumpkin carving templates on her website) looks intricate but is easy enough for young kids to master.
This goofy cyclops from DLTK Crafts for Kids puts a hilarious twist on your classic jack-o'-lantern face. Perfect for novice carvers.
Add some witchy goodness to your pumpkin with these unmistakable witch shoes from The Pumpkin Lady. This fun design features easy shapes for your littlest pumpkin carvers.

What characters and ideas delighted your kids this year?
Pop Culture and Character Pumpkin Carving Ideas
Some things jumped out to the forefront of pop culture this year; make your kids happy by carving a current favorite character.
Bluey, the wildly popular Disney Plus cartoon about an Australian dog family of four, has become required viewing for many families this year! This super easy Bingo pumpkin stencil is a huge hit with Bluey fans. (And if this isn't enough Bluey for you, you can throw a Bluey birthday party, too.)
Since Paw Patrol has taken over every other area in your life, why not Halloween? This printable PDF from Nickelodeon Parents gives you all your favorite Paw Patrol characters and more.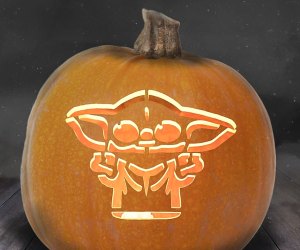 Photo courtesy of babysaver.com
Call him baby Yoda, call him Grogu, chances are someone in your family is a big fan of this little guy. With 13 printable pumpkin templates to choose from, no matter your skill level, you're sure to find a perfect printable pumpkin stencil here.
The Minions were back this year, and there's just something about their shape that lends them perfectly to pumpkin carving.
RELATED: 101 Kids' Halloween Costume Ideas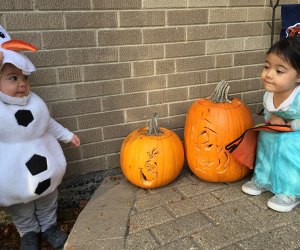 Olaf costume on the kid, Olaf face on the pumpkin!
Olaf is always in style! You will not be able to stop smiling with this three-pumpkin Olaf creation hanging out on your front porch, courtesy of Disney Fanatic.
Did we just say forget the Avengers? Forget we said that. While a few of these designs are a little tricky, we can attest that the Captain America shield is reasonable for even amateur carvers, and Baby Groot is so cute, he's worth the extra effort.
Kids will be asking you to "take me to your candy" when they see this out-of-this-world Toy Story alien pumpkin from Disney Family. Bonus: this one is a pumpkin you paint, not carve, in case your carving skills aren't as sharp as they should be.
Your toddler will recognize their favorite little pig before you're even done carving.

Big kids can help make the design on the pumpkin before cutting. Photo by Mama Marcia, via Flickr (CC BY-NC-ND 2.0)
Pika! Pika! Your pumpkin is already the perfect shape to carve into a Pikachu.
Mini-figures are relatively simplistic, so carving out the lines isn't as intricate as with more lifelike characters.
Muggles and house elves won't even need a wand to carve one of these 60 (!) free patterns from Baby Saver.
RELATED: 25 Halloween Games for Kids

Special tools make it safe for kids to carve pumpkins. Photo by Mama Marcia, via Flickr (CC BY-NC-ND 2.0)
Scary Pumpkin Carving Designs
For those who embrace the darker side of Halloween, these templates will have the neighborhood kids spooked (in the best possible way).
Conjure up some King of Halloween Town goodness with this Jack Skellington of Nightmare Before Christmas template from Pumpkin Pile.
Beware of the skeleton lurking inside your pumpkin with this creepy template.
Your neighbors will cross to the other side of the street when you light up this scary clown pumpkin from Pumpkin Stencils.

Baby's First Halloween photo courtesy of designbolts.com
Fun and Silly Pumpkin Stencils
If you come down on the lighter side of Halloween festivities, these fun and silly carving templates will be right up your alley.
Welcome a new addition to your Halloween tradition with this sweet "Baby's First Halloween" template from ZombiePumpkins.
Your Halloween will be a hoot when you turn your pumpkin into a feathered friend with these owl templates from Woo, Jr. Stencils range from basic to intricate.
Let all the trick-or-treaters know that you've got the goods with this sweet Pumpkin Lady candy template.
Whichever pumpkin carving design you choose, don't forget to involve the kids. Scoop out the seeds and roast them together, and save a few smaller gourds from the pumpkin patch for pumpkin painting later. Happy Halloween from Mommy Poppins!
Additional contributions by Maureen Wilkey. Unless noted, photos are by Maureen Wilkey.
t Click Here to Sign Up!