Nights of the Jack Is a Bootiful Halloween Adventure for Kids of All Ages
10/11/21
- By
Amanda Schutt
Halloween can be a tricky time for families with younger kids. There are lots of haunts and thrills for teens and bigger kids to get their adrenalin pumping: haunted houses, terrifying hay rides, theme park terrors, and more. But for those of us with young children, or any kids who are easily overloaded by sensory experiences, the choice is often limited to some version of a pumpkin patch. Don't get me wrong: I love a good patch. But it's also fun to have something a little less ... expected. To shake up our Halloween activities this year, we headed for the hills in Calabasas to experience Nights of the Jack. This is a perfect outing for families like mine with kids of a whole range of ages, as it strikes just the right balance of atmospheric and fun without being too scary.
Read on to find out why this is my family's new Halloween tradition. And for more Halloween fun for kids of all ages, from the best free Halloween events in Los Angeles to scary Halloween houses for big kids, check out our Halloween Fun and Activities Guide for Los Angeles Kids.

Welcome to Nights of the Jack!
First Impressions: Spooky, Not Scary
Nights of the Jack was full of surprises—and not the scary kind! As we drove into the packed parking lot, I was a little worried, thinking that this would be a very crowded experience. But once we started walking in, I was delighted to find that there was actually plenty of space for everyone to spread out.
Have your cameras ready, because immediately upon entering Nights of the Jack families are offered oodles of photo ops. There are giant pumpkins to pose with and lots of photo booth cut-outs where kids can get silly.
There's also a pumpkin carving station, where a professional pumpkin carver shows families how they make museum-worthy art out of giant gourds. It's pretty incredible to watch them work! In addition to the curtain being lifted on how pumpkin art is made, believers can pay a little extra to lift the veil between the mortal and spirit world by having a psychic do a palm or Tarot Card reading.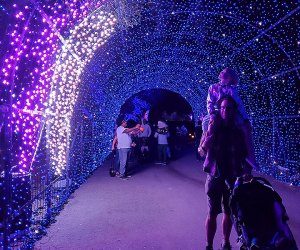 A tunnel of light makes everything more magical.
No Tricks, Just Treats
Another fun aspect of this event is that they have a lot of yummy food options to be found in the sizable food truck courtyard. This is a great way for the event to start, because if you have young kids you might be arriving on the early side, just as everyone is getting hungry. Food trucks surround a large eating area decorated with hay bails and harvest trimmings and there are lots of picnic tables for sitting together as a family. The challenge is choosing which truck to order from! Not knowing exactly what we'd find in terms of food, we had dinner before we came, and my family opted for a dessert of ice cream and cupcakes. I was happy to find lots of gluten-free treats readily available, too. Just next to the food truck's location is a large area called "The Spookeasy" where spiked libations for grown-ups can be purchased and enjoyed al fresco.

Who doesn't love dessert before a walk through the pumpkins?
What would an event like this be without a souvenir stand? If light-up necklaces are your thing, or if your kids would rather have some classic Halloween candy instead of that gluten-free cupcake, you're in luck! There is a souvenir shop at the entrance, as well as halfway through the walking trail alongside yet another Spookeasy.

Walk through nearly a mile of elaborately decorated scenes. Photo courtesy of Nights of the Jack
The Main Attraction: The Immersive Walking Trail
The Nights of the Jack immersive walking trail is not a simple, sweet little display for Halloween: It's nearly an entire mile filled with different scenes that are designed to blow you away. A humongous octopus created purely out of skillfully sculpted pumpkins, life-sized Harley-riding skeletons carved out of pumpkins piled atop one another, and even an entire Martian scene with a UFO can all be found along the trail. Every attraction has its own special effects and soundtrack—there's smoke, webs, and at one point even snow!

You're going to need a bigger boat with these Jaws sculptures.
Between each scene, you'll spy pumpkins carved in the likeness of celebs and find tunnels lit up for guests to walk through—all very clever and worth a share on the socials. The multitude of old oaks eerily glow in various colors and the path is dimly lit in some spots, despite there being what appear to be millions of tiny flickering candles everywhere you look. Do yourself a favor and have the family put on their walking shoes before heading out of the house.

Incredible carved portraits of famous faces are some of the most impressive pumpkins.
One of the best parts of Nights of the Jack is that there's something for everyone to enjoy. It's got lots of unexpected little spooks and delights, which I won't ruin by spilling the details. It's not going to give your kids nightmares, but will give them a little thrill. While little kids adore the gentle spooks, bigger kids and adults enjoy the creative vision and artistic talent that it takes to pull off such a spectacle, so this truly is one Halloween event that everyone in the family, from babies to preschoolers to tweens and even teens, can enjoy together.

Acres and acres of pumpkins!
The Not-So-Scary Details To Know Before You Go
Allow about 2-2.5 hours to walk the trail and fully enjoy the events with your family.
There are bathrooms in multiple areas, so if kids don't think they need to go before you enter the trail, you won't have to leave the experience to use the restroom.
The main trail is paved and is fully ADA and stroller accessible. You can even bring a small wagon to pull around kids who think they're too big for strollers, but might tire out before older siblings are ready to leave.
Tickets start at $29.99 each, and kids 2 and under are free. Entrance to Nights of the Jack: The Ultimate Halloween Event requires advance ticket purchase. Tickets are for designated time slots starting at 6:30pm and ending at 9pm.
Parking is $10.
Nights of the Jack takes place at King Gillette Ranch in Calabasas evenings until October 31.
All photography courtesy of the author unless otherwise indicated.
Places featured in this article:
---
Night Of The Jack (King Gillette Ranch)
Sign up for the Mommy Poppins Newsletter today!